Ari used the Power of veto on herself and Mark nominated Marissa in her place.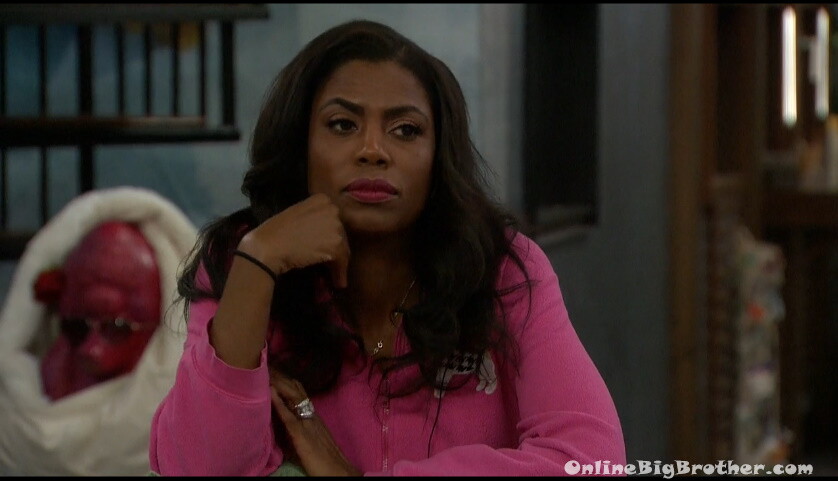 3:17pm Omarossa, Brandi and Ari
Omarossa is telling them about double evictions and how it goes down. She also describes competitions and the type of questions they may be asked.
Omarossa – 1/2 of it is luck 1/2 of it is thinking
Omarossa – there's 6 with 2 on the block the HOH doesn't vote so 2 votes determines who goes home that's why the stuff about deals it doesn't matter (during the double)
Brandi – it's all broken
Omarossa – three people voting and any 2 together can sway it .. there's no tie
Omarosa – there's a whole bunch of fast moving a lot of randomness
Brandi – whatever the house is doing you have to do it.. if I can't get Ross to do it and it doesn't look like I can at this point you need to go ..
Brandi – she (Ari) needs to go with the house
Omarossa says she need to make a big move to justify winning
Omarossa – I need to get a guy out of the house.. if you go with a safe move and you put up 2 weak people and you get to the end you have to make a justification you both have HOH you both have veto what big move did you make?
Omarossa says Brandi took Shannon out
Omarossa says Ross could have made a big move but he didn't. If she wins HOH she'll have to make a big move. Omarossa thinks if Ross had taken out Shannon he would have won this game.
Omarossa – those are my picks (to go up) Ross and James
They bring up how when Marissa is nervous "She just talks" (ugh we know)
Ari – I think Mark is kinda waiting for us to talk to him
Omarossa – he's in the gym .. it's worth a try
Brandi – I don't have anything to offer him
Omarossa – lets see, whats the numbers. Me and her (for Brandi) .. Ross and James for her (marissa) ..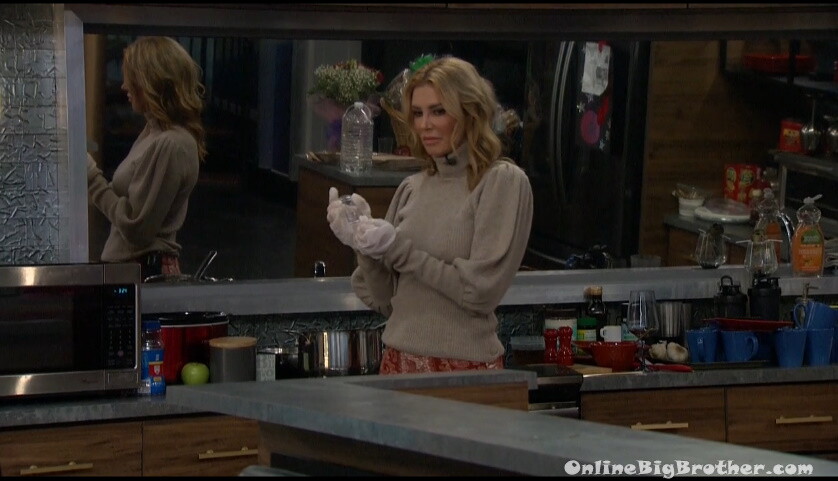 Brandi thinks James and mark are "sharing HOH'
Ari – Mark is making the decisions
Omarossa says if she can get Mark she already has Ari and her. "She (marissa) can go"
Brandi – she's the bigger threat
Omarossa – you got to get him (Ross) to say on camera you gave your word to me
Brandi – he made me pinky swear
Omarossa – you need to remind him so he's forced to be aware the whole world is watching him
Feeds cut when we're back Omarossa is saying "If we pressure her.. she doesn't do well with pressure"
Omariossa – she we talked to them all of us and pressure we have nothing to lose
Ari – we should talk to Mark first and tell him your deal with Ross
Omarossa – that will go back to Ross, they've been working on Ross good
Omarossa says Ross wants her out
Omarossa says Ross and the guys "are super super tight"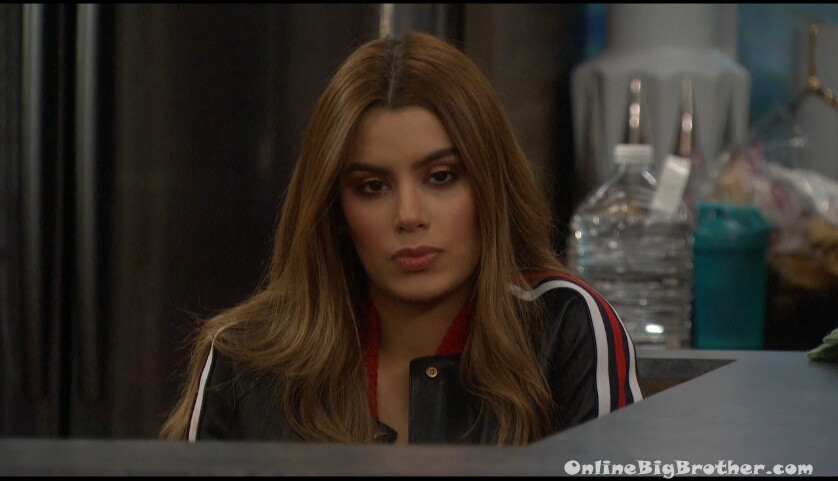 Brandi leaves..
Omarossa – I was right when I called him out that he had a deal with everybody (Ross)
Brandi – if we keep her we have the numbers, we just can't lose the numbers
Omarossa- he wants me out because I can see straight through him.. I see the truth
Brandi comes back.
Omarossa says Mark Brandi can talk 1 on 1 with Mark but with James she wouldn't bother
Omarossa – if Ross kept his word we can change the whole game
Brandi – yup
Ari – you should talk to Ross too
Brandi – I will, it's hard to get him alone.
Omarossa – if they call MArissa to the Diary room it's the only chance you have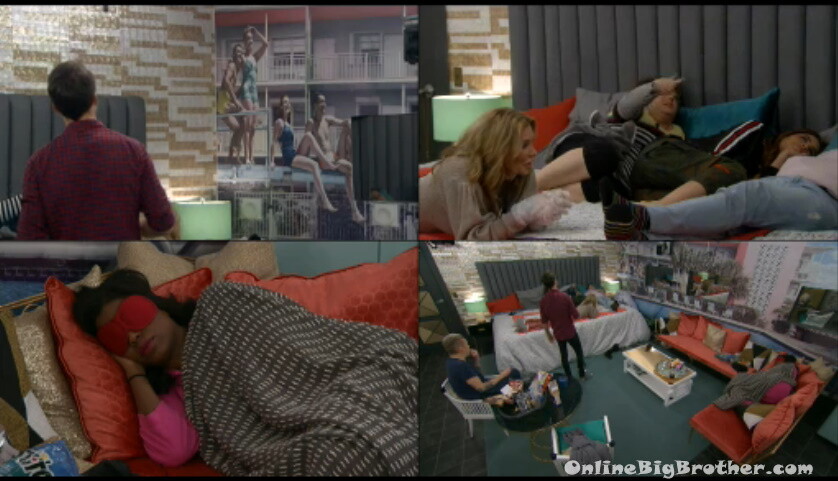 4:40pm HOH lockdown.. Marissa talks non stop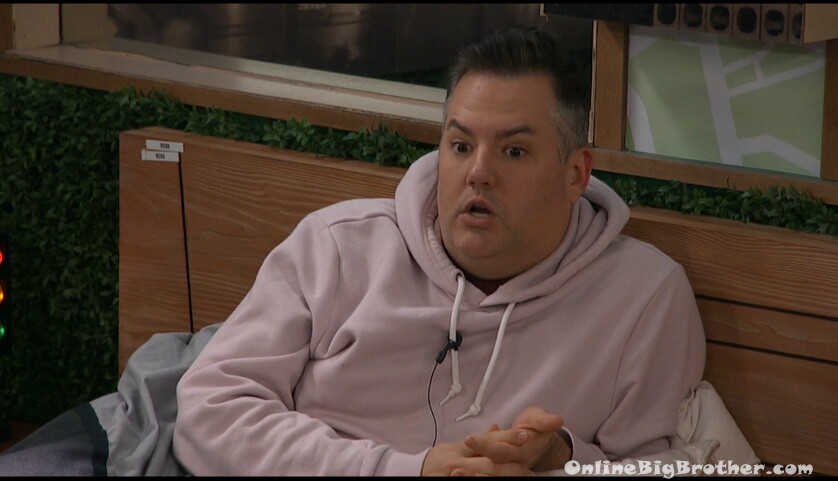 6:13pm Brandi and Ross
Ross – for starters again I'm sorry for not telling you when I knew you were going up.. it was just awkward.
Ross – do you know what Ari is doing?
Brandi – yup
ROss – we made that deal night one
Brandi – it was a couple days in because you said
ROss – might have been morning two
Ross – you were the only person I knew.. I meant it.. This house.. everything changes so quickly in this house.. it's tough in here.
Ross – you got close to Ari
Brandi – her and I never made a deal
Ross – I got close to Marisa
Brandi – the only deal I had with her with Ari was the 4 of us.. you brought that up for us in there.. I don't have a deal with her separately.
Ari joins them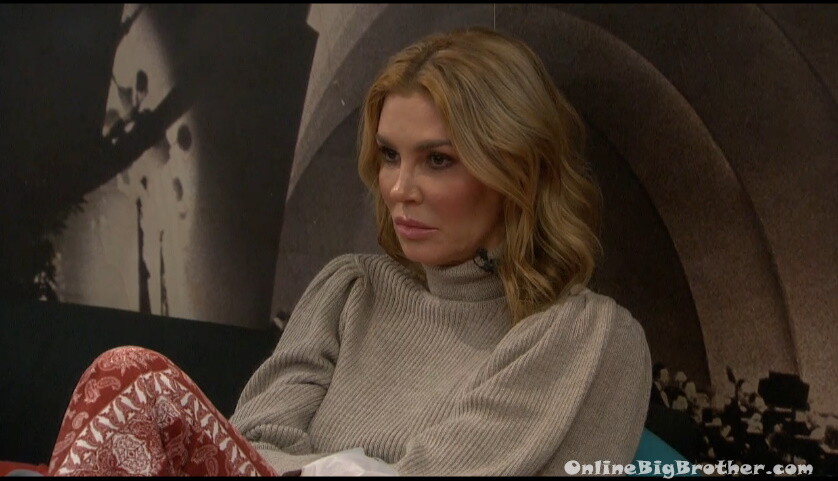 THey start talking about when the two of them were on the block together. Ross saying that BRandi told Omarossa that he was coming after her.
Brandi – I just the other day talked to you in the hallway and asked are we final 2 and you said YA
Ross – i was shocked .. to be honest.. I was like ehh yeah.. I was shocked
Ross – at that point I thought it was done when you are trying to urg people to get me out
Brandi – I wasn't urging anyone.. Omarossa said she wanted to get all the girls together I said she has to think of her own game.
Ross – you know what that means..
Brandi – I wasn't saying Ross has to leave..
Brandi – you had an alliance with almost everyone in the house and I think that is what hurt your game
Ross – who did I have an alliance with
Brandi – with me, the four, you had an alliance with Metta
Ross – I never had an alliance with Metta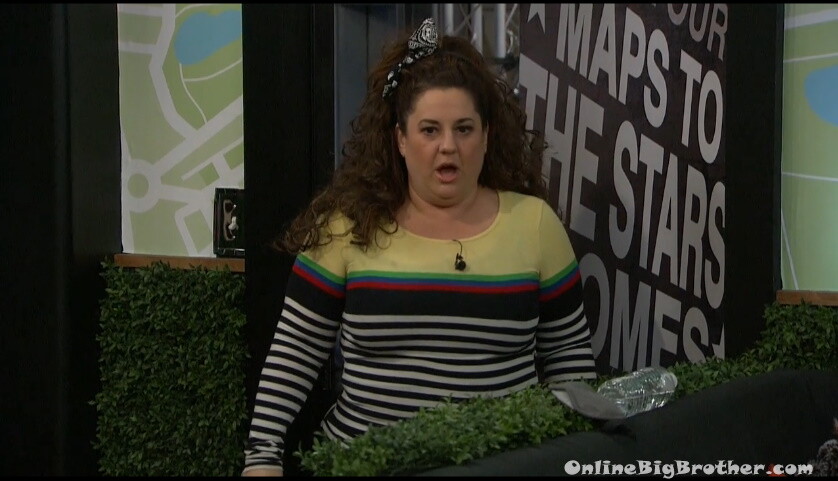 Marissa walks in..
Ross – I never had an alliance with MEtta .. that is not true..
Brandi asks for privacy with Ross
Marissa – ohh ok
Marissa leaves
Brandi – you said you had a FUNNY final two. taht's what you told me
Ross – I said he said I want you to win.. I did not have a final 2 with Metta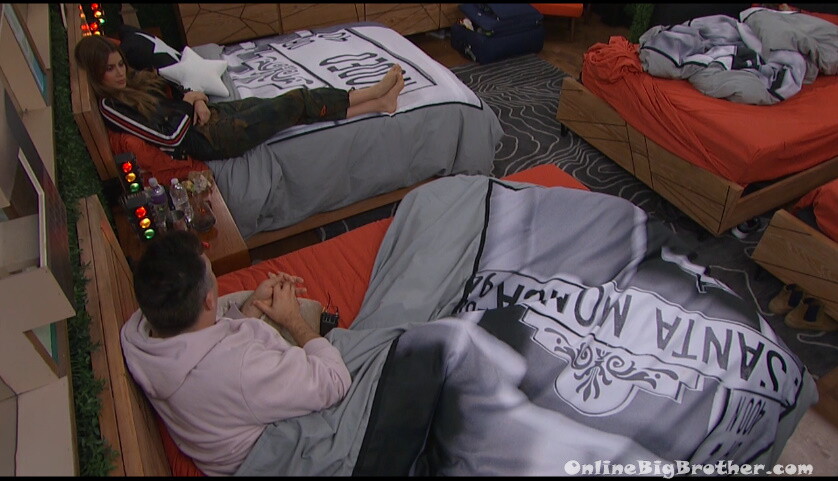 6:30pm Ross and Ari
Ross says it was the morning day two he wanted someone to work with and he already knew Brandi.
Ross – I couldn't keep it
Ari – if you are final 2 and sitting next to Marissa, she will win
Ross – Probably, Right now.. Probably
Ari – do whats best for you.. now they have all control
Ross – I just couldn't stay tight to that behavior
Ari – I stay with her even though
Ross – I can't, Marissa was loyal to me
Ari – she is, she's loyal to you. Brandi was loyal to you
Ross – the only reason she's here is that I used the Veto.. and Metta went
Ross – everyone said don't do it.. everyone in that room live said don't do it.. don't use it twice.. or you would have gone up
Ari – no it was Mark
Ross – it's too dicey to be with her
Ari – they don't like her
Ross – she gets the whole house to hate her and blames me that I can't save her
Ari – this became a personal thing between her and James
Ross – YES, because she was horrible to James, she was horrible to MArk too
Ari – you don't want to send Marissa home right?
Ross – I can't send Marissa home
Ari asks if Mark and James want her out
Ros s- no she was just a pawn
Ross – I know I made a final 2 with Brandi, I wish I never had done it. After her behavior in the house I can't keep it. I can't. I can't
Ari – I understand
Ross – she can't act like that this whole season and expect me to save her.
Ross – she wants people to be loyal but how is she being loyal to me acting like that out there when we're a team.
Ari – I understand, I understand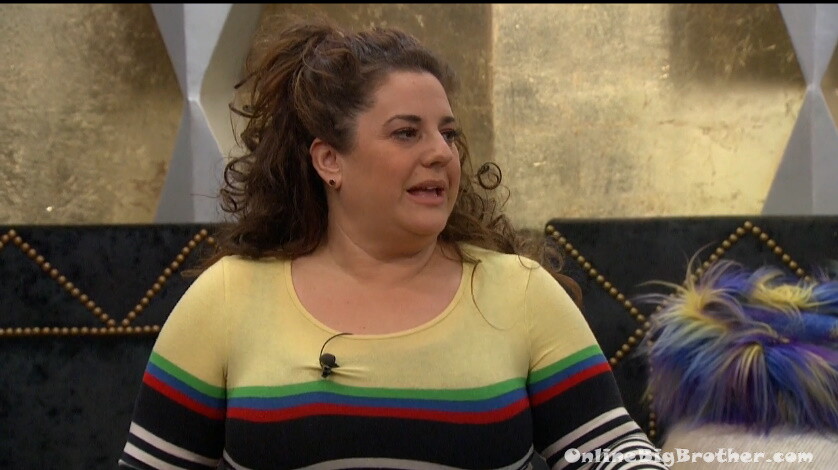 7:28pm Ross and MArissa
Ross – It should have been me I should have just gone up
Marissa – that's kinda what I was saying last night but no one listened
Marissa – the reason I went up is so you had to vote.. If you went up everyone knows I'm voting for you
Marissa – we f**ed up that's what we should have done
8:49pm Ari is attaching some hair to Brandi's head.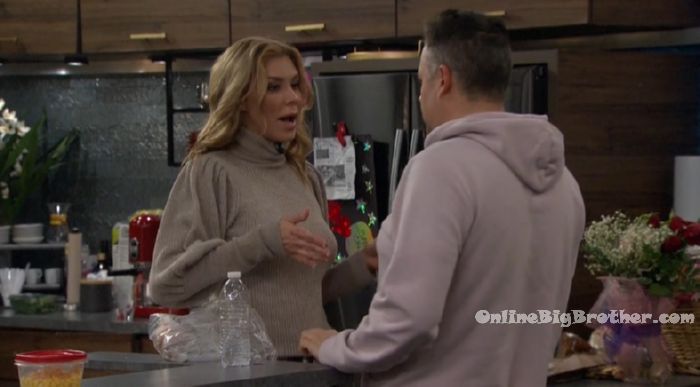 9:20pm Brandi comes out of the diary room and calls for Ross to come down to the kitchen. Brandi – according to the people (BB) the wine opener is somewhere out here ..but they can't tell us where it is. Ross and Brandi start looking for it. Brandi – I think it might be an actual challenge. Ross – no. Marissa – can I help?! Brandi – no. Only people who drink wine can look for it. After a couple minutes Ross finds it on the kitchen counter.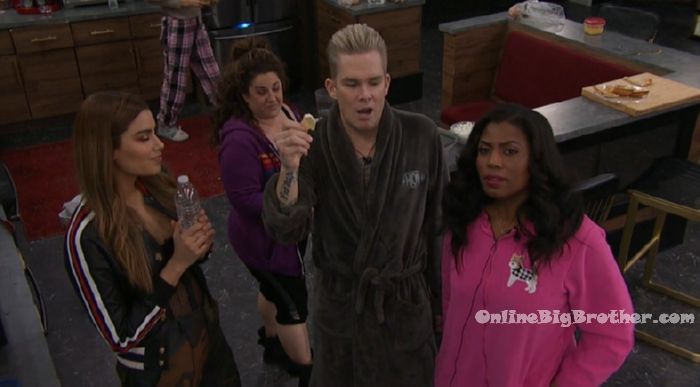 Mark tells his wife and kids he loves them. I hope you're coming on Sunday to watch me pick up my check.
11:20pm Bedroom. James and Ross James tells Ross about how he was changing and forgot the cameras were on him.