Quick Big Brother Spoilers
Head of Household: Cameron
Nominees: Mecole and MOMMA FE
POV Players:Mecole, MOMMA FE, Cameron, America, Blue, Matt (Jag is hosting)
POV Winner: Cameron
Veto Ceremony: Cameron did not use the veto.
Havenots: ?
Lock your ranks in before midnight
The Situation The house has quieted down a lot. Felicia sounds like she's accepting her fate.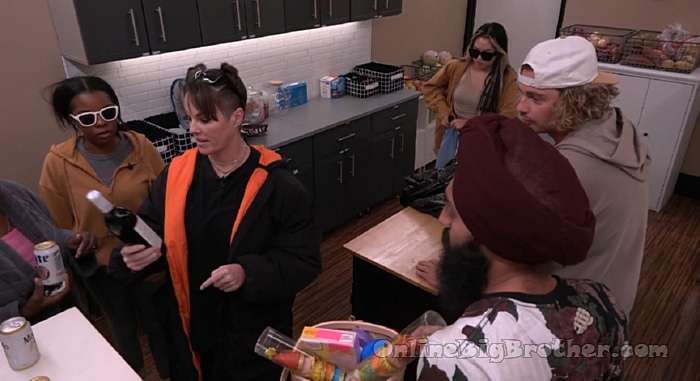 3:30 pm Houseguests get Alcohol
A bottle of wine and a few beers.
Matt – they're doing less and less..
Bowie – I guess my four bottle request was denied.. I asked for no beer and 4 bottles of wine.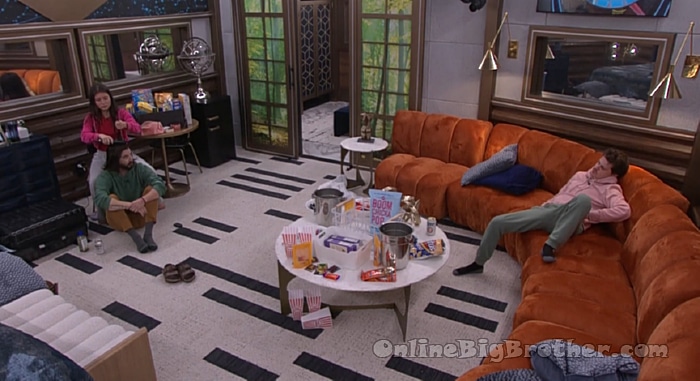 3:42 pm Cam, Cory and America.
America is flattening Cam's hair. Cory is going over some points with his one on one with Felicia.
Cam asks if Felicia is blaming him
America – blamed you for what I'm confused
Cam – I called you the brains of the operation
America – is that why she had that little FIT.. that outburst during the veto.
America mentions Felicia saying that she's being carried by Cory and how long does America plan on playing like that.
America- I let it slide .. Yesterday morning when she pulled me aside and said she wanted all the guys out.
Cory – that was before the fight
America – she was trying to get me.
Cory says he called her out for talking to America – "The GAUL.. you going to America to try and get Cam to put me up is a wild plan. That sh1t is crazy.."
America – what did she say?
Cory – YEAH I had to think of something
Cory – you thought of the wrong thing
Cam says Felicia was telling him to get rid of Cory so he could get closer to America.
Cam – That's so f***ing disgusting
Cory – it makes America an object which is weird.
Cory – she's been the biggest proponent of Cam and America the whole time. For some reason it interest her.
They talk about Hisam still being brought up daily. Cam would like to see Hisam play again.
Cory leaves..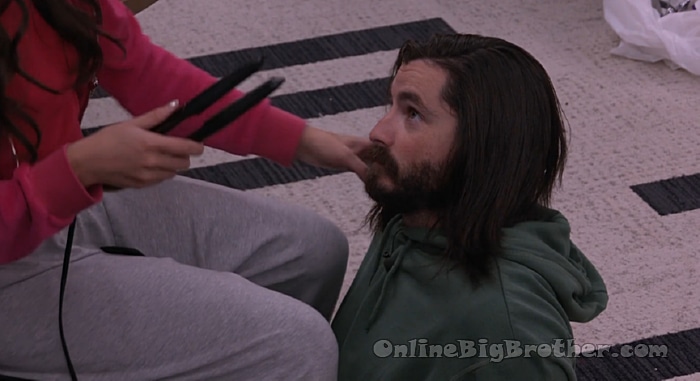 America – you look so cute.. when you put the oil on don't put it on your roots.. It's straight it's cute..
Cam – am I done?
America – you're done
Cam – thank you.
3:55 am
Milling around the kitchen drinking the liquor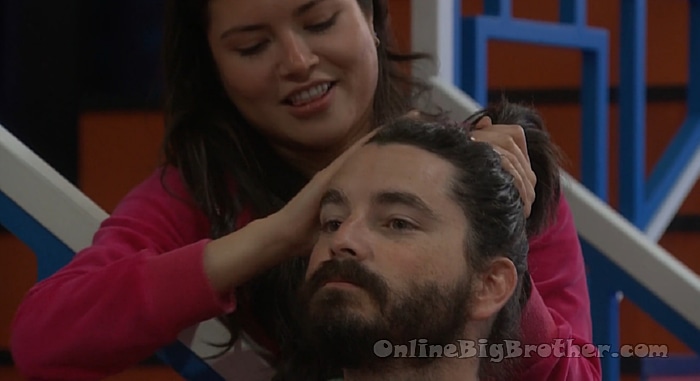 America continues to mess with Cam's hair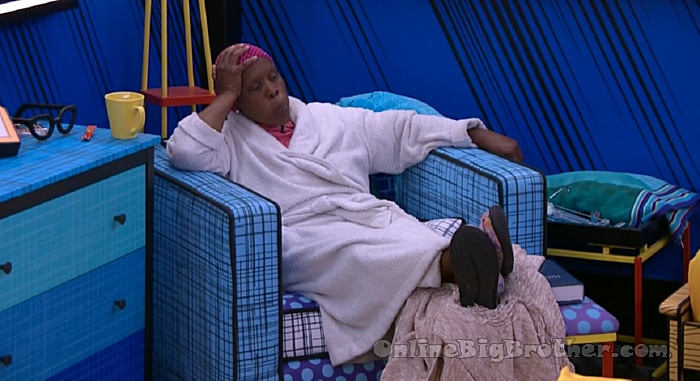 4:20 pm Felicia alone
Felicia – I can't do it.. All this shit is stupid to me.. I ain't going to do it.
Felicia – I just can't do it Mr. B
Felicia – I want to fight but I don't want to fight over this foolishness it just seems like foolishness.. LIFE is so much bigger than this.
Felicia – the only two I have left that I really want to talk to Is Matt and Jag. I want them to know I was really serious about protecting them. Matt, JAg, Cirie and MEME. that's my four
Felicia – Cory and America. I don't trust them in the GAME. Love them as people but I don't trust them in the game. Bowie Jane has never made a independent decision. SO, Cameron Doesn't resonate with me. He works too hard to fit in. Nothing he does is natural. You feel that. I don't resonate with people that don't even know how to be themselves.
Felicia – In the big Scheme of things it's probably time for me to go.
Cirie joins her and says in a couple days they will all be stabbing each other in the back.
Felicia – they actually sit out there and play like kids…
Cirie – mmmmhmmm
Felicia – and FAKE. I look at Cameron. He just LOVES the attention. That's why he loves it when she does his hair. His hair is his attention. He sucks that sh1t up..
Felicia – America just plays running her fingers through his hair. All of that sh1t is WAY too much for me. That must be what they do.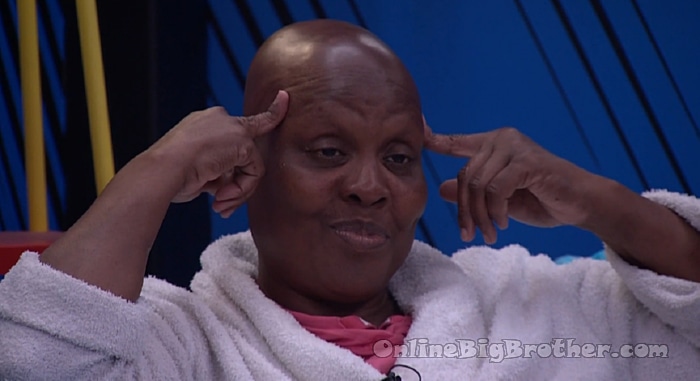 Felicia – It's nauseating to me. I don't know how I made it 63 days with this foolishness
4:44 pm Blue, Bowie and Matt enter the Comic room for chit chat.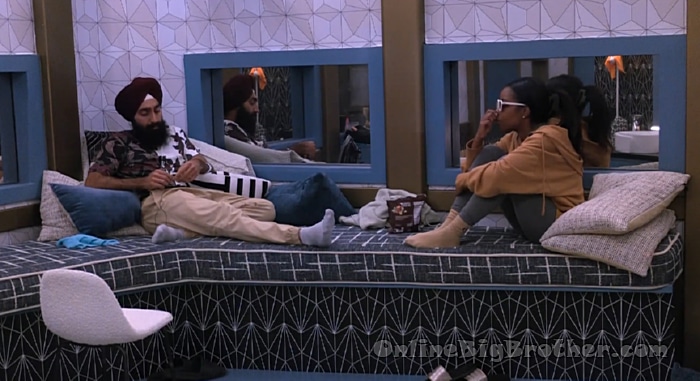 4:50 pm MEME is campaigning to Jag
MEME – What's your vibe going into this week? I want to be here.. I rock with you. We've been rocking. To this point I told you no lies I told you no BS. That is not how I move in conversations.
MEME is done with the BS.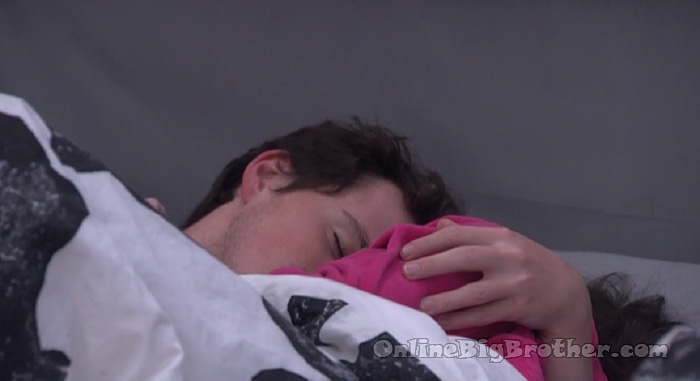 5:08 pm Showmancing. they go over some of their talks today.
COrey's talk with Cirie this morning went well. "a lot of clarifying"
Cory – played chess with Matt, Biked with Bowie, talked to MEME for an hour, Talked to Felicia.
America – you've had a busy day.
Cory – I didn't talk to MEME about anything.. I tried..
Cory – I need to sleep tonight. I did not sleep last night like at all. It was really late.
5:27 pm
Felicia makes herself something to eat to fuel her crazy machine. She then goes to Jag and MEME in the bathroom and explains her asking America to join the girls alliance and to try and get Cameron to put up Cory. After she realized that wasn't going to happen she outed it during the Veto ceremony speech. She knew the story was going to come out and she didn't want it to eb America telling her version of it.
Jag – yeah
Felicia – Here is what I actually said to her We knew we didn't have no damn girls alliance. I knew it had been discussed previously. I wanted to see if we could BAIT her into doing what we wanted her to do. She didn't bite. That's where it all blew up.
Felicia – with Cory.. we baited Cory .. I'm all about trust. Who can we trust then you say Yeah I'll do that then you wait to see how long it take for you to hear it. He did exactly what we thought he went around telling everybody we approached him. That was fake.
Jag – mmmmmm
Felicia says she was serious about the Matt, Cirie, Blue, Jag group. "I was serious about that.. "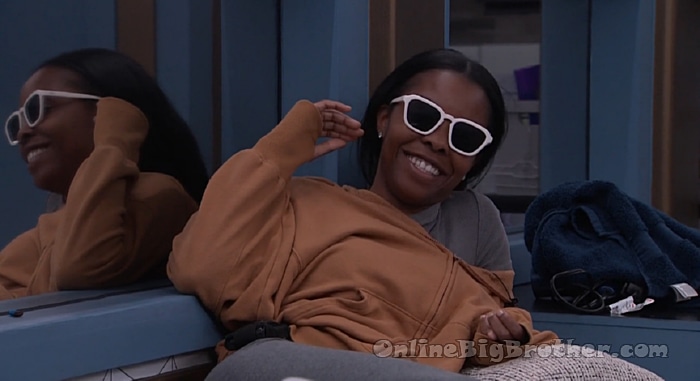 Felicia leaves
MEME – alright MOMMA
MEME starts laughing
Jag – what are you laughing at me for. I be doing nothing getting information like this..
MEME – Well…
MEME laughs..
Jag – thoughts? what did you think about that?
MEME – Momma FE is crazy as hell
MEME says she had nothing to do with Felicia's game play.
Jag – she said it right there her and MEME.
MEME – I wasn't there
Jag – she pulled your a$$ into it..
MEME laughs "I had no idea she went to America"
Jag – you baited America F***Ing admit it right now.
Meme laughs
MEME says she's doesn't have anything bad about MOMMA FE her campaign is straight forward.
Jag – she's (FE) not saying anything bad about you.
Jag – it is what it is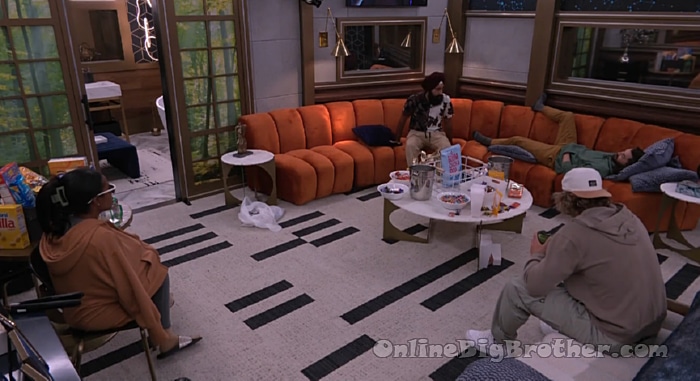 5:47 pm Jag, Matt and Cameron
Jag starts talking about his conversation with MEME.
They see her coming up to the HOH on the Spy screen
Cameron – Mother f***ing Dammit
Matt – every f***ing time.. wow
MEME comes in .. "what are you guys doing?"
Cam – hanging
MEME – Ohh my cup.. Everyone is in bed
Cam – it's a nothing day
Chit chat starts.
They see Felicia roaming around on the HOH screen.
Cameron – MEME I Love you but if she comes up here I'm leaving.. It's not because of you.
Bowie joins them. "everyone's sleeping"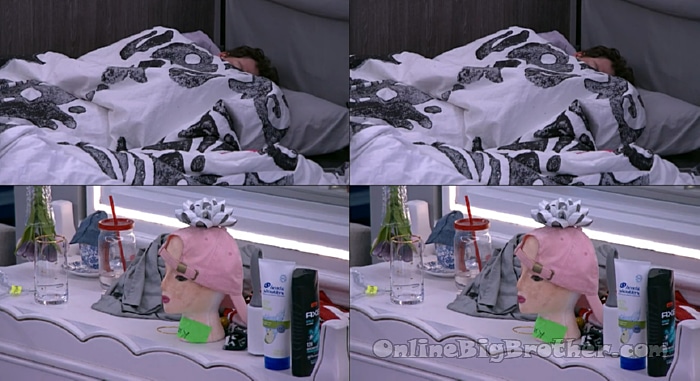 6:34 pm Corey and America rolling around in bed.
America – MEME's salad sucks.. the kale salad. I've had shitty kale salads and they're better than that. Am I wrong?
Core – I never tried
America – Don't. She doesn't massage the kale so it's super fibrous ..
They laugh "When if come to hating I'm up i'm awaite"
America – the dressing is A$$ it's got like 20 ingredients. None of them good.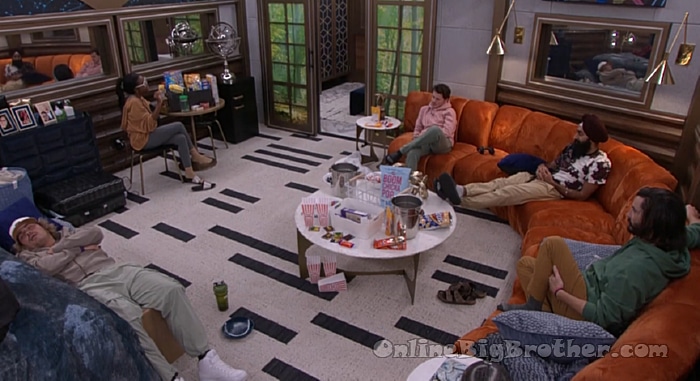 6:55 pm Chit chats