Quick Big Brother Spoilers
Head of Household: Cameron
Nominees: Mecole and MOMMA FE
POV Players:Mecole, MOMMA FE, Cameron, America, Blue, Matt (Jag is hosting)
POV Winner: Cameron
Veto Ceremony: Cameron did not use the veto.
Havenots: ?
Lock your ranks in before midnight
The Situation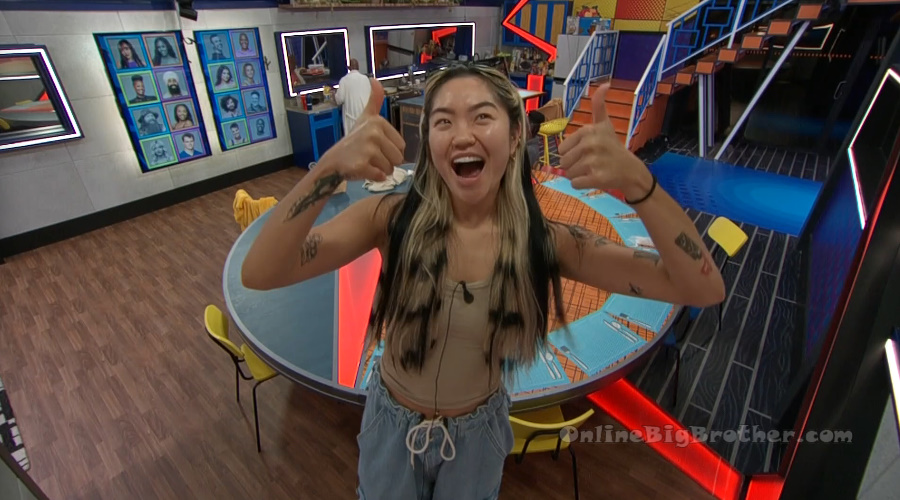 7:30pm HOH room – Meme, Cory, Bowie, Jag, Cameron and Matt are hanging out chatting. Meme is giving tips on how to treat a lady. Meme – Get creative but don't get crazy! Cory – I've done all of those things to varying degrees.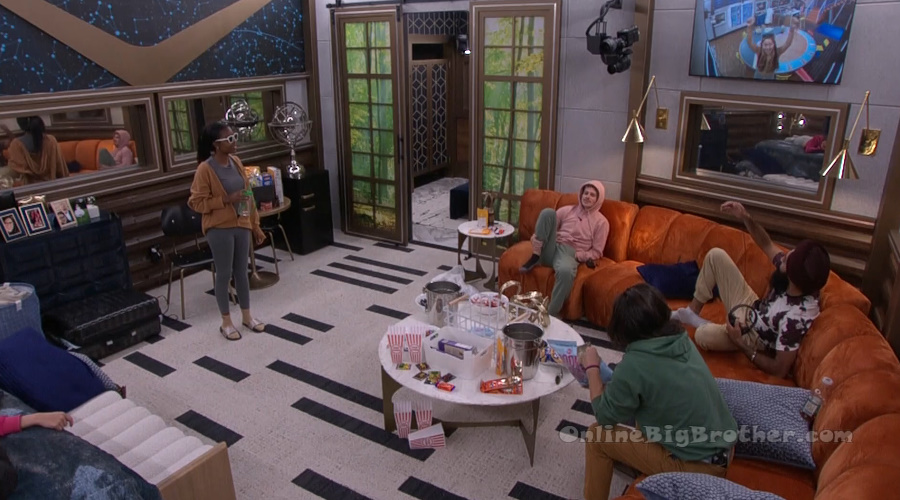 7:54pm Dinner time.
8:14pm Bedroom – Cory and Jag.
Jag – I haven't really talked to anyone today. Cory – well I kind of want to decide today because I think… I am going back and forth. Basically what I have landed on is this.. there are two options that make sense for us. Jag – okay. Cory – One, we vote out Felicia. Nothing changes. I think the other one is if we want to vote out Meme it has to be a blindside.. and here is why so I agree with you that ideally if we could just pick the next two people to go home would be Meme and Blue. Right?! Jag – yeah. Cory – so that's the dream right and we have a chance to get Meme here. This is the part that makes me very anxious. We get rid of Meme, that keeps Felicia. IF Blue wins HOH, who's a$$ is it? Jag is silent. Cory – probably mine right? Jag – you and maybe Felicia? Cory – its me. If Blue wins who's a$$ is it? Jag – HHHmmmm.. yeah. Cory – its mine right?! Jag – same is if Meme wins though isn't that the premise of this? Cory – Well Meme is … I feel much more comfortable in a Meme HOH in terms of her targeting probably Cam. So like that is my anxiety with it right. Jag – yeah. Cory – after we get rid of Meme its basically putting me in a spot where like if anything bad happens I am f**ked, right?! I don't believe and you can tell me if I am wrong here but I don't believe we will be able to sway Bowie to do anything outside of what she wants to do. And I don't think we're going to get her into a room and strong arm her into doing anything. Jag – in terms of HOH, I think that is almost irrelevant because either way Blue is still going to be here. I think she is very headstrong on what she wants to do here. You know what I mean and I think part of it is she thinks I am targeting her and part of it she wants revenge for Jared. Jag – yeah but the other thing we have to remember is yeah Blue wants to go after you but that second person sitting next to you is equally as important. If we blindside Blue then it very likely could be America, me or Matt. Then we're f**ked. Cory – so what is the appeal of keeping Felicia at all? Just because Meme is a better competitor? Jag – for me primarily, yeah. Cory – if it were to be voting out Meme I feel like it would put me in a pretty precarious position. Because Mama Fe just called me out in front of the entire house and she has made her intentions very clear. Whereas Meme is a little bit more of a grey area. Jag – If we feel that we need to evict Meme, my preference is still that we make it unanimous. Bowie joins them.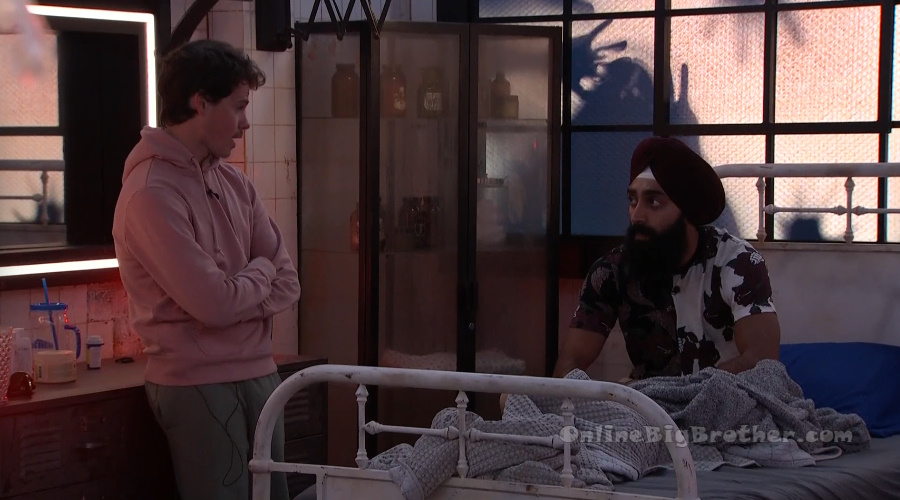 8:44pm – 9:55pm Havenot Room – Jag and Cameron.
Cam – Meme is a competitive threat and if she stays in the house she will align with Blue and Blue wants his (Cory) a$$ gone. He is thinking about his own best interests. Jag – yeah I know. Cameron – I don't give a f**k. Jag – yeah he is making this whole pitch .. the only thing I see is how we feel about this. You, Me and Matt is who I want to talk to. Cameron – Cirie is not voting Meme out. 100% and then its you, Matt and Bowie. Jag – I was also surprised that he is entertaining keeping Mama Fe after Mama Fe went after his a$$. Cameron – that is exactly why … she has done all the damage she can do the only other damage she can do is to herself. However she is a shield. He is looking at her as someone.. Jag – Mama Fe is less likely to win a comp so then it leaves just Blue to go after him. The way I see it is.. Cam – I mean he has got a point, I just don't want her to go to jury. He's got a hell of a point. Jag – yeah the point is there. If we ignore the jury part and we say if both Mama Fe and Meme pose a threat to us at that point I think Meme is a better competitor. I think we can both agree. Cam – yup. Meme has the most hidden. I don't know where her game is at, we have an idea. I don't know how good she is at these competitions because I don't think she's tried one time other than the veto. Mama Fe is not as strong a competitor.. Cam – or even in the house right now because her game is gone. The point here is there are the exact same number of pros and cons for each people. Project forward who do you want in that house? That is the only thing that weighs down the scale. Felicia, I don't want her in the house.. I don't want her in the jury house. Bowie joins them. Jag tells Bowie how Cory wants to evict Meme and for it to be a blindside. Bowie – what's the point of that? Cam – that way we're all in the same boat and he doesn't look quite as bad. Jag – he wants us to blindside Blue and Cirie. Bowie – well I think that's silly. Jag – exactly but why would he want to do that? Cam – that why it looks like we're all in cahoots together .. it levels the playing field. Bowie – that is next.. that is another level. Cam – I told you the other day.. that motherf**kers got better thoughts than you think. I don't want Meme to go this week. They continue to reminisce about past events of the season.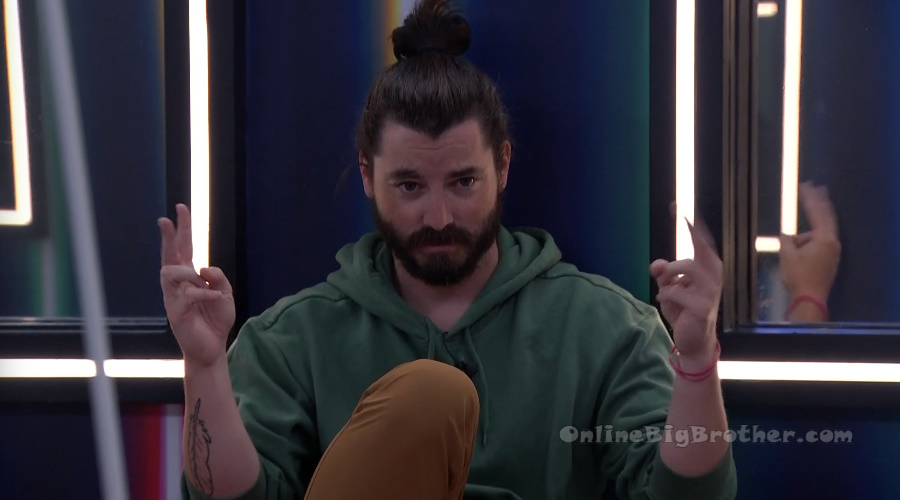 10pm Comic Bedroom – Felicia and Cirie.
Cirie – honestly I prefer to talk to him when he ain't up there because I don't want him to think its about that. Right, like they all up there right now, I'll talk to you Friday when you ain't in power. I mean I am talking to him now but I ain't all up there like… Felicia – see I talk to him everyday just down here but when he is up in the HOH room, I don't run my a$$ up there. I don't need the feel to do that.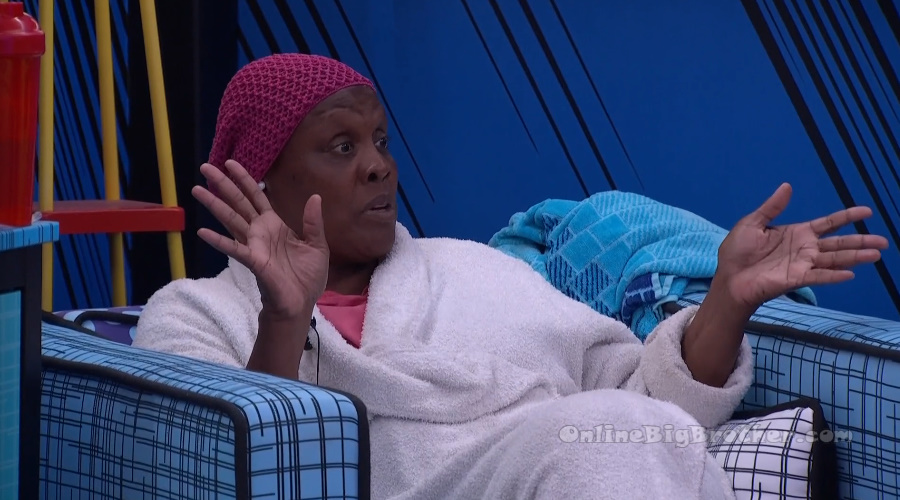 10:07pm – 10:20pm Bathroom – America and Felicia.
Felicia – .. to me I attack and that's what I did. America – it was not a personal attack at all. Everything I talked about was game. I did not talk about anything that was.. Felicia – well when I say a personal attack .. and yes its game.. I mean what you brought up had nothing to do with what I was talking about at the veto meeting. America – okay. Felicia – when I am talking about Cory and then you .. and you're the one that started things about the two and three person alliances and I don't even know what rumors you were talking about because I only mentioned three person alliance to you. I didn't mention no other alliances to you. So I was trying to figure out.. what are you talking about!? And the alliance that I mentioned to you, I heard from somebody else and I think I said that to you and that's why I said where did you hear that from? Because here is who I heard it from and that was the piece that irritated me and then you blew up the all girl thing and I'll be honest .. and I told Cory this I said it wasn't about the all girl alliance because I knew that sh*t wasn't going to take place. It was really just me being on the block to see if you could go get Cameron to take one of us down and put Cory up. That was really what it was all about. Because you've got to try what you can try. America – when you mentioned it the other day I hadn't said anything. I know it was aimed directly at Cory and he is my closest ally so I felt like I had to do something to come to his defense. Felicia – I don't have the energy to fight anymore. Thank you America. They hug. Felicia – we'll laugh tomorrow.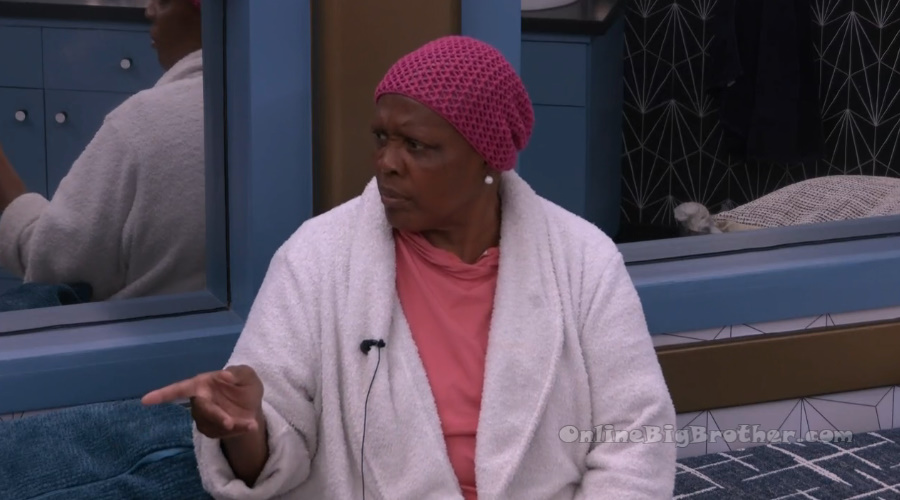 10:50pm Bathroom – Cory and America.
Cory – the truth is I am going back and forth on this. I don't want to say that I don't care but the pros and cons kind of balance each other out. America – I think so too. Cory – What I want more than anything else is for Blue to be mad at Matt and Jag. America – I know. Cory – and for the house to be against Blue very obviously which is why I am pushing for this blindside. America – You know they'll leak this anyways, they can't keep their mouths shut. Cory – even still them flipping this vote and telling Blue is going to annoy her.
12am Matt, Cory, America and Jag surprise Bowie for her birthday. They throw streamers on her bed. Bowie – thank you guys! Great party! Cory – so you can clean this up.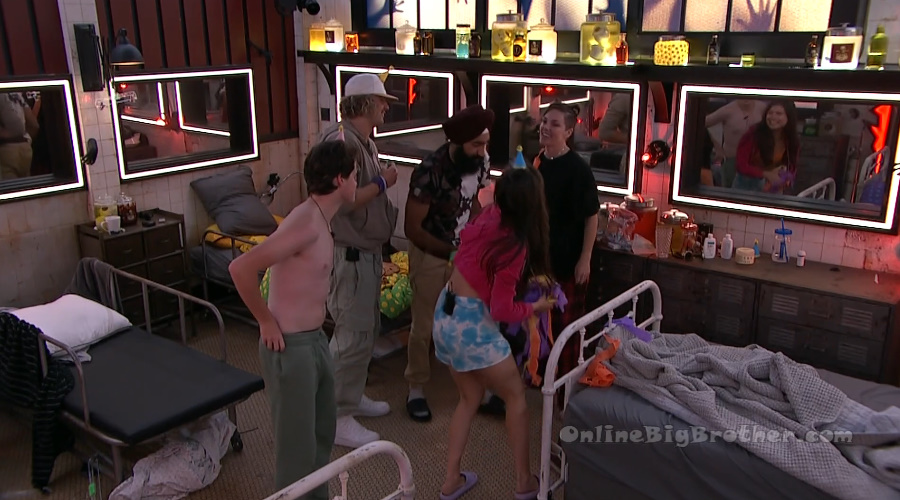 1:35am Most of the house guests are sleeping. Meanwhile – Matt and Cameron are chatting in the havenot room. Matt – what would suck is if Meme won the veto. Cam – this week or next week? Matt – next week. Cam – If Meme wins the veto then we backdoor Blue. Matt – oh yeah because then it doesn't matter who stays because they stay / they stay. You're right. Forget about that. Cam – if we backdoor Blue, Cory and America stay happy with us and we keep gunning after Cirie and Meme. If we backdoor Cory, America goes with Blue and Meme and Cirie. Matt – yeah, yup. It would be harder so we'll wait on that. ITs a good plan. Solid. Nice. Just no more f**king twists. Cam – the only twist I see is a Double from 7 to 3. They head to bed.
Show your support 🙂 Without your support this site and these spoilers wouldn't be possible.
Please consider a donation to keep the madness going.