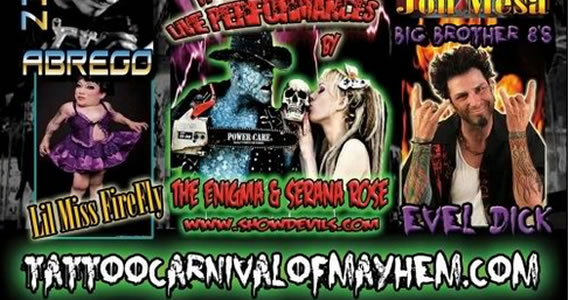 Big Brother 8 Winner and RTVZone.com host Evel Dick will be making an appearance at the Tattoo Carnival of Mayhem event in Pasadena, Texas on May 25th – 27th.
What is the Tattoo Carnival Of Mayhem all about?
Essentially it's a tattoo judging event with awards and prizes for best tattoo in 22 different categories. Other events include

200 world class tattoo artists and vendors on site
Midget Wrestling
Shocking Sideshow performers
Amazing hunman suspension by Aztlan Arts
Sexy zombie VIP lounge
Evil Clown for Hire featuring Professor Chumley and Ses Carny
Who is going to be there?
From spike tv's ink master season on Jeremy Miller
1/2 pint brawlers
Rroman Abrego
lil Miss Firefly
The Enigma and Serania Rose www.showdevils.com
Big Brother 8's Evel Dick
from Oxygen networks's "best Ink" Jon Mesa
Where is it?
Pasadena Convention Center – Pasadena TX
7902 fairmont pkwy.
pasadena, texas 77507
May 25-27 2012
Contact information
https://www.tattoocarnivalofmayhem.com/contact.html
@mcpimpn
Share it YO!
Tweet