Head of Household Winner – ENZO
Nominations – Nicole & Christmas
Power of Veto holder – Cody
Power of Veto Ceremony –
Live feeds —-> Grab your Live feeds here. Try it free.
Rank the houseguests —-> Big Brother 22 Ranking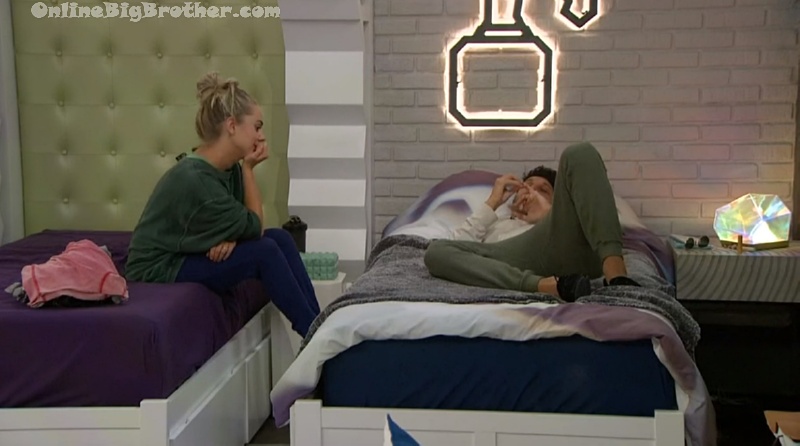 2:02 pm Nicole and Cody
Nicole – my pitch is you and I have been working together since day one I've had your back entirely. This entire season I've had your back. Except for that one time.. what I said to Dani. I totally didn't throw you under the bus I panicked
Cody – and your first instinct when you panicked was to throw me under the bus .. go on
Nicole – not throw you under the bus. I knew she liked you more than anyone in the house and she'll forgive you
Cody – you had a calculated reason to throw me under the bus even better
Nicole – I panicked and said your name but I never threw you under the bus.
Nicole – If you win I have a good chance to beat Enzo in the second competition. I'm taking you to the final 2 and that's what I got
Cody – why can't you look at me when you say things.. now you are going to look at me when you say it
Nicole – oh my god
Cody says Christmas told him the same thing and looked at him when she said it.
Nicole – I'm taking you to final two oh my god. You better fricken take me
Cody – or else
Nicole – there is no or else that's your game move. I'll be pissed
Nicole – did she really tell you she's taking you to final 2
Cody – yeah
Nicole – you're lying to me
Cody – she said my best chance to final 2 is taking her to final 3. she doesn't feel other people are going to and she didn't want to throw anyone under the bus
Nicole – ohh really I think they are telling her in there (Production) to work that way it.. ..
Cody – I was like please do Christmas
Nicole – your best option is to keep me. She's not taking you to final 2
Cody – and you are?
Nicole – I swear on everything. At this point, I would never cut you
Nicole says Christmas thinks she's staying she doesn't know why and it's causing Nicoeol to be annoyed.
Nicole – I think Enzo told her he'd go to bat for her
Nicole says she's going to leave (the room) says it's a bad game move if he cuts her now
Cody – what kinda pitch was that. you're storming off
Nicole – your fricken take me and you'll make it to final 2 no matter what guaranteed if you keep her you have to take yourself
Nicole – if you take me to final 3 you have a 100% chance of sitting in the final 2

They head into the living room to play backgammon.
Cody says Christmas pitched to him in the bathroom.
Nicole – today?
Cody – yesterday, she said she's my best chance of getting to the final 2
Nicole – is that what she really thinks
Cody – she thinks because you are a winner
Nicole says her being a previous winner is a good thing nobody is going to vote for someone who already won the game.
Cody – ooh they're not .. okay
Nicole – I cannot beat you in an endurance competition
Cody – she said the same thing
Nicole – I will throw you the endurance competition
Cody – she was like we all know you will win the first competition
Nicole – I do think I will win the second competition and ..
Nicole – my pitch is plain and simple, I'll take you to final two I've had your back this entire game.
Cody – alright stop enough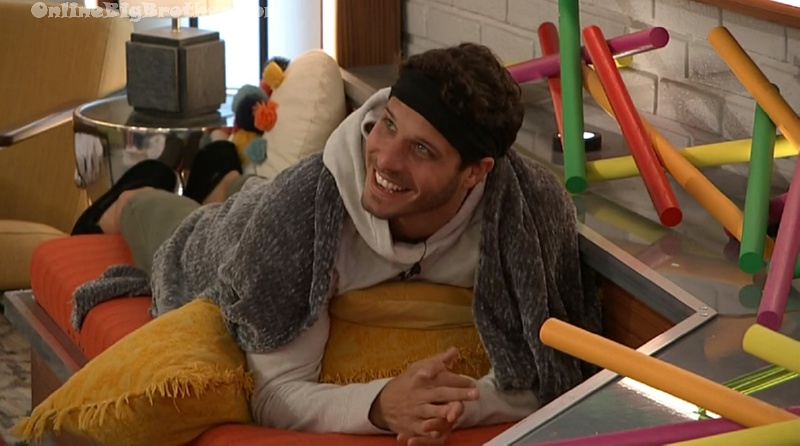 Nicole adds that she gets really nervous talking to people so she'll blow her finale speech
Cody – like you did in 18
Nicole – that wasn't because of my speech
Nicole – I think you'll be a great winner this season so I want to be sitting next to who I think played the best game and that's you
Cody – when you try to hit my ego with your pitch it's comical
Nicole – you did play a good game and I played a good game so game on
Nicole says she "Swears to god" if she had won the veto she wouldn't cut Cody but Christmas would.
Nicole says it's a bit like they've gone full circle. Someone picked her to go to the final 2 and she won and he took someone to the final 2 out of loyalty and they won. So if he takes her and he wins he's they've come full circle.
Cody – unless I lose
Nicole – you would be a loser again yeah ..
Cody – I would be the biggest loser the first person to lose twice..
Nicole – no Paul did that
Cody – ohh sh1t so me and Paul great.
Nicole says if Enzo wins that final HOH he'll pick Cody and she'll be OKay with that she won't talk game or try to get him to keep her.
Nicole – if he takes you how do you think the jury sees his game?
Cody – I have no idea. I'm having a hard time thinking about what the jury thinks
Nicole – you have my vote no matter what but still don't cut me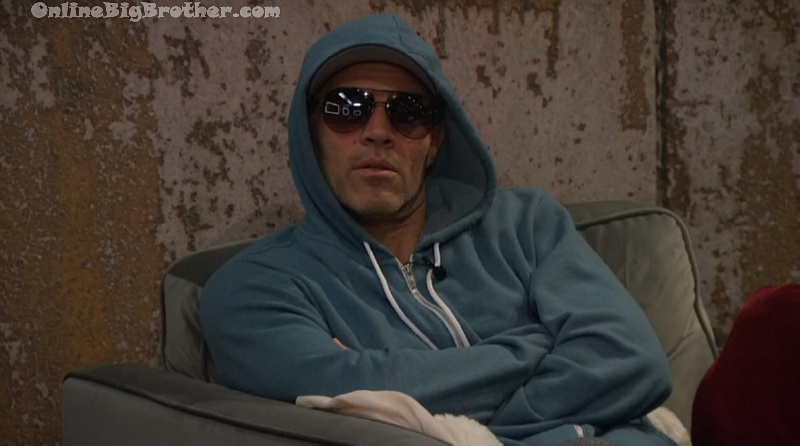 2:04 pm Christmas and Enzo
Enzo fills her in on his attempts to get Cody to Cut Nicole over her.
Enzo – I've massaged it to him but MAN..
Christmas says he's not indicating anything to her.
Enzo – he knows I want you in the final 3. I have a way better relationship with you besides Cody in the entire house. I don't have a relationship with Nicole. I don't
Enzo – never no game talk or anything like that
Enzo tells her to throw him under the bus if he needs to do whatever she can to get Cody to keep her.
Christmas – my fear is if I did do that he's going to be like.. oh she went dirty on this. I don't know how to play it
Enzo – you can be like I love Enzo he's awesome then kindly easily throw me under the bus. Make whatever deals you can whatever you can do
Christmas goes on about Telling Cody that she's a better competitor than Nicole
Enzo – better than me.. that's it.. be like you and me can take out Enzo.. take him out we're sitting in the end.
Christmas mentions telling Cody if Nicole gets to the end again she's going to win.
Enzo says he's regretting winning the HOH he wanted Christmas to win it
Christmas – he came after me.
Enzo – I know
Christmas – these last few weeks they've done a really good f***ing job (Nic/Cody)
Enzo – they have. if you had won the pumpkin challenge this whole thing would have been f***ing different.
Christmas – me, Memphis, and Nicole would be in the house
Enzo – and we would be going after her and in the final 3 we go at it. Trust me Christmas I've been honest with you since the beginning I wanted you in the final 3. Against them two it's a hard argument for me
Nicole comes up to grab the backgammon board. Enzo says she's running off to Cody now to tell him they are chatting. They agree Nicole panics easily.
Enzo says Nicole isn't talking to him right now "He's got all the power" (Cody)
They talk about Nicole telling Cody that the two of them have a thing that is why he needs to cut Christmas.
Enzo brings up Cody getting rid of Nicole on their season "You don't think she's going to pay you back.. C'mon yo"
Enzo says she's got to really press COdy "I don't thin kit's going to work he's still taking her"
Christmas – I do to but I want to exhaust everything. If I'm walking out of here on Thursday I want to know that nothing went to waste. I f***ing did as much as I possibly could and fought all the ways that I can and really really finessed that
2:22 pm
Enzo alone
Enzo – Yo I gotta win a comp Yo that's what this all comes down to YO. Win one of those comps and be in the questions and at that point I'll figure out who the f** I'm taking to win. Nicole isn't sweeping nothing YO.
Enzo – Nicole has 500K on her head YO she's ain't sweeping sh1t YO. Nicole will get 2 or 3 votes if that. Nicole has not done enough to win this game what the f* (You never saw BB18 I guess)
Enzo – you made it to the end because most of us carried you here.
Enzo – it's crazy YO. Cody's my guy I love Cody man and I want to be sitting in the final 2 with Cody but now is that the piece to my puzzle if I get rid of Cody .
Enzo – do I have enough friends in the jury house to beat Cody if I'm sitting next to him? Did I do enough jury management to beat Cody?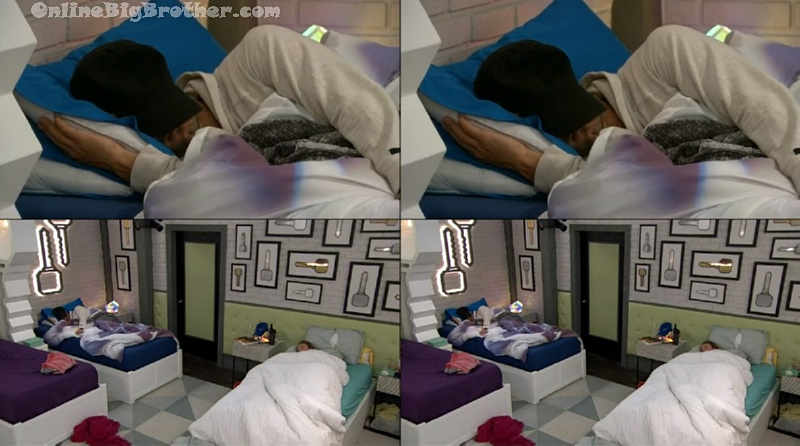 4:40 pm zzzzzzzzzzzzzzz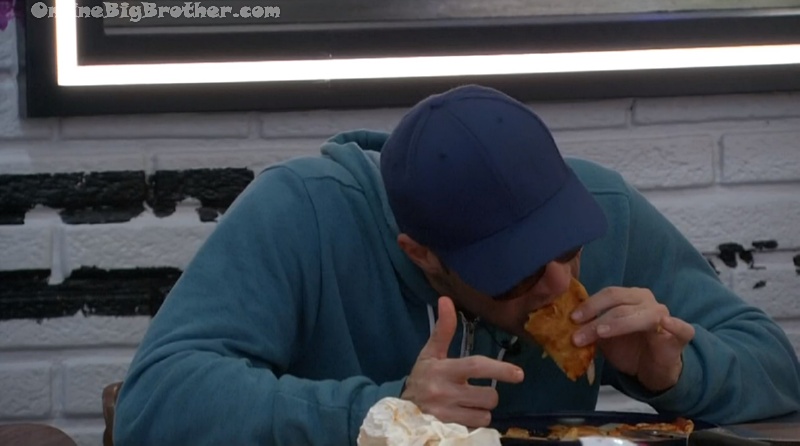 5:40 pm FEEDS!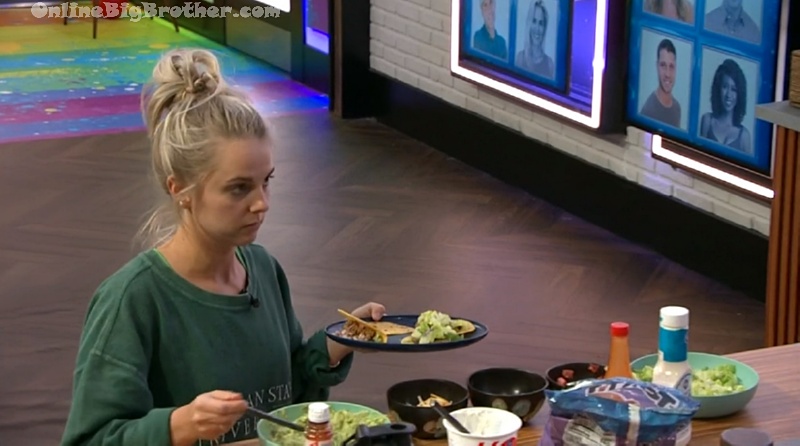 7:00 pm taco tuesday
Show your support by making a donation.
If you've enjoyed our live feed updates this season, please consider donating 🙂
Any amount is greatly appreciated! Without your support this site would not be possible.