Quick Big Brother Spoilers
Head of Household:  Reilly
Nominees: Corey, Felicia, Kirsten, Jared
POV Players: ?
POV Winner: ?
Veto Ceremony: ?
Havenots:  Jared, Corey, Hisam
Lock your ranks in before midnight
The situation Reilly used her HOH to denominate Corey and Jared. Kristen and Felicia are on the bloc. Kirsten is the target.
"The look for the day" #BB25 pic.twitter.com/NT6XUOS2lZ

— OnlineBigBrother.com (@bigbspoilers) August 4, 2023
12:09 pm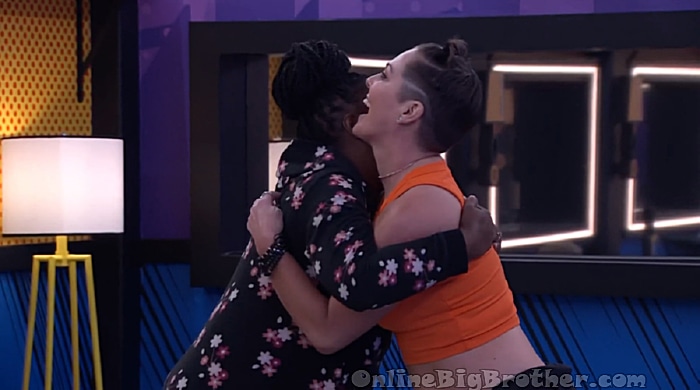 12:15 pm Cerie and Bowie
Cerie give her a summary of their conversations and general goings on in the house.
Cerie says Felicia is the pawn, "her rational makes sense, why she doesn't want to put up Corey they are scared that maybe he has something which is not very far fetch..
Cerie – With Jared it won't guarantee that .. She wants Kirsten out because Kirsten was in the chaos spreading lies. She said the only way she can guarantee Kirsten goes is nobody will vote for Felicia. If she puts up Jared people might take the shot to get a comp beast out.
They agree Reilly's plan makes sense.
Cerie – I trust her and Felicia trust her.
Cerie – the core group is Izzy, Felicia, you and Myself
Bowie – Love it.
Cerie – Izzy has this idea that maybe we will get split up into four teams. So we have to solidify this four incase we get split up.
Bowie – what about Hisam?
Cerie – Hisam too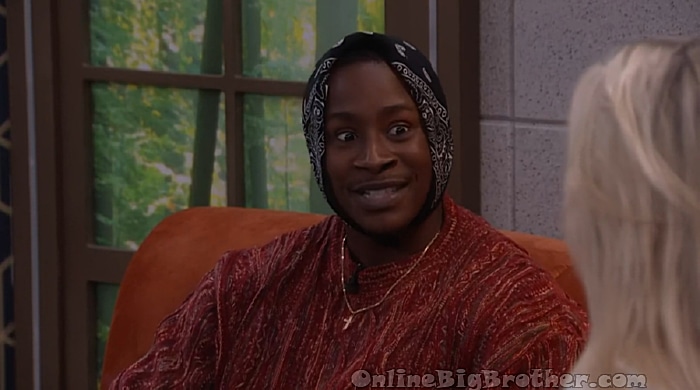 12:27 pm Jared and Reilly
They assure they are good with each other. Reilly wants to keep things cool this week doesn't want a blow up
Jared – this week there's no blood on your hands.
Reilly – I hate hurting people's feelings I feel like I am on the block.
Jared says everyone is on the same page with what this week is. Nobody can be mad at her for the nominations.
Jared – you are in such a great spot.. Your personality is such a great personality.. Everyone understands BRO it's like Big Brother nominated us instead Reilly didn't nominate us.
Reilly – worst case scenario a veto competition happens and the person I need gone wins that veto and then there's an issue.
Jared – but you have the numbers on your side.
feeds cut..
12:40 pm feeds cut to pound puppies
Feeds return.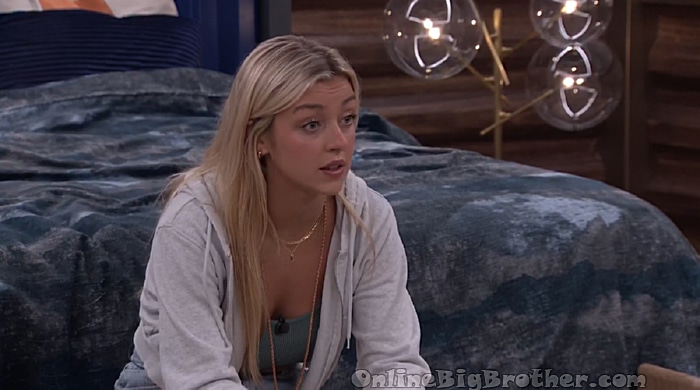 2:48 pm Reilly and BLUE
They're talking about Luke being a Doctor not a artist.
Reilly says Jared is also nervous about Luke.
Reilly – we'll have to flip on Luke eventually.
They agree Cirie is loyal and Smart.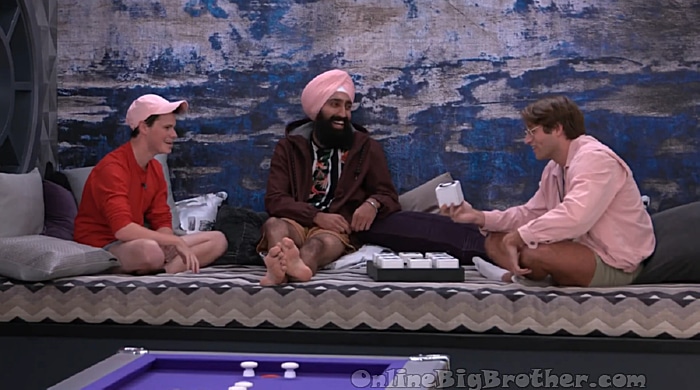 2:55 pm Bros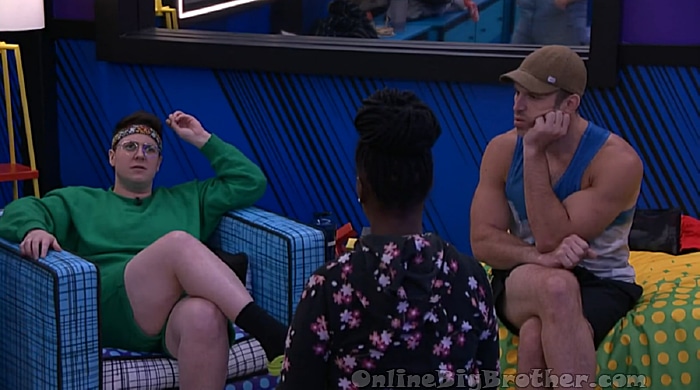 3:04 pm Cirie, REd, Hasmin and Izzy
C – It's ridiculous the immaturity
Hasmin – Yeah yeah.. HOw Smug Corey looked. Like I was just… It felt like… like Dude
Izzy – you can feel elated but like have some empathy that the people in week one based on a comp you know? it's just .. Do better.
Hasmin – Yeah yeah
C – Do better
Izzy – that's on you, you have a reasonability in this house as a human.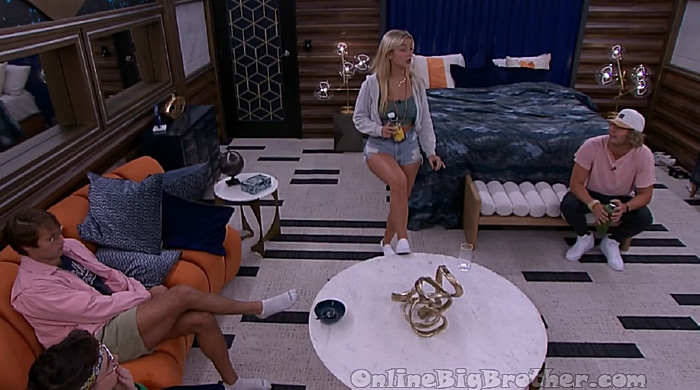 Reilly chilling in the HOH.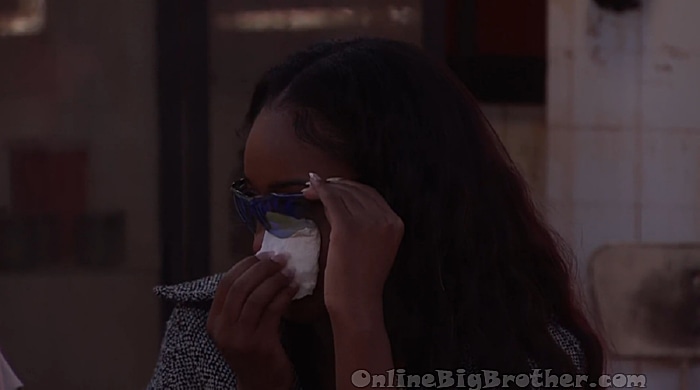 3:10 pm Jag, Kristen, Blue
Jag – DOn't count yourself out
Jag explains how she's on the block because she didn't win a competitions.
Blue – when the veto comes around show them who's the f***ing boss. Show your true colours really make your waves.. Really think on it. It's all about strategy this game.
Kristen – I just wish I had better relationships.. I know it's so soon. I'm usually a super people person.. Like I talk to everybody.
Kristen – I think I understand more than anyone. Coming from Africa and having my teachers tell me .. Oh you should go back to where you came from.. because You know my accent and trying to assimilate and becoming this person I feel like I'm always trying to play someone
k – I was in fourth grade.. You sound funny don't be here.
Kristen begins to cry.
Jag – You deserve to be here..
Blue – people don't know the real you.
Blue give her a pep talk. "You got to play for you. You really have to show them your true colours. you really have to show them you are here for the game.
K – If I'm not here for the game what am I here for?
Blue – she didn't put you on the block, she just didn't take you off.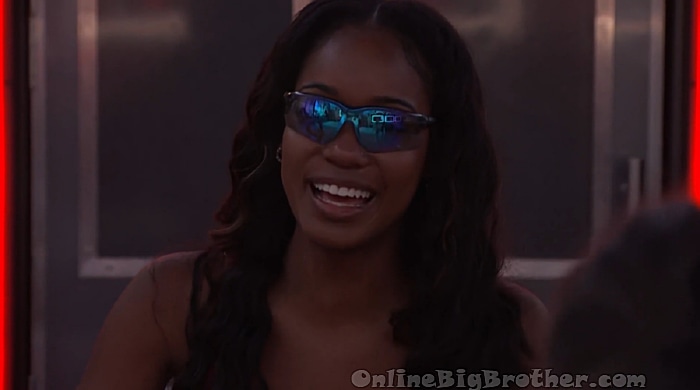 America has jointed them.
America – Don't dig yourself down there's still a week left. It's Friday .. it's only day three
Blue – You have a good amount of time to stir shit up and I know you can stir it up.
America – Stir shit up to benefit you
Blue – Don't think of anybody elses game think about your game.
K – that just makes me look bad.
America says still stay true to herself and the way she wants to play. (But still stir shit up)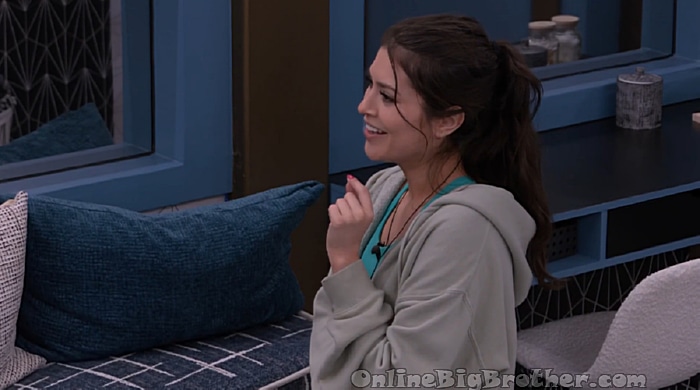 3:40 pm Blue and America
Blue – Izzy was telling me that Kristen was going around telling people Matt and Reilly are going to be in a showmance.
America – Reilly told me that Hasmin told her that.
America – it was probably in a big group setting.. you are saying things you shouldn't you should think twice. You got to play with your brain. We have to lift her up I don't want her to feel ostracized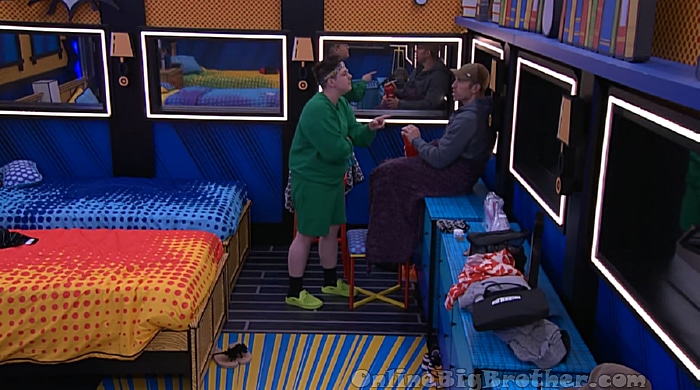 3:48 pm Izzy and Hasim
Hasmin – I think Kristen is the target..
Izzy – I thin so 100%
Hasmin – she has created a lot of chaos.. Reilly is smart enough to keep her there. I think she's putting Felicia there because she doesn't think she'll win veto
Izzy – I want to win and get her to put Corey up .. If I get picked I want to pull down Felicia and get Corey up
Hasmin – that would the perfect plan.
Hasmin – he's really a very smug difficult person.
Izzy – he's so privileged with his presence. I want him to be scared. I wish I could force Reilly to put him up (LOL)
Hasmin – she might, who knows.
Hasim says he feels that Reilly and Corey are closer than Reilly and Jared.
Izzy – I got total opposite from her. She said Jag is her number one.
Izzy – all the boy we saw up there they are sucking at her Teet. They are keeping her close until they can rip her head off.
Hasmin wants Corey then Cameron and Luke out next.
Hasmin adds that Luke isn't as big of a threat than Corey, Cameron and matt. Those are the two competition threats.
Izzy agrees.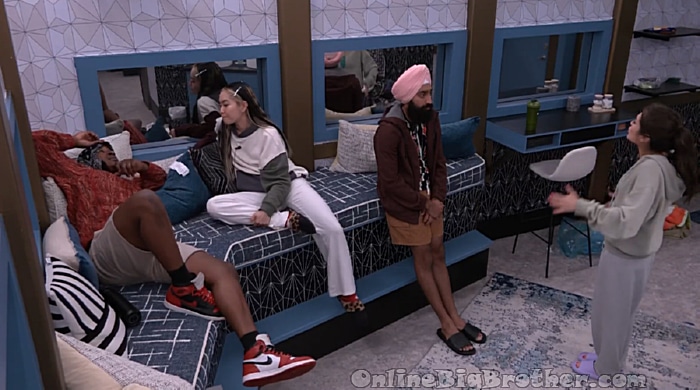 4:05 pm Blue and Jared
Blue – He's a super fan and he's SMART
Blue says Corey is impressionable "I can see him making big move but I don't see him going against us"
Blue says Corey has really been making an effort to hang out with their group, "trying to stand there talk to us and be on our side more than the comic room people"
Blue – I trust you, I trust Matt I trust Reilly . Them Two (Jag and America).
Blue – between you and I you know who I think is a wild card? Luke
Blue – I like Matt I trust him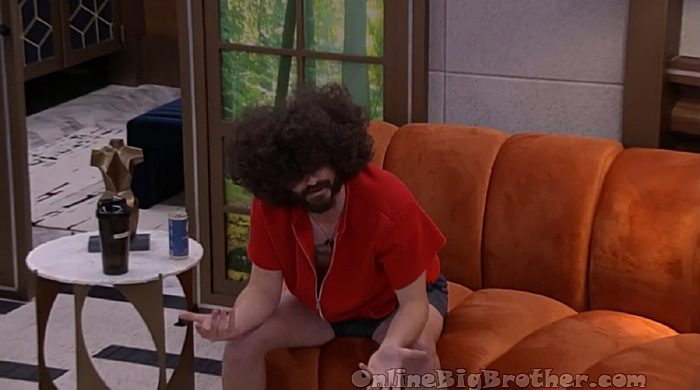 4:20 pm Chit chat in the HOH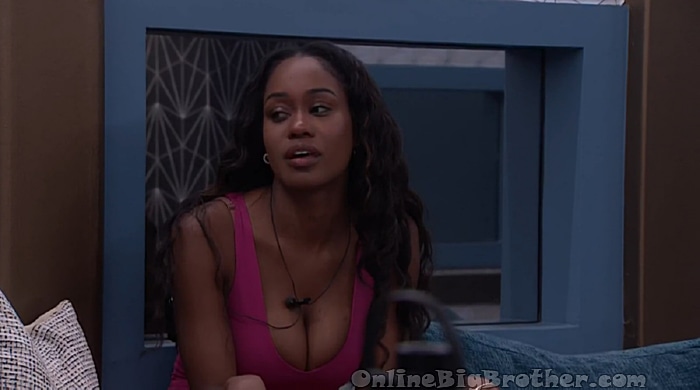 4:23 pm Kirsten, Jared and RED
Chit chat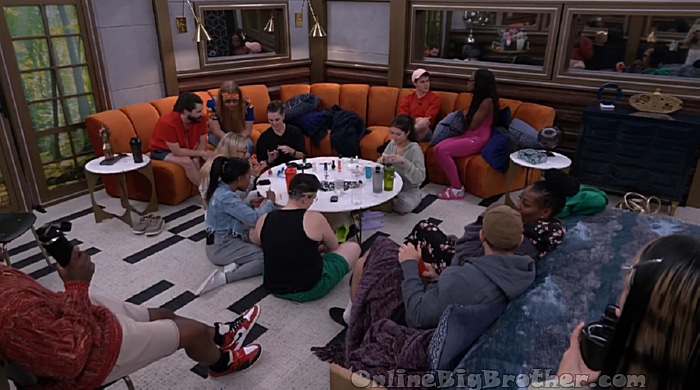 4:40 pm chit chat