Support the site and purchase your Amazon goods through our link below. It doesn't cost you anything and we get a percentage of what you buy.
Amazon Canada
Amazon USA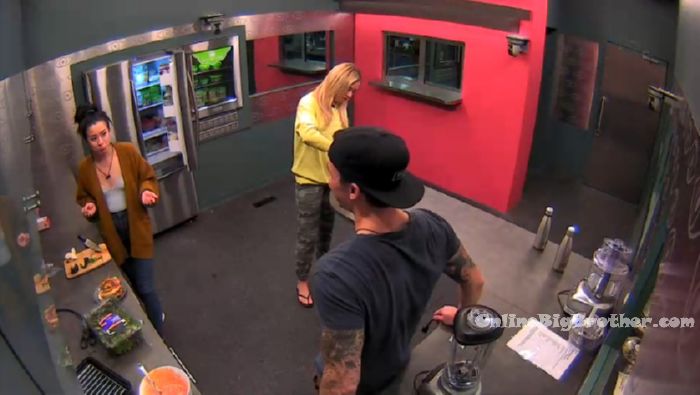 10:03pm Storage room. Damien, kiki and Chelsea.
Damien – I'm a happy havenot because I'm here. Chelsea – Damien, you're a f**king trooper. Honest to god. Damien – I'm blessed. Kiki to Damien – Avacado? (WTF he just said he's a havenot! lol) Damien – no I can't. Kiki – oh f**k, sorry! I'm sorry! Oh my god, I'm a f**king idiot! Chelsea leaves. Damien to Kiki – we'll celebrate later. Kiki agrees.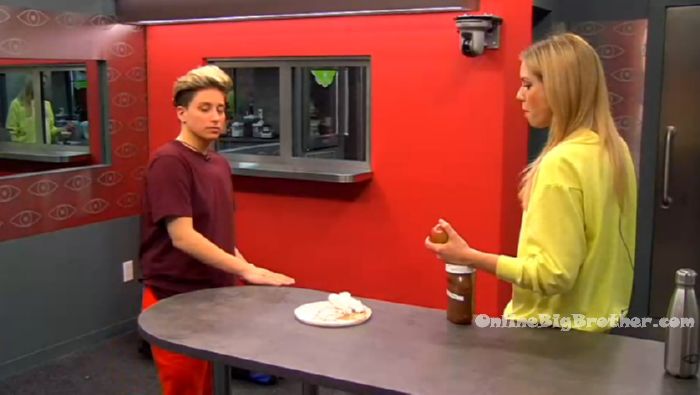 Storage room. Chelsea and Kyra. Kyra – hopefully its someone in the middle (going up on the block). Chelsea – he guaranteed Sam that she isn't going up. Kyra – right after the eviction he (Dane) told me he is going to gun for it (HOH). I know who I am going to put up. I don't know if something happened yesterday .. today. Chelsea – don't feel like you failed this.. its pressing a button. You can't beat yourself up of it. It is what it is. Dane winning it just puts a bigger target on his back. Kyra – I just don't want to play this without you guys. Chelsea – you're not going to. I don't know, I am just going to go talk to him.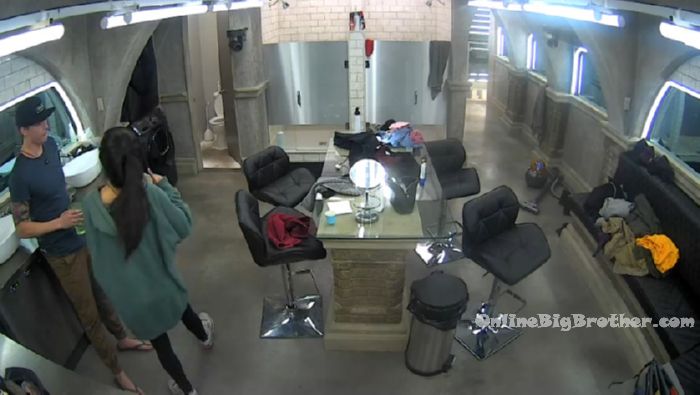 10:23pm Bathroom. Damien and Est celebrate. Damien – I'm so glad I'm still here. Est – we're good for another week. That means we have to study every single day! Double eviction! That's going to be tough! At least one of them is going home this week. One of them! Kiki joins them. Est – its going to be a long week but we have to put in a lot of work at the same time. Damien hugs them. Est – I'm so f**king happy! Damien – you know what I love. All our celebrations. Good Job. Good Job. We weren't like f**k you! F**k you! Kiki – I knew this was going to be a good week this week. Est – I'm nervous about next week. Kiki – no, you know why? Because there's a shift happening right now. Big Big Big shift.
10:30pm Storage room. Dane and Adam.
Dane – is this the strongest alliance ever!? Dane jumps on Adam and hugs him. Adam – I don't want to celebrate. Dane – yeah, we'll talk later. Is this the strongest alliance ever?! Adam – when Damien dropped.. Dane – you were good. Adam – we were both good. Dane – we'll talk. Adam – but nominations are going to come quick. You actually think that you will keep Sam safe though? You're not going to backdoor her are you? I know there was lots of talk about it. Dane – no, no as long as she keeps her word to me. Dane – all four of us have to come to an agreement. Adam – just please don't backdoor Sam. Dane – Ok, I won't put her up or after the nomination ceremony either. Adam – I know you're really close to Kiki and Est. Dane – I'm not putting them up. Adam – no, I know that. Sam is actually good at competitions and we can use her. Dane – I know that. If I don't put her up maybe you save Est. Same deal. Adam – yes. I can totally work on that. Dane – tell her to come up to me with that deal. I am not going to bring it up. Adam – we have a plan .. I don't want her to go home right now. Everyone else I don't give a f**k about. Its no point to keep girls that aren't going to benefit us. Dane – no, I know. Adam – I wanted to celebrate so much. Dane – this could be the strongest alliance ever. Dane – there was a lot of whispers before.. Chelsea was trying to start a girl alliance. I was really chapped about that.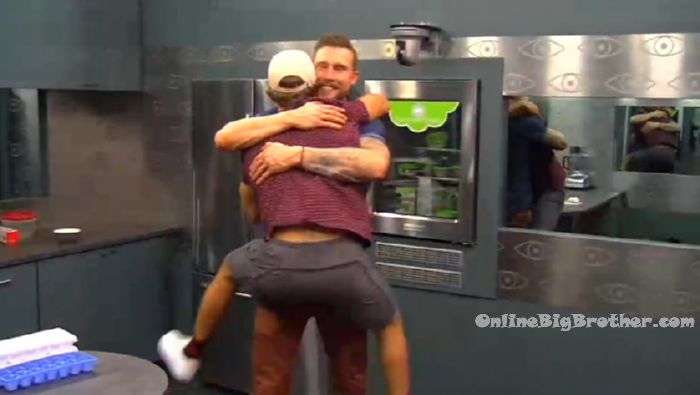 10:45pm Adam and Sam. Adam – I was like, you're (Dane) going to keep your word right? (To not put up Sam). He was like yeah, yeah..I will. He wants to make a deal. Sam – with the double? Adam – no he wants Est safe too. If I am going to keep you safe. next week.. and I was like I'm in the same position you are man. I don't want her to go home right now. He was like yeah well I don't want Est to go home either. So we send home Kiki… Sam – yeah, that's good. Adam – split that up. (Est and Kiki) And I said that and he was like sure whatever. But he said you've got to go to him and make that deal. Sam – I will tomorrow. Not tonight. Adam – no not tonight. He is good at competitions. Those two aren't good at nothin'. I was just please don't backdoor her (Sam). Sam – you said that? Adam – I did. Sam kisses Adam. Adam – he said we just have to promise him that next week Est isn't going home. Sam – Okay. Adam – he didn't say nothin' about kiki. Sam – okay. I can make that promise. Adam – I only told Damien about this week. I didn't promise him nothin' after. Don't tell Chelsea this because I don't know what he is going to do. He might go after her. Sam – I think its good that I didn't win because now we both play in the double.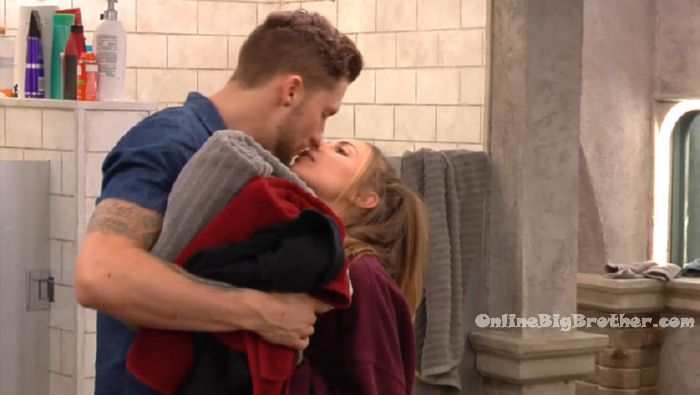 12:40am Dane – I honestly don't know who to put up. Sam – on my clock you would never go home. Dane – we both said we're safe / safe. And I will stick to that.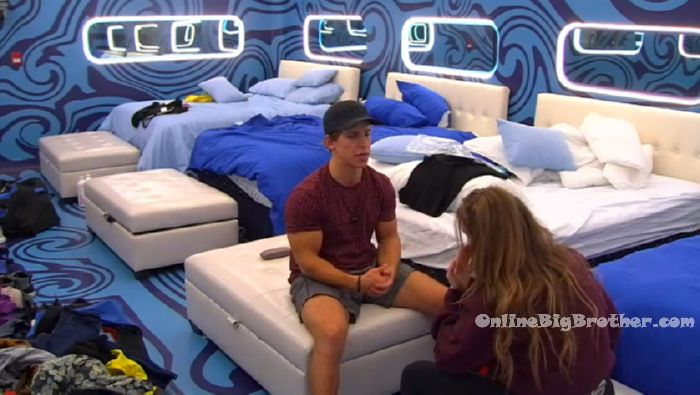 Show your support by making a donation.