Head Of Household Winner: Todd
Nominations: Lamar and Carson
Power of Veto Players: ?
POV Winner: ?
Veto Ceremony Results: ?
Evicted: ?
Subscribe and watch the live feeds with the FREE Paramount+ Trial.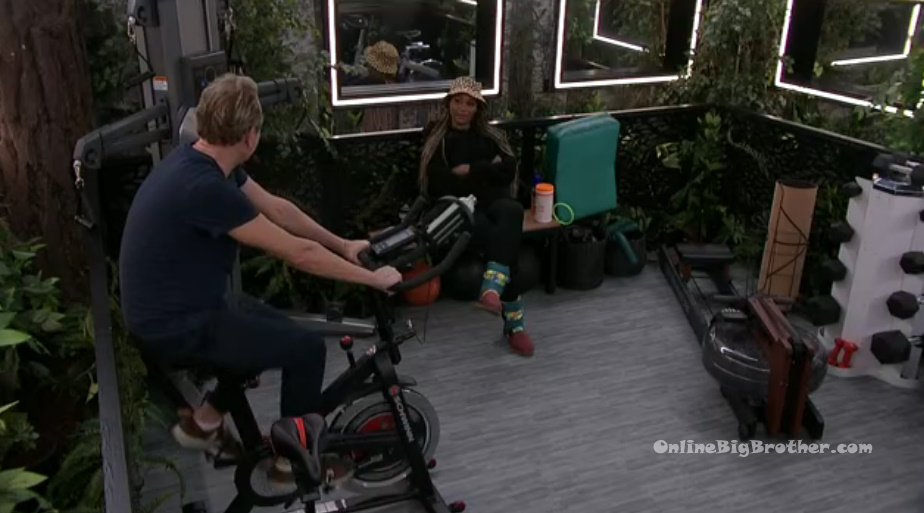 6:43pm Gym – Carson and Cynthia.
Cynthia – when I saw it there were only 2 people left in the house and not four people… so 2 more people after we leave still have to go. Carson – right and they might try to separate Todrick and Miesha. Cynthia – right so if that is ultimately what is going to happen .. I don't know maybe people are thinking ahead and Todrick and Miesha are going to be hard to beat I think. Carson – yeah, if you have someone to put up.. if it gets to that point, you have to put up Miesha. Cynthia – Yeah, I think they are going to be very hard to beat so.. I am trying to figure out the reasoning for this little small blessing that we got. (Not being put up on the block together.) Carson – I don't know. Cynthia – this little sliver of hope. When they could have just put our a$$es up there. Carson – yeah. And guarantee because I am sure they would have voted you out. Carson – they get me and then they get you and then they have their final four. Cynthia – exactly. Carson – so I don't know what is going on but they've definitely had a lot of meetings. Its not like we.. we didn't out smart them. As much as I would like to think that dumb and dumb did out smart them. That is probably not the case.. but now we just wait. Cynthia – no it will reveal itself. I don't think that we were just that lucky. I just feel like it was strategic but I can't figure it out why.. why they're doing it.. because this is the clean house part. Carson – absolutely. Cynthia – everyone understands the assignment… put them both up. Boom, knock them both off. Carson – I just wonder if Todd is going to take one for the team so that Miesha and Todrick can go forward. Or does Todd think that he is in a final two with Miesha? Cynthia – I think Todd has always been very focused on winning. Do not underestimate his gameplay. Carson – dumb like a fox. Cynthia – like it wouldn't even surprise me if he won. Honestly. Carson – yeah. Cynthia – like we've been so focused on Miesha .. like at the end just slide right on in there. Carson – yeah, Mr. Foxy! Cynthia – and everyone likes him. Carson – true!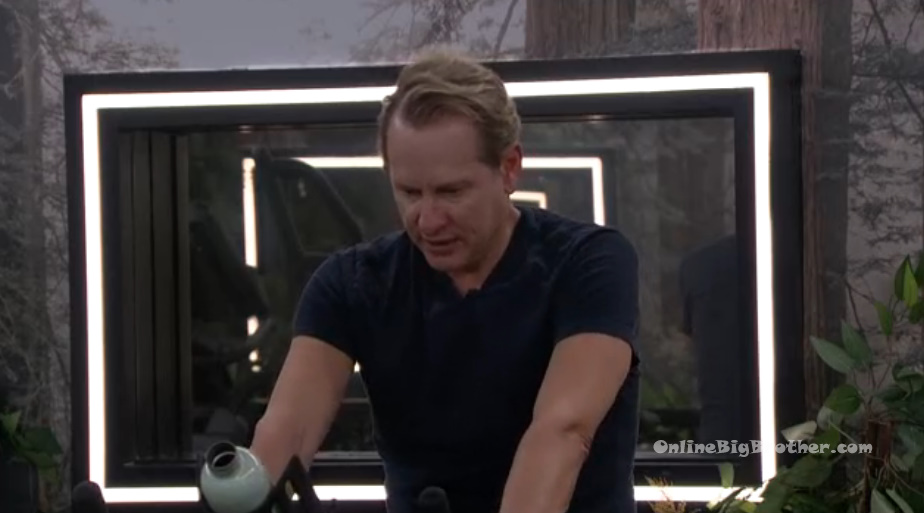 8pm Dinner time..
10pm – 11:45pm Quite evening in the BB house..

12am Backyard – Todd and Lamar chatting about random things. Mainly just Todd talking and Lamar listening..