Quick Big Brother Spoilers
Head of Household: Jared
Nominees: Cameron & Red
POV Players: America, Jared, Cameron, Red, Felicia, Matt
POV Winner: Cameron
Veto Ceremony:
Havenots: 
Lock your ranks in before midnight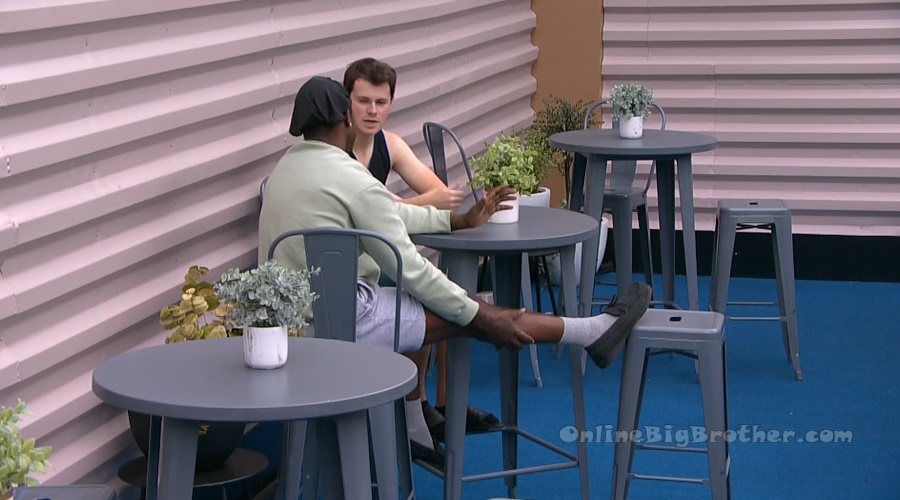 11:52am Upper Level. Jared and Cory.
Jared – if we put up America next to Red and vote out America.. Cory – This week?! Jared – yes this week. Cory – oh Jared! You got to explain it to me. Jared – if we were trying to keep competitors moving forward to move against Cameron ultimately, I would definitely pick Red and Jag. Cory – yeah of course but.. Jared – but in that theory who would have to go home? Cory – okay but I don't think we need to call in the Avengers to get Cam out. You know what I mean, he is a threat to win a competition but.. Jared – Dude has been putting on every time his back is against the wall. Cory – I don't even want to entertain that. This is something I just need you to trust me. That like you're my number one and America is not. I have been telling you everything that she has been telling me. And I am sure you feel the same way about Blue except yours is probably easier because yours is a non-factor. There is no world where her (America) leaving this week makes any sense for you or me. It doesn't. Its all to make sure Cam doesn't win HOH? Jared – if Cameron wins HOH, I am f**Ked. I am not even worried about that. I don't even want to go over the Cam situation because I am f**Ked. They start running through scenarios. Cory – if the goal for you is to get Cam out .. and I know it is more complex than that but if that is the goal… then Jag has to stay. Are you nervous about yourself with Jag? Jared – for sure. Cory – Really!? Jared – for sure. Cory – why has he not come to talk to you because he feels comfortable on your HOH. Jared – I don't know. Cory – I think you're thinking about this the wrong way. Right now Jag is proving he's an idiot. He is not proving he has his hands all across the house. He thinks he is f**king safe because he thinks its going to be Bowie because he doesn't think that well and I am not underestimating him. BB switches the feeds. Jared – you say that Red is the only one that threatens your game. You know who threatens my game, Jag and America. Cory – America does not threaten your game and that is just something you're going to have to take my word for. Jared – it doesn't benefit me to not get out the two people that everyone wants me to get out .. it exposes things that I don't need exposed and compromises me. If I vote out Red right now and keep Jag and America.. I am starting to lose relationships. We have them and I can't tell everyone else that. I can't tell them we need to keep America and Jag because its better for me and Cory's game. Cory – so Meme, Cirie, Izzy and Felicia .. why do you think they're all so strong about protecting Red? Because I guarantee its not for yourself interest. Jared – I think they're more concerned about keeping Red because they can't trust America and Jag. Cory – Yes but also a massive part of that is because they think they have Red and they're right. Jared – yes that's true but they KNOW they don't have America and Jag.

12:10pm Backyard Hammock – Cirie and Cameron
Cirie – we said we were going to get down to the eight and god damnit we are going to get down to the eight before anything happens. Cam – I made a f**king pact in that room around that table. Cirie – you did. Cam – we ain't going no where. Cirie – and I trusted you on that and I am going to continue to trust you on that. Cam – you better and please for the love of god please continue. Now I understand what is happening I am not going anywhere. You're not going to shake me just because you want to talk sh*t. I see what is going on. Its the same sh*t he has done for the past two weeks. Its the same sh*t he did when I was sitting next to Reilly. He perpetuated everything that Hisam was saying. Last week he was still going around every day ..like yup that's what I heard too. I know what he is doing. Going into next week. I have a pretty good idea what the competition might be and I don't want him there. Cam – Jared will tell you explicitly that he does not trust Jag. He doesn't trust him as far as he can throw him. Cam – thank you for this. Cirie – I am always going to be like this with you. I think you should have another conversation with Jared. Cam – Was going to but I told him I would give him space because he's got a lot of conversations to have. Cirie leaves the hammock. Cam – I love you. Cirie – I love you too Cam.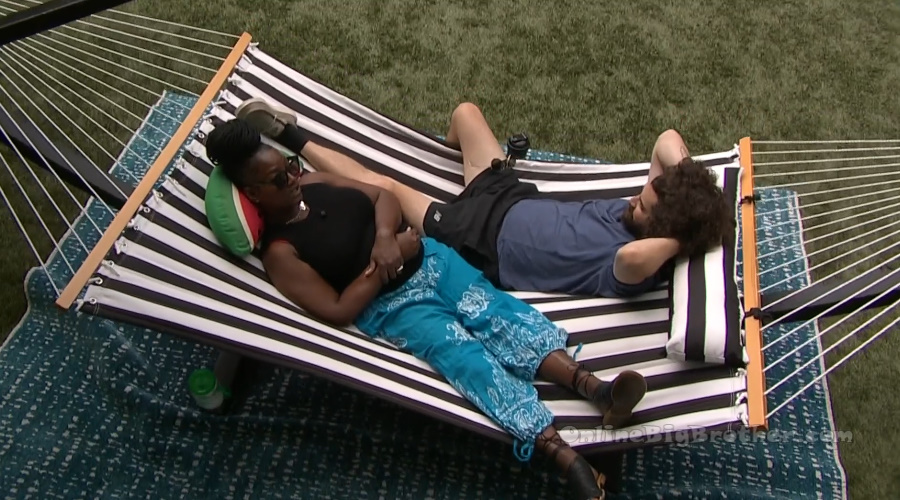 12:40pm Upper Level – Cirie, Jared and Cory.
Cory – its seems like things are leaning towards Jag. If Jag has to go this week or next week that is fine. Jared – I am going to consider your thoughts as well though. Cory – no consider it. I appreciate it. I know you're (Cirie) working better with America at this point. Cirie – yeah. Cory – I don't know if you care about that part of it. It will just get harder for you. Because outside of me she does not have a home. Cirie – she does though.. she just don't know it. And I am going to make sure she knows it. Cory – if the idea is to get rid of Jag you might have to start really soon because that is going to be a hard kind of hurdle. Cory – I don't think she wants to keep Jag. If its Jag its Jag .. but can we figure it out soon so that I can start figuring out if I can try to help America feel good about you guys. Cirie – And I have already tried to make Red feel good about you. At some point he is going to come have a conversation with you.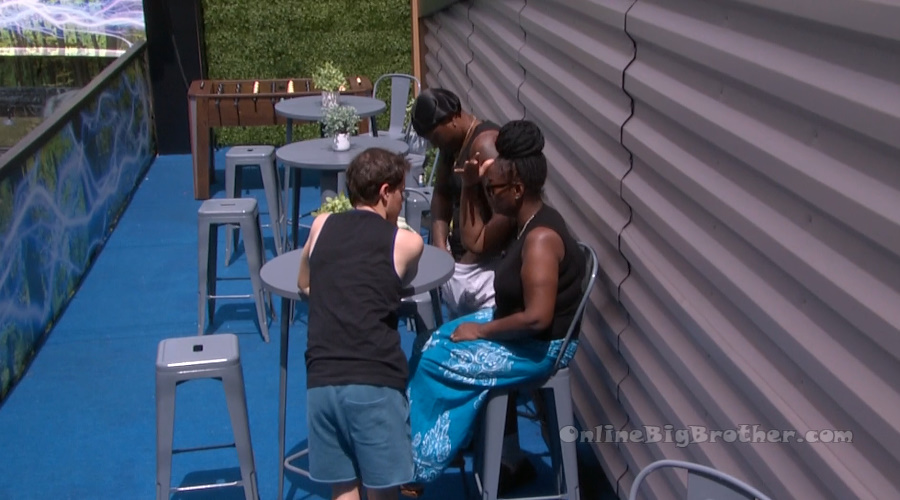 12:50pm – 1pm Upper Level – Jared and Cameron.
Jared – Jag is the one mixing all this sh*t up. Cam – everything over the past few days. I throw that sh*t out the window. Now she and I see exactly what the f**k is going on. You and I both knew we never could trust Jag. Now I f**king KNOW! Because he is going around everything. Now I know what is happening, where its coming from, who is spreading this sh*t. Because me and you don't talk about me and you. Now I know that not only Jag is going around saying stuff .. what he does is he goes and tells one person that he knows is close somebody and that person tells them what is going on… so that they feel as if its trusted information. Jared – that is why Cirie is pissed off. She wants Jag gone bad bro. Bro he hasn't spoken to me at all. Cam – he knows not to. Jared – he hasn't spoken to me since I became HOH. He hasn't spoken to me in two days. Cam – he don't want to because he knows that you don't trust him. He knows you don't trust him but he is going to go around planting all these seeds and blowing everyone's sh*t up. You know how strongly I feel about Izzy .. but that is something that we can handle later. Jared – I was just going to say if you saying that and you willing to get off the Izzy sh*t then that means there has got to be something. Cam – he is blowing his hole sh*t up. Jared – Cory seems like the only one not willing to do it. Which is f**king weird. But we can handle Cory. I truly feel like we can reel Cory back in. But the way that Mama C just came up here pissed off .. like what is going on bro!? Cam – I told you yesterday that I am pretty sure Red just broke up with me and I don't know why. And you know more than anyone that I would never say anything about my boys. Jared – you know who had a 2 hour conversation with Red the other day in the kitchen? Jag. TWO HOURS. BB switches the feeds.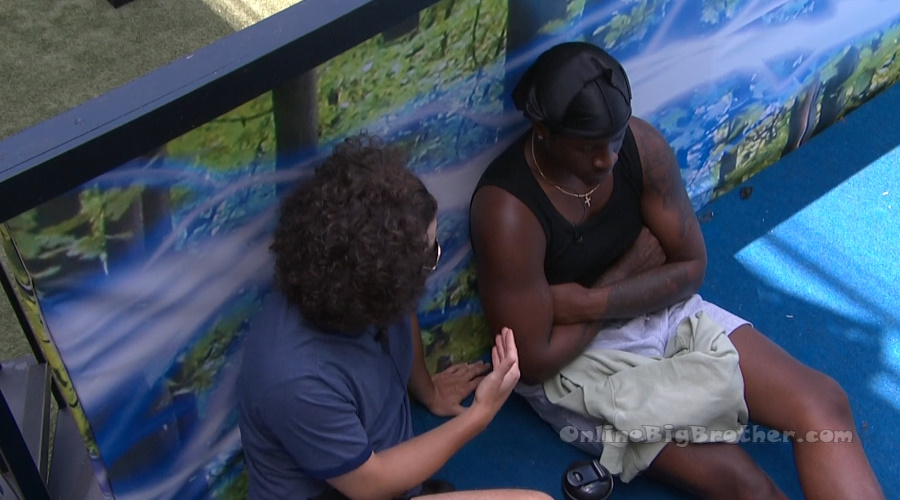 1:13pm HOH room – Jared and Felicia
Jared – I think everybody feeling like Jag now. Felicia – everybody is feeling like Jag. Here is why I kind of messed up. I was down there talking to Blue and mentioned to her that we might be considering Jag and she asked this week? And I said yes because I think he might be trying to align with Cameron. Cameron is on the run. When I said we were considering it, I did not tell her that we approached you about it yet. Jared – yeah she don't know that. I ain't tell her either. Felicia – and that is why I am telling you because she maybe thinking. Like you guys did this and Jared didn't tell me? Jared – yeah. Felicia – so that is why I wanted to tell you that she now knows. What I don't know is if she has said something to Jag. And I guess this is my way of testing how loyal Blue is still to Jag. Jared – yup. Felicia – I really want to test that because if she has already told him then I know she is still very loyal to him. Jared – yup. Felicia – which makes that a problem. Jared – I am board with this whole Jag sh*t because I am sick of it. He gonna be tight! Felicia – he gonna be tight, tight, tight!
1:15pm Kitchen – Red and Cameron
Red – I don't want to give you any false hope because if it is what I think it is, it really is not repairable. Cam – interesting. Red – because its hardcore man. And like I said I will speak to people. Cam – I am not that type. I am not that type. You can read into whatever you want to read into it. BB switches the feeds. Cam – … hurt and understanding. I understand. That is all I will say. Because you are right if whatever you are thinking I said or did that is nuts. Red – the problem is, it ain't from one person. Its from multiple people ..and people that ain't got no reason to lie to me. Cam – that is why Cirie and I just talked because I know how it is going. I know what is being said. I know how it is being said. And now we're onto the bullsh*t. I am not f**king doing this man! I wouldn't do that to you. I wouldn't do anything like that to you. I promise you. Just like I promised you that night. A mans f**king handshake means that to me. Red – it goes both ways that's the thing. Cam – you can have your space. I will leave you alone but I would never do that to you man.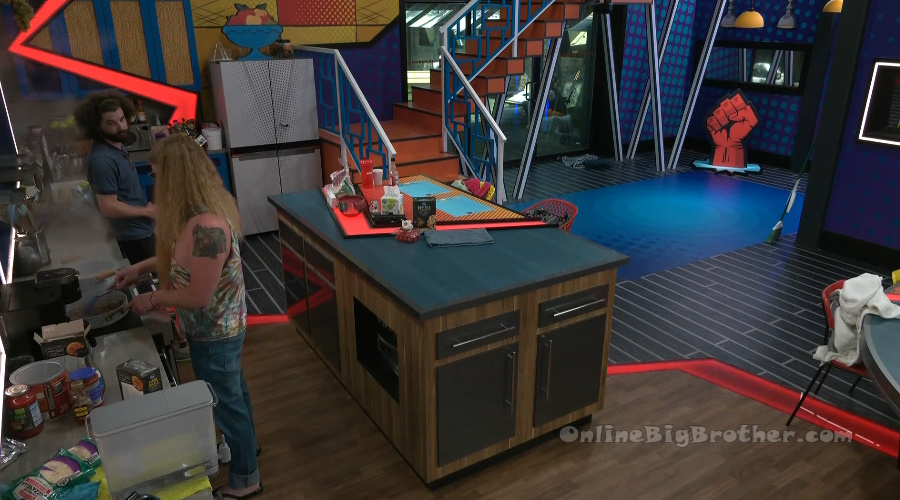 1:28pm 2:20pm Havenot room – Jared and Blue.
Blue – what the f**k is happening? Felicia is antsy about Jag and of all people I shouldn't have talked to her. Today Felicia had a conversation with Jag and them I had a conversation with Felicia. Its hilarious how both sides always work right?! SO Felicia came up and asked how do you feel about Jag. And I was like I feel good with him right now. I don't think he is going to do anything with our seven. And I truly believe that. I just talked to Matt and he believes that too. Felicia said Jag came up to her and was really pressing her about this and whatever. And I was like what are you talking about? Jag pressed her about the whole we situation. BB switches the feeds. Blue – …why are you throwing my name out. Why are you saying that I should go up without consulting me? That is her perspective, then Jag came up to me and was like hey I am feeling a little weird about Felicia. I don't know what is happening. And from his perspective I can see where Felicia is pressing him about who is we. He was like if people are throwing my name around especially within our seven I want them to at least consult me about it. Like tell me about it so that I don't feel blindsided again. He just got nervous because Felicia kept saying his name and then Felicia didn't make matters any better .. Jag was talking about next week.. asking who would go as a replacement nom with Cam? Like who is going to go up as a pawn against Cam? Then Felicia was being super tippy toe .. and being like we would have to put someone that we don't trust who is really good at comps. And Jag was like why are you.. Jared – describing me. Blue – exactly! Jared – they're both not making it any better. Blue – they're not! Jared – did you tell Jag anything that she told you today? Blue – no. Jared – good because she said Jared I really don't think I can f**king trust her. I was speaking to her about something and it seemed like she went straight to Jag after. Blue – no not at all. Jared – I was like no I don't think that is what she is doing. One thing I really want to tell you so that you know where my distrust is coming from with Jag. Jag – knows exactly who saved him. Jag knows exactly why he is still here. And he is still lying about it .. still. As he was crying to my face he was lying about not knowing. And I f**king already knew. That sh*t pissed me the f**k off bro! I cannot trust that dude. Don't f**king ask him this. And don't say this to anybody. I told Jag before, I think you both might be able to stay but I can't guarantee you anything. I said leave it at that. I said don't say nothing to nobody. Don't start acting different. You know what he did right after I said that and he left the room? He went and told Cirie! Not knowing that it was going to come back to me again. That is why I was so pissed off! I spazzed on him. I was like Jag. I will never f**king trust you ever again in this game bro. Don't f**king speak to me no more bro because that sh*t pissed me the f**k off! Because now I am in hot water with everyone else because you want to talk and run your f**king mouth. AND he was still lying!! I said think about what you're going to say and think about whether I know or not. I asked did you tell anyone? And he said no. I asked him 3 times. The third time I asked him, he paused for a second and then said yeah I told somebody. He said I would do whatever I can to gain your trust back. I told him I was done with him. That's why I am telling you to just be careful with what you tell him. Jared – once again my mind isn't made up. I am not saying we're voting out Jag but I swear and I mean this sh*t you are the only reason its not an easy pick for me bro. You are the only f**king reason. Regardless of my decision between America and Jag.. one of them are going home for sure. Red is no longer a threat to me. The only reason he was a threat was because of his proximity to Cam. Now that that is over I don't worry about Red. I am going to let everyone talk amongst themselves and I am sure it will change again.. but as of right now he (Jag) probably has another 10-0 (vote to leave this Thursday). Blue – no I get that.
2:22pm Havenot Room – Jared, Matt and Blue.
Jared continues ranting and raving about Jag. Jared – I don't want to be the one to make the final call because I have to think of myself next week as well. This is going to be the first week that I can't play. And your a$$ (Matt) ain't win yet. And you (Blue) ain't win yet. So I need somebody to f**king win! Matt – I know, I was talking to Meme that I want to win because like this could be really good because Cam will never expect it from me. He would never expect a backdoor from me. And that could be really good. He would never expect that. He is the one that chose me for veto. He would never see it coming from me. It would be perfect. Its ballsy but do you know who I would put up? If it was America that went home this week. I would put up for pawns, Red and Jag. Jared – this f**king guy bro! Cam wins veto and keeps noms the same… and Red goes home. Jared – if Jag goes home .. that sh*t was a waste.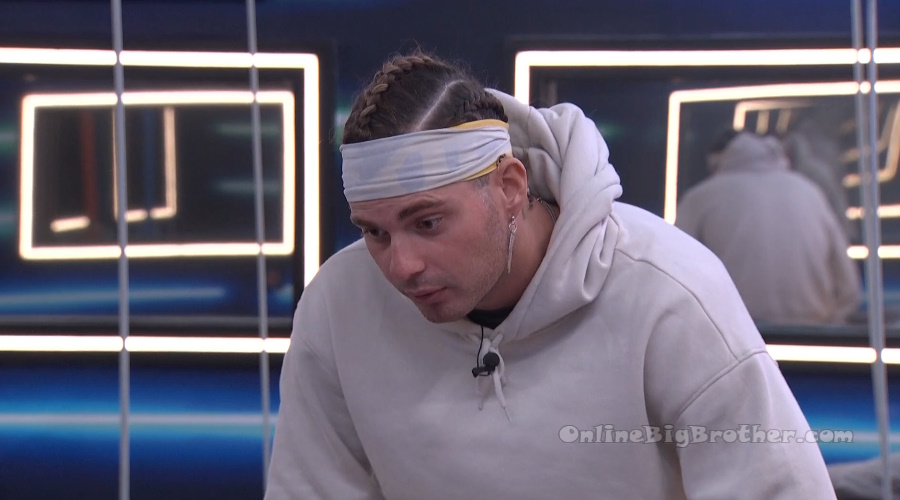 2:50pm Games Room – America and Cory.
Cory – I don't know how to talk to Cam at this point. America – welll he likes you. Cory – I know. America – I am really rooting for Cam winning HOH. Cory – I know you are. America – I just need somebody to take a shot. You know?! Cory – I wouldn't be so sure we're out of the woods in a Cam HOH. I think we would be but.. America – I don't think it would be you and me though. Cory – I don't think so but.. America – even if its just me .. I don't know. Cory – this is what I will say .. if anyone gets any indication that you and Cam are buddies.. America – Mmmmhmmm.. but we're not though. I left it as I don't trust you. That was the end of it. Cory – All I am saying is .. at that point I don't know whatI can do at that point because all I have been swearing is America hates Cam.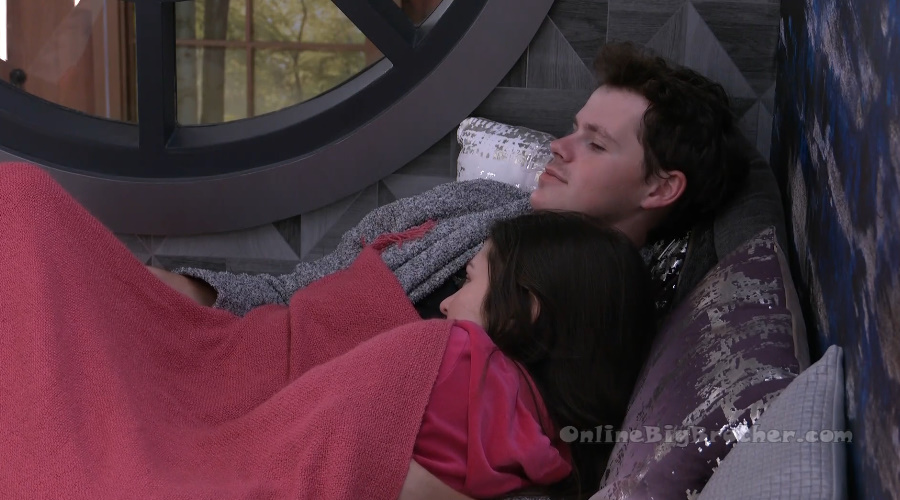 3:03pm By the Pool – Jared and Jag.
Jag – how are you feeling? Jared – I think everyone knows this but I wanted bro (Cam) to go home badly. Jag – and him just being in this house is just .. he said to me that if he was HOH I wouldn't be up or be his target. And I was thinking you were just HOH and you just put me a$$ up. Jared – dude is like another version of Hisam. He was talking to me and saying he's got your vote. Jag – no he don't have my vote. He is telling everyone that you're dangerous.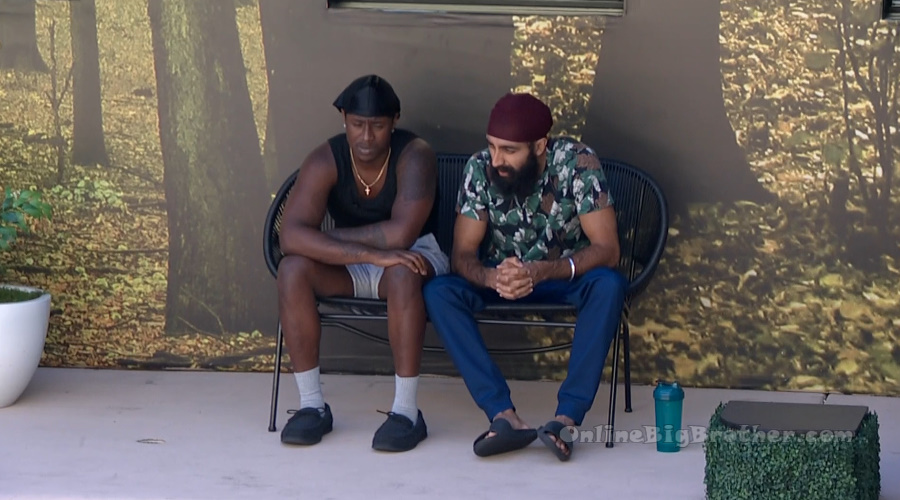 3:56pm Cam comes out with the camera and says the question of the week is What NFL team name best describes you?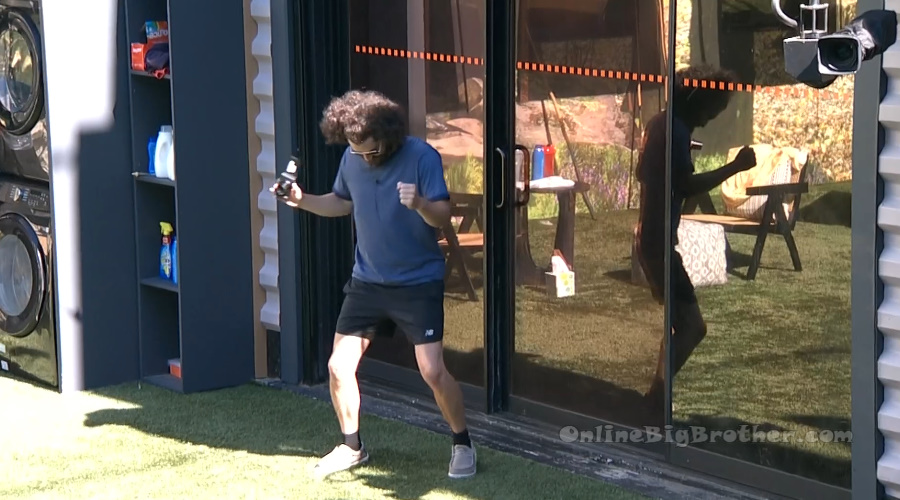 If you like these spoilers and read this blog regularly please consider a donation to keep the madness going. We accept donations via paypal How to support OBB