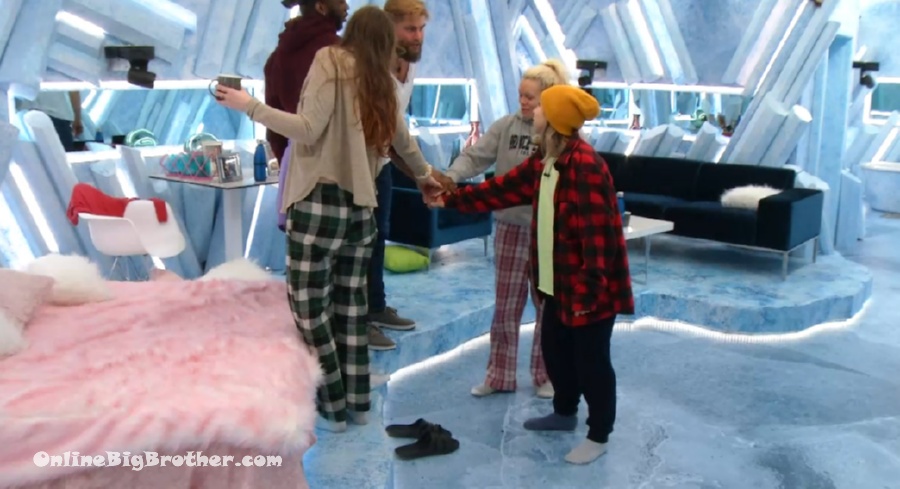 10:45 am Sheldon, Vanessa, Sue, Brooke, and Chris
Their alliance is called the "cool kids" (shoot me)
Vanessa – we have four people going into this competition. Numbers are in our favour we got to win umm.. yeah
Sue – and we have to get Demon out of here
Chris – demon, whose next
Sue – Demon then like JL
Brooke – yeah
Chris – I don't know we're pretty close to him.
Chris asks if JL harbours bad feelings for week two?
Brooke – no he doesn't
Vanessa says JL will put up Chris and her
Sheldon – I'm leaning more Vanessa but I don't even know he puts up Chris they're pretty cool now
Brooke – he's also worried about the girl to guy ration. He'll put up two girls
Sue – he wouldn't put up Maddy and Ria. IT's two of us
Vanessa – Me and Angie
Sheldon says people like Angie and Maddy they bring as far as possible there's no point getting rid of them early. They're non-threats essentially.
Vanessa disagrees about Maddy, "These girls are coming after me"
Chris – Ri is more integrated Maddy is more isolated
Brooke – Ri is more dangerous than Maddy
Sue – get her our first
Sheldon says Minh, JL and Hira are the ones good at competitions those have to go first.
11:05 am
Hira (Study help?)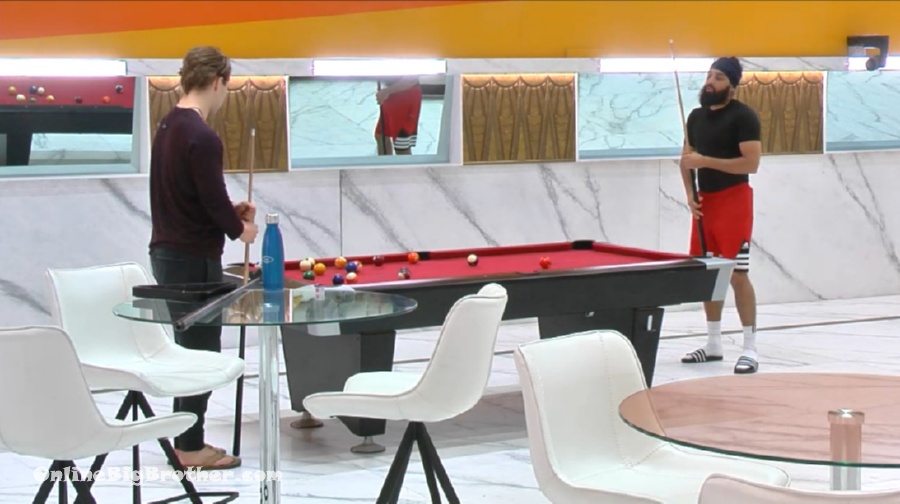 11:14 am JL and Hira
2/5th of The real cool kids.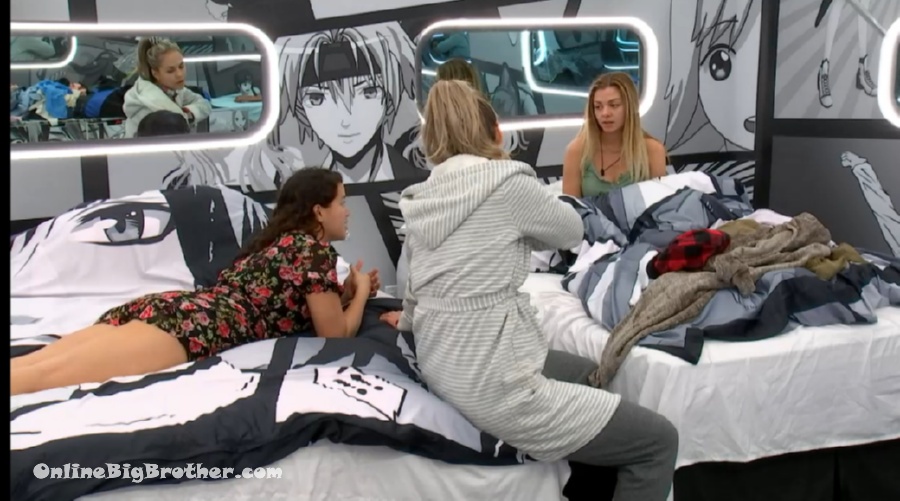 11:25 am Maddy, Minh and Ri (3/5ths the real cool kids)
Minh going on about telling the house she should get power next week because she will put up two floaters in the house. She'll use the angle on the guys that both her floaters are girls.
Maddy – they'll like that
Minh says she likes JL.
Maddy – he's a number for you he said it would be awesome if Minh won power just to stir sh1t up
Minh – I trust John he's a good stand up guy I trust him he's like Mike
Ri – who do you think Chris will nom
Minh – might be Me because he's close to sue
Ri – he might put up Brooke and Sheldon but I see him putting up JL and you (Minh)
Ri says Minh needs to milk Vanessa for information
Maddy – because Vanessa is close to Chris and you're close to Vanessa on a personal level
Minh – I don't think Vanessa is that close to Chris
Ri thinks Vanessa and Chris are just close personally but they don't talk game together.
They talk about Sue "Playing the whole damn house"
Ri – or going with who has the power
Minh – I can't stand people like that
Maddy – I know she tries to be that charming.
Ri – and I like her and she thinks it's good being close with everybody but it's starting to hurt her.
Minh – she's sketchy as f*** (sue)
Minh – I'm telling you the moment I win power she's going to be RIGHT up my a$$ and around the corner
Minh – I said to her .. roll the tapes. I said to her, Sue what if I stay in this game you don't know what is going to happen. What if I stay in this game next week and I win HOH you're going to be kissing my a$$. I said that to her face
Ri – she's 24 and I think she's a lot less sure of herself than all of us
Minh – You can tell
Maddy – she's immature.
Chris joins them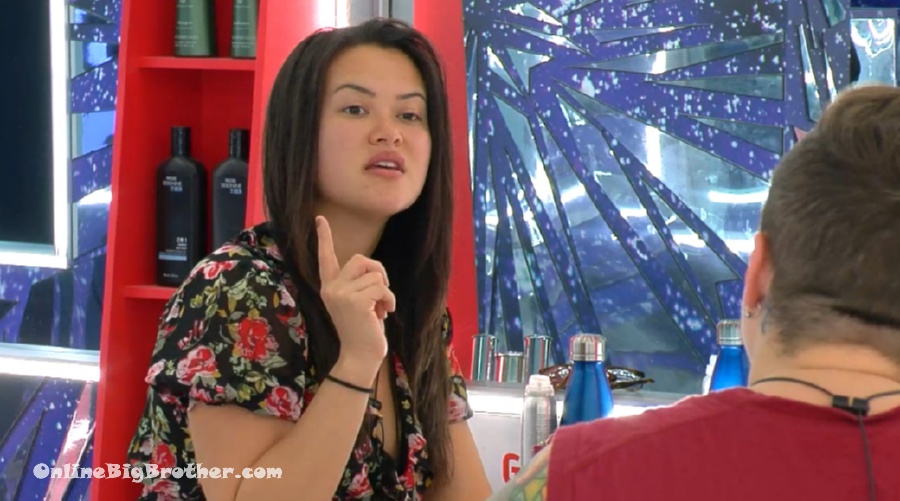 12:13 pm Carol and Minh
Carol says she wants Vanessa and Minh to work toegether
Minh – I want that too
Carol – I don't want you to screw her until final four then you're all for yourselfs
Minh – can you help me this week?
Carol – mmmhmmm
Minh – this is what I need you to do for me to be in a better position to be able to keep my promise my goal right now is to talk to everybody in the house and tell people it's a good idea for me to win power next week because if I win power and I get two floaters out. And you know who. Nobody gets blood on their hands I don't stir the pot becuase I've already stirred the pot.
Minh – that way she's safe (Vanessa)

12:20 pm Work outs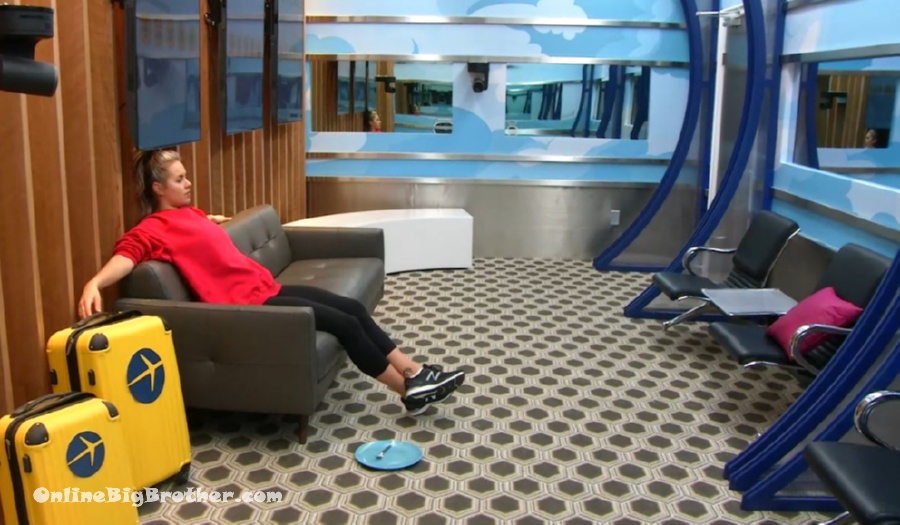 12:56 pm ….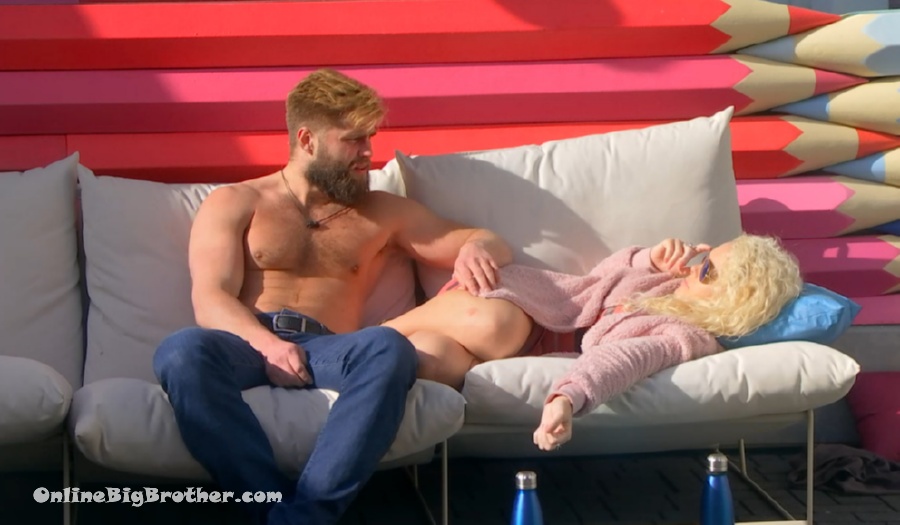 4:28 pm Chris and Vanessa
Vanessa – just because Minh is everyone else's target doesn't mean she's ours right
Chris – you talked to Carol today? I did
Chris – Hira wants me gone, dude
Vaness a- I know
Chris – he's our only competitive threat. JL is less of a threat
Vanessa – I really want JL out bad
Vanessa says if Hira wins HOH her and chris are going up "so fast"
Vanessa – let me ask you this how do we go about it next week if you or I win HOH ?
Chris – we put up two pawns, Angie, … two of the girls
Chris – you tell the same story backdoor Minh-ly
Vanessa – yeah
Chris – but we're not
Vanessa – We need to keep Mingh here. I know Sue wants her out bad man
Chris – we just need to get ming under control and make her understand if she blows it she's gone everyone else wants her gone it's week two all over again
Vanessa – why don't you and I talk to Minh
Chris cautions against this because whatever they say to Minh gets out there.
Chris – don't talk to her until we win
Vanessa – if Minh wins we're good she's not coming after you and I.
Chris says they are in a 5 person alliance. They are very close but the other members don't know this. They Need to secure a third person. This is why he wants to bring in Sue close.
Vanessa says Brooke and Sheldon are close and are courting Sue.
Chris says get Sue emotionally close
Vanessa -t hat's how you get close to sue
Chris – I want her to get Sheldon out before me
Vanessa – f** I wish we weren't losing Carol, man
Vanessa says she wants JL, Ri, and MAddy gone because Kyle told her time and time again when he talked to them they said they wanted her gone.
They agree Kyle leaving has benefited their games.
Vanessa says if she wins HOH she'll put up JL or and "one of the girls" or both of the girls (Ri and Maddy)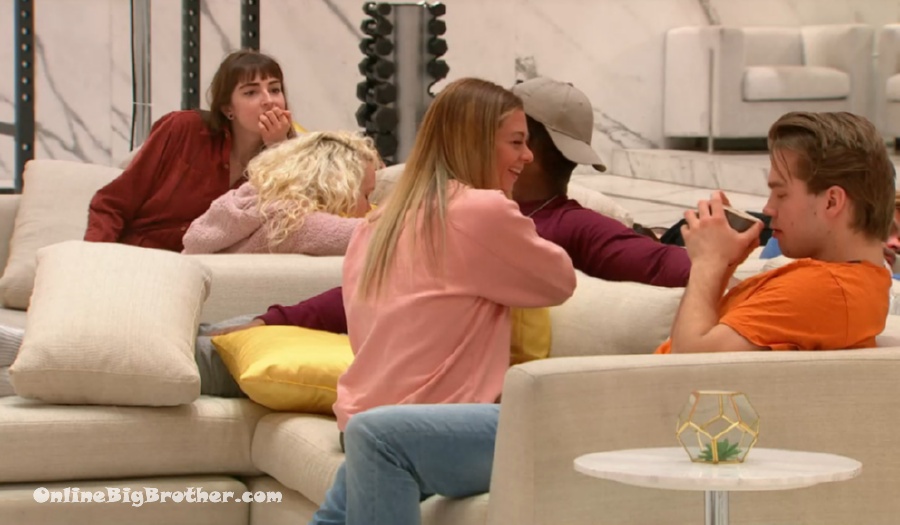 6:00 pm Chit chat about weddings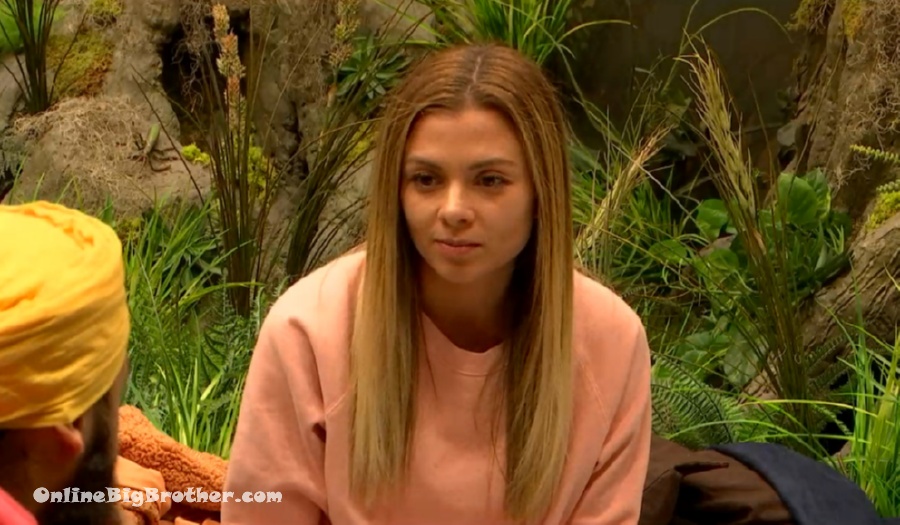 6:30 pm Maddy, Hira and JL
JL – Minh told me something today about Angie that kinda scared me a little bit. Apparently Chris and Nessi are really in her ear right now.
Hira – Chris and Vanessa re in Angie's ear?
JL – that's what I heard. Minh told me today. Getting her on their side number side. I'm saying if we can keep a really good relationship with her
Maddy – they're down Kyle, They're down carol those were numbers for them
Hira – they're trying to get Angie back. I feel good with Angie
JL – keep that. Why I bring this up . If Angie were to win HOH she would probably put up someone from this side of the house
Maddy – I don't know
Hira – If Minh is still her she'll put up Minh
Maddy – it's not a bad idea if Minh wins this next HOH
Hira and JL agree.
Hira – sue would be the most stressed out
Maddy says Sue gets along with everyone and hasn't picked a side "I don't feel she's with us at all"
JL – her two best friends are Vanessa and Chris
Maddy – she never puts the weights away which pisses me off
They complain about sue never putting away her weights and when she finishes a jug of milk she leaves the empty container in the fridge.
Maddy – I'm like C'mon
Maddy – she burnt our only spatula
Maddy – if Minh wins this we're in the best position.
JL – I'm definitely ok with Minh wining
Maddy – she would put up Sue and Angie
Hira – do we backdoor Chris
Maddy – I'm going to put up Vanessa and Sue backdoor Chris if it happens (BAM)
Hira says he would put up Chris right away. 'Just sucks I can't play in the veto I want to play in the veto"
JL – You've been crushing vetos. You're the quiet comp beast this season
They talk about the House meeting last week and how what Jams was saying about Vanessa wasn't bullshit that is why she's been trying to reset her social game.
Hira – I feel there's a lot of people on the same page I've talked to Brooke and Sheldon and they're cool with either Chris or Minh going
JL – when I talk to Sheli he's always like I don't know what Chris is thinking I'm worried about him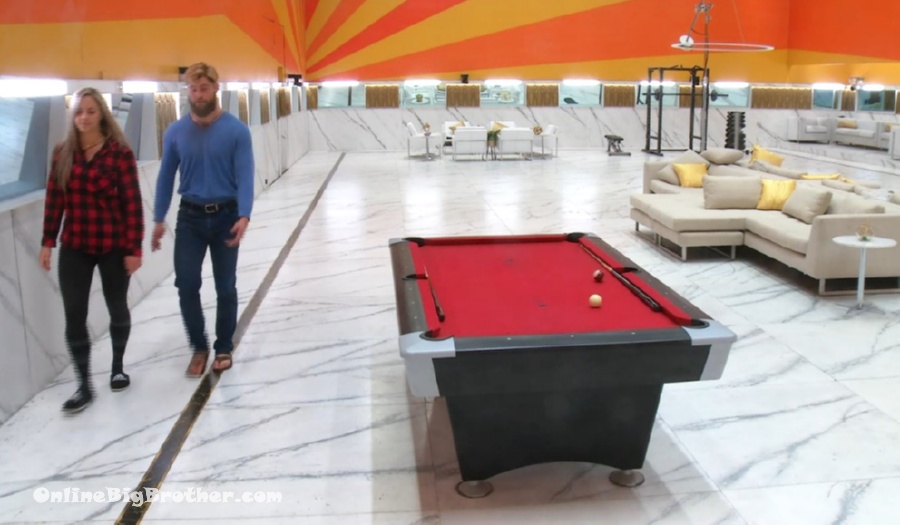 7:53 pm Chris and Ri
They are talking about how this cast sizes up against other seasons. Chris thinks the girls are the strongest yet. Ri says after what Carol is doing now they aren't going to want to cast older people.
Chris – the problem is when Nico self evicted it set a precedent it gave people the idea to think about it.
Chri s- Kyle and Jamar they were pretty out there you know. so whatever they did that was them. They do testing. I mean it's a fine line you know you want to have characters like that in the house, of course, though you have to have something you can present on TV.
Ri – yeah, That's acceptable
Chris – yeah so, I think they were a great cast
Ri – they took it a little too far
Chris – yeah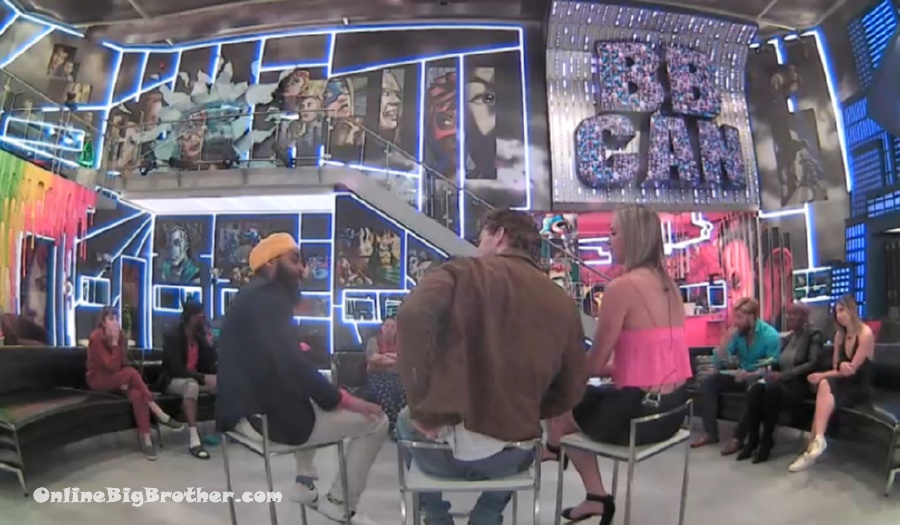 11:23 pm Playing talk show.