Around 9:00 am Houseguests start waking up .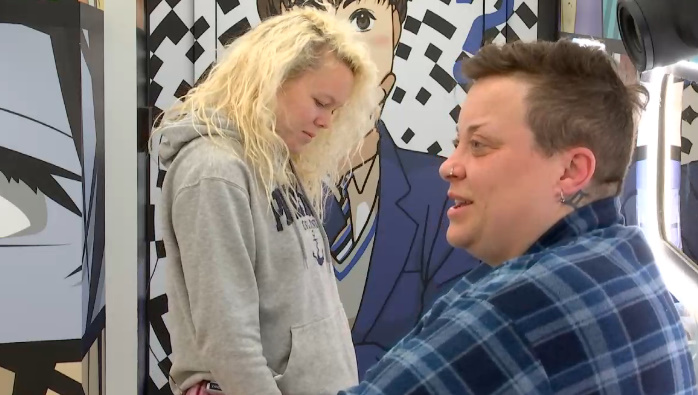 9:30 Am Vanessa and Carol
Talking about dreams..
Vanessa- I'm starting to only dream about in here and the people in here.
Vanessa gets called into the Diary room. AS they walk out she says that Rianne has the coffee made and ready.
Carol – we'll I set it up last night
Vanesa – yeah you did
Carol – so … it's a beautiful thing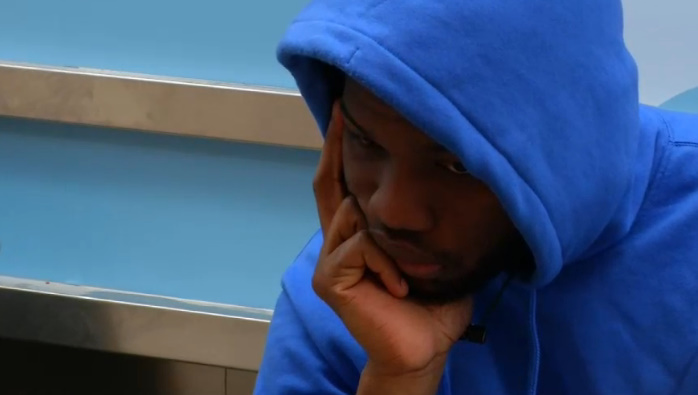 9:40 am Sheldon and Brooke
B – so the only people we are now not in a named alliance with Minh, the girls, and Angie?
S – Yeah
Brooke laughs
S – I don't know why my instincts tell me not to make a fake alliance with those two. I just think it would make it personally hard (Ri and Maddy)
B – I'm pretty okay with having talks that sound like game but are really nothing
B – I feel like it's okay and your instincts of not making something official are probably the right ones.
B – our alliance with Angie on the other hand. We got to lock that sh1t down
S – oh my god..
B – we got to name it
S – we gain nothing from that. How will that help
B – I don't know I've said it early on to the person that best deals with Angie socially will reap the reward at some point
S – yeah at some point
B – it's a thing like I got to get on my social game that's what is on the docket today. I isolated myself enough yesterday
B – Social butterfly I am not.
B – what was that comment she made the other day
S – to me? yeah, that was bad umm. me and Sue were joking about the list thing like where we rank on each others list.
S – she was like (Angie) where do I rank on your list
S – I was like your family are on own list and she was like .. We have no relationship I just don't. I'll never talk game to her
(HUH?)
B – whoever does best with Angie will reap some sort of reward later. The only thing we can do at this point to f* up our position is to let the ball drop with our social relationships.
S – yesterday I did JL, Ri and Maddy Those are the three I consciously tried with. Today I have to do Minh, Chris. I did some Chris yesterday (More chris social working today)
S – maybe Angie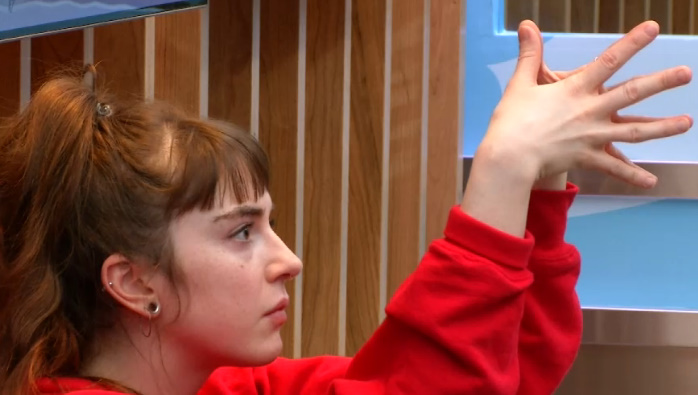 10:05 am Brooke and Sheldon
Brooke says she feels more comfortable talking and strategizing through stressful situations than the idea of sitting back in a comfortable situation and having to be super social.
Brooke – which I think is down the pipeline for us I feel way more comfortable talking in circles about a stressful situation instead of chilling and being chatty.
Sheldon – Yeah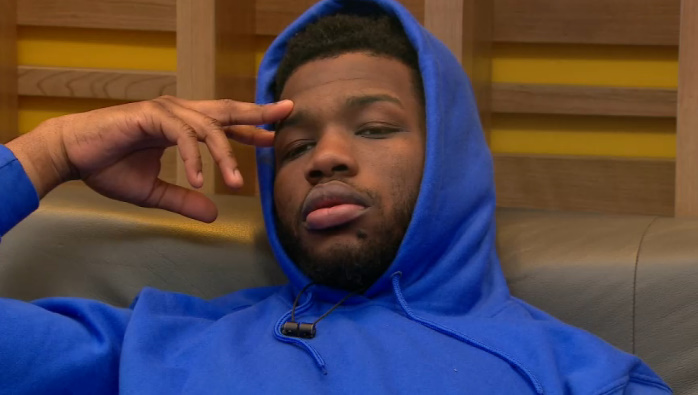 10:15 am Sheldon and Brooke
Brooke saying with the majority of the house they are being lumped together so any social work one of them does they will both benefit.
Brooke – with Minh she's the only player here where there's a danger if we do not work on her as a unit. That leaves some dangerous potential
Sheldon can play up Minh going after Angie being a great idea.
Sheldon wants to set up the conversation with Minh where they are agreeing to what she's saying.
Brooke says with MInh she's able to give her the runaround with game talk. "It's because like Minh is actually a very theoretical person she's a gamer she likes talking in circles about it but she really doesn't have anyone to do it with.
Brooke – just listening to her opinion and giving her a random theoretical things and just letting her run with whatever it is you can just give her the runaround and fake talk.
B – ask her opinion, validate her opinion then bring up some nonconsequential so it seems like you are contributing then rinse repeat.
Brooke says starting a conversation about Minh taking out Angie could be a way to see if they can weaponize her.
B – Who Ideally would we want Minh to put up next week or not put up
S – the girls is always the best-case scenario. (Ri and Maddy)
Sheldon says best case is Hira but that isn't going to happen by Minh's had.
Sheldon says out of their group if they had to lose someone it would be Vanessa "She's not coming after us and she can compete honestly we might need ming to just take out Angie and waste a move we don't have to do"
Hira joins them they start talking about their sleep and the boring morning. "I see you guys in the swamp that sh21t is rough" (Brooke in have nots)
Hira asks what happens if Angie is a have not next week
Sheldon – ohh god
Hira pacing – Three more days
Brooke – just killing time
Sheldon – I knew Carol would change her mind before then
Brooke – nah..
Brooke – yesterday there was a group of four people working on her to change her mind
Brooke – Angie and I were playing pool right beside the table there was Sue, Chris, Ri and somebody else. Trying to convince her to stay
Brooke – Chris was essentially like stay another week right so we can make this move. She was like what I want is to be evicted I will stay my three days.
Hira – there's no question she's not staying after Thursday I don't think anyone will convince her
They agree Carol will stay in the house until Thursday
Sheldon – I'm shocked at people wanting her to stay that's directly saying they want to vote out Minh
Sheldon – it's funny
Hira – Sue really wants Minh out bad
Brooke – Chris in the same boat. Ri was kinda just sitting there it was an open conversation.
Sheldon – will it be a bad or good thing if they flip the vote
Hira – bad thing going against everything you did this week I never even though of that idea.
Sheldon – would be f**ing wild
Brooke – unnecessarily savage
Hira – so Savage
Hira says the only people that he sees flipping to get out Minh this week is Sue, Chris, Angie, and Vanessa.
Sheldon – they just need one more they would have to come to you guys at some point.
Brooke – ti's super savage if they flipped a vote without them coming to us.
10:32 am Feeds go down
12:40 pm Feeds down
1:30 pm Feeds return Hira did not use the power of veto Minh and Carol remain on the block. The plan is for Carol to be allowed to self evict ON Thursday after the house has already voted her out.
Hira in the backyard working out saying to the camera he's going to have to have some good game chats today with Ria, Maddy, JL, Sheldon, Brooke and Sue . "Got to stay mentally and physically focused no other way about it"
Hira – it's looking good right now but I'm feeling way too comfortable. Feeling comfortable isn't good for me this can't be that easy
Hira says he has a leadership role on both sied and he'll have to break one.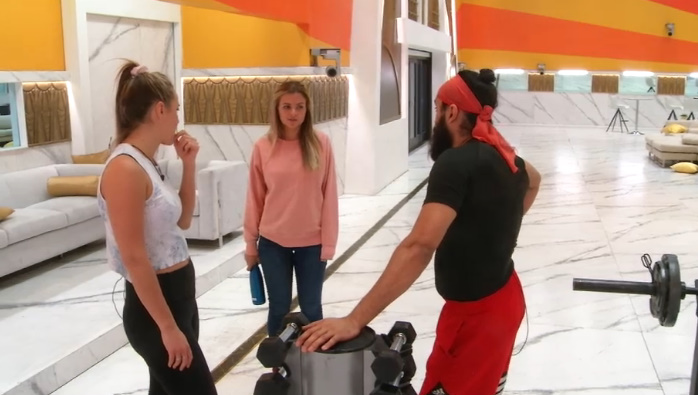 1:43 pm Ria and Hira
Hira saying that Chris and Minh would be the easiest to put up next week
Hira – do you guys want to backdoor Chris?
Ri says she will put up Vanessa and someone else. Brings up Sue and Angie.
They talk about Angie being a pawn.
Ri now saying she'll tell Vanessa the plan is to backdoor Minh and she's the pawn.
Hira – worst comes to worst we just take out Vanessa
Ri – Exactly
Maddy joins them and they start talking about how annoying Carol is.
Ri – Sorry we want to be here shut the f* up
Ri – I said I can't wait to listen to my i-pod if I win HOH and she (Carol) said I wish they had motivational speakers for us
Maddy – motivational speakers?
Ri – I was like what do you mean like if you win the HOH. She's like no just for us they turn off the live feeds
Hira – she did not know what she was getting into to like C'mon what did you think this was a conference
Ri – stop complaining about everything
Hira – she's here for the wrong reasons. She said she doesn't care about the 100 grand she was in it to be a gay person on the show.. I don't know (she said she wanted to be on the show to represent her community and gain social followers)
Angie joins them
Ri – are you kidding me you're complaining we don't get motivational talks every week
Ris – Carol is getting on my nerves.
Angie hugs her
Angie says Carol is not a fan of the show at all.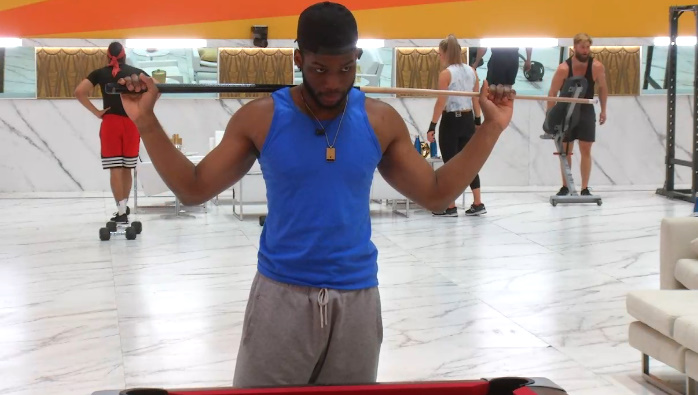 2:20 pm Sheldon and Sue (Does Sheldon have the chop a vote power?)
They're talking about getting Minh out because she's the biggest threat to their group. Sue says it'as annoying it'll be the third week of them trying to do the same play.
Sue – I'm tired of it
Sheldon – I don't think she'll win HOH but if she does one of us is leaving
Sue – Me or you we're f**ed
Sheldon asks how many votes do they have to evict Minh
Sue – she needs 5. Us four and Hira or us four and Angie. Angie will vote our way we do have the votes.
Sheldon – I just can't see people cold enough to do that. (Vote out Carol)
Sue – there's two sides of me one that really cares about it and the player in me. That is why I was trying to pitch to her hold up.
Sue was telling Carol how epic it would be as a viewer of the show to see Carol stay and Minh go (whoever is left watching this wants Carol to go)
Sheldon – I think to be honest you are the only person socially well off to make this happen
Sue – Is this a challenge cause I will try
Sue says Carol told her yesterday if she continues to have good days like that then she is willing to stay another week (MY f** carol irks me)
Sue – she gave me 5% hope. I'm going to butter her up and hopefully come Wednesday she's like I can do another week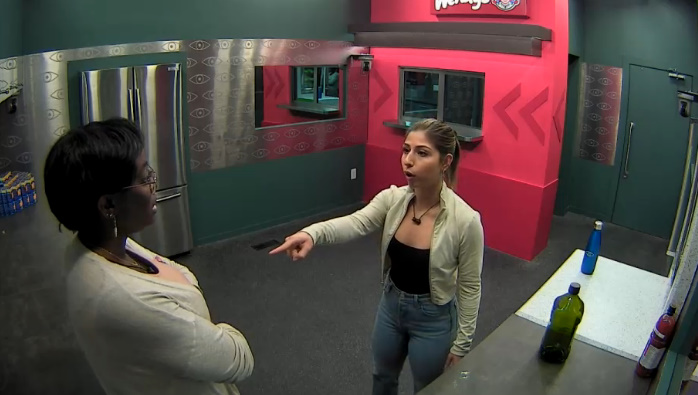 3:25 pm Sue and Angie
Sue is working on Angie to flip her vote to keep Carol.
Angie sounds like she's up for it.
Sue – you'll vote with me
Angie – 10000 percent
Sue – she'll self evict the next day
Sue goes on about them trying to get Carol to stay just 7 more days.
(put a fork in BBCAN8)
After talking with Angie Sue goes into the have nots and starts working on Carol to get her to stay one more week so they can evict Minh.
Around 3:50 pm Feeds cut.
8:53 pm Still no feeds… given what is happening in Ontario I think Carol might get her wish a bit early.
12:10 pm Feeds still down.
2am The live feeds are still blocked..
Tuesday morning 11:45 am Feeds still down. No word from BBCAN no leaks other than what's in comments.