Head of Household Winner – ENZO
Nominations – Nicole & Christmas
Power of Veto holder – Cody
Power of Veto Ceremony –
Live feeds —-> Grab your Live feeds here. Try it free.
Rank the houseguests —-> Big Brother 22 Ranking
Power Of Veto Winner: CODY
This week as the Power of veto winner Cody, casts the sole vote to evict. At the same time deciding who will stay and go to the final three with him and Enzo. Will Cody choose to evict CHRISTMAS or NICOLE?
*** Cody has said that he is taking Nicole and will evict Christmas. If this happens your final three will be ENZO, CODY and NICOLE. ***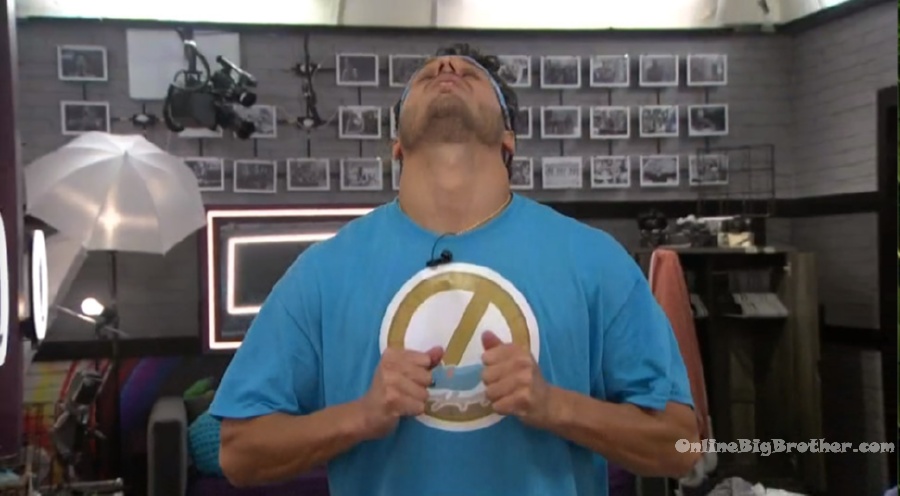 In the Bedroom. Cody – Lets go! LETS GO!
Lounge room. Nicole talking to herself.
Nicole – I am just mad because I could have won that. Why did you panic Nicole!? If you get to move further in this game .. do no panic again. Ok! Don't panic again. You could have won that veto! You felt in your mind that you didn't deserve it because you aren't physical. I am battling so much in here on top of playing the competition. I need to believe in myself more. Right when I got down to me and Cody I thought there is no way I can beat him. He is faster. He is stronger. He has been studying more. In all reality I could have beat him. Its not about him.. its about me beating myself. That sucks! Yeah I am frustrated. I am really really happy for him. I now have to be brought to final three. Like that is so lame! Him and I kicked butt in that comp though. He is just really really good. He is a real good competitor but I am too. But you know what don't beat yourself up. You do that enough.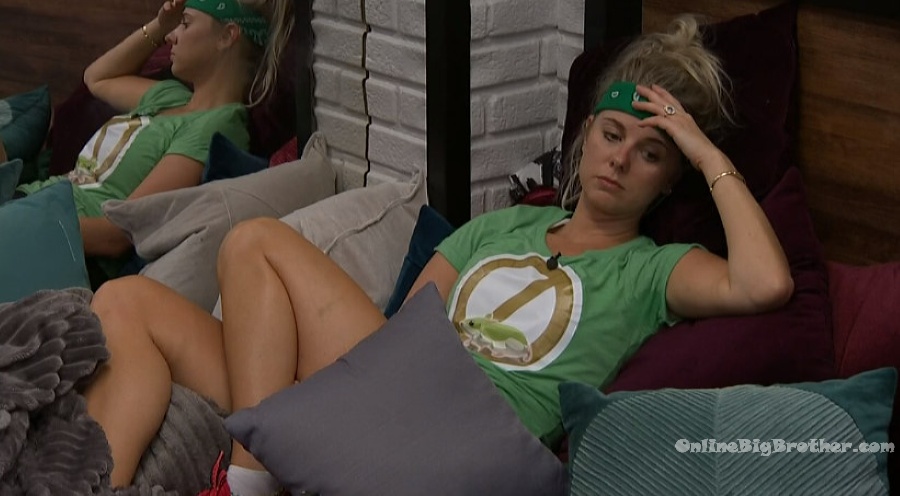 Bedroom. Enzo talking to himself. Enzo – this sucks but that is why I wanted to win that HOH because I knew this POV was going to be tough.
3:45pm Bathroom. Nicole and Cody.
Nicole and Cody are talking about the Veto competition. Nicole talks about how she's nervous. Cody – she (Christmas) is going to go to him (Enzo). Nicole – she already came to me and said that I would have a lot better chance on staying than she will… and I think its because she thinks I'm useless. And I said why? And she said because.. Cody – I swear if Enzo even tries to be like Nicole I am going to f**king be like YO! Nicole – he is going to. Cody – I am going to be like YO Check it quick! Nicole – yeah but its your decision not his. Cody – I am not .. I don't give a f**K .. I am not f**king cutting you. I am not f**king doing that to you. Just so you know that. I don't know why you would even come in here and be like.. Nicole – do you understand why that is frustrating for my game? Cody – Don't care, not doing it. Nicole – but it is best for your game. Cody – I don't care if its best for my game.. it is but you coming in here saying your nervous. Nicole – no that is not why.. I don't like the thought of someone bringing me to final 3. I know you wouldn't either. Cody – oh yeah I wouldn't like it either. Don't even rack your brain about it. Like its not even a thing. I would never. Nicole – he is going to try. Cody – I am not even going to entertain that conversation. He wants that he because he thinks she will bring him. I don't even care .. was taking Derrick best for my game? No! I don't f**k with that sh*t!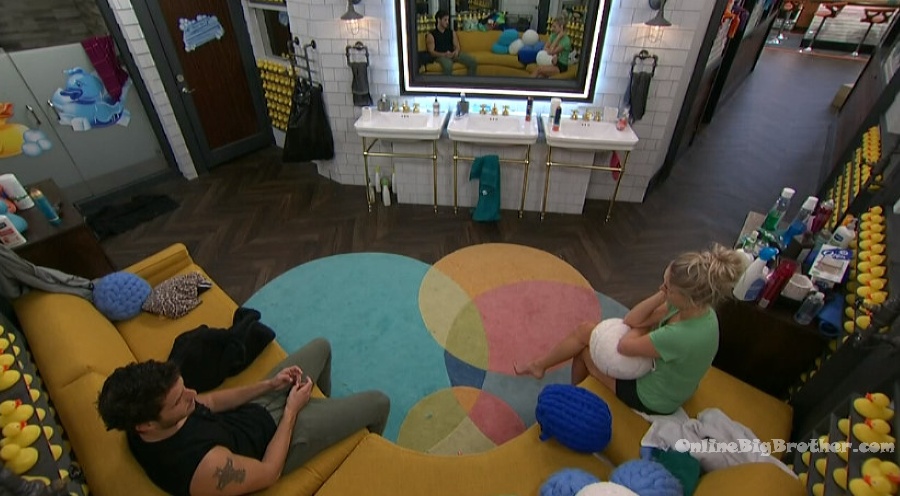 3:57pm HOH room. Enzo and Cody.
Cody – Lets go! Enzo – Lets go! They talk about what happened in the competition. Enzo – Christmas is going to bug the sh*t out of you this week. Cody – NA, she already said something to Nicole. Like you have a better chance at staying than me. Enzo – she will try though. Cody – what is she going to bug me about though .. I almost want to be like Christmas you tried to get me put on the block two weeks now.. but I can't say that because she is going to say sh*t to you. And that dogs you. And if we're sitting next at the end I don't want her to be like f**k Enzo. I want us to have a fair shot. Enzo – no exactly. I am not trying to dog you. Enzo – I think you and me are just going to have fun and say our sh*t. Cody – the first HOH is going to be endurance. The second one is going to be something elaborate but simple. Enzo – I just want to get to the questions (Final 2 jury questions). I am going to try my hardest to win the endurance. Cody – we are just going to f**king go for it. Enzo – we could put on the greatest show of all time .. how you and me never went on the block. That is f**king .. no one has never done that and no one ever will. That will live on for the rest of the season. Cody – season? Enzo – the rest of Big Brother. She might leave Monday or Tuesday. We might not have to wait till Thursday. Cody – I am so glad I can come up here and just chill now.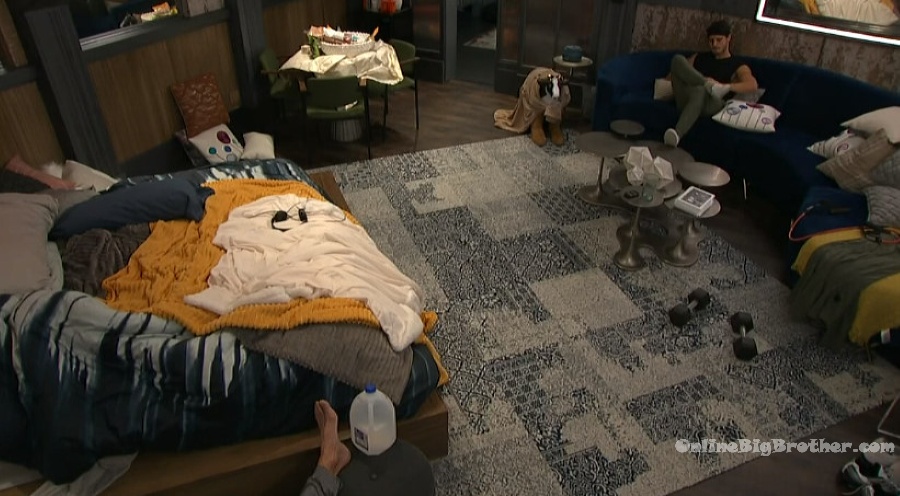 4:03pm Big Brother blocks the feeds.
4:35pm HOH room. Enzo and Cody.
Enzo talks about how Christmas his going to hound Enzo and him when the other goes into the diary room. Enzo – lets win these next two comps and then its done YO! We're in the final 3! It doesn't matter. We just have to win out. Enzo jokes that he should tell Nicole he doesn't know what he is doing with it (Veto). Christmas is easy to take .. everyone hates her. Cody calls Nicole up to the HOH room.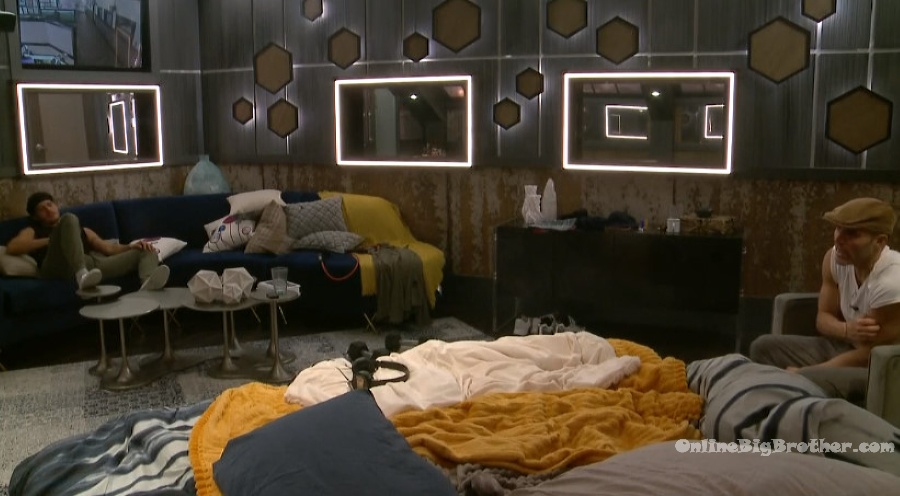 4:40pm HOH room. Nicole comes up to the HOH room with Cody and Enzo. Nicole – FINAL 3 BABY!

5:19pm Big Brother blocks the feeds ..
5:35pm Kitchen. Nicole, Cody and Christmas are making diner and talking about past seasons / comps.
5:57pm – 6:48pm Dinner time.. while they eat they recount past events of the season.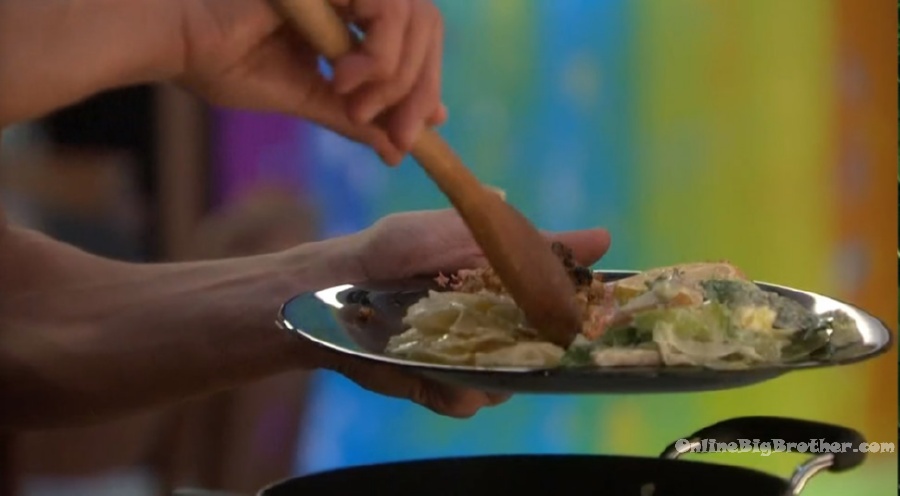 7pm Living room. Cody and Nicole playing backgammon. Enzo chatting with them while laying on the couch.
8pm – 8:30pm Everyone is getting waxed..

9:13pm The final four are sitting around the living room chatting. They keep checking for booze but haven't gotten any. They start doing improv of different scenarios. Cody – your (Christmas) boyfriend was caught kissing your best friend (Nicole).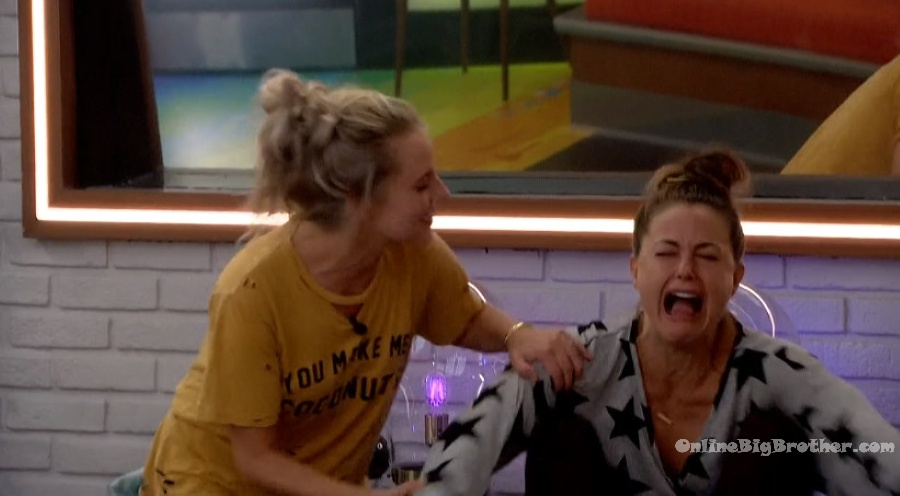 9:43pm
Big Brother blocks the feeds.
10:18pm Still blocked.
10:34pm Still nothing..
11:12pm Nothing yet..
11:40pm Still blocked.
12:10 am Feeds return chit chat in the kitchen.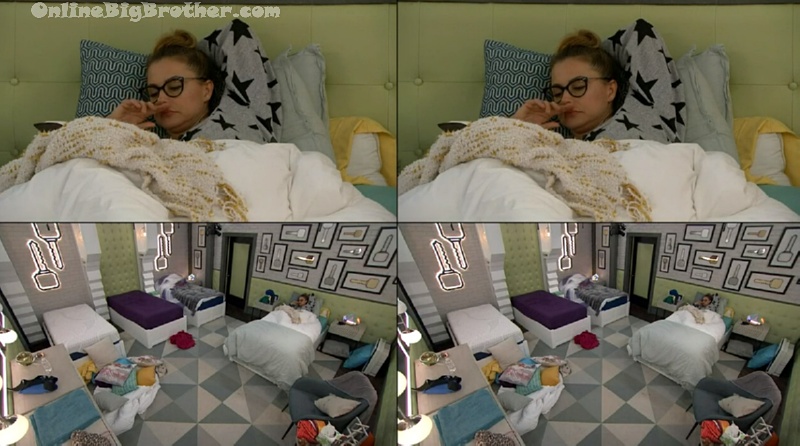 12:30 am Bible time before bed.
1:15 am COdy and Nicole chit chat…
Cody talks about playing Call of Duty. Cody is worried when he comes back he'll lose his edge and it will take time to get practices up.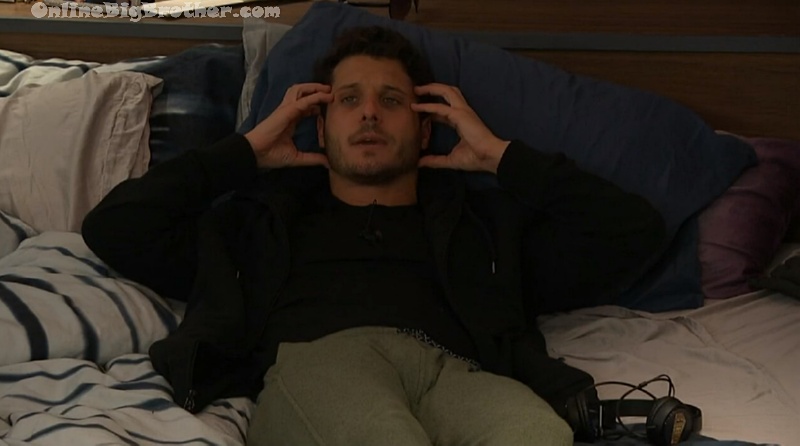 Cody complains that the headphones hurt his temples and gives him headaches.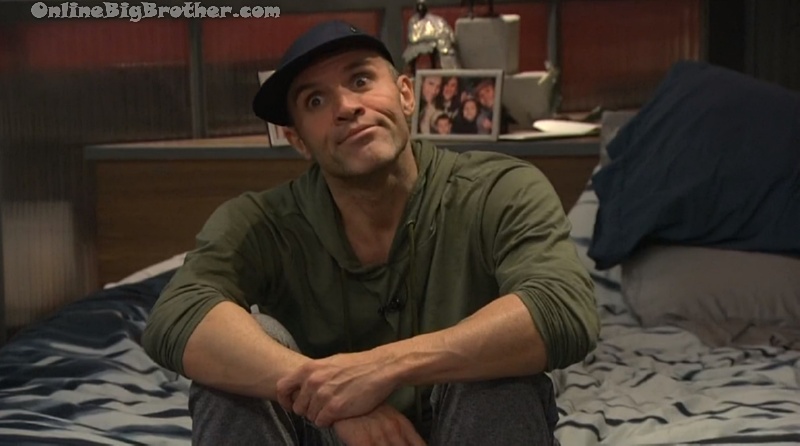 2:00 am Enzo says Christmas gave him a look when he nominated her. (See iamge)
Enzo – yo you're not on the block by yourself.. what the f*** yo what else do you want me to do. Put Cody on the block?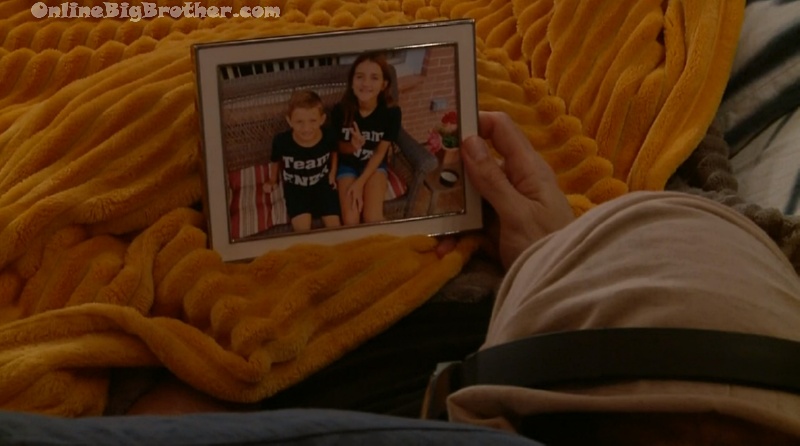 Enzo looks through the photos before bed.
2:48 am Zzzzzzz
9:57 am sleeping yo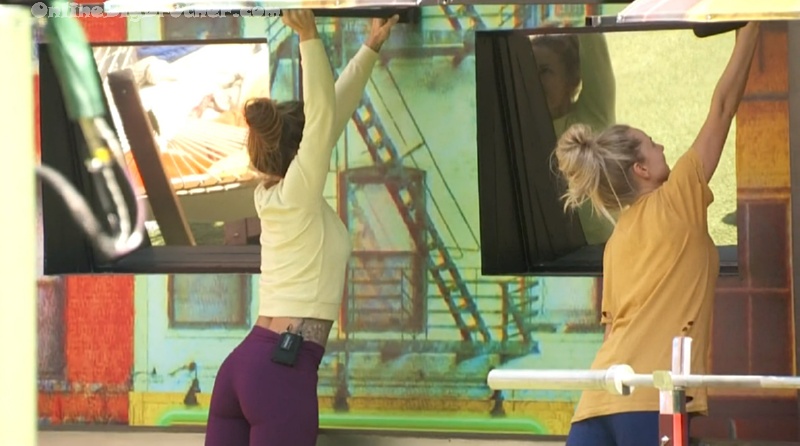 11:50 am Everyone up. Backyard open.
If you've enjoyed our live feed updates this season, please consider donating 🙂
Any amount is greatly appreciated! Without your support, this site would not be possible.