Head of Household Winner – Cody
Have nots – Nicole
Nominations – Christmas & Tyler
Power of Veto holder – Cody
Power of Veto Ceremony – Cody did not use the veto
Live feeds —-> Grab your Live feeds here. Try it free.
Rank the houseguests —-> Big Brother 22 Ranking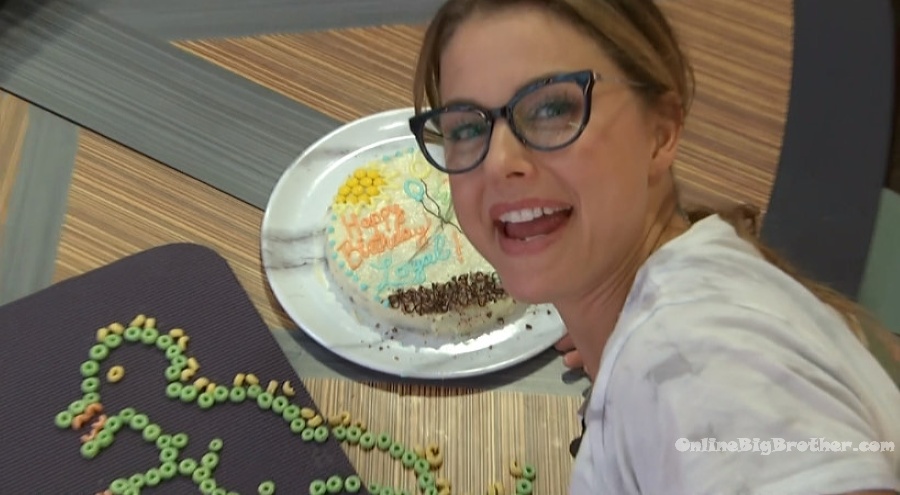 7pm Christmas finishes the birthday cake and a note to her son Loyal. After Tyler and her play a game of backgammon.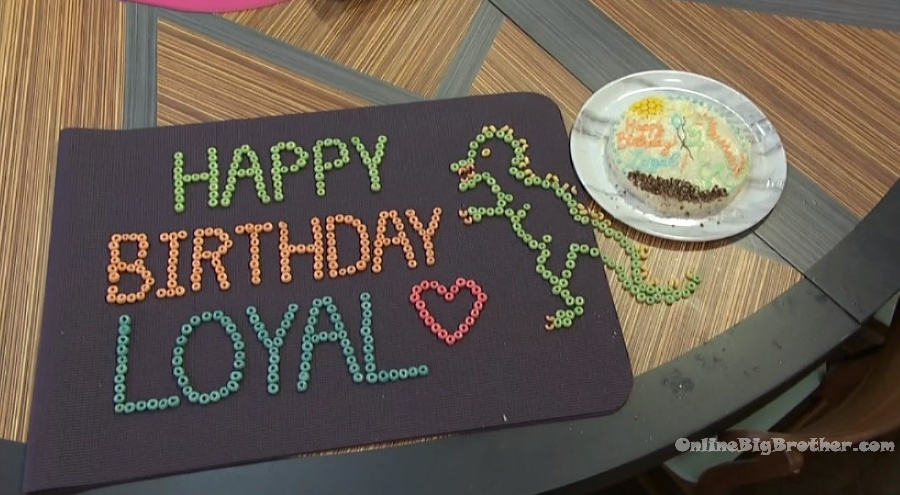 7:51pm HOH room. Enzo and Cody.
Enzo – YO ENOUGH! LIKE COME ON YO! We just can't hope for Christmas to win HOH that is it! And I think I still got a good grasp on her that I tell her YOU GOTTA F**KING BACKDOOR MEMPHIS! What are you crazy!? What are you doing Yo! But she is tight with Memphis! Cody – even if she does (Win HOH) we still have in our back pocket to send home Nicole. Every week is a dice roll. Say this week we burn Memphis. Memphis wins HOH and he could be like f**k you guys. Enzo – Memphis is the move to make either next week of final four.. that is the move to make on Memphis. Cody – say we burn Memphis and Tyler wins the HOH..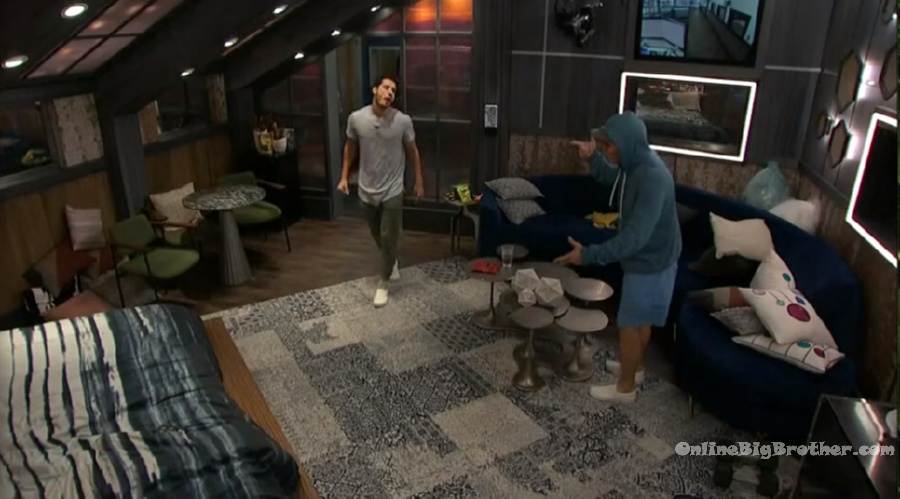 Ezno – Tyler is the better player we can't keep him. Cody – say Tyler was going after Memphis and Memphis comes down.. We burn Memphis and Tyler has an opportunity to take me. Enzo – he (Tyler) got to go and I love the kid but he is the better player! Cody – What you said to me yesterday about what he said to you ..about you can't go to the end with him.. the fact that that is where he is going lets me know that he is willing to say anything! He is willing to say anything! Anything in order to stay. At first it was blowing up the committee then it was I think I was TT .. I must have something with Nicole. Then it was you can't go to the final two. He is trying to say anything to you to try and get Nicole to flip. So what do you think he is willing to do next week if he wins HOH!? And he wants Nicole to go to the end apparently. And now he tells me Yo.. I'll target Nicole. He gives literally zero f**ks! Enzo – Nicole, who do you want coming after you Christmas or Tyler?! Its simple and she is like you're right, you're right! So calm the f**k down! That's it! Cody – she gets too frantic. Cody – in the beginning of the week I was more Christmas (going) because of the wise guys. The second wise guys. Then when I had literally the conversation with Tyler .. the conversation was this was 1 million percent your plan. Christmas didn't think it out. Tyler, how are you going to play dumb with me when this was your whole f**king plan. Cody sees Nicole comes so he tells Enzo to go to sleep. They both pretend to be sleeping when she comes in.
8:06pm HOH room. Enzo, Nicole and Cody.
Nicole – so what is the plan for tomorrow are we telling him (Tyler), are we blindsiding him.. well not blindsiding since he doesn't think he is staying. Cody – think the only one.. I think its blindside or you tell him. Nicole – and then it is going to be 3 zero right!? Enzo – hell yeah! Cody – cause its going to be like I'm not voting to keep you and then he (Enzo) is going to be like well alright Nicole told me she isn't going to vote to keep you so what am I going to do?! Nicole – do you think he has nothing he can say about me really. Cody – no. Nicole – so should I just tell him? Cody – yeah. Enzo – he may say that all three of us are working together.. who the f**k knows at this point. Cody – I would just rather it be tomorrow.. just tell him like I'm sorry I just can't do it. Nicole – you're too big and too strong. Cody – You're too big of a threat in here. And then he is going to come to me and be like Bro I told you Nicole bla bla bla.. And then I will be like oh my god. Enzo – and I will tell him before the thing, I am just going with the house yo. Its 3 – 0 .. that's it. Nicole – that's fine, I'll do that. Cody – that is our best bet because .. am I going to tell him!? Because he will be like wait a minute I thought you said.. Nicole – no because then that would make it look like I told you. Cody – yeah. Enzo – yeah you can't tell him .. you already put him on the block. I am not going to f**king give you a vote because for what?! Its not going to do nothing. He is a good kid though.. he will get over it and go to the jury house. He played really messy too in the beginning. Nicole – I agree. I didn't tell him one little bit of game information .. that is when you know you're not playing a good game. I told you nothing! Right!? Enzo starts laughing. Cody – alright guys I need you so bad to win HOH. Nicole – stop! I know! Enzo – because you're (Cody) probably the first one to go yeah! They laugh. Enzo – Man Christmas is going to win the whole season! If its Christmas and Memphis (final 2) who wins? Cody – I'm voting for Memphis if its Christmas and Memphis.. easy! One billion percent! I am never voting for her! What did she do!? Enzo – the renegades would be the best alliance ever! Enzo – this sucks yo! Nicole – no it doesn't suck .. its 3 versus 2 .. this is great! Enzo – no if Memphis and Christmas make it to the end that is what sucks. They all say that isn't going to happen. Cody – lets be honest! I am going before you two so you guys need to win this for me. So lets tighten up and get ready to win a comp! Enzo – yeah lets tighten up yo! Cody – I'm talking to you! Enzo – oh! Cody – and you (Nicole). Cody – "Nicole is like I am throwing it [HOH] because they'll go after Cody."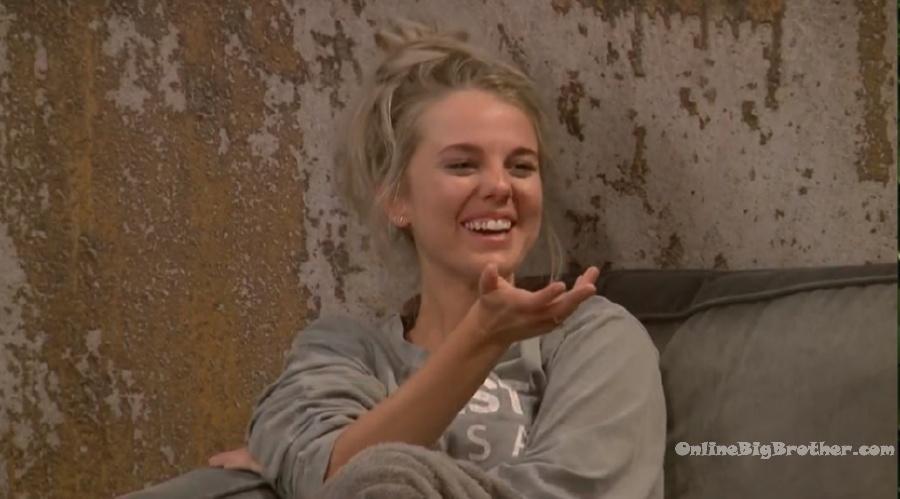 8:55pm -9:05pm HOH room. Cody, Memphis, Enzo and Tyler.
They're talking about the past events of their season and other seasons.
9:35pm Memphis, Tyler and Christmas are in the kitchen chatting and eating. Nicole is sleeping in the HOH room.
10:10pm – 10:30pm HOH room. Tyler and Enzo.
Enzo – all she keeps saying is I don't know! I don't know. There are pros and cons to both of them. I have to put it in a way that if you stay it doesn't seem like you would be with me you know!? Tyler – Yeah Yeah, I know. Enzo – I am just like you know that Christmas and Memphis definitely have something.. you break that up but if Tyler stays he is definitely going to be coming after me too. I was like you don't know what the f**k is going to happen. His target might be Memphis. Tyler – it is! I don't want her to go. He can beat her in everything but I can't stay!? She don't believe me. I don't know .. its all up to Cody honestly. Enzo – yeah if he could twist her. Tyler – all he keeps doing is na I haven't talked to her. I am like BRO! If you want me to stay why not talk to her. Enzo – if he wanted you to stay he would have f**king talked to her. Tyler – that's why I am just like it is what it is. Whatever bro! Tomorrow will be crazier than you think. I am not going anywhere man. I am staying. Enzo – I f**king hope man. I f**king hope! Tyler – did you have a tough time with those goodbye messages? Enzo – yeah.. the first two. I am genuine. I don't give a f**k yo! I hope you f**king stay though man. Tyler – I think we will be alright. Enzo – like if you don't stay .. I am F**Ked! I am done! Tyler – I told you about all that sh*t that is going on. You just can't go to the end with Cody bro! Enzo – yeah he is going to win against anybody right now. Tyler – I definitely think you have a shot against Memphis and Christmas. Your toughest one would be Nicole. Did you know that the committee won every HOH but yours? Enzo – yeah crazy!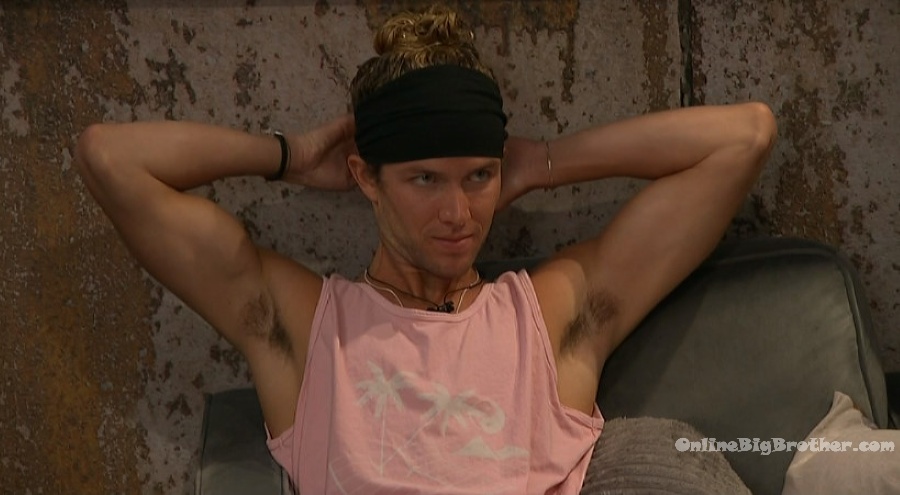 12:10am The house guests are eating. Nicole is no longer a havenot. She says that shes still going to sleep up in the havenot room because she loves it.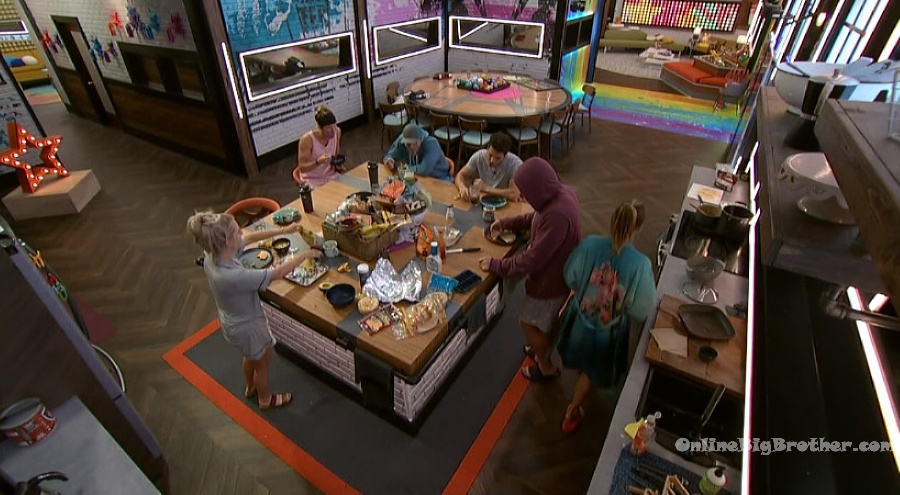 1:15am All the house guests are sleeping..
Show your support by making a donation.
If you're enjoying our live feed updates this season, please consider donating.
Any amount is greatly appreciated! Your donations go directly to paying the fees required to run this site.