Head of Household Winner – Jackson
Have note are:
Nominations are: Jess and Christie Cliff
Power of Veto Players are: Jackson, Christie, Jess, Nicole, Cliff, Tommy
Power of Veto holder: Tommy
Power of Veto Ceremony: Tommy used the Veto on Christie. Jackson put Cliff up as the replacement.
Grab your live feeds —-> BB21 Live Feeds Subscription Link
Rank your houseguests —-> Big Brother 21 Ranking
Wake up was around 10:05 am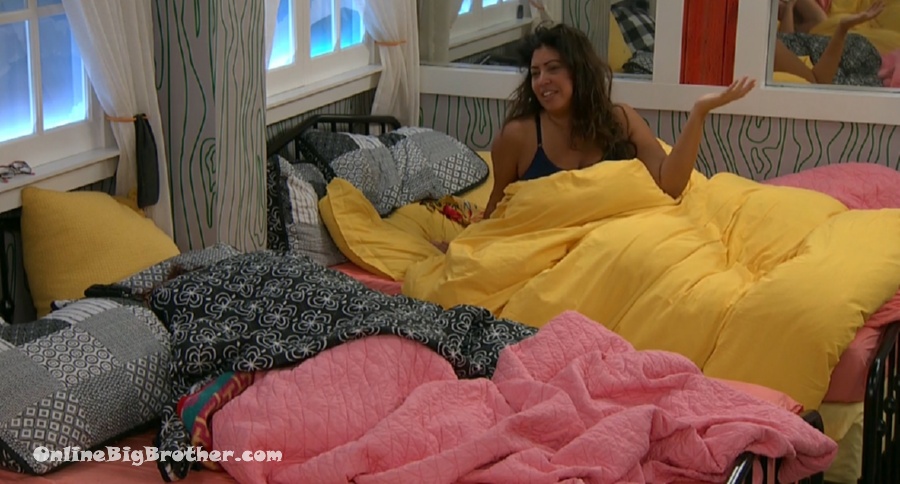 10:30 am Jessica, Nicole, and Christie
Jess – you know what random thought I had like in my head. All those little bity brownies that we had actually just equate one regular-sized brownie So we really didn't eat a lot of brownies and that makes me happy.
Nicole – that's true two normal-sized brownies
Christie – that's nothing
Jess – so what if I had 5 brownie bites. 5 brownie bits is like one regular a$$ brownie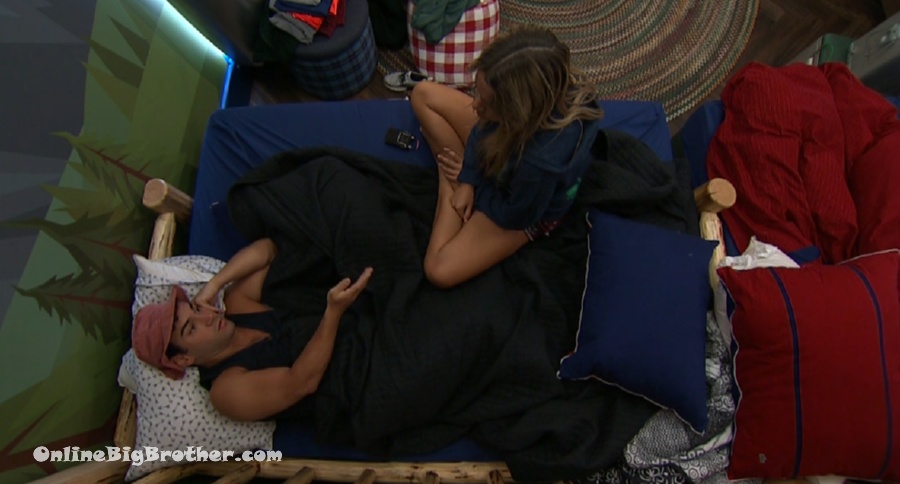 11:20 am Tommy and Christie
T – I have but it's crazy I want to talk to you about it
C – we need to talk. It's Cliff he's everywhere
T – the four of them. I was trying to wait up past them the other night they snuck out and met up I think the four of them.
T – I was up till 3:30 trying to wait it out and when they went to bed I went to bed and then they came back out I was like what the f*
C – I really don't want Jess to go
T – it might have to happen
C – I know
T – But I have a plan for her to stay. She has to plant a seed of doubt in Michie's head about Cliff
T – Maybe she says that me, you Cliff and Nicole are working together on the DL
C – yeah .. I don't know if Jess is going to lie
T – it's the only way for her to stay
C – I told her to strike a deal with him to go after me and Tommy then just throw the next HOH
Tommy goes on about things Jess can say. She won't be able to "hang on" during BB comics she needs to tell Michie she can't win comps.
T – it's crazy.
They talk about trying to flip Nicole's vote saying that "she's smart" she knows if she's sitting next to a Michie or a Cliff she won't win
C – she won't even make it to final 2
C – we get Nicole. that's 4 on 1 vs Michie and Holly (for HOH?)
They go on about how Nicole would have a better chance final 4 with them and Jess than anyone else. (true)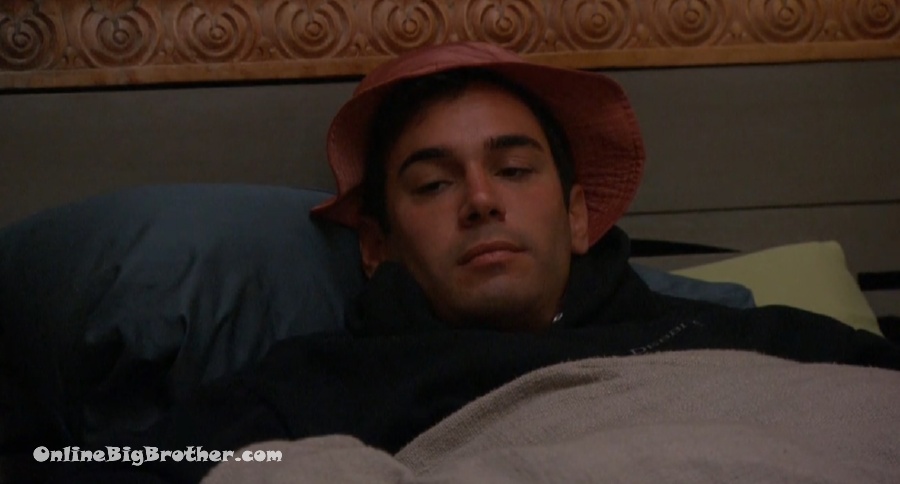 12:40 pm Jackson and Tommy
Jackson says he's worried about going into final 6
Tommy – we can't control anything we just have to see who wins and what happens. Take it from there.
J – I just feel bad because on a personal level I had a good relationship with Jess and she likes me and Holly a lot. At the same time trying to figure out what's best for my game
T – yeah
J – is there a pro to keeping Jess over Cliff? what are the pros and cons?
J – or now that I have put Jess up on the block is she so pissed off and emotionally come after me just because of that. You know what I'm saying
T – Yeah I know it's tricky
J – I hope I haven't shot myself in the foot by going after Jess instead of Cliff directly this week.. Upfront
J – As much as I've tried to have a decent relationship with Cliff and Nicole. I know I have burnt Cliff couple times in this game. That worries me.
J – I know I just burnt Jess by putting her on the block that worries me. If she does go. going into Jury what happens there
J – I didn't want Christie on the block
T – Christie is only here because she agreed to be a pawn
J – for me I was thinking Jess needed to go for me.
T – yeah
Jackson – I'm glad she's off the block. I didn't want her to go
T – yeah
J – I didn't want you to go anywhere
T – no
J – did I make the right decision by thining Jess should be gone first. Like you said Cliff and Nicole have them two. Jess has Christie and I hope this stay between us.
J – If it comes down to Jess winning an HOH down the road if we got Cliff and Nicole out this week. With Jess in the picture, I don't think Christie is 100% … I don't know
T – what do you mean by that
Tommy says anyone that wants to stay in the house now will do whatever they can to stay in the house.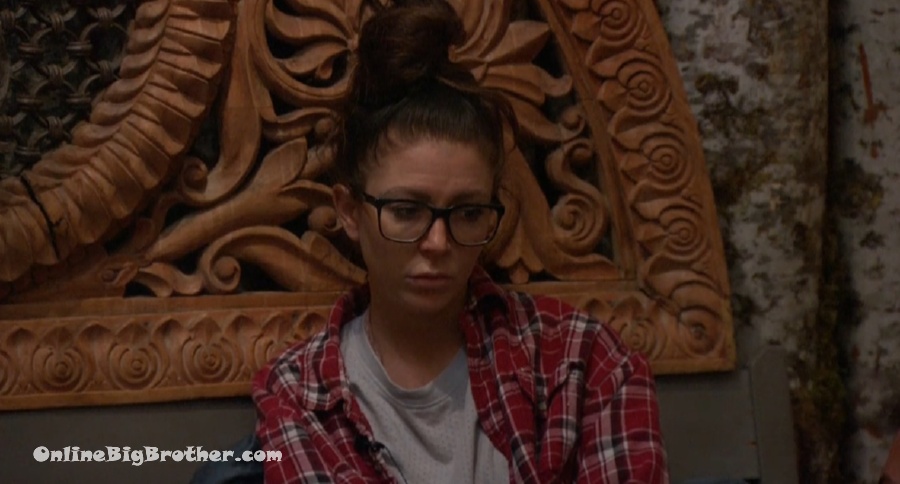 Holly joins them.
Holly – Cliff wants other men in the house as a shield for him I worry about him myself more than I think you should
J – I don't know if Cliff is that kinda player he's the kinda guy to take bold shots
Tommy says they are at a point in the game where they will see "other sides" of people
Jackson goes on about wanting to set himself up for next week. He's trying to get the person he has the highest chance to go up on the block if they win HOH.
J – Do I think Cliff? my gut tells me he wouldn't but he's taken big shots before
Jackson says Jessica doesn't want males in the house
Tommy – does she though? every time I confront her about it which I have done numerous times she says that's not true
J – She doesn't say it to us she says it to Girls.
Jackson – she said it to Nicole about Nick, 'PLUS Nicole He's a MAN'
Holly at the same time – He's a man
T – ohh shit
Holly explains that part of Jessica's reasoning to get Nick out was "He's a man"
Holly – we're how many days into this and we're still basing opinions on gender?
Jackson says Cliff, Nicole, and Jess it's a roll of the dice who would take a shot at him first
T – mmmmhhmmmm
J – I have good personal relationships with Cliff and Nicole, Jess I had one. I just put her on the block and she's taking it personally because she's giving me weird vibes
T – if Cliff goes this week there is only 2 duos left in the house and we're going to become bigger targets.
Holly agrees "Nicole is a free agent, Jess is a free agent"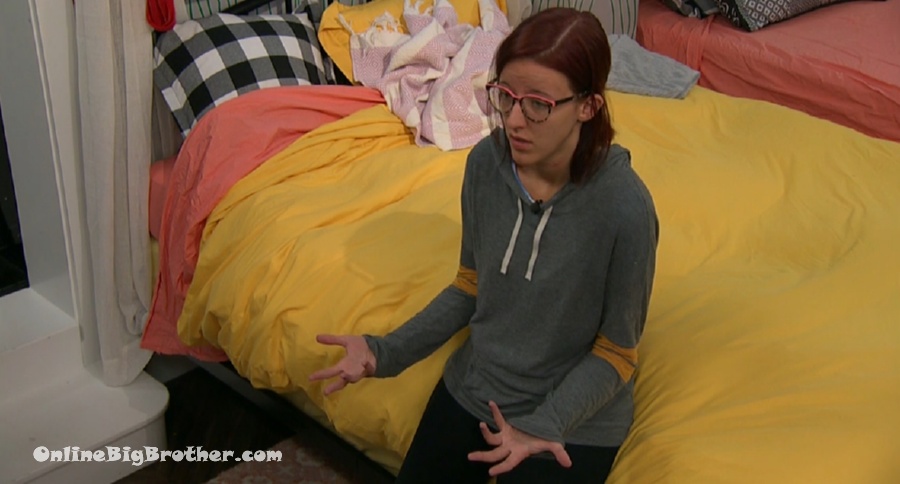 1:18 pm Nicole alone
N – Big Brother this will be another hard week
N – It's tough I have two people that I would like to see in the final 3 on the block and one of them is going
N – Cliff is so adamant on navigating with Michie and Holly. I don't know if that's the best plan.
N – But I guess if one of us wins put up Christie and Tommy one of them goes and then move forward from there because the other one will still be here.
N – You put both of them on the block one comes down you put up Michie or Holly
N – I just feel bad I've been working with Cliff for so much longer. She's going to campaign to me and I'm going to feel so bad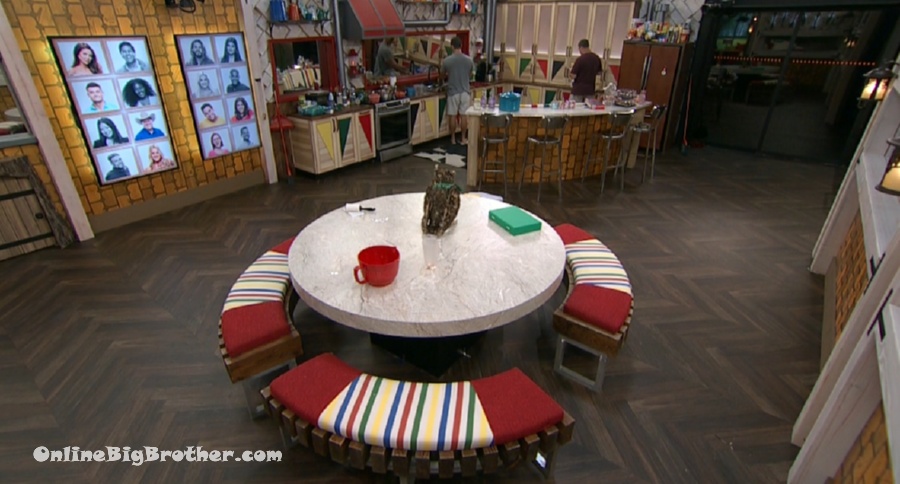 2:16 pm Cliff and Jackson
Jackson tells Cliff he's got Holly and Nicole's vote locked in.
Cliff – I love Nicole and everything but I know she's not going up if the other side gets it
Jackson – it'll be yo and me
Cliff – and if anyone gets pulled of
J – Holly
C – has to be. Zero doubt
Cliff says he wants to put Tommy up
J – "he scares me"
C – very much so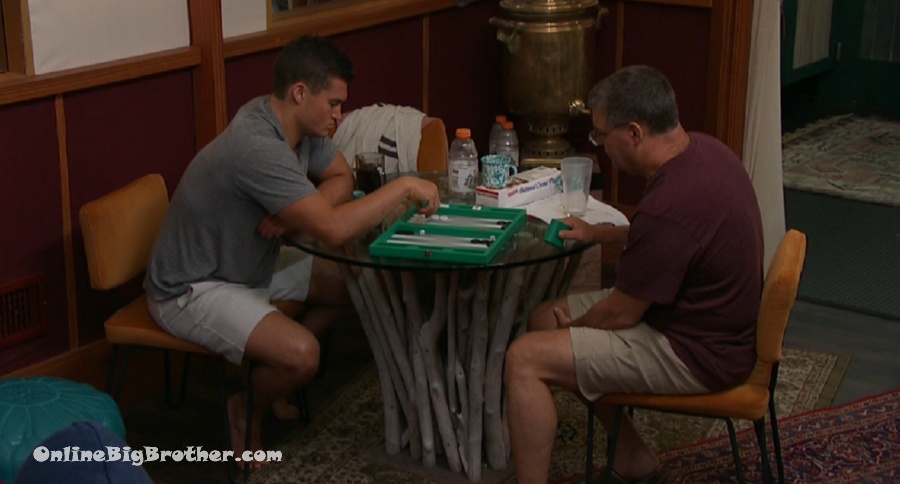 2:40 pm Everyone laying around the HOH chit chatting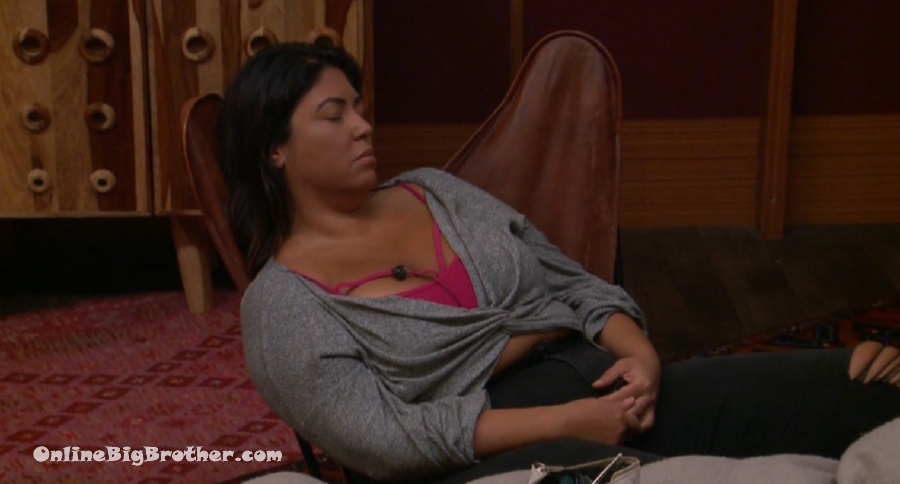 2:53 pm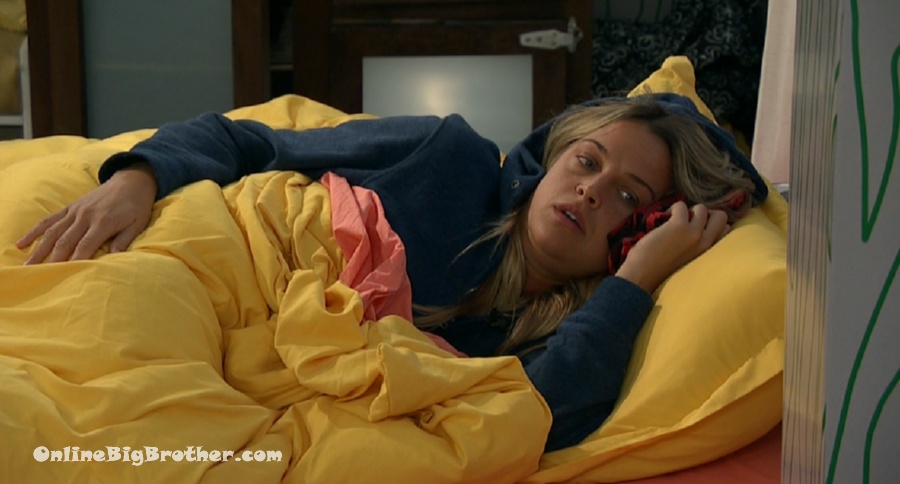 3:48 pm Christie and Nicole
Christie says she's PMSing "I spend all my time mapping out every which way every which route" (the game will routes)
N – there's no way of knowing
C – none of us stand a chance to see the end (with Michie and Holly)
N – I agree with you
C – I feel like it's not everybody's game as long they're both still here. SO it's like it's scary. At this point, I don't even care about Jury votes. NOt that I don't care about them but I would rather just have a chance at getting to three then lose jury votes and not even get to see it
N – I agree
C – I feel like I'm playing the game but not playing the game. Just getting moved around
N – yup
N – how do you feel about this week
C – the way that I look at it. This is between us. Michie and Holly are actively telling me and Tommy that they are with us
N – okay
C – I know that's not true because I know that Cliff is working with Michie since Slip n slide
C – I don't trust Michie. It's not like I'm targeting him at all. I'm not.
C – I'm scared.. Michie and Holly are making it like as long as we (Tommy/Christie) win the next HOH we're good but I know he's telling .. probably implying the same thing to you guys
C – That means they are setting themselves up to go to a final 4 no matter what
Nicole asks her if she's in a final 4 with Tommy, Michie, and Holly
C – on my sister's life absolutely not (that poor sister)
C – I want to win this next HOH Nicole. I want to put them up I swear on my sister's life I can't play this game with Michie anymore.
N – from my perspective, I wasn't part of the 8 I wasn't part of the 6 and I can't help to feel like right now I'm not part of the 4
Cliff comes in.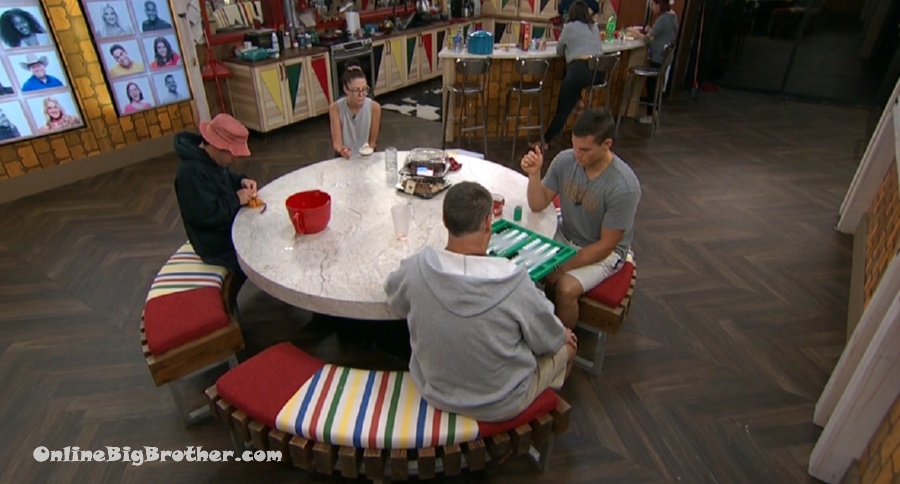 5:20 pm It's heating up again on the feeds.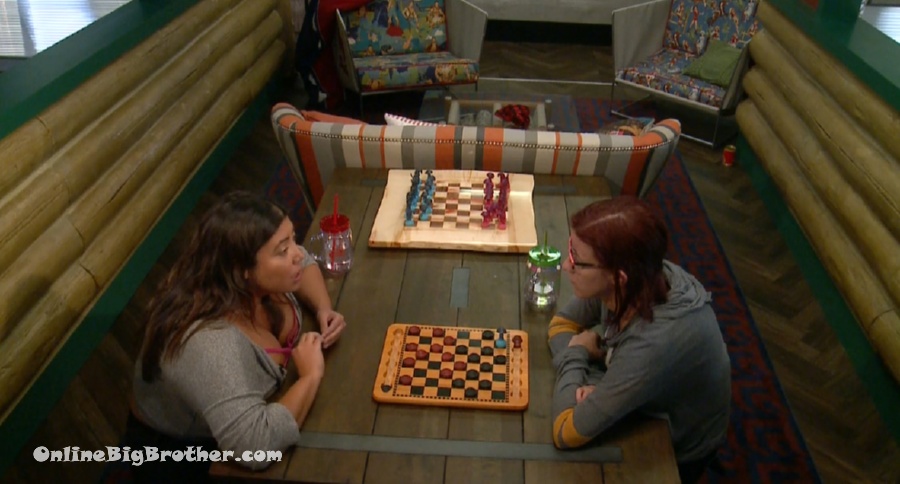 6:21 pm Jess and Nicole
Jess campaigns
Jess says Christie and Tommy think Nicole is super tight with Cliff
Jess – I want to choose you as my final 2
Jess – there will be a time you may have to put me up for your game
Nicole – I wouldn't though
Jess goes on that Cliff and Michie are close it was apparent to her when she put Jack and Jackson up.
Jess says there's no way that Christie/Tommy are with Holly/Jackson
Cliff joins them.
After Cliff leaves.. Jess tells Nicole Holly will put up Christie and Nicole.
Cliff joins them again.
(It's very hard to hear plus its jess)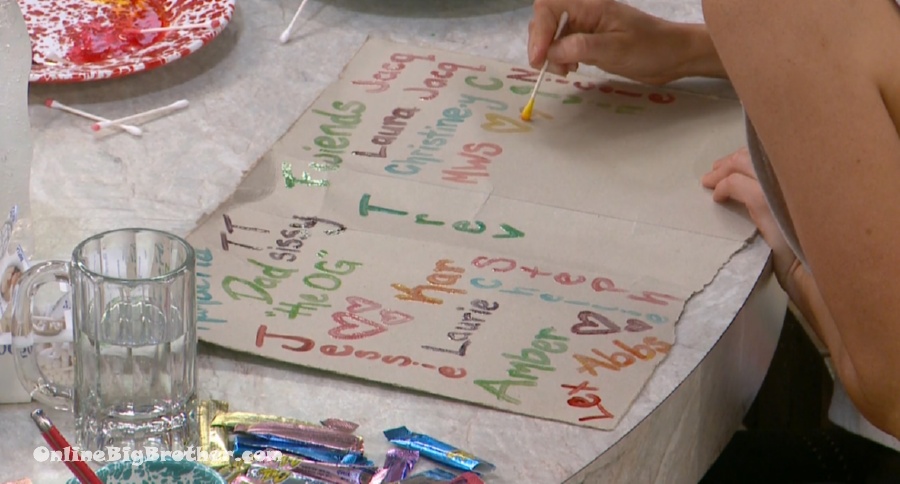 6:53 pm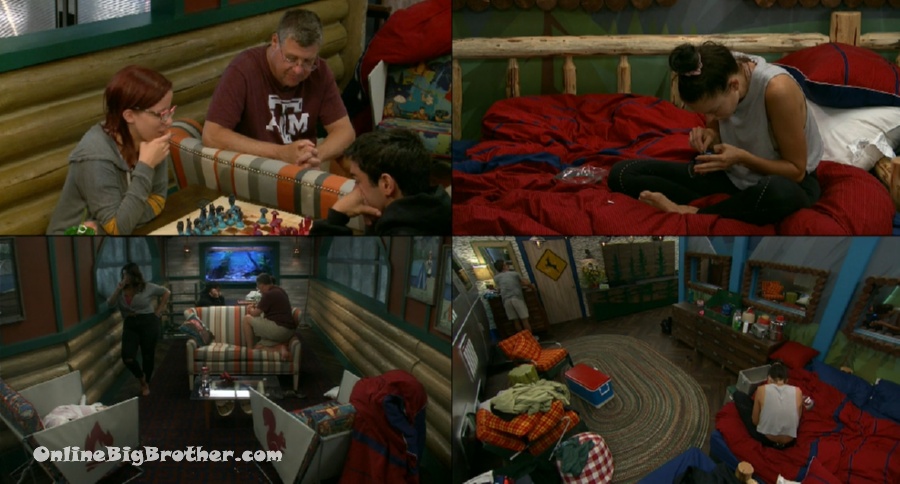 7:48 pm there's been a lot of nothing..
Keep OnlineBigBrother Running
Any amount is greatly appreciated!