Quick Big Brother Spoilers
Head of Household: Cameron
Nominees: Felicia and Izzy
POV Players: Izzy, Cameron, Felicia, Matt, Jared, Jag
POV Winner:
Veto Ceremony:
Havenots: Everyone except for Cameron is a havenot this week. Everyone is on Slop, Everyone takes cold showers, and they all take turns sleeping in the havenot room.
Lock your ranks in before midnight
The Situation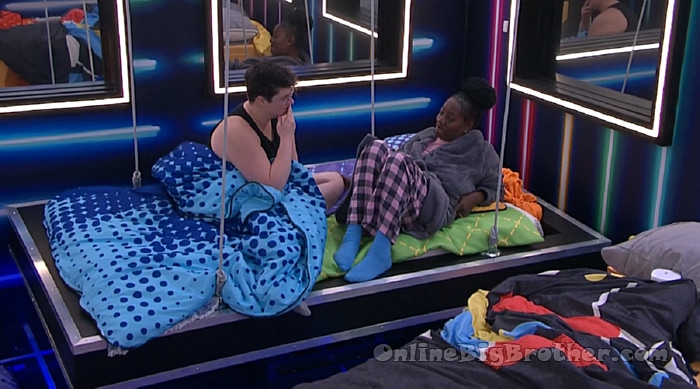 midnight Cirie and Izzy (
Izzy is sad going on about having stage fright as a child. "I get first rehearsal anxiety.. Even if it's people I know I get sick before first rehearsal"
Cirie says she has the same problems as Izzy does.
Izzy – I want to go to therapy but I have no money.
Feeds flip to corey and America in the bed when we're back.
Izzy says during casting "they asked me what I loved about survivor and I said Cirie" (OMG)
They laugh
Izzy – people say say don't meet your heroes
Cirie – why because you'll be disappointed?
Izzy – cause you'll be disappointed
Izzy – Thank you for being so much.. for being a really good friend
Cirie -will you stop
Izzy – I'm feeling a lot of things I don't want to leave.
Cirie – you're not going… .there's no way you're going to leave from a vote. you can lose the veto and still won't leave. I will campaign the f***.. I don't even have to Izzy. Felicia has already done all the work.
Izzy scoffs – Felicia is a mess.
Cirie – I don't believe you are leaving and you don't believe you are leaving
Cirie – if it comes down to you and me.. I see how you love this you should here. You should stay here as long as you can.
Izzy – I promise I Jared, I know we're not supposed to every once and awhile having time with him has been really important for me.
Cirie – Mmmmhmmmm
Izzy – he's been really good to me.
Cirie – yeah so you are not going to leave.
Izzy – I will yell at him when he needs to be yelled up and we'll be fine I trust him like a brother.
Cirie – you will stay, you deserve this. This is your thing. I've had a lot of things if you are concerned we are on the block together I'll make sure you will stay.
Izzy – you're f***ing perfect .. like ..
THey joke around saying they need to go into therapy together. "Maybe we get a discount"
Cirie – I did not know you felt that way but I completely understand.
Cirie – You're so F***Ing smart. you are out of your mind that is what threatens the Camerons and the REds it's because you are that.
They shares some laughs about being "a Simp"

Cirie goes on about being on the show because she wanted to win the money. She doesn't love it like Izzy, Corey do. "The experience is different for you"
Cirie says she felt the same way about Survivor.
Cirie – I'm so glad I met you.. I really really happy I met you. Oh my god we're going to be friends forever.. we're going to be family forever. You are never getting rid of us.
Izzy – GOOD
Cirie – I have never felt this way..
They start speculating about what the Veto competition will be. Cirie gets called to the Diary room..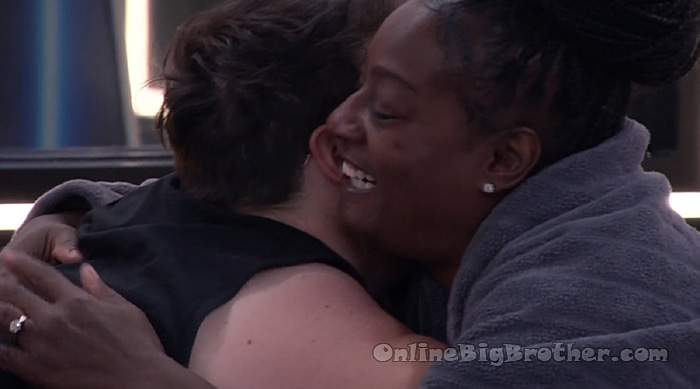 They HUG IT OUT.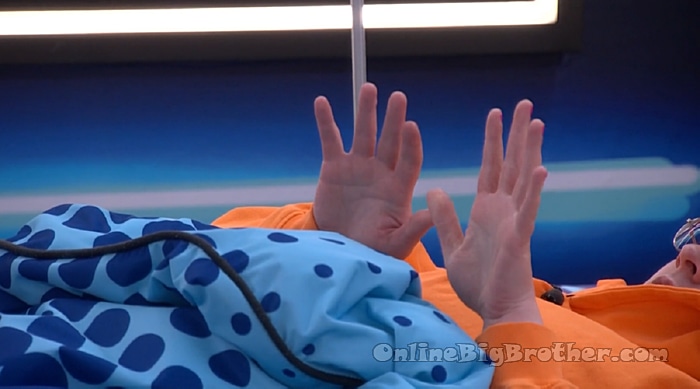 Izzy alone starts studying and counting votes.
Izzy – "I can do this"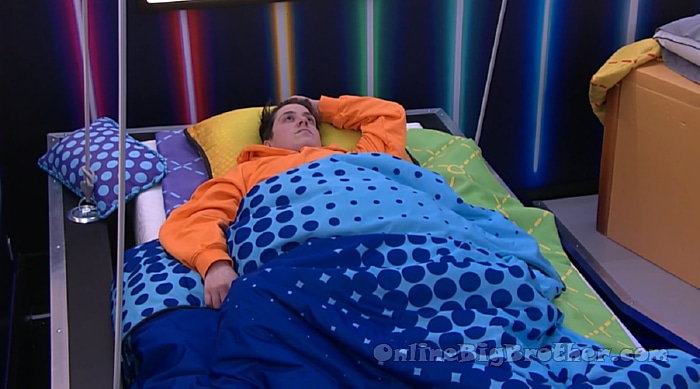 12:44 am Izzy "I love you page I can't wait to tell you everything. I can't believe I'm on the block..
Izzy – Cirie can't be on the block next to me
Izzy – I can do this ..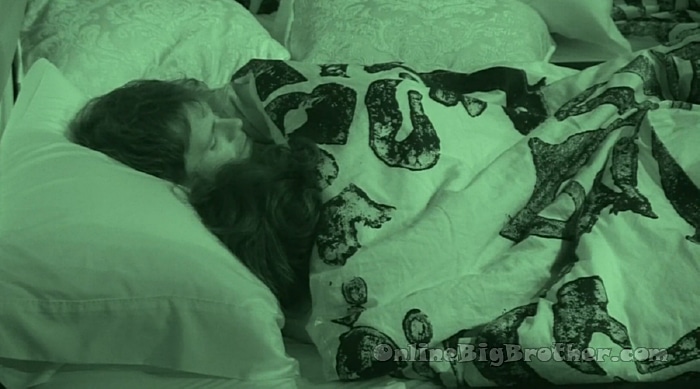 12:15 am America and Corey
America – he told me that he guessed everything in the Comp
Corey – Cam
America – yeah
Corey – Lying a$$hole..
America – don't say anything. I don't know what the truth is he could be lying.
Corey – I was guessing to
Corey points out that Ciurie has been first out in every single competitions
America – she sucks and she's mean. I don't care for her.
Corey – If Jag wins HOH could you protect me? I do not trust that guy. I do not like him in the house. I do trust you. I feel like he's your Jared. The one person I am convinced about is MAtt
Corey – he does not help us
America – he doesn't.. he's not helping anybody
Corey – he's too close to Jared and Jag. Without Matt we're in much better shape
America – I agree.
Corey – we're back to we need to cut off people's options. Matt's one.
Corey – there's a chance Izzy wins veto and doesn't use it.
America says they've been in the house for almost 40 days. She doesn't click with Cirie, Felicia, Jared or MEME.
Corey says Jared is in a really good position.
America – I see through it.
Corey – he does not trust you
America – I know he shouldn't he's right
Corey – the more I look at it the more I realize we're going to have to COMP out.. Win competitions
America – I am trying
Corey – at some point people will put us up.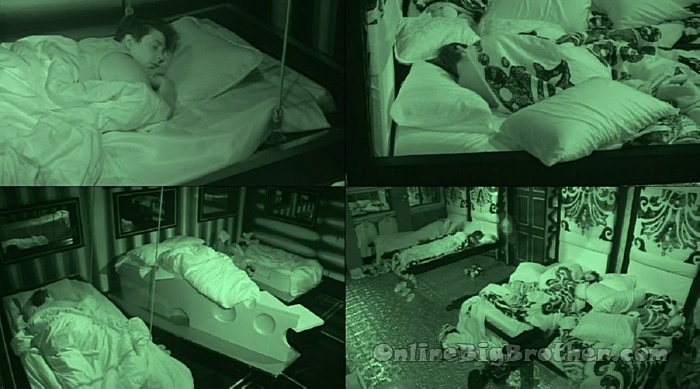 6:30 am Zzzzzzz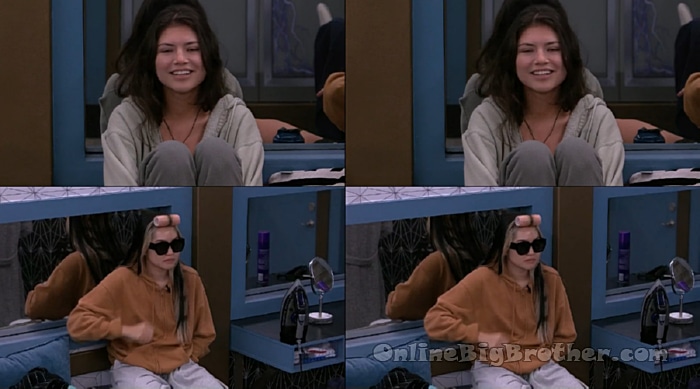 7:30 am Early wake up
8:30 am Veto players picked.
POV Players: Izzy, Cameron, Felicia, Matt, Jared, Jag
Without your support this site and these spoilers wouldn't be possible.
Please consider a donation to keep the madness going.