Quick Big Brother Spoilers
Head of Household: Cameron
Nominees: Felicia and Izzy
POV Players:
POV Winner:
Veto Ceremony:
Havenots: Everyone except for Cameron is a havenot this week. Everyone is on Slop, Everyone takes cold showers, and they all take turns sleeping in the havenot room.
Lock your ranks in before midnight
The Situation Kaboom.. Izzy and Felicia on the block.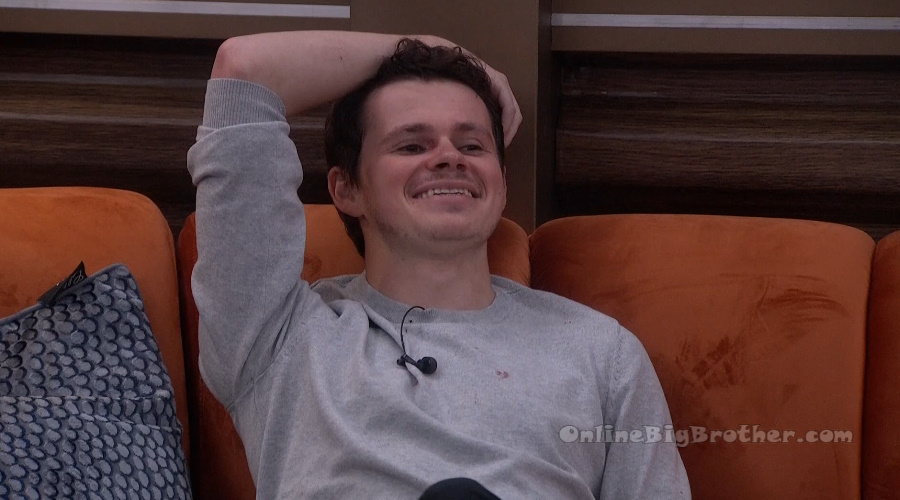 4:50pm HOH room – Cory and Cameron.
Cory – I was a little perplexed by the Jag / Blue noms. Cameron – what about them? That I told you that was what it was going to be? Cory – NA, I didn't tell you sh*t, you didn't tell me sh*t. That's okay. I was just like I feel like this is very safe noms for a very not safe position.. and now it makes sense. Now I think I get it… but f**king hell man! Cameron – Watch the chaos ensue. Cory – F**K that was crazy! That was a moment and a half. I think it was probably the right f**king choice too. I don't know how the rest of this week plays out but.. Cameron – Chaotically with humor. Cory – I think different levels of humor depending on who you're talking to but no matter what.. Cameron – but its humiliverse. Cory – I will say that I do appreciate in all of your diabolical plans I am not on the block. Cameron – you were never going to be. And I could not tell a single sole what I was going to do. Cory – no and I know that. It is crazy I was trying to convince people I didn't know but I think they believed me because me and Jag were brainstorming goofy speeches. I was like I didn't know sh*t. You not telling me.. I don't give a sh*t. I don't care. Obviously, I am not a hypocrite. Cameron – I kept you safe by not telling you. Cory – yeah I didn't want to know, this is great. Cory – you've got me, you've got America and I think you've got Jared. Cameron – I know that. Cory – I don't know who else is on that list but I think it is better than it was 6 hours ago. Cameron – better than it was. Cory – this week I don't know who your target its.. you're HOH but that's not your job you know what I mean? Next week, two weeks down.. whatever the f**k happens. I am still very worried about Jag. Cameron – we all are. Cory – At the end of the day you kept him safe but I don't think that stops him from putting you up next week. Can I have one note on your performance… doing Jag first would have been unbelievable. Cameron – I thought about it. I wanted to keep the two of them happy and giggling the whole time. Till it wasn't giggles. Cory – Izzy was fuming! You doing the you.. maybe not.. and then it resulting in her ..she was f**king pissed.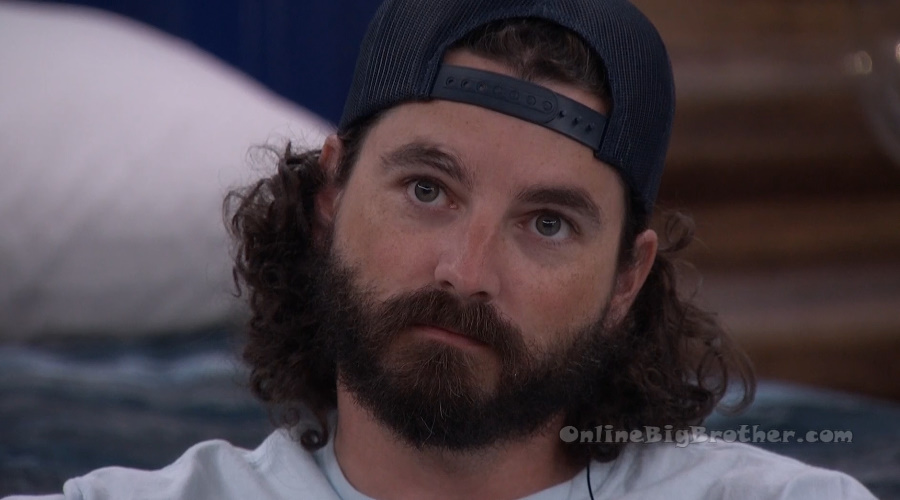 HOH room – Jag and Cameron
Jag – WOW, WOW … WOW. Cameron – we're gambling! Jag – wow! Cameron – this is my olive branch. Jag – I recognize that and I will not forget that. Cameron – please don't. Jag – I won't. WQW! To be honest I did not know where your head was at throughout that. Cameron – now we begin. Okay. Not a word. Jag – not from me. Jag – what a move. Do you have a target in mind? Do you want noms to stay the same? Cameron – I have an idea of what I want but I want everyone to just play for the veto. Everyone play and we'll figure it out. Lets have a good time. I mean this might be one that you don't have to play. That would be cool. Jag – it would be cool to play too. Cameron – You're good! Just know you're good. This is one that you can literally sit on the side lines and go.. I get to watch this. You're not the target this week. But you know as well as I do I am a man of my word.. but if anything comes back to me before Monday afternoon, I will turn that b***h around. Jag – I know. Cameron – this is the olive branch and we're going to start working from right here. Clean slate. Lets keep our mouths shut and ours ears open. That's it. Jag – this is huge! Nothing is going to leave my mouth. I can't tell you how glad I am that you did extend that olive branch. Thank you! I am grateful. Cameron – lets do this man.. as much as I want to say that I am doing this for you.. of course its for my game too. I want you to know that I put serious thought into a game with us moving forward. This isn't bullsh*t. We just have to take our time and do it. And keep each others names out of our conversations. Jag – okay. Cameron – that is easy for me. Especially this week .. no body talk about Jag. Everyone is always talking about me .. that is normal f**king business for me. My name is always running around this b***h. Jag – I feel that. Cameron – lets play. Jag – no one will see this. Jag and Cam hug. Cam – I love you dude.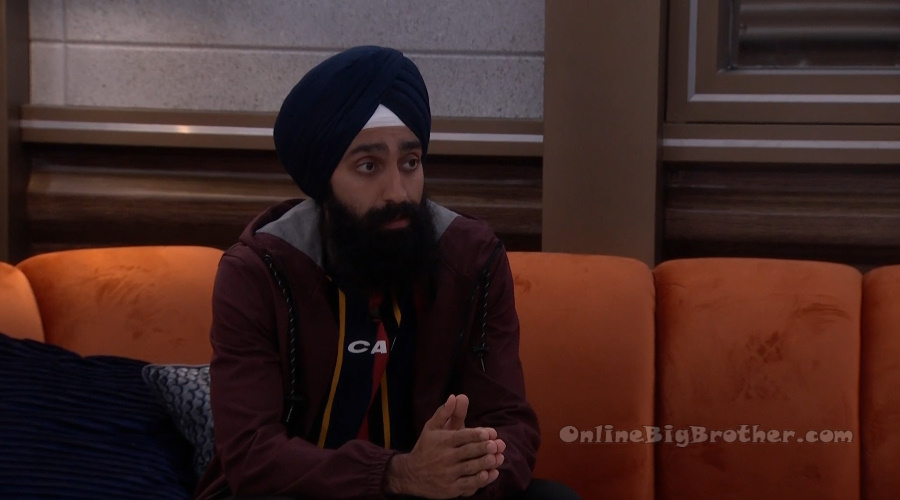 5pm Games Room – Cory and Izzy.
Cory – I am almost certain if you come off it would be Cirie that he puts up. Izzy – I am not going to let her go home next to Felicia. Cory – no one is going home next to Felicia. Izzy – but does it make you nervous .. did he say the thing about the house wanted Felicia? Cory – he didn't say he had a target. I know how he talks. I said I know as HOH you don't have a target like your job is done. Izzy – do you think I should feel weird that I am not. Cory – I think you're the target. Izzy – me too. Cory – there is no reason to put you up if you're not the target. If Felicia was the target he would have put up America or Meme. Izzy – right. I mean I was just yes'ing him. Cory – right now he is trying to prepare for the case that you come off the block and you're here next week. But I think that he is also not an idiot and he knows everyone has been running around the house talking about Felicia. He should think that Felicia is going out if she is next to you. One thing I know about Cameron, these are strategic decisions. He is not a moron. Like the Jag and Blue noms would have been great for us.. but it would have been trash for him. What the f**k does that do for him? Izzy – I know. Do you think he is going to take off Felicia? And then put up Cirie or anyone? Cory – I don't think so but I think its a possibility. I don't think that was his plan going into it and maybe that was the scary thing with putting up Felicia is that he thinks he can just beat her in the veto and he wants to do it. But if that was his plan, wouldn't he put up you and Jag? So that Jag could win the veto and take himself off? It gives him like way better odds. Izzy – that's true. It would show face to the house but also make a move. Cory – exactly. What is his relationship with Jag after this? You don't think Jag will win HOH next week and target him… he totally will. I have never seen that move ..literally tell everyone its going to be two people and then have it not be those two people.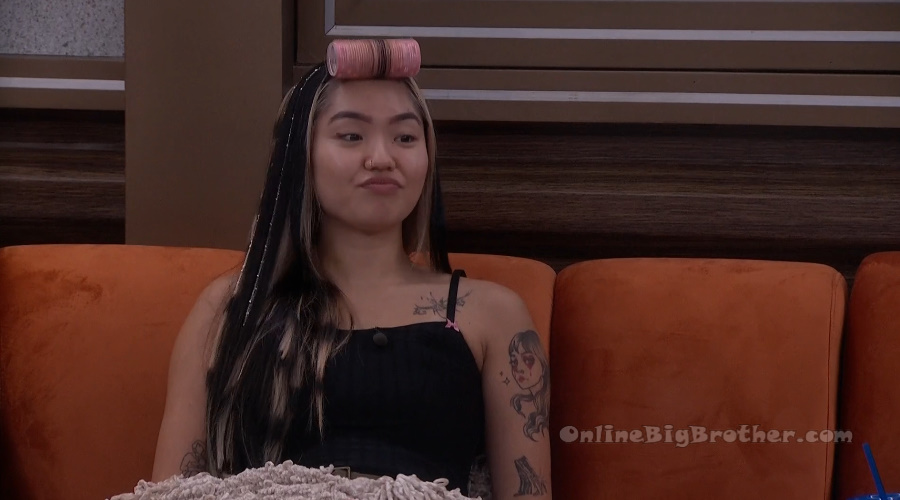 5:35pm HOH room – Cameron and Blue.
Blue – I do appreciate you. Thank you! Thank you! Thank you! Cameron – We're good and if you're as smart as I think you are you know what this means next week. Blue – I got you. Cameron – what this means next week is we have fish in a barrel that can't win a god damn thing if Red ain't over there. Blue – MMmmmHMMMmm. Cameron – lets clean house. Blue – ITS FAMILY STYLE!!!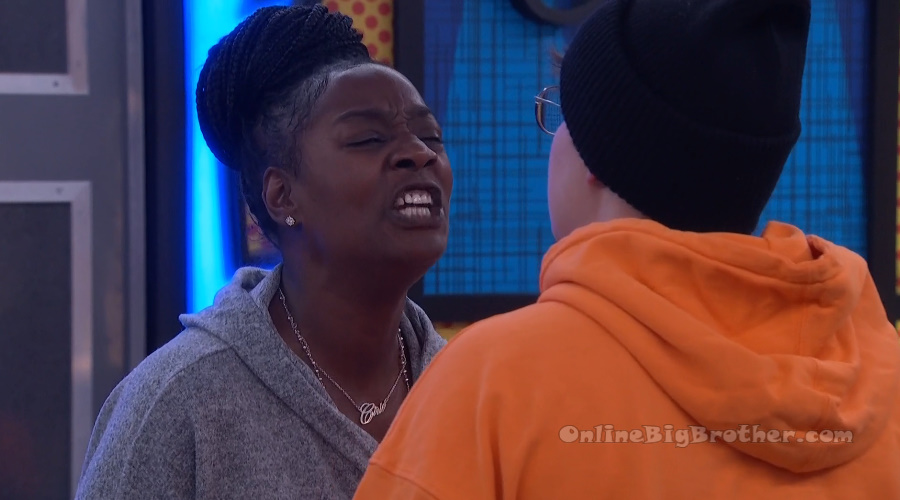 5:50pm – 6pm Comic Bedroom – Izzy and Cirie.
Izzy – Listen, this might be crazy and I know I am getting ahead of myself but if I win the veto I am not going to put myself down. Cirie – listen, I know that we got Jared, Me, Matt, Cory, America, Blue. Izzy – I am not going to pull myself down because guess who is going up next to Felicia? YOU! Cirie – I know, I know. Izzy – so I would keep it the same and Felicia will go home anyways. Cirie – okay we'll talk about it because we've got a whole night together alone. They hug. Izzy – We're both going to stay. We have to. Cirie – and we get rid of Felicia. Izzy – Jared thinks that his ultimate plan is you. I mean I could be his plan but we're going to f**king squash it. Cirie – but my question is will Blue and Jag now vote the way he wants because he saved them? Cirie – if he (Cam) was to win the veto.. Izzy – he would pull Felicia off and it would be me and you. Why would he want to do what the house wants. Cirie – that is scary. Izzy – I know. I know. Cirie – but he could have just as easily put me up because he knows I am not going to win the veto.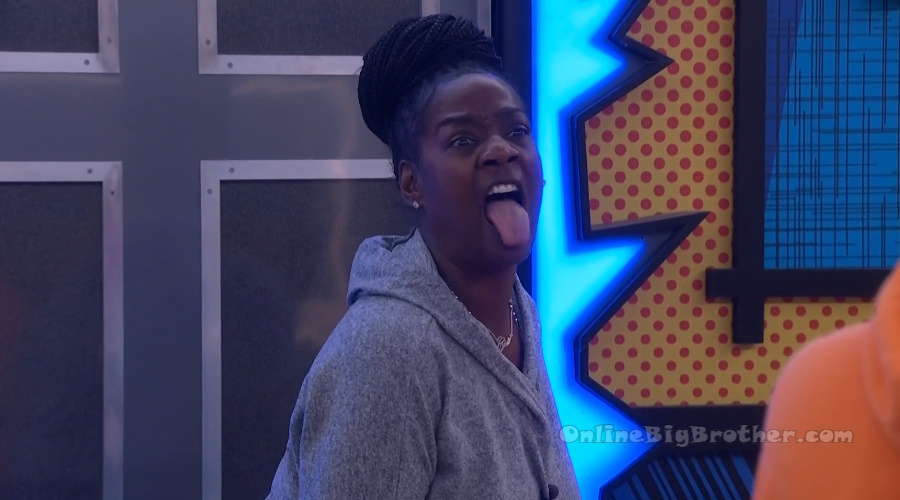 6pm HOH Room – Cameron and Bowie.
Bowie talks about how surprising the nomination ceremony was. Bowie – and the best thing was, you hadn't told anyone! Felicia was running around thinking we all knew. And then apparently Meme was pissed but I don't know why. I don't know if that was true though. Cameron – it doesn't feel good to not be told the truth does it?! It doesn't feel good to be out of the loop. Bowie – EXACTLY! Cameron – the whole house was out of the loop. I was the one that looked like a dumba$$ on national TV (when Red was evicted) and you. AND NOW, the whole house looks like a dumba$$. Cameron – I am going to be in a few cross hairs.. If I didn't make this move this week everyone would have been gunning for me. And people are excited that I've made this more.. yesterday they all wanted me dead. Its going to be an exciting week! Bowie – just let me know if you're going to pick me for veto… I assume you're not going to pick me? Cameron – I am not telling you anything. Bowie – Felicia is freaking out. Cameron – GOOD! She lied right to my face this morning and I told her she did. You just stay calm all week. You just be Bowie. Let it all just revolve around you. Bowie – Red would have loved this. Cameron – all of them get to feel what I felt!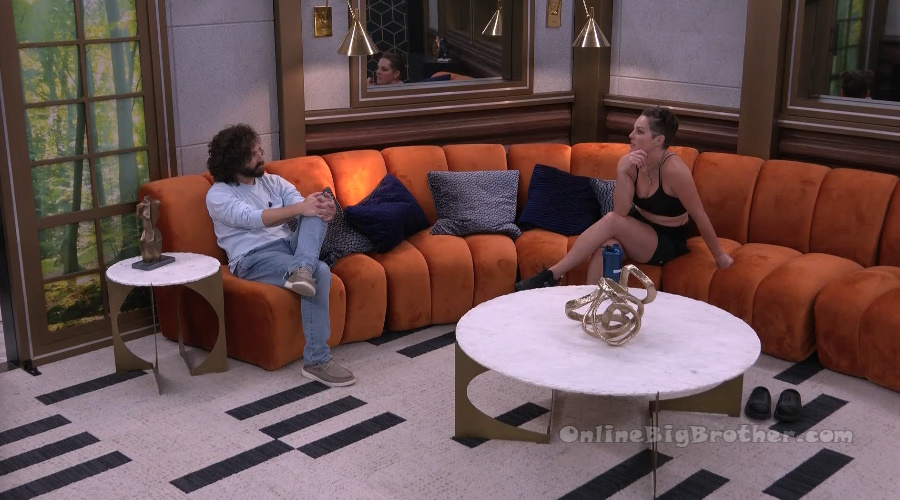 6:30pm Bathroom – Jared and Cirie.
Jared – the smartest thing for Izzy to do is to keep noms the same. Cirie – yeah that's what she said she is going to do. Cirie – the only thing that I don't understand is if I am the ultimate target why wouldn't he just put me and Izzy up? Jared – no because if you come down from the veto. Cirie – he doesn't think I am ever going to win it. Jared – yeah but there is still a chance so even if you're thinking that .. the smartest thing would be to not do that because this way he can assure one of you go home and I think that is what he is fine with. I think he ultimately don't care at this point which one of ya'll it is. You the last target, I wouldn't even say you're the ultimate target.. I don't think he is like YO I need Cirie gone. I think he is just like whatever one goes. Cirie – so do you think if he (Cam) wins veto .. does he use it and take down Felicia. Jared – that's a possibility.. that's a high possibility. Cirie – Wow .. and my next question is if he does that .. does Izzy have the votes over me? Jared – I know Blue is going to vote with me. Cirie – so I have you and Blue, Matt.. what about Cory? Jared – Cory, I don't know. America, I don't know. Meme, I don't know. Cirie – Meme over Izzy? Jared – oh yeah, I am buggin'! It was thinking it would be you or Felicia. Jared – it would be me, Blue, Bowie, Matt and he would be the tie breaker. Cirie – there is no tie its 9 votes so 5 is enough. Jared – that's why I want to play. I think he will pick me or Matt to play. I don't even want to ask him to alert him. If I win I would just keep them the same.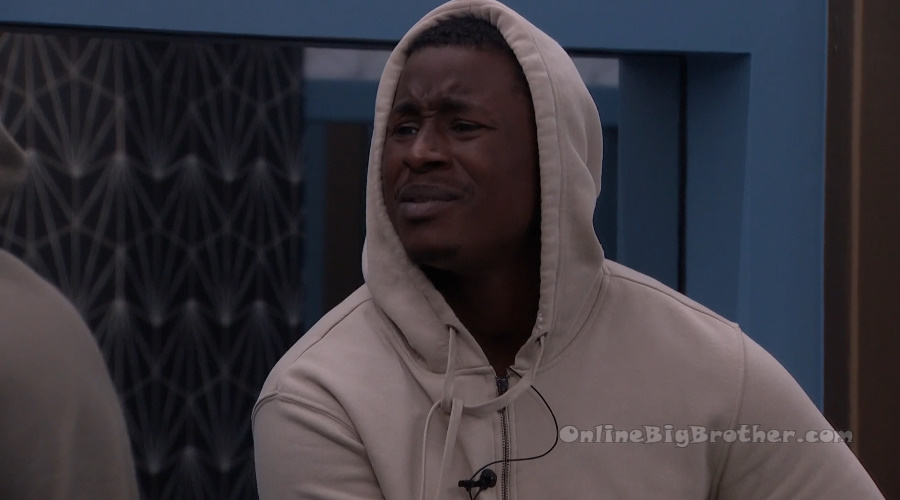 6:45pm HOH room – America and Cameron.
America – that was so f**king cool Cam! So F**KING COOL! Cam – get it all out! America – hugs Cam. America – thank you. How dare you put me last! You are so annoying! SO ANNOYING oh my god! I was like shaking. Cam – Whoops! America – after you did I was like this is so f**king cool! I am still freaking out and I can't really freak out with anyone downstairs because that is not the vibe right now. Everyone was like YES YES YES you know as a viewer. That was like you know LETS PLAY! Well that made me feel a lot better about us and you. Thank you. That is what I would have done if I had any power and won anything ever. Lets play! Cameron – Kiss my A$$! I am not playing nice anymore! America – good! Like I knew you were smarter than that to buy into it.
7:20pm Bedroom – Meme and Jared.
Jared – just to be on the safest side possible we keep noms the same. Meme – we keep noms the same… and I love Izzy but she might have to slide. Jared – oh no for sure! For sure that will be easy… I mean I ain't going to say its easy. It might not be easy for Mama C but its easy for us. Meme – oh yeah. Jared – regardless she has 3.. me, you and Cirie and only needs two f**king more. I am almost positive I could pull in Blue. Now we're just Matt, Jag, Cory, America and Bowie. Bowie was just complaining about Izzy two weeks ago.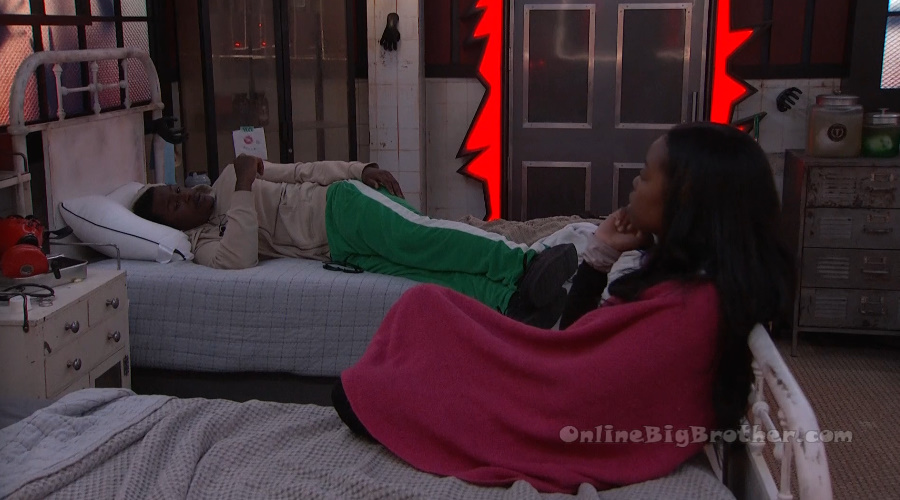 7:50pm Bedroom – Jared, Blue and Jag
Jared – I know its far fetched but think about how far fetched it is that he didn't put your a$$ up today. Jag – yeah that's true. Jared – so you really got to expect the unexpected with that dude. Jag – that's true, at the end of the day he could backdoor anybody including my a$$. Jared – yeah. So its a matter of who he sees as more dangerous. I think he leaves Izzy up there because if you're just looking at the three.. obviously you would think that Izzy is going to win more comps than those two.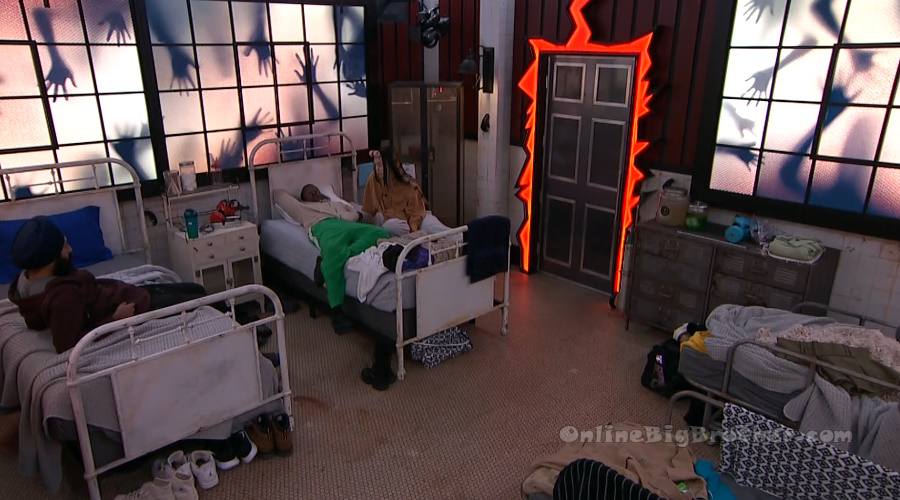 8:10pm HOH room – Matt and Cameron.
Cameron – when I won yesterday, no one got up, no one said a word. Matt – how are they feeling? Cameron give a thumbs up. Cameron – great. Matt – yeah that's probably good for your game because that makes them owe you a little bit. Cameron – right now I trust 3 people. You, Jared and Bowie. I don't trust anyone else. Right now the whole house is happy except for 4 people. Izzy is reeling. Cirie doesn't know what to think and Meme is lost. Meme has had a great run and has not had to do a single thing. She hasn't had to talk to anybody. She hasn't had to do a damn thing. Right now those 4 people are sh*ttying their pants. Because the entire house now.. the majority flipped over night. They're on the wrong side now. They've been on the right side for a month. Now they're done! Now they're fish in a barrel. What are they going to do win? Okay. Matt – who would you like out this week? Cameron – we'll see when we get there. I would rather you not know my target. Matt – can you just let me know before? Cameron – I will. Matt – I mean we got to vote so I don't want to pick the wrong side. Cameron – I will, I wouldn't do that to you. Matt – Go out play the veto and keep it the same.. that's what you would want right? Cameron – we'll play it and see what happens. I mean I might go out there and Felicia .. it might be Felicia's game. Who knows!? I don't care. Izzy could win all the veto's inf she wanted to. She's practiced, she knows the veto's.
9:25pm The house guests are in the kitchen trying to make whatever havenot food they can make out of the slop.

9:30pm Games Room – America & Izzy.
America – I would volunteer but I don't have the best track record. Izzy – do you think Felicia would go? Like what are people saying? Like people aren't going to say things about Cirie to me. America – I am closer to Jag and Blue a little bit. And they don't think ahead like that. I don't work with Jag or Blue for that reason. They are not very forward thinking / strategic… like you know Cory is. So as far as I have talked with them so far.. is you would stay over Felicia. Izzy – right and they don't want to talk about replacement. America – no they're like we have to wait. Izzy – oh my god. That kills me! America – I think Felicia against anyone she goes home.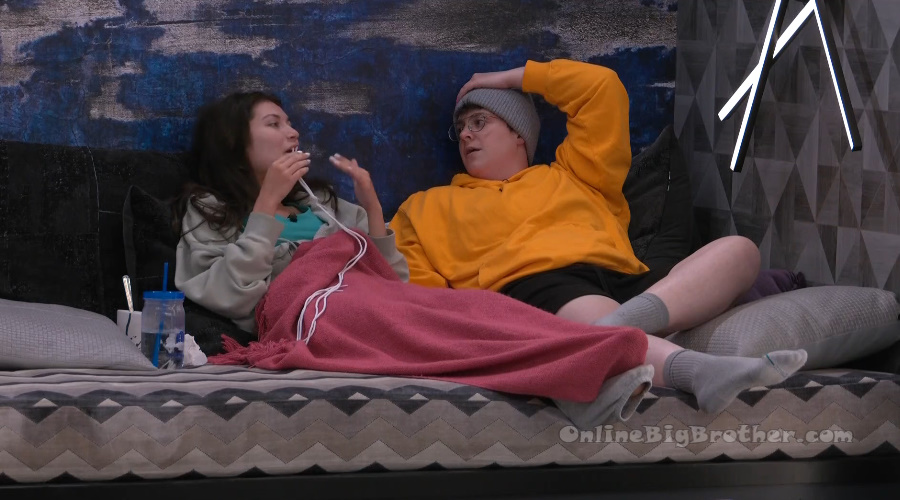 10:30pm Bathroom – America & Cameron.
America – Yeah I hope I get picked, I hope I play and whatever you need, whatever you want.. you know I would be willing to do so.. Cameron – cool. I might do something completely off the wall. America – I know you're so unpredictable. You're feeling bold. Cameron – who knows what might happen this week. America – as long as its not me. Cameron – It will be incredible. It will be nuts!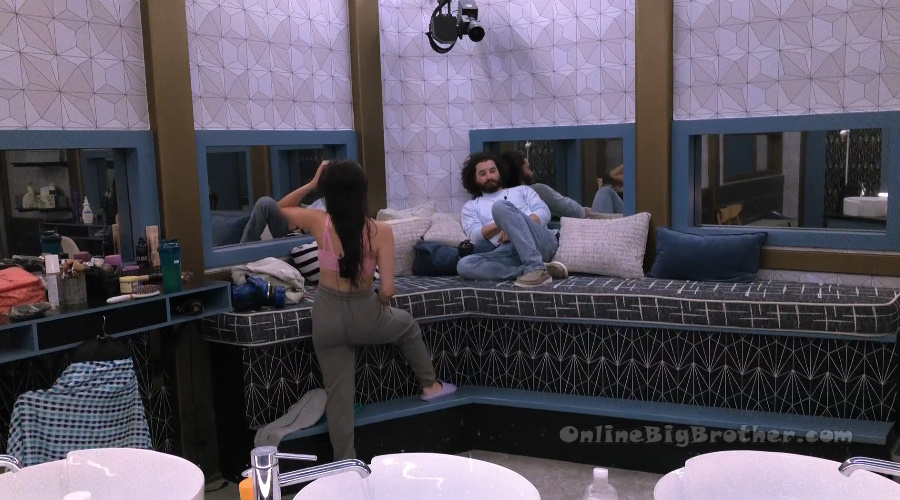 11pm – 12am Havenot Room – Cirie and Izzy.
Izzy – she is convinced that Bowie is now with Cameron completely. Cirie – yeah she is right. Izzy – and that Jag, Blue, Cory and America are going to go with Cameron and Bowie. Cirie – I think they're going to go wherever the power is honestly. Izzy – right but what do you think that means for this week? Cirie – that means whatever. Izzy – you think they will do whatever Cameron wants? Cirie – maybe and maybe not. Maybe not because he can't play next week. Izzy – right. Look I am grain of salt with everything .. they're saying all the right things to me. Cirie – like what? Izzy – they want me to stay. Cirie – They're telling me the same thing in regards to Felicia. Like she has been doing too much. Izzy – what did she say to you. Cirie – that she doesn't want to say nothing until after tomorrow because if she win and takes her self down she doesn't need to say nothing. She said that Blue told her that she got her vote or some sh*t like that. She said that she talked to Jag and asked if he got the veto if she would take her down. And Jag said ah ah ah.. I need to talk to other people first. So Jag didn't say he would take her down. Yes I am going to vote for you. So that is why she said that Cameron got them. Nobody will vote for Cameron to win. Cameron will never win this game. He can win every HOH from here to timbuktu and who is going to vote for him. And that would be very ICK of him but I think he's had that all his life. He loves me and says I am good. Izzy – but we don't trust him. Cirie – that is what I am saying he told us it was Jag and Blue .. we can't trust anything he says.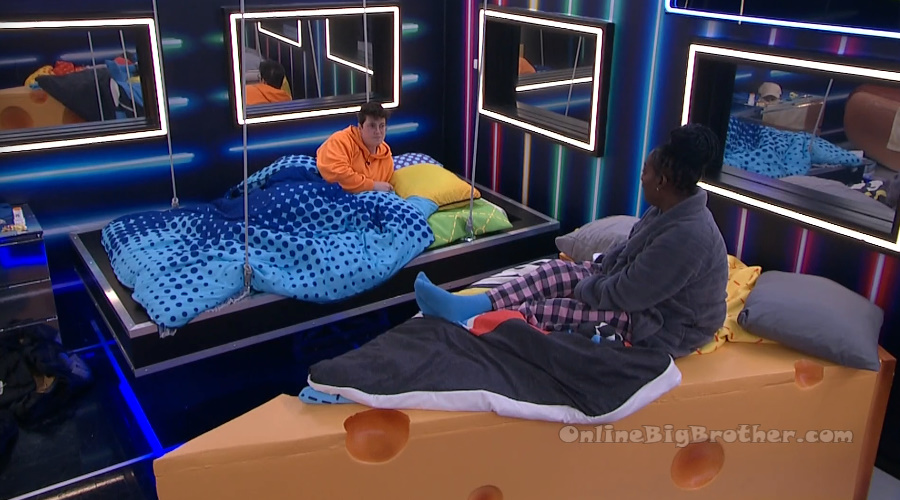 If you like these spoilers and read this blog regularly please consider a donation to keep the madness going. We accept donations via paypal How to support OBB