Quick Big Brother Spoilers
Head of Household: Matt
Nominees: Cirie & Felicia
POV Players: Everyone
POV Winner: JAG
Veto Ceremony: Veto was not used
Havenots: No more havenots
Lock your ranks in before midnight
The Situation: Cirie is the target. Apparently they are getting Chinese food tonight. Very little is happening today.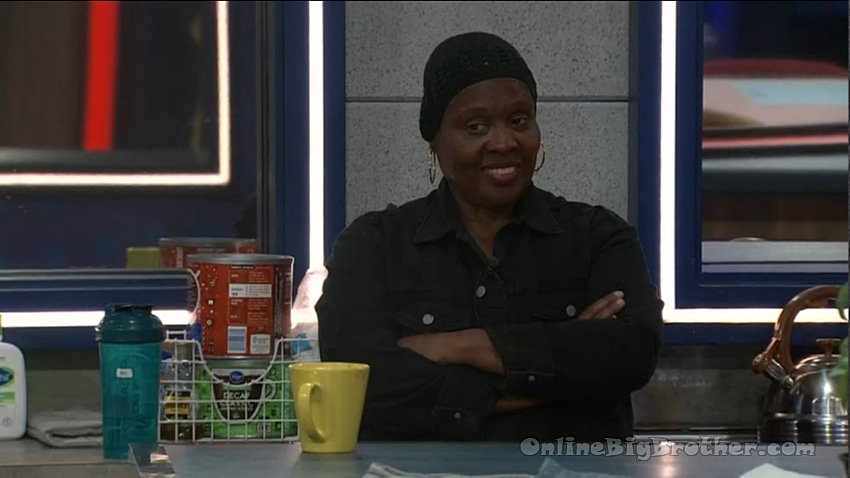 12:30 pm Cirie and Felicia
Cirie – Has Matt said anything?
Felicia – he said I don't vote..
Cirie – I wonder if they will tell us
Felicia – I'm not sure why it would be a secret
Cirie – Probably they don't want anybody to be… mmmmmm.. anything
Felicia – they can't really say.. well they can say what they are doing individually
Jag comes out of the diary room. Felicia says everyone else is in the HOH trying to stay warm. Big Brother told them they can't use the oven as a space heater anymore.

1:00 pm Felicia, Bowie, Matt and JAg Chit chat in the HOH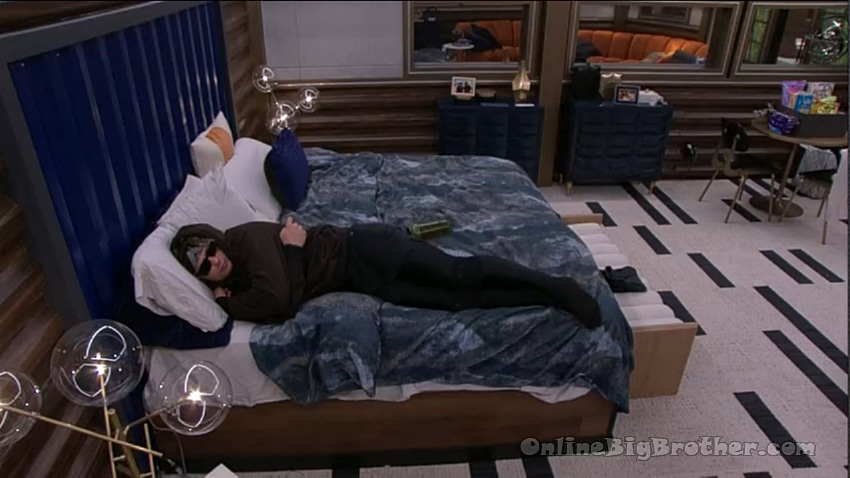 2:00 pm Matt chilling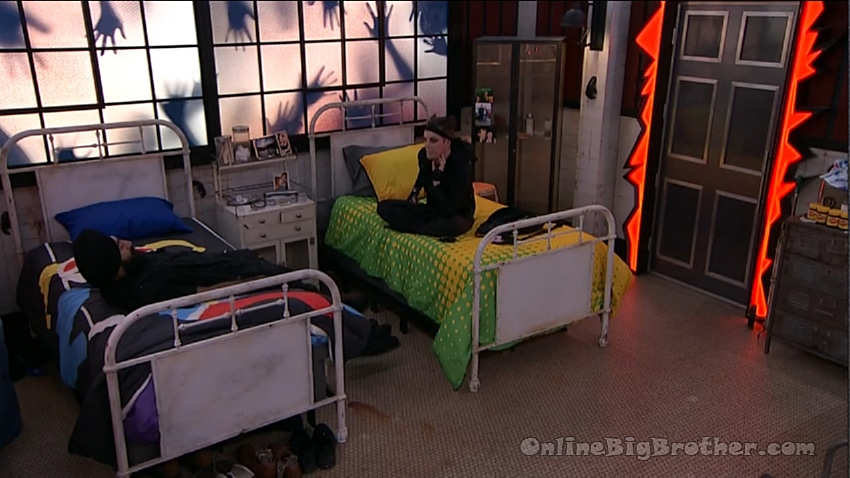 2:00 pm – 2:40 pm Bowie and Jag studying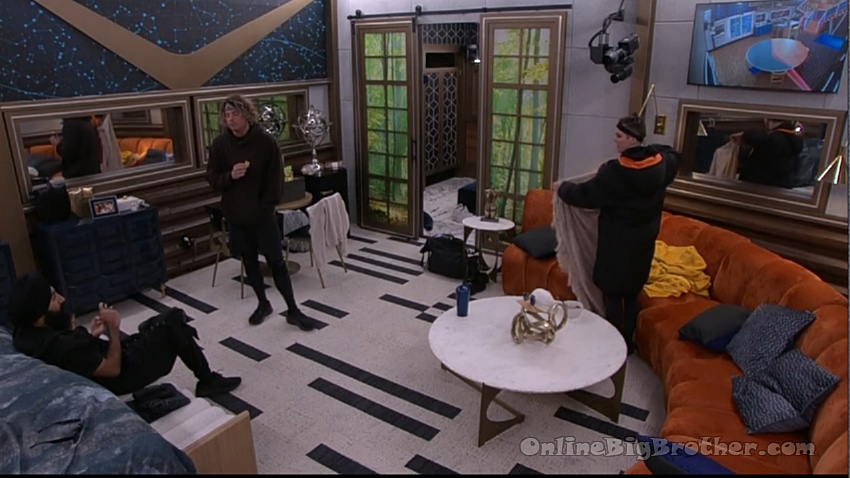 3:45 pm Matt, Jag and Bowie Studying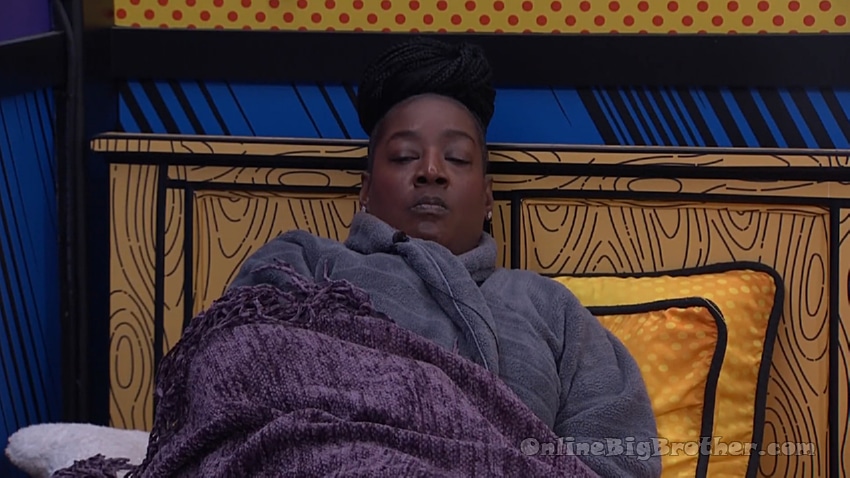 3:55 pm Cirie and Felicia
Felicia – for whoever stays here's something to think about. It might not be to your advantage to put Matt and Jag up because if the other comes down Bowie Jane goes up. If you put Bowie jane and another person up and they win the veto they can choose not to use the veto.
Felicia says she's trying to figure out a way they can force them to play their hand who they want to take to the end.
Cirie – MMMhmmmmmm
Felicia – you put them both up one of them win it Bowie automatically goes up and they still have to decide who stays and who goes. They get to decide who gets evicted that's the tell all right there.
Cirie – MMMhmmmmmm.. at that point one of them is gone or both of them are still here.
Felicia – then Bowie Jane will got
Felicia thinks they guys will turn on each other
Cirie – I don't know.. Maybe Matt is the Xavier and Matt is the Kyland
Felicia – I don't think so not from what I've seen.
Cirie says matt is "Feeling Funny" because he can't play in the HOH.
Feeds flip to Jag and Bowie Studying. When we're back.
Cirie – MMMhmmmmmm
They sh1t on Cameron a bit saying Red was the only person that liked him.
Felicia – he didn't know what to do when Red left.
They go over Cameron, REd and Hisam's game the first couple weeks.
Felicia says Bowie "Floated her a$$ to the end.. that's real even now no matter how this plays out she's in final 3."
Felicia is sure the boys will turn on each other. "They will leave her here"
Cirie says she still has a headache.
4:30 pm Jag and Matt
Jag – what did Felicia say to you?
Matt – She grabbed me when I was going to exchange my battery and she said 'do you know what is going on out there? they are making fun right in front of you. You can't hear them but I can. I can hear them." (YucK)
Jag – like she heard us say something?
matt – she said you guys were making fun of me.
Matt- I told her I couldn't hear them she said well I can.
Jag is trying to figure out what she meant.
Jag – maybe me and Bowie jane were laughing at something random.. part of me as I'm thinking about this that's what makes the most sense. If She.. There's nothing specific we said. In no point of game have I ever said anything against you or made fun of you.
Jag – Also. I don't think Felicia is dumb enough.. That is crossing such a line.. dumb enough to say I was making fun of you unless she actually thought something was said.
Jag – this isn't even game play but I want to believe she wouldn't take it so personal that suddenly she's using her disability against you. The only reason I say that right now She hasn't done that yet and she's been in worse positions before. Right now she thinks she's safe so why would she do something that crosses the line so much.
Bowie comes in.
Jag – is it fine if I talk to Felicia abou it? I don't want her going around saying
Matt – I'm going to go talk to her about actually
Jag – i don't want her to go around saying anything.
Jag to bowie "We're talking about the MOMMA Fe thins you know how she's saying that we talked about Matt
Jag – Momma Fe has lied a lot in this game but she's never crossed that line.. She's never exploited his disability. When she does talk about Matt in a personal sense it's only the best thing. part of me feels like there was something misunderstood.
Feeds cut.. then flips to the MOMMAS "MMMMEhmmmmm" then cuts again.
When we're back. Matt, Bowie and Jag are talking about dinner at 5 then costumes.
Bowie – Maybe we get the costume at 5 then the dinner after that.
Jag – I want to …
Bowie – I want to sort this shit out.
Jag – I want to sort it out now I don't want her to bring us into it
Bowie – it's rank.. it's rank.. It's rank I don't like it at all. She can stop playing that kind of game. She can stop it right now.
matt – yeah, I'm just going to see what she says.
Matt – if she can't give me direct quotes I'll be like Okay you were just assuming.
Jag – talk to her and bring her up here.
Matt goes to talk to Felicia.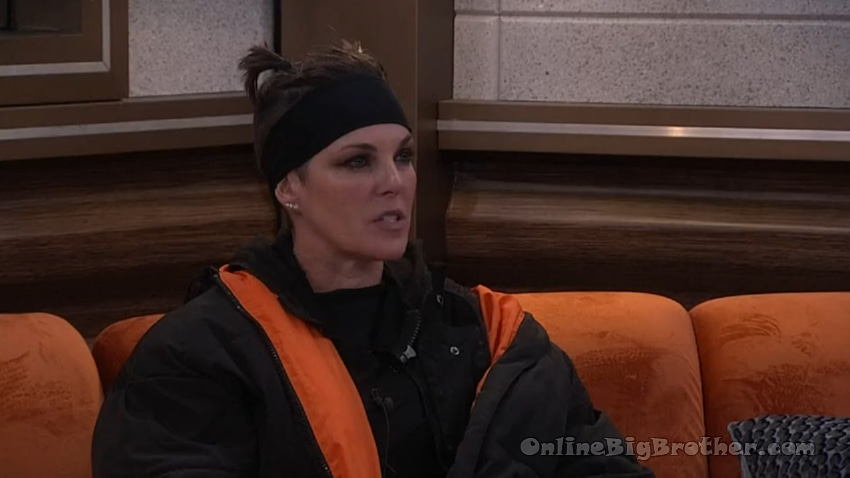 Jag and Bowie talk about what Felicia is doing 'Is not Okay'
Jag – Matt is upset about that.. when we found out we were upset.
Jag and Bowie agree the three of them laugh and have a good time. They joke around but never in a cruel way.
Jag – I've never made fun of matt behind his back if I make a joke it's too his face
Jag – if Momma Fe is making things up and give us specifics and it's not true that is just a lie and at that point all you are doing is trying to exploit his disability
Bowie – there's a chance he will doubt it… we can just vote her out.
Jag says still thinks it could be a misunderstanding they need to figure this out.
Feeds flip to Matt and the Mommas.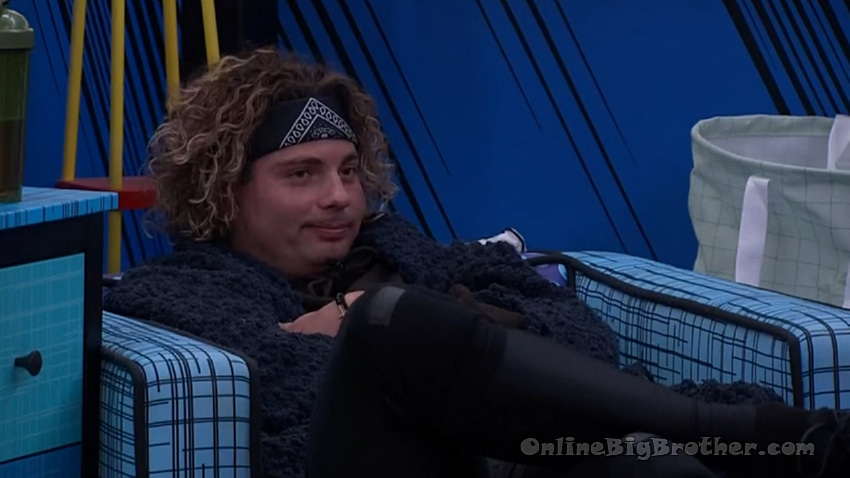 Matt says that Bowie will choose Jag over him.
Matt says he needs to win the veto next week.
Felicia – you're going to
Cirie – mmhmmmm… damn….

5:00 pm Houseguests get costumes.
5:20 pm Costumes
5:30 pm feeds go to pound