Quick Big Brother Spoilers
Head of Household: Matt
Nominees: Cirie & Felicia
POV Players: Everyone
POV Winner: JAG
Veto Ceremony: Veto was not used
Havenots: No more havenots
Lock your ranks in before midnight
The Situation: Cirie is the target. Apparently they are getting Chinese food tonight. Very little is happening today.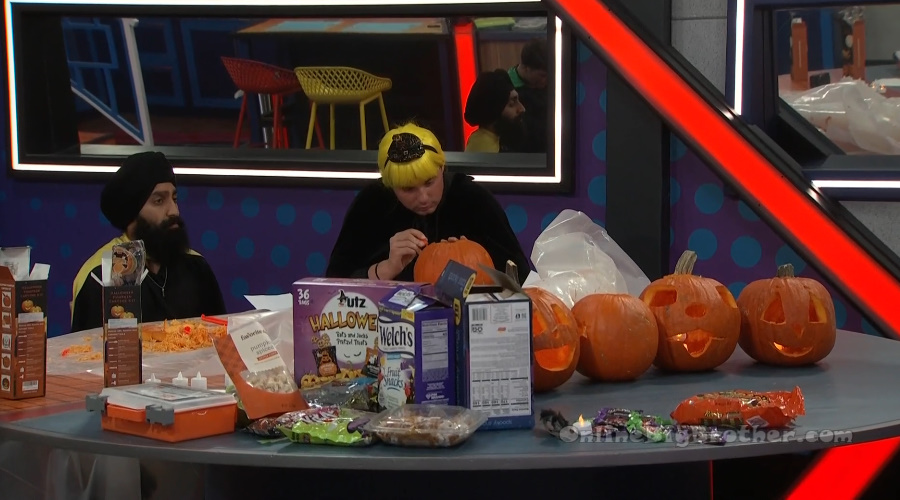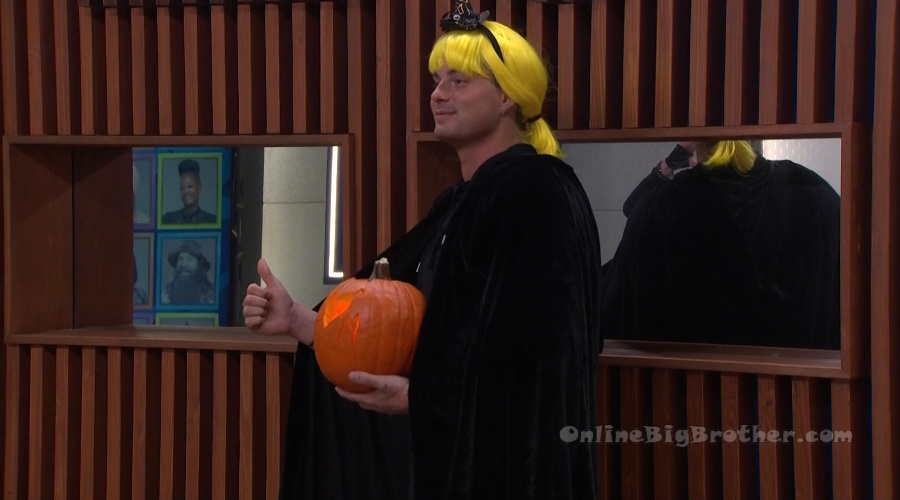 7:45pm The live feeds return to the house guests dressed in costumes and carving pumpkins in the kitchen. Matt is carving R heart M.

7:55pm
Comic Bedroom – Felicia is fixated on how they got a beer each and one extra one. She wants to go take it for her and Cirie. Felicia – they had 3 bottles of wine and didn't share with us. Cirie – but that was there wine, that's different. (Felicia is like a teenager the way she obsesses about alcohol and worrying about it being even or not.) Felicia – see I think he thought Bowie Jane was more into him and he realized that she flipped the script on him right up from under his nose. Cirie – he is sleeping in here and she is sleeping in there. Felicia – he is going to stay in the room with Jag. Cirie – that's where his stuff is in the scramble. Felicia – he got played! He sat there and got played. That shows you how shameful Jag is. And the shameful part is.. Cirie – I hate that when Jag was explaining the thing to him he kept looking right at me. What the f**k you looking at me for .. he's the one that needs explaining. I see you helping him. Looking directly at me. I don't like that. Felicia – when he was doing what? Cirie – explaining how to do the R. He can't beat Jag. Felicia – he can't .. he has to go in there with confidence believing he is going to beat him. He can't go in there being like he's won 6 vetos I can't beat him. No, go in there and say today I am kicking your a$$! It is going down! Tell yourself this sh*t is yours. Cirie – he is a god damn Olympian, I am going to slap the sh*t out of him. You a goddamn Olympian. Why you beat him right now!! Felicia – BEAT HIS A$$!! Stop being insecure! Felicia – look who he leaves in the house .. some females that he believes he can beat. He's gank! Cirie – took all the competitions away. I don't like that .. you don't get no points from me for that. You're 25 years old man and you want to beat 60 and 50.. Felicia – and 40 year old. Cirie – and that is going to make you sit in the chair proudly.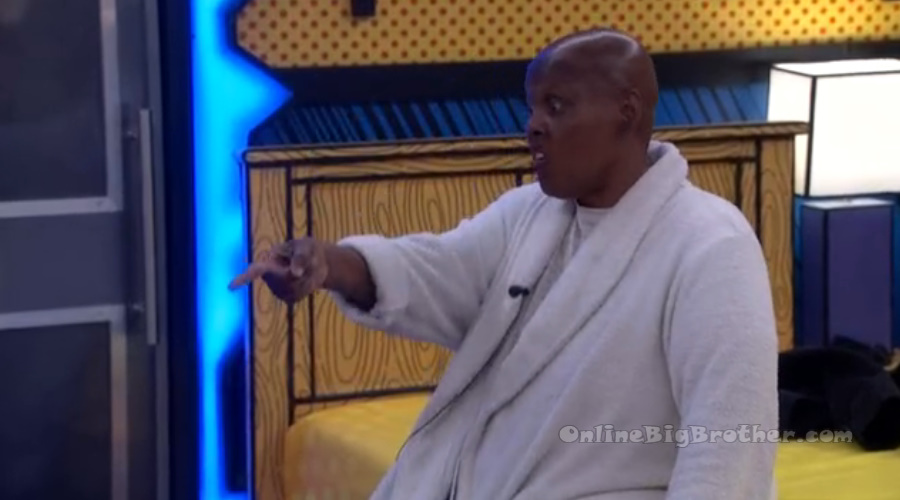 8:25pm – 8:40pm Matt, Jag and Bowie take the pumpkins up to the HOH room to see what they look like with the lights off.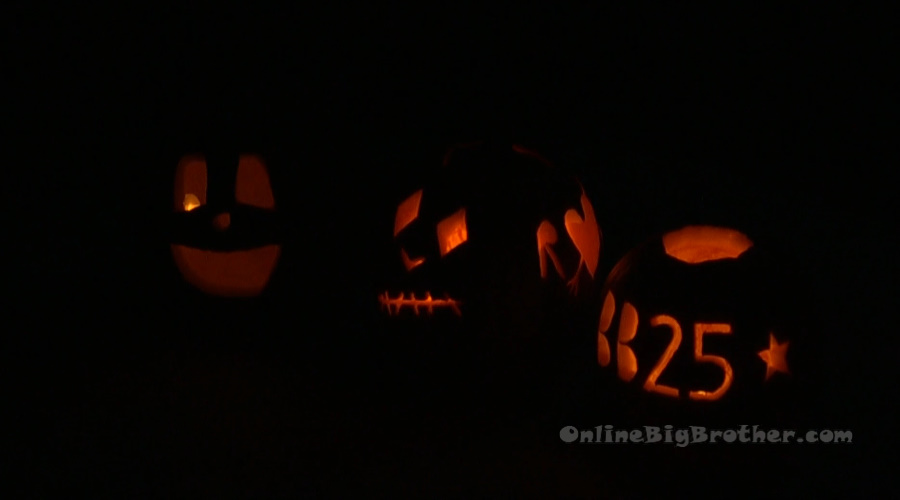 8:50pm HOH room – Matt and Bowie.
Matt – you didn't hear when Bowie said it was Rocket Science. So you know what I mean … so she wasn't lying about that but she doesn't realize that she wantted to keep it vague so that I would be like … but oh that's what she said? I don't care that she said that. That doesn't offend me at all. Bowie – I've said that to everyone. I say it to myself. Matt – I know you guys wouldn't do that but why would someone manipulate …why would someone come up to me all of a sudden and be like you can't hear that they're making fun of you but we hear it. Bowie – yeah. Matt – so that's where its like .. that's f**ked up! Bowie – and what was the mirror thing? Matt – oh that you looked in the mirror and they were mocking you. Bowie – so she said that as well? Matt – two days ago yeah. Bowie – she's clutching at straws because there is nothing.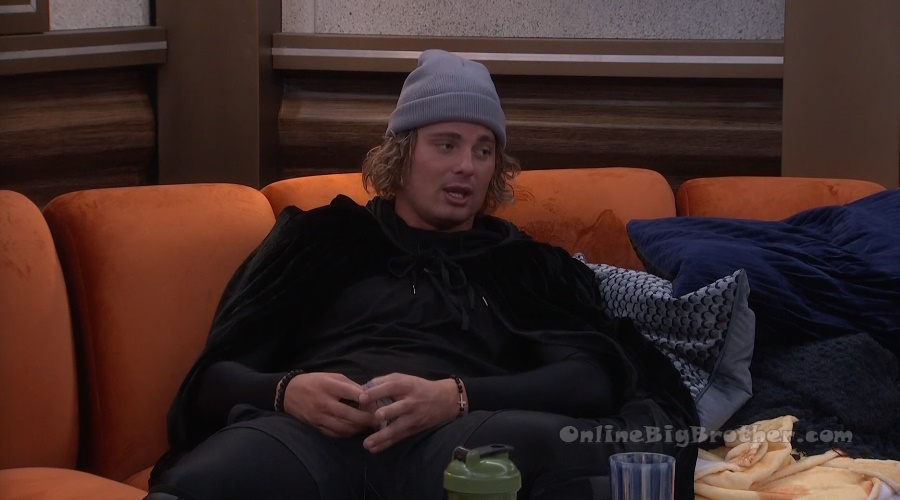 9:15pm Cards..

10:30pm Cirie and Felicia are sleeping.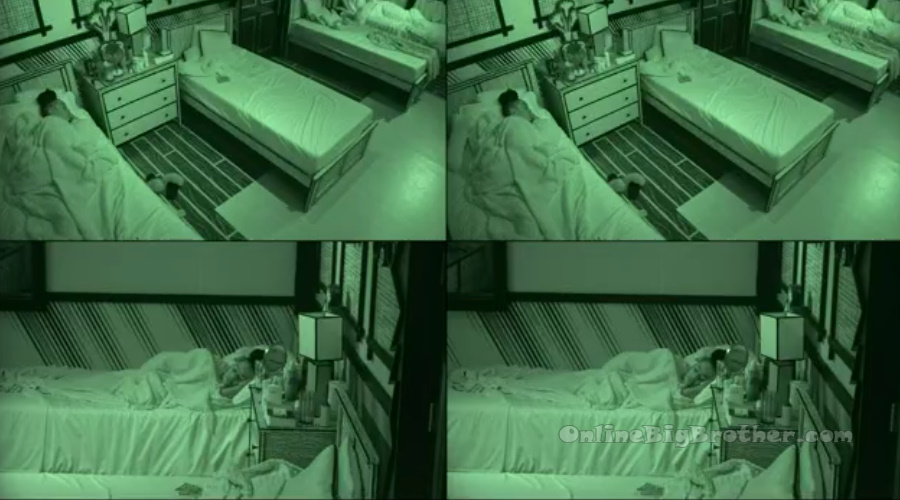 10:32pm HOH room – Matt, Jag and Bowie games in the HOH room.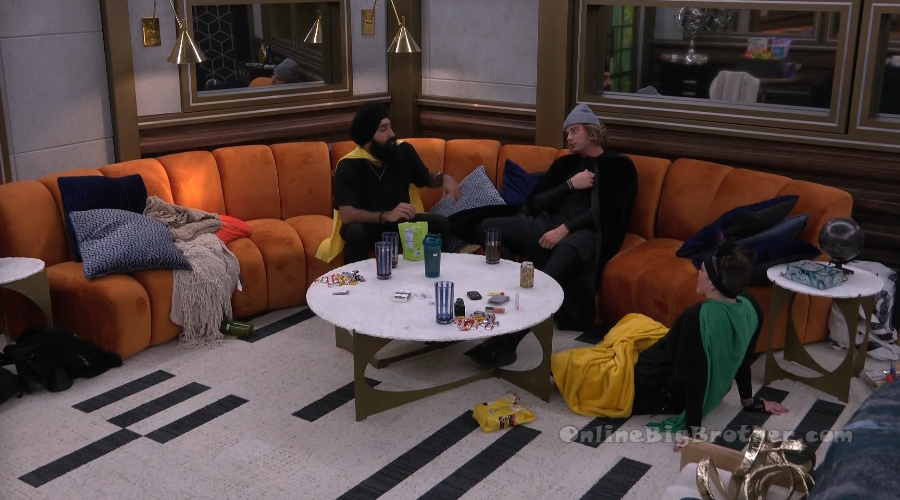 What to leave a TIP? Any amount is greatly appreciated!
Tips go directly to pay the site costs associated with running this site.
Thank you in advance!