Quick Big Brother Spoilers
Head of Household:  Reilly
Nominees: Corey, Felicia, Kirsten, Jared
POV Players: ?
POV Winner: ?
Veto Ceremony: ?
Havenots:  Jared, Corey, Hisam
Lock your ranks in before midnight
The situation Reilly used her HOH to denominate Corey and Jared. Kristen and Felicia are on the bloc. Kirsten is the target.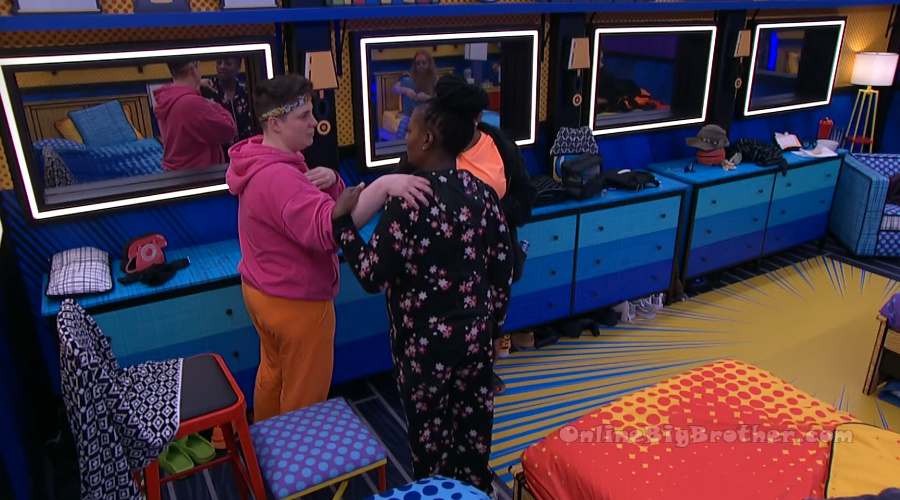 7:59pm Comic Bedroom – Felicia, Cirie, Red and Blue are chatting. Izzy comes in and heads straight for the dresser. Cirie to Izzy – what do you think about buys vs girls vote next week? Izzy looks at them and says – I'll engage in a minute. I'm okay. Felicia – no you're not, what's wrong? Izzy – no, no I'm okay. Cirie – what happened that quickly? What happened? What's wrong? Izzy – no, no I'm just having a moment. Cirie hugs her and asks what happened?! Izzy – its not about this… well its about this .. you know. Cirie – its going to be alright. Izzy – I am just missing normalcy, missing like feeling in control of perception and.. I feel supported. I say that so truthfully. I miss my (girlfriend), my parents and I was just getting this rush of feeling really guilty about not thinking about home at all today. Cirie – they want you to do that. Izzy – I know. I struggle with feeling guilty about doing this .. and now we're here .. we're doing this. And now its like holy sh*t I don't know. I am tired. I am f**king tired. And maybe this will be a surprise but I am a crier. They laugh. Cirie – I was ready to beat someone up! I did not plan on fighting on day 3!!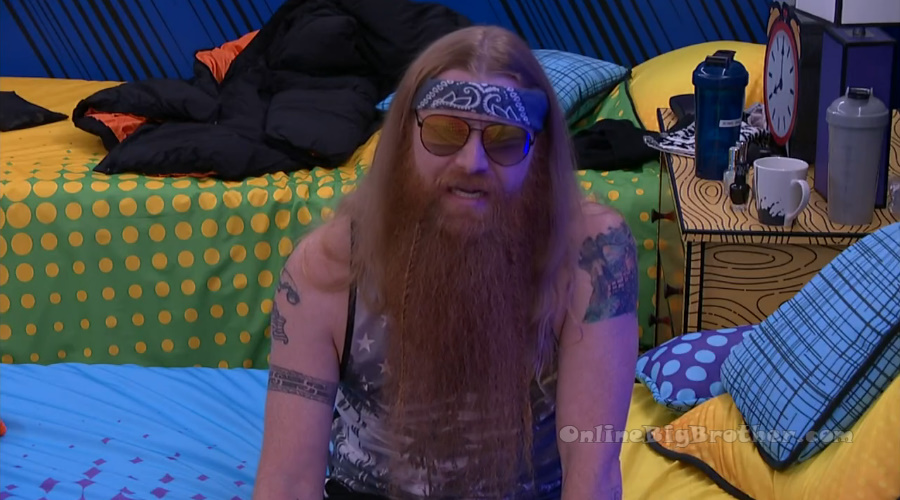 8:20pm – 9:10pm Comic bedroom – Cirie, Red and Izzy.
Cirie – when it is really going to (blow up)… is when the eviction happens. Izzy – oh for sure. Red – I don't know if you have noticed but I have a fairly large personality.. but I think it might put me in the crosshairs. Well this guy can do this and do that so I don't want to over achieve on comps. Izzy and Cirie agree. Red – I need to limit risk or my threat. Izzy – We know who hangs out upstairs.. and I think let them think that they're the only comp beasts in the house. Let them think that amongst themselves for now. Red – absolutely. Izzy – but also for me.. if I get picked .. in my position.. if I get picked I am going to go hard because I think it would help me at this point to win something or come close and show that I am not what I.. I think that would be good and I think that would scare them. I don't want it but if I do I am going to try. Izzy – I have been hearing that Reilly, Matt, Luke, Jared, Jag, and Blue have been working together. Blue is who scares me. Blue pulled me today and I felt like it was genuine conversation .. but because Blue.. Kristen walks in and the conversation ends. Kirsten comments on how she maybe shouldn't be in the comic bedroom. Cirie questions why. Izzy – talking about the comic book room.. that you don't need any extra stuff. Cirie – what do you mean? Kirsten – hypothetically people shut me out because I was only talking to ya'll. It wasn't direct. Cirie – but you weren't in here that much. If we want to put it on a gauge of a percentile.. from 100% range .. you might have been in here 25%. I'm a straight shooter.. What I think ..sister to sister.. what I think is a lot of information was shared from you with a lot of people because a lot of the things that you came in here and said that night.. this one said you said it. That one said you said it. You can't… listen you can do whatever you want .. if you want to come into a room when you don't know everybody and where they stand .. and who they messing with ..and say this, this, this and that. Its going to .. (blow up).. just like it did. You need to take that minute and breathe .. before you panic take that minute and breathe and then start over again tomorrow.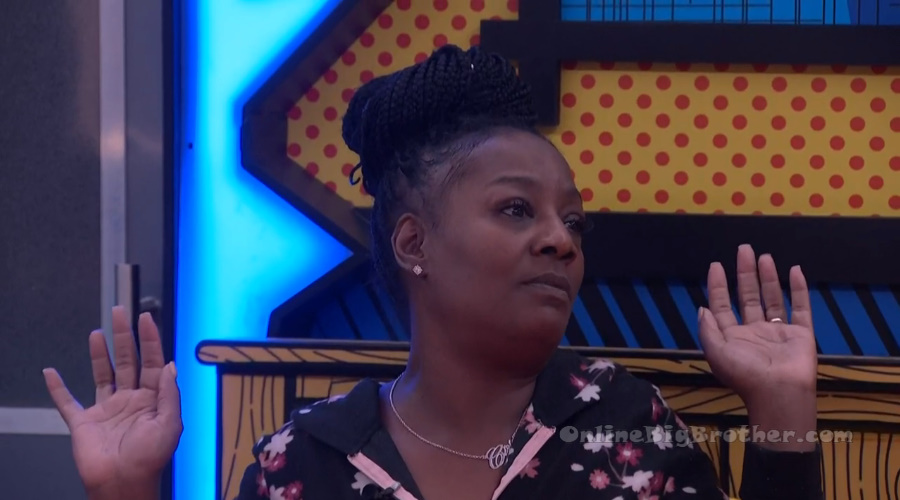 9:45pm Comic room – Felicia, Cirie, Izzy and Meme
Izzy – when Bowie comes in here are we saying we're aligned? Felicia – We're the bye bye b!tches! Cirie – I love it! What?! What?! Felicia – today. Cirie – wow! Bowie and Red join them and the conversation ends.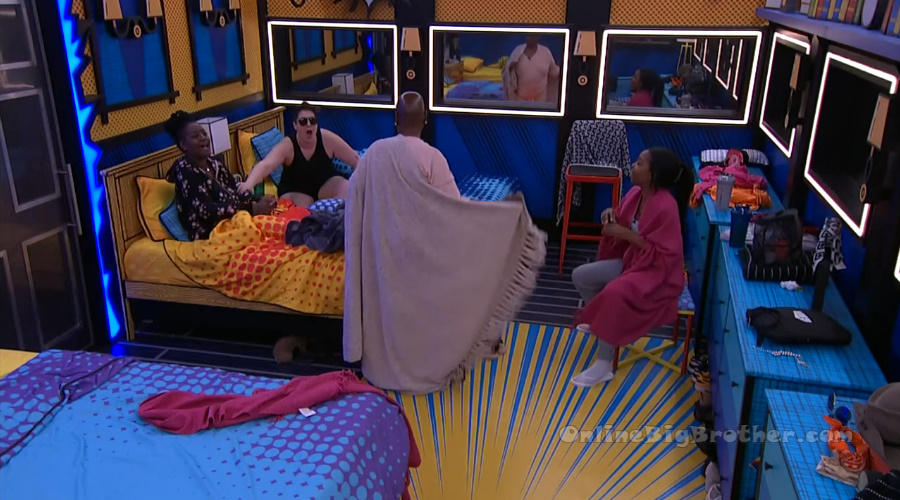 9:55pm Bathroom – Jag and America
Jag – I am sitting there with Blue and we're telling her (Kristen) you've still got the veto. We're just talking to her because obviously her spirits are down and it still sucks. America – yeah, you want to cheer her up. Jag – we're talking and I'm there fully and she is just like yeah I just want to see like girls. And I am like mouth bleeding on her. America – she did not! Jag – no she fully did. I am sitting there and I'm just like why are you mentioning girls right now. She was like for me I am a people person and I am like trying to work with the girls. And I am just like ..yeah.. I'm going to go. Is this a conversation I should not be in?! America – no she talks and she doesn't think about it.. she talks before she thinks about it. Jag sits on the couch and jokes – I'm camouflaged.. don't move a muscle!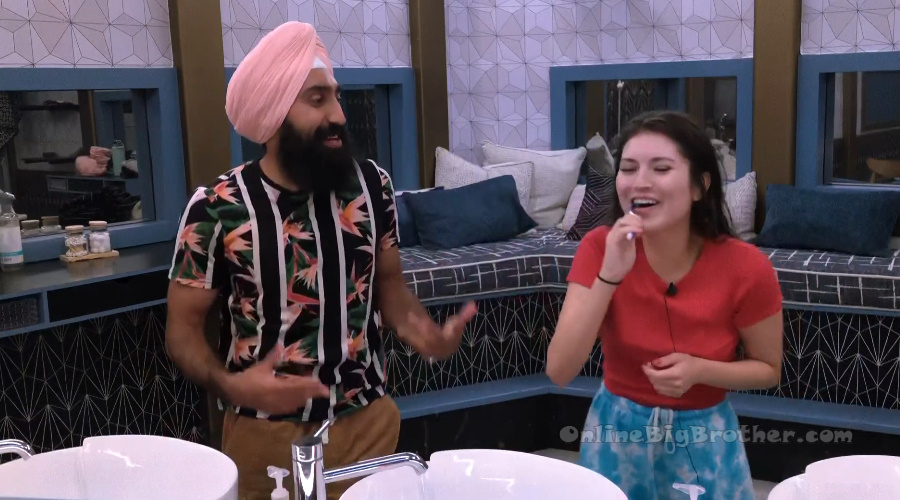 Reilly, Matt, Jag, Blue & Cameron #BB25 @bigbspoilers pic.twitter.com/agAqbsMYij

— Dawg (@DawgsBigBrother) August 5, 2023
10:12pm – 10:55pm HOH room – Reilly, Matt, Cameron, Blue and Jag.
Reilly – night one.. we are a very multifaceted well oiled machine if you take a look around the room. We're at the point right now where we need to solidify numbers and a core.. Reilly sees Cory walking by the HOH room and goes out to say goodnight. Reilly – I think you're awesome and you deserve to be here. I mean what I say. I want to take care of you. Cory – you ripped the Bandaid off in it the best possible way that you could. Reilly comments on how she wants to win the veto and keep noms the same. I want to bag it and tag it. Reilly then heads back into the HOH room. Reilly – Things are going to start heating up. This is going to be a game about disaster prevention more than anything. Twists are going to be thrown. We need to make sure this core group has each others backs no matter what. And what we talk about does not leave this room. And no being obvious. Cameron – I know that you (Matt) and you Jag and I have a solid relationship with Jared. Yes, I love that guy. Reilly – The beauty of this is that we all have eyes and ears.. Matt interrupts – well I have the eyes. Jag jokes and points to Reilly – you a$$hole. Matt – you're done! You're done! Reilly – we are the "The Handful" .. we are the five. Jag – are we officially calling ourselves the handful? Blue – there are five of us and the scary room had hands all over it. Cameron – we're the five.. anything else is protective bubble wrap. They talk about how America is solid and how they like her. They discus going to America, Cory and Jared individually to pull them in as the plus 1's of The Handful.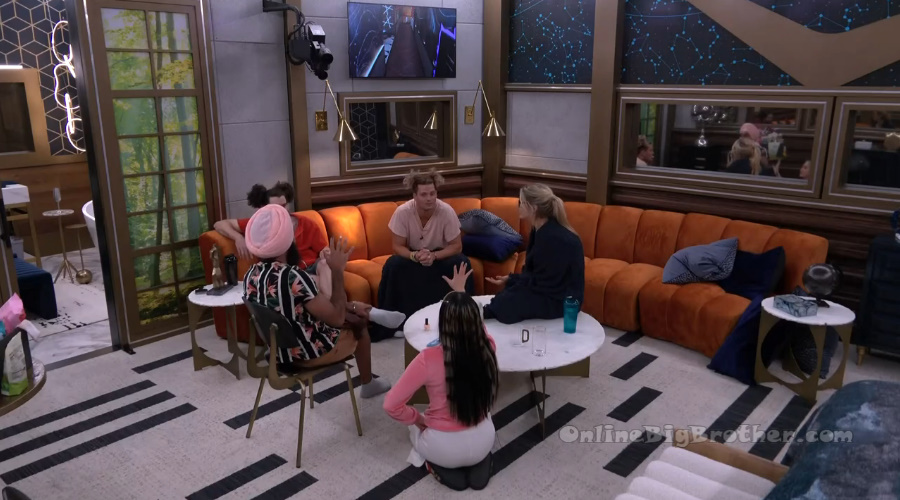 11:35pm – 11:55pm HOH room – Matt, Reilly and Cameron.
Cameron brings up how each of them have a person. We all know of the 17 people here there is one person that sticks out and just doesn't jive. And that is clearly who the target is. Its Kirsten. If Kirsten was out of the picture… like f**king threw her hands up in the air and walked out the door today and had to be replaced today.. there is only one other person that I get weird f**king vibes from when we're just talking .. and you know who it is. Reilly – Luke. Cameron – its Luke. When we are talking he is continuously vague in what he talks about.. Reilly – he is a f**king doctor and I know it. Cameron – I know he is a F**king doctor. Reilly – he is not an artist. Cameron – something is not right. Reilly – the medical terminology he uses. Reilly – did you hear him today .. he was like did you hear the word that there are doctors and lawyers in here? He said that. Reilly – when you're alone with him do you get the sense that something is missing? Matt – kind of.. I can just tell we're just bros. We don't talk game. He is older but playing the frat vibe. Reilly – he tries to play super dumb. What's a backdoor? What's a blindside? Its so obvious he is playing dumb.