Quick Big Brother Spoilers
Head of Household: Jared
Nominees: Corey Cameron and America
POV Players: Corey, Jared, America, Bowie, Jag, Cameron
POV Winner: Jag
Veto Ceremony: Veto was used on Corey. America and Cameron nominated
Havenots: ?
Lock your ranks in before midnight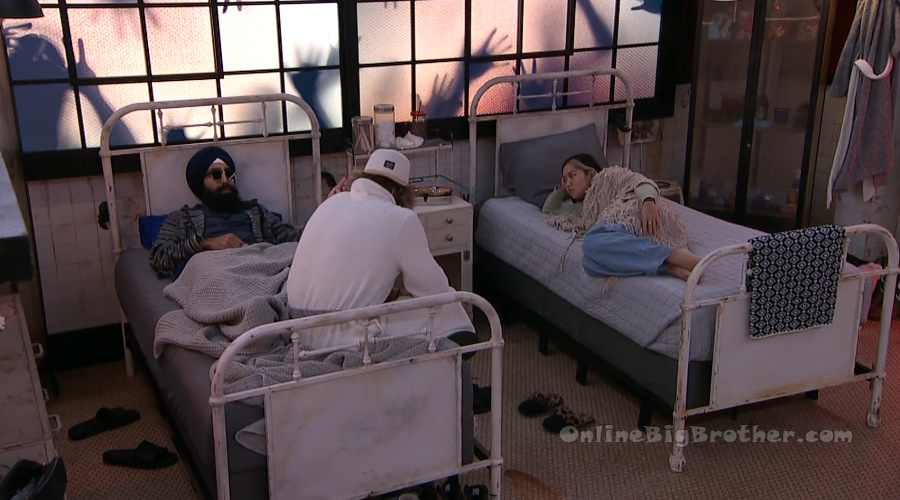 7:09pm – 8pm Bedroom – Jag, Blue and Matt.
Jag – okay if we're moving forward with the 3 of us .. or especially with the 5, eventually someone is going to have to take a shot at everyone else. You know what I mean!? Including Jared, so specifically with Jared because of your proximity to him what does that look like. What does taking a shot at him look like? Blue – I already told you before. I already told Jag before in the beginning.. if Jared is getting out of this house its because of me. I am taking a shot at Jared. I've told him this from the beginning. One way that he is going to leave this house is under my HOH. So whenever that is, its going to be my shot. But if someone takes a shot before hand and it makes sense, I am not going to be like pause. You know? Jag – yeah. Blue – because also if we get Cirie out earlier, Jared is going to come to us. And he is a good competitor too so we still need to be good with him in case he wins. Even Cory told Jared that Cory thinks Jared has a good chance at winning not the next but the HOH after that. BB switches the feeds. Cameron joins them. Cameron – I can unload as much game knowledge on you as I can for the amount of time we got in here. The majority information I have are about veto competitions. We haven't had an arcade game in awhile. You don't know you would be good at it until you do it kind of games. HOH live, you're due another live but I don't know when. He tells them about OTEV and other comps. Jared joins them. They talk about getting followers on Instagram/Twitter/etc.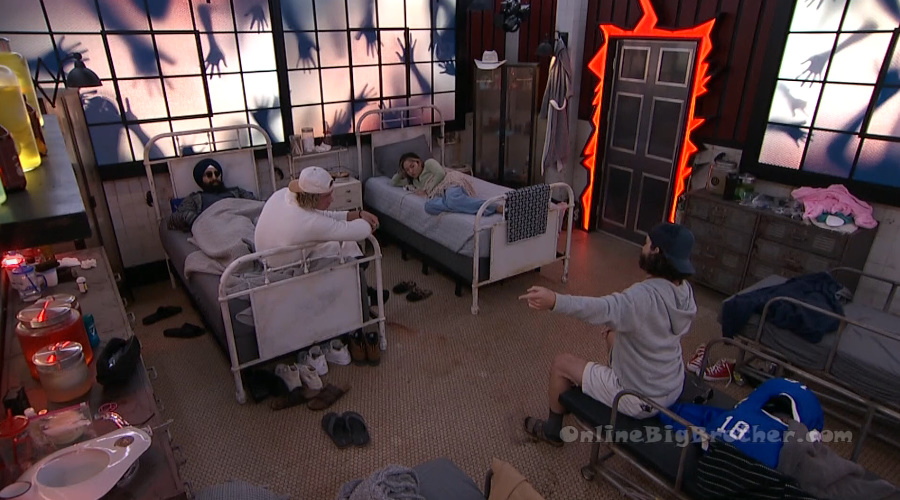 7:09pm – 7:30pm HOH room – Jared and Cirie.
Cirie – I know, I could tell he (Jag) had shades on tonight so I know he's up to something. Jared – yeah I got to get Jag sooner than later. But they on Felicia heavy.. Cirie – really? Why? Jared – just cuz.. They don't trust her. She's talking too much. So that's what they're talking about right now. And also Jag ain't never feel 100% with Felicia ever since everything happened but once again they could just be saying that to me. I just don't think so. They just told me that Felicia has been running around to everybody today asking about what's going on. They said that they didn't like how she cornered him and America and pressed him about it. Cirie – who Jag and America? Jared – Uh Huh. Cirie – she told me too that she seen them over there talking and when right over there. Jared – no yeah they're sensitive. She did it to Blue and she was about to do it to Matt. Cirie – good, let her keep at it. I've busy chillin'.. I ain't say nothing to them. I am about to get on Cory. He about to leave me alone. He was like did you see Cirie's season where they manipulated all the men that were there and then Cameron said but ya'll ain't hear it. I was like why don't ya'll talk about the season where.. And then Cameron said the traitors and he said thank you moms. He keeps trying to get to that, that is why I just walk away. But why you say next we got to get Jag? Jared – just because he is the next hardest comp. Cirie – he is the connection to everything. Jared – once he go, that's it. But it would be best if Meme wins next and she get him out of here. Cirie – Meme, I don't think she trying. She say she do but I don't think so. Jared – but if you look at the pressure cooker. Cirie – oh yeah but then she gave it up for some bullsh*t a$$ deal. Cirie – if I am in for 14 hours I ain't giving it up. Jared – yeah but we different. We completely different. You see me I go for everything. Even Blue told me today, you might want to be easy sometimes. She was like you already got two.. I told her I don't feel safe unless I win and she was like you know I got you.. but you got to be easy. You might not need to keep winning. So I do need to probably need to take a step back but I do think Jag is feeling the same way. Cirie – Please, I hope he steps back and let me win it. Jared – I really want Meme to make that move because if she do it, then we can save face with Matt. Cirie – oh right. Jared – Cory said he feels like a less desperate Cam. He said when I did that everyone was on my side, it seemed like everyone was trying to back me and then the moment that was over it feels like everyone was against me and I don't got no relationships except for America in the house. Cirie – I don't trust Cory.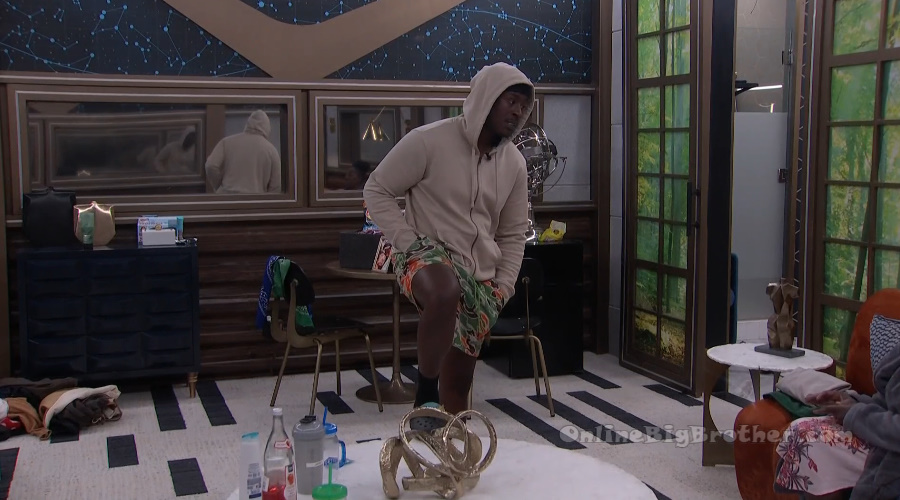 8:05pm Kitchen – Meme, Felicia and Cirie are chatting in the kitchen.
8:09pm BB blocks the feeds.
8:21pm Still blocked.
8:26pm Lip smacking..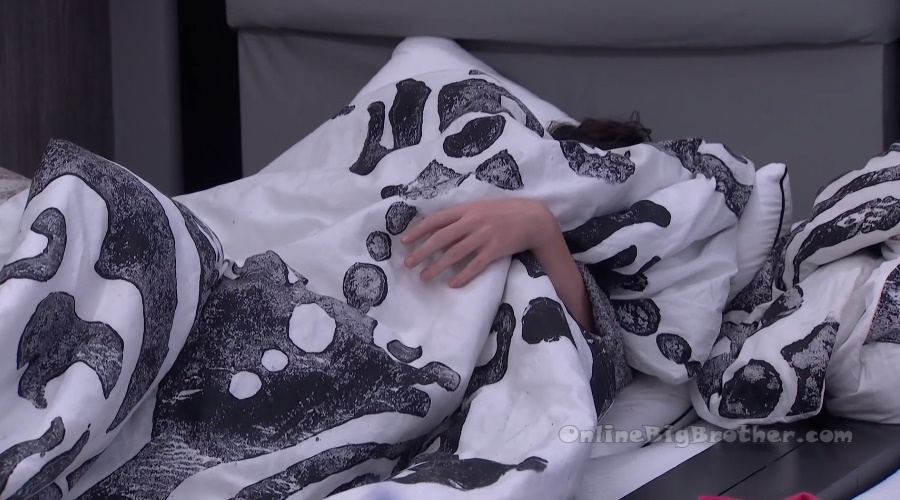 8:33pm HOH room – Matt and Jared.
Matt – Cirie's been quite. Jared – she's been chillin'. Matt – I feel like she's upset with the Izzy thing and lonely. Jared – yeah, she feels alone. Matt – she's got us. Jared – yeah she knows she has me and you. I think Cory scares her a lot. Cory's got her real scared. Which is crazy right? Such a small guy. Matt – such a strong presence. Jared – she still feels super comfortable with me and you.. especially you. Matt – no yeah, same. Jared – I think everyone is just wondering what happens next. How's Jag? Matt – he's solid. Jared – I feel like I'm at the top of the list now. Matt – in a bad way? Like target? Jared – yeah, me and Jag yeah. Matt – that's Cameron's angle though. Cameron is going to say that. He's like they're going after me because I'm winning.. and I am like not they're going after you because you're kind of a D**k. Jared – if Cory is not coming after me who the f**k would he go after? Matt – if not, the leftovers.. Bowie and Meme maybe? Jared – I think Cory is too smart for that. I don't think he would want to waste that on Bowie and Meme. I can really see Cory putting me and Jag up. Who knows though.. that's why I really want Blue to win. Or one of you to win. Matt – yeah no sh*t. If I win, it basically .. no it guarantees Jury for all 6 of us. Jared – I know BRO! Matt – one of us 5 wins, we're all guaranteed jury. Blue joins them. Jared – I think the chances of them (America and Cory) winning next week are low.
9pm Big Brother blocks the feeds.
9:51pm Still blocked.
11:36pm – 11:40pm The feeds return to the house guests moving around the house / getting ready for bed.
11:40pm – 11:56pm
The feeds are blocked again.
11:56pm The feeds return to the HOH room – Jared and Blue in the HOH room bed. Blue is talking about New York and what her HOH letter would be like from her friends if she won HOH. Blue – OH man I feel so much FOMO. I bet they're having so much fun. Jared – FOMO? What is FOMO? Blue – free of missing out.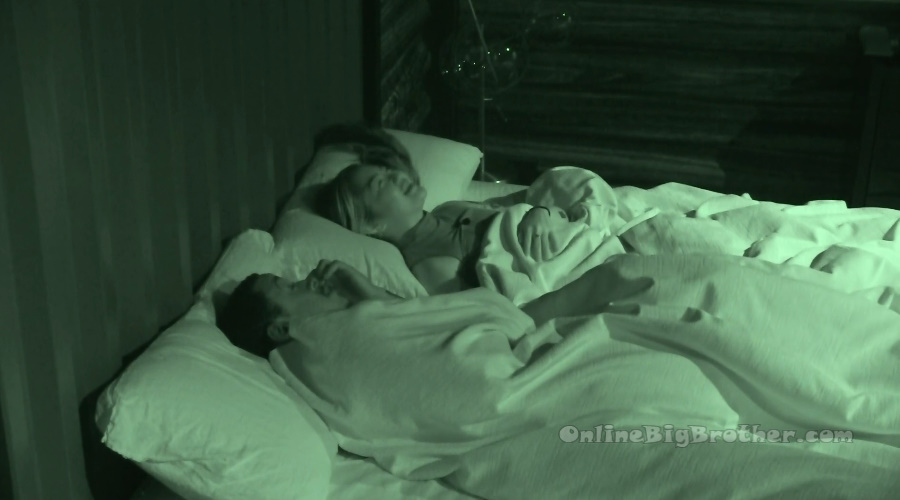 12:03am The feeds are blocked again..
12:09am Bathroom – Jag and America.
America – I didn't get to enjoy the back yard yesterday because I was drunk. Jag – that is going to be such a funny… America – I said to Cory can you please please please assure me I am not going to get evicted this week because I am going to look like the dumbest b***H in big brother history! Jag – I promise you, your a$$ is grass. America – can you imagine… BB blocks the feeds again.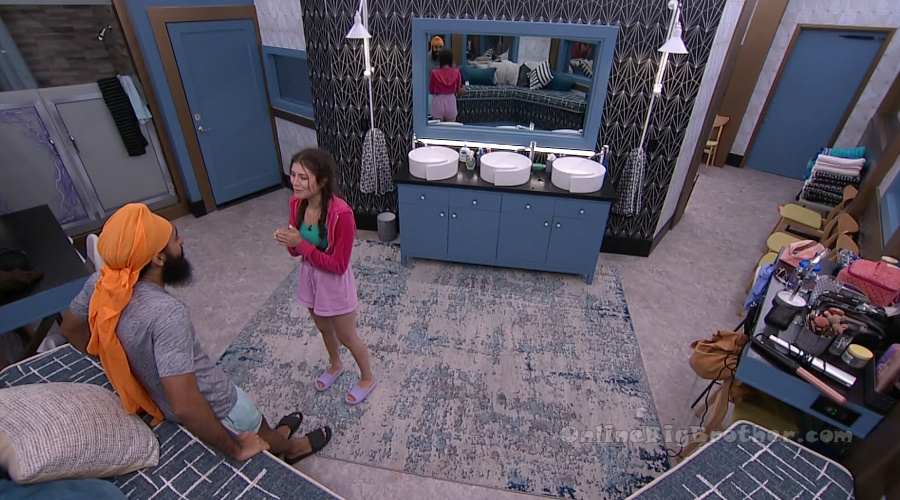 12:15am The feeds return – Jag and America in the bathroom again.
America – I know my parents are going to be like you idiot! What are you doing?! Jag – its funny though. America – they're going to be like eyes on the prize! Eyes on the prize. Jag – classic America. America – I know my friends are going to be like but yeah that checks out. Jag – of all weeks this would be the week. It would be dumb otherwise. It shows all our personalities and you're so f**king funny. Everyones going to be like na she's a clown. America – yeah I know my dad is going to be like big mad.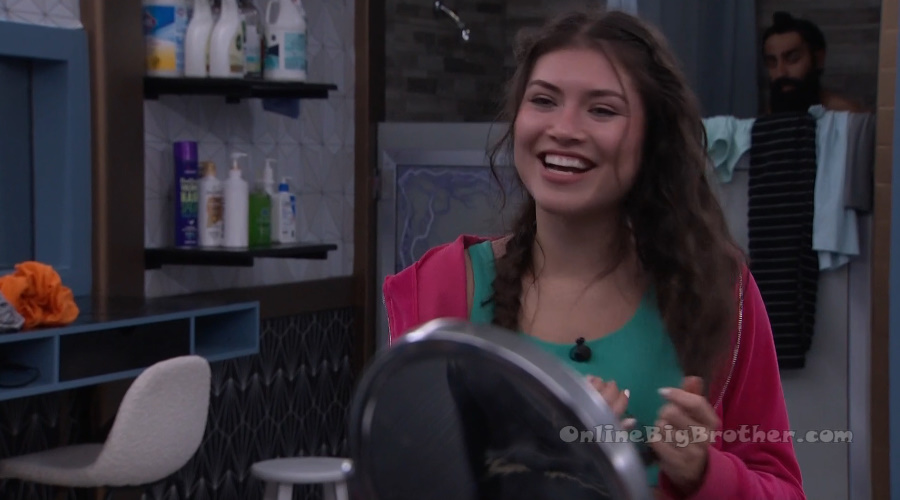 12:18am Havenot room – Matt and Bowie.
Bowie – what is Blue's position? She will just go with whatever? Matt – she .. its also with her personal game .. she loves POO.. Jared but she knows game wise she can't be around it anymore. The thing is we know she will take a shot at Cirie but she won't take a shot at Jared. Bowie – yeah. Matt – which is dangerous because Jared is a good comp player. So he could win next week after this week and that could come back at us so that is why.. the best idea would be to put them both up. Bowie – so both groups are sort of saying this? No they can't be? Matt – no, so basically Cory and America agree on this, Jag, Blue… Meme .. we don't know what Meme will do. I know Jared would put up Cory and America again. But he can't win so I think that's what Cirie will do. Bowie – this was a big week. Matt – yeah, so you can trust them. And that's what I said I would always try to let you know where the votes are before things happen. Matt – obviously its going to be a unanimous vote and if its not someone is going to put a big target on their back. Bowie – yeah I'll just say I am voting with the house.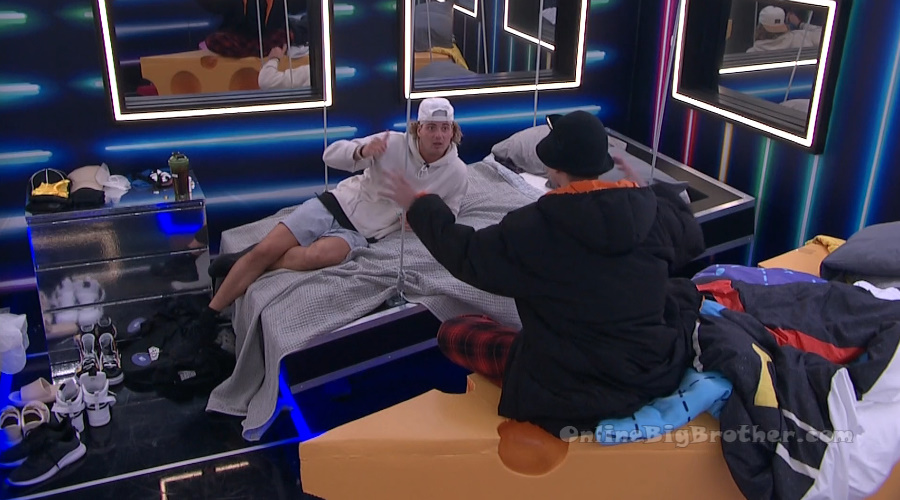 12:35am Bathroom – Jag, Matt and America.
Jag – the other thing I wanted to talk about… is it worth it to keep Cam? America laughs and hits Jag. Matt – NO! Jag – you know when he said gun slinger? I was thinking this is so awkward because the person I want you to take a shot at… Matt – is in the room. Jag – yeah. Matt – Yeah, I want to hire you. Can you get the same person (Jared) you're talking to right now? Cam, your first objective is …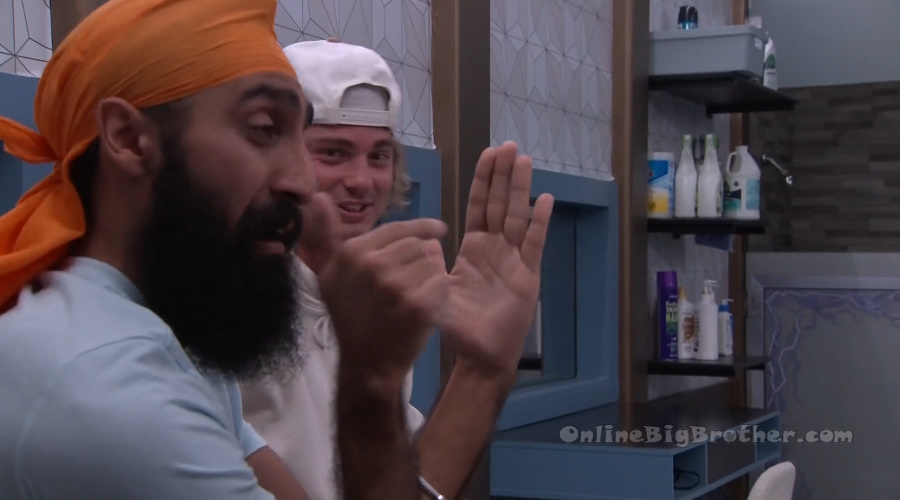 12:43am – 1:10am Bathroom – Jag, Cory and Matt.
Cory – if she wins, here is how we pitch it. We say Blue we all want to work with you the reason we were scared of working with you in the past was because of Jared. This has to happen, he is targeting all of us. And also what she would go for is like Blue do you want to be the baddest b***h in Big Brother history? You know how he's been treating you. You know how he is whatever .. we don't have to go personal .. I am not talking about that but just being like. Matt – he never told you about all these alliances he was in. Cory – he's been playing you the whole game just like he's been playing all of us and I know you guys are closer but that makes it worse.. But like my whole thing is when it comes to Jared .. I in the Scary Room earlier I was talking about how Jared is gunning for me and I regretted saying that in front of Blue because I think she is going to run to Jared and say that. For me I don't even care that much because he is targeting me anyways but I do think when it comes to you, you and America.. I have no reservations. With her I just know how close I am to America and how I get information from her. Matt – when he is gone we could trust her 100%. Jag – one thing I did want to have America her for too is like I know America and Blue are close.. they have their own thing going that is fine .. I want to make sure I 100% feel confident in this. Like we are talking about things that are really relevant to our game. Like if Blue wins how do we navigate that. Cory – At least as far as what America has told me .. she knows to not tell Blue anything about Jared and obviously about Blue but she thinks you're closer to Blue than she is. Jag – that's good to know because then me and America can talk about it and be like we're locked. My thing is this, if Blue feels close to Jared and doesn't want to take the shot with Jared.. that ties her hands in a way that goes beyond Jared .. just gameplay wise lets play this out. If she won't take a shot at Jared, my next assumption is that it will be hard for her to take a shot Cirie and Felicia. Because the moment she takes a shot at Cirie and Felicia, Jared is going to be like what the f**k?! That's as good as taking a shot at him .. so then it puts us in a position of who is she going to take out? Cory – Bowie Jane and Meme. Matt – WHAT a WASTE! Jag – my thing is this .. ideally she doesn't win.. if she throws it or if she feels comfortable enough to throw it.. Cory – I don't want her to throw it because the numbers are getting low enough.. we're close to being 5 of the final 9 and that is including her and I know that. Jag – the numbers wise .. us 4 are all playing. Cory – I would rather Blue win than Felicia. And Meme I am not sure. Blue winning would be inconvenient but you don't think all four of us going.. here is my concern about staying on the block.. right!? The reason why I was nervous about staying on the block was because if the vote was flipping on me .. like I trust you guys but if Jared was like I got to get Cory out.. it would be Cirie, Meme, Felicia, Blue.. Because I think if Jared wants to he could just bulldoze Blue. Force her into doing something and i think that would be much less likely with America considering blue and America's relationship. Jag – that was a real fear.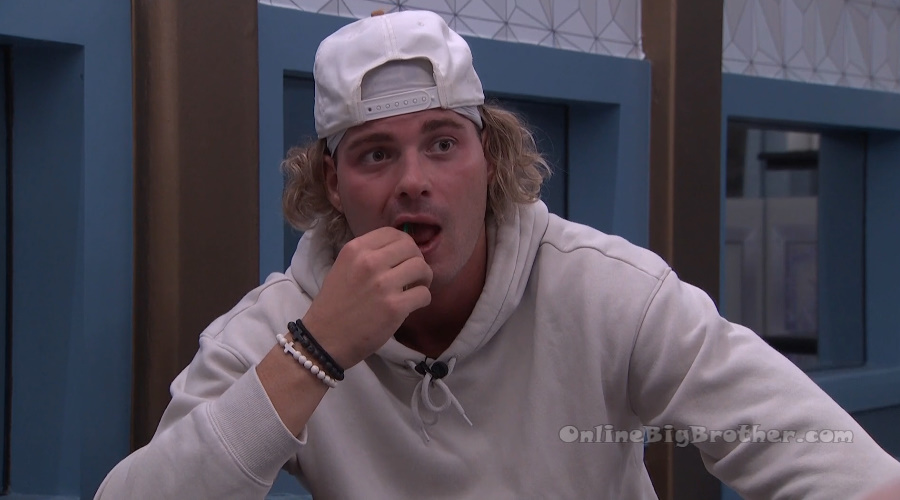 1:15am – 1:33am Bathroom – Jag and Bowie.
Jag – you need a team that is solid and strong and trusts each other and doesn't blindside each other. Blindsiding someone on your own team. Bowie – for no reason. Like what was the point!? Not only the power thing but when a person wins HOH we need to have that person's back the week after. Jag – and I am strong on that. Low key going into next week we got to gun for it because I am tried of playing scared. These people are being very bold in terms of trying to manipulate us. Bowie – flat out lies! We don't even need to play dirty. Jag – in some ways they made me feel really left out, they've excluded me, they've said things that are cruel. Very similarly they've treated you in a terrible way and things that I don't even fully know about. Just hearing from other people .. like that is literally bullying. Bowie – oh I know and weird sh*t like they would laugh because I couldn't find .. like I was walking around trying to find people and they would be watching me on the camera and laugh. Jag – like that is f**king disgusting! That is just bullying! Bowie – Izzy drives all that .. I am sure that was Izzy. Jag – its not just Izzy. Even Cirie is in on it. Its just not cool, like play the game but like respect everyone as a person and don't be cruel. Or like I just heard, like oh lets Blindside Bowie Jane for fun. Bowie – yeah I heard that too. Jag – that is just traumatizing people. I'm sure you heard a bunch of things about me like he's not loyal, he manipulates, he's a liar, he's working with everyone.. all of those are lies and I didn't hear about that until later. They were just making up sh*t about me.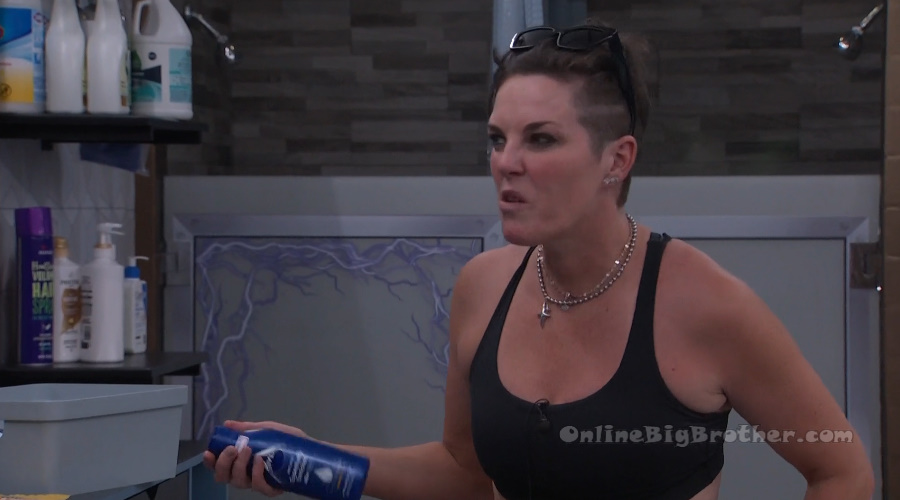 1:35pm Kitchen – Matt, Cory, Jag and America cooking..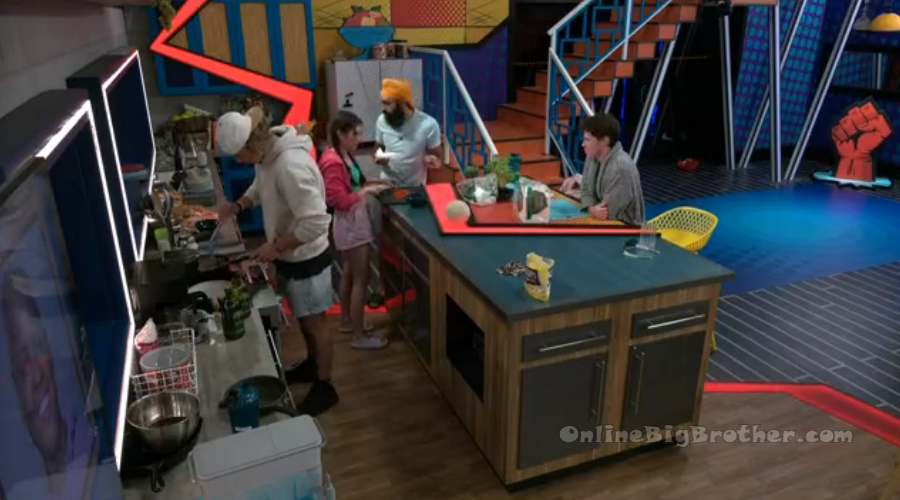 Show your support 🙂 Without your support this site and these spoilers wouldn't be possible.
Please consider a donation to keep the madness going.