Head Of HouseHold Winner: Miesha
Nominations: ? and ?
Power of Veto Players: ?
POV Winner: ?
Veto Ceremony Results: ?
Evicted: ?
** Apparently Chris Kattan left the house. He had pretty much checked out of the game. He said that he only came to have fun and make friends. We'll likely find out why he left on Friday's episode.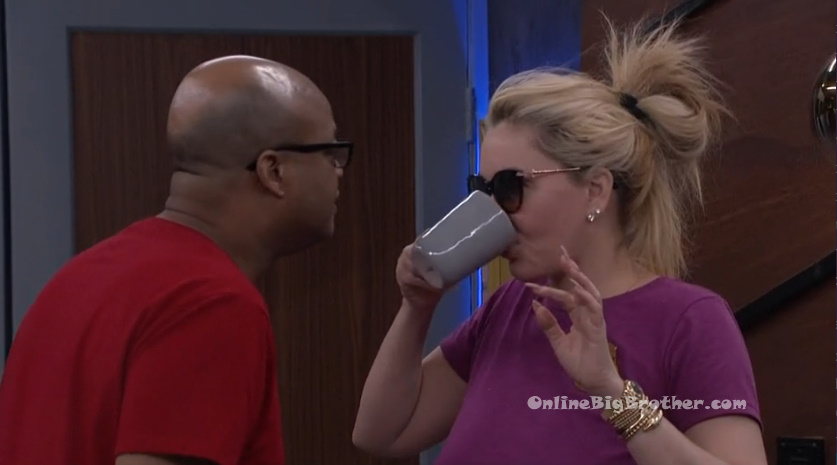 11:25am Bathroom – Cynthia, Shanna and Todd.
Todd is complaining about Chris Kattan. Todd – I got woken up by Chris Kattan. Shanna – what happened? Todd – he scared the sh*t out of me. AGGHHH!! Right in my face! I woke up and he was like this. (See above photo) He was asking about something. I said go ask Lamar. So he got Lamar too. He woke Lamar up too. Shanna – he went in your room and then work up Lamar too? Todd – no I'm not in there no more, I'm outside. I slept much better outside.. but here is what is funny. So we were outside laughing like how we do every night and he (Chris Kattan) comes out and says can you guys be quite!? And I'm like dude!? You can't have everything now! I am out of the room. I am out here. You didn't say that when they were making noise before. You can't have it all. Its not fair.
12pm – 1pm Kitchen – Chris Kirk, Cynthia, Todd, Miesha and Todrick.
Todrick playing cards, Chris Kirk and Cynthia cleaning/cooking.
1:07pm – 1:20pm Bedroom – Shanna, Chris Kirk and Carson
Shanna – I am a little concerned that Todrick heard us in the storage room calling him ?____(?mazy?)? Because he is not even talking to me. Carson – really? Well let me go out and see what's going on. I don't know if he is acting weird to you or not but he is barely even speaking to me. I sat out there having coffee and said its really quite in here and he said its only going to get quieter. I was like okay!!? Do you think he heard us? Chris Kirk – I don't think so. Shanna – we need to get another read on him. Chris Kirk – either way at this point, what's the point. Shanna – yeah exactly! He's not even hiding his.. Chris Kirk – its really starting .. like the bully phase is coming and that is why I am… Hopefully its not a smart comp we do because obviously I am not good with smart things! God that was my thing coming in too, don't let the bullies bully! Shanna – yeah, I know. Chris Kirk – and here we are letting bullies bully! Shanna – yeah, that's not fun.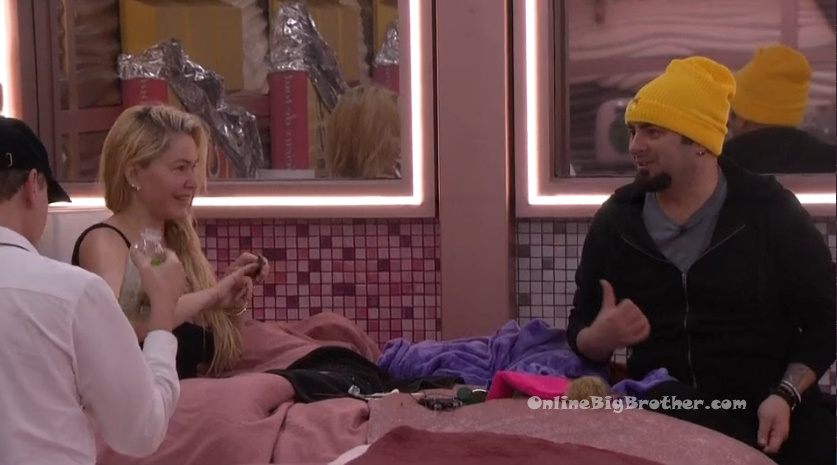 2pm – 2:46pm HOH room – Miesha and Todrick.
Miesha – okay, what's going on? Because I feel like earlier you gave me the look. Todrick – let me tell you in the most michelle obama words that I can possibly use because I usually abide by the when they go low, I go high mantra…. BUT I don't f**k with Miss Kirkpatrick no more! Miesha – really? Todrick – no. I just spent all night like fuming about him and then between you and I … don't repeat this but Todd basically told me that he came up to him and was like he (Chris Kirkpatrick) can't be trusted and like all this stuff and I just feel like … he doesn't like .. he doesn't like respect me. He hasn't in any other times .. He was the one to call me in here the other day to talk to you. He asked me where I stood and I said I am going to vote her out. I didn't lie to him. I didn't weaver from you. I have never disloyal to him .. the only time I have ever not been completely transparent with him was when it was something that was your business to say. It wasn't my business to say. And I just feel like he has been super disrespectful to me. Everyday he wakes up and its like which version of Chris Kirkpatrick are we going to experience today!? It doesn't make me feel stable and it doesn't make me feel safe… and I just think that the moment its down to six or four of us he is going to be gunning for me and I just don't f**k with that. And today I woke up and I was like f**k this game! Like I am making it my personal mission to just make sure I last longer than he does.. because like I just feel like I have been bullied by so many people that look like him and remind me of him .. and I've tried my hardest to be nice and see eye to eye with him … to see eye to eye with him and ask him how he is doing? Are you okay? And like checking in on him. And he is going around telling people … like I already felt in my heart that he was doing that and I think that he might not be saying that to you but he is eluding to it and he knows that you're really close to me but Todd is a lot of things but he is not a liar and I feel like I can trust the things he says and I don't think he would say that to me… Miesha – he said he is not to be trusted? That's all he said? Todrick – yeah. He was like he can't be trusted and whatever .. and I think my gut instinct is that he is plotting against me and if he knows about it .. who do you think is the other person in the house that knows about it? Miesha – Todd? Todrick – no, Shanna. Miesha – did you talk to Shanna about it? Todrick – no. Because I like Shanna and I trust Shanna but I don't think Shanna trusts me. So I don't know what that means .. I am just so happy that I have you here and I hope that you don't relay any of that information to anyone. Miesha – I wouldn't. Todrick – I just don't like being on a team with someone who is like so temperamental at any given moment. You don't know if they're going to be in a good mood or how they're going to respond to you. Its just like a lot of different personalities with Miss Kirkpatrick. Miesha – so what are you saying? Todrick – I have no idea, I just needed to tell you that. I know it doesn't have anything to do with the strategy right now. Todrick – after Carson is out of this house it does not benefit me to be like loyal to him. Like if I were to come into power I would do everything in my power to get Chris Kirkpatrick kicked out of this house before I would worry about somebody like Cynthia. I just wanted to say that to you because like if it is down to like 6 and we've been working with Lamar and Todd … because like originally I would be like okay we'll get rid of Lamar and Todd if we're in a position to do so but judging by the games and stuff I don't think Lamar and Todd would ever beat us in anything. I don't know if you made some alliance or deal with Chris to like keep him to top for but.. Miesha shakes her head no. Miesha – All I've said to him is that I would love it if we could make it to a top four. And that was sincere. It wasn't a commitment. Todrick – I would love that too but.. Miesha – things change and people's true colours come out. Well I can't even say true colours because their fabricated within this game.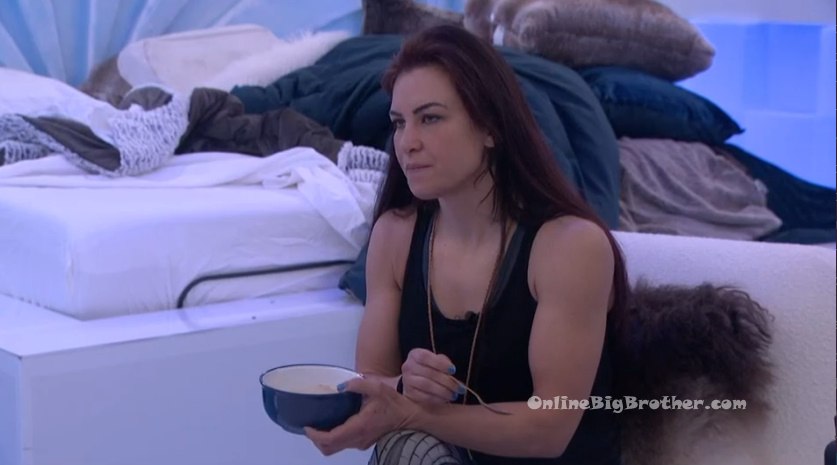 Todrick – I was hot all day today! I was pissed! I have done a lot of work on myself since I got out of high school to try and be nice.. and people have f**ked me over my entire career .. like assistants have tried to go online and ruin my name and reputation and like spread lies on the internet and I have just like always taken the high road and I have always always always tried to be nice, kind, considerate but he has like awaken the Regina George demon that has been lying dormant inside my blacka$$ body. Miesha – yeah, okay. Todrick – I just needed to get that off my chest and like I have been as honest with him as someone can be. But right now are you feeling like you should put up Carson and Cynthia? Miesha – I just want to get Carson out ..but if Carson pulls himself off.. Todrick – then we put Chris Kattan up and.. Miesha – and send him because he's not in a mental place. Todrick – yeah I think that is a very safe strategy.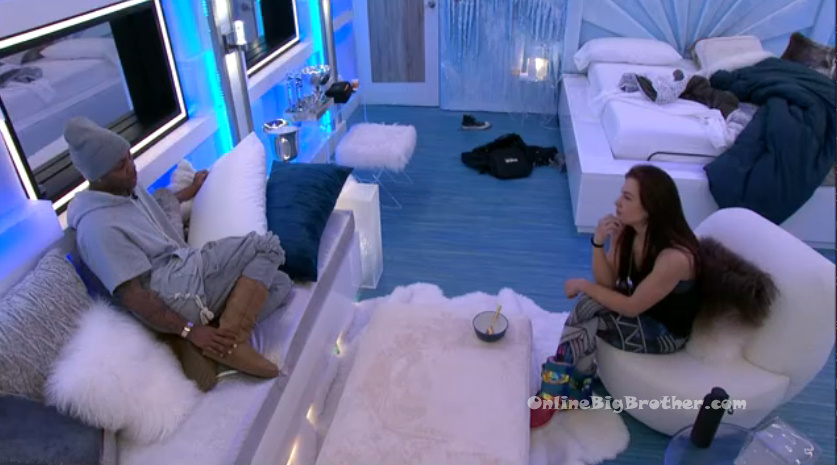 Todrick – continues talking about Chris Kirkpatrick – I don't think he is in an alliance with us. I don't think I can trust him and now I am coming for that a$$!! I am so pissed! I am about to have a BF! Miesha – no don't do that. Todrick – do you think I should talk to him? Miesha – I think that is a question that only you can answer. If you think that it might alleviate some pressure for you .. like just some anger ..like if you're still steaming by tonight and you can't get over it. Todrick – I won't be able to get over it ..because I don't want to go out thinking wow I manipulated this person into thinking that I like them. Today I was like you're going to be nice to him and then give him this like b***hy a$$ speech when I kick him out of here. Miesha – kill em with kindness. Todrick – and then write a theme song about how happy I am to never have to see him again… I don't like when people treat me like I am not an equal. Don't treat me like a second class citizen.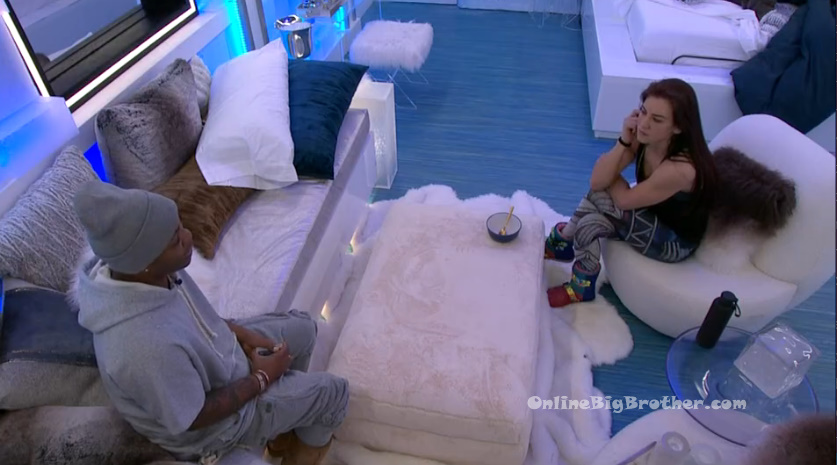 Subscribe and watch the live feeds with the FREE Paramount+ Trial.