Week One Results:
First Head Of Household: Miesha
Safe: Cynthia
Originally Nominated: Carson and Mirai
Power Of Veto Winner: Carson
Power Of Veto Ceremony Results: Carson used the veto on himself. Miesha then nominated Teddi as the replacement nominee.
First Evicted House Guest: Teddi
Tonight's Head Of HouseHold Winner: Chris Kirkpatrick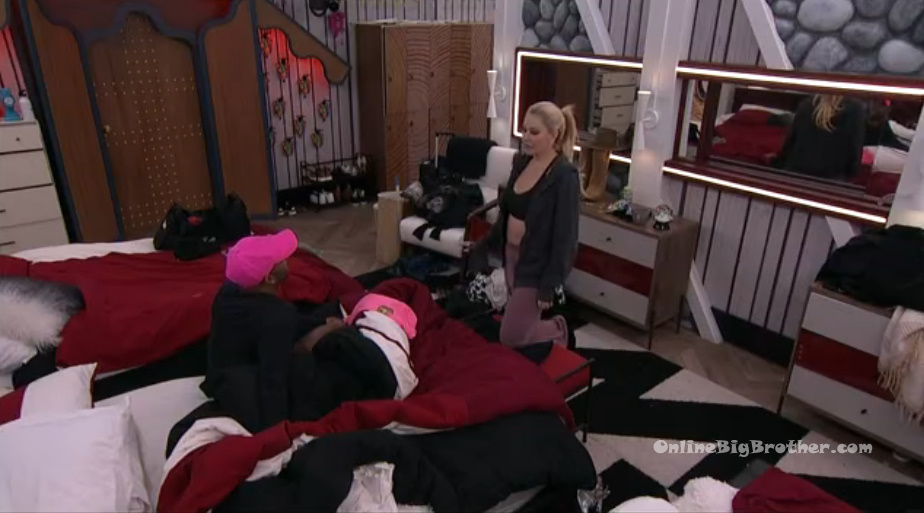 10:25pm Bedroom. Shanna and Todrick.
Todrick – I just want to rejoice and be comfortable for three days. Shanna – I know me too. When I went out there and I saw him (Chris) up there … Oh my god! I was so f**king happy! Todrick – I know! Shanna – when I went out there and saw him up on the f**king thing I was like f**k yeah! Todrick – and then when Carson came out I was like.. Shanna – and then Chris Kattan got that.. Todrick – oh yeah what if Chris Kattan just came out and got that win!? That was so fun! I am really happy for him (Chris Kirkpatrick). Shanna – me and Carson are going to be sleeping with him tonight. Todrick – I really don't think they feel any kind of energy towards you. I think Cynthia is so stressed out for the fact that she had to vote Todd out. Shanna – Teddi? Todrick – Todd. She voted against him. Todd was pissed about it in the bathroom and he was like I'm putting her up if I win. And he obviously did not win. What number did he lock in like a negative two!? When Lamar was laughing at him I was dying! He was like once I saw Chris's score I didn't need to win. I threw it. Ok Todd! I'm dead! I am just glad we can maybe breathe for three days and just chill and then Miesha will be back again and be able to play. She is so good at stuff like that. Who do you think he (Chris) will put up? Shanna – I have no clue! But I will just support whatever the hell he wants to do. Todrick – me too. Even if its Mirai I will be like okay. Carson comes in and leaves.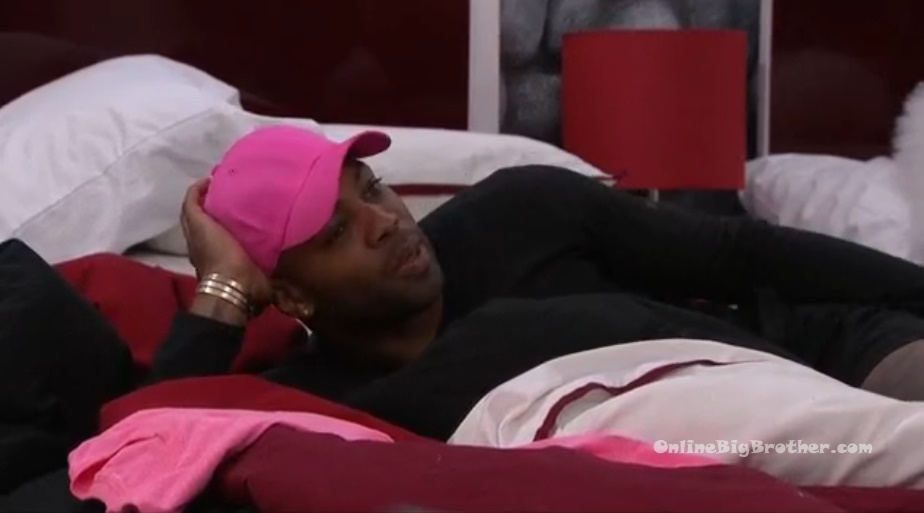 Todrick – I also really love Carson. I love him. Shanna – I also love him but he is a huge threat! Todrick – I know. Shanna – he is a HUGE threat! America will love him. He could even win like the fan vote. Todrick – he probably will. Shanna – America is going to love him. Like we don't need a Ross getting second place and winning America's vote. Todrick – did he do that?! Shanna – yes! Todrick – bi*ch! Shanna – and he is smart! He would never talk game with me ever! I tried! Todrick – I know. He has been counting all of the clocks and memorizing all the posters on the walls. Shanna – yeah he knows this game .. he is not stupid! I love him and I was like oh I did a tv show with him… he will so work with me. He loved Teddi. But that was the best case scenario for us. Todrick – yeah. But if he leaves so soon, then who becomes the biggest target? I think its me and Miesha. Shanna – I think they think Mirai is a huge threat. They think she knows this game and is super fan. Todrick – who thinks that? Shanna – all of them.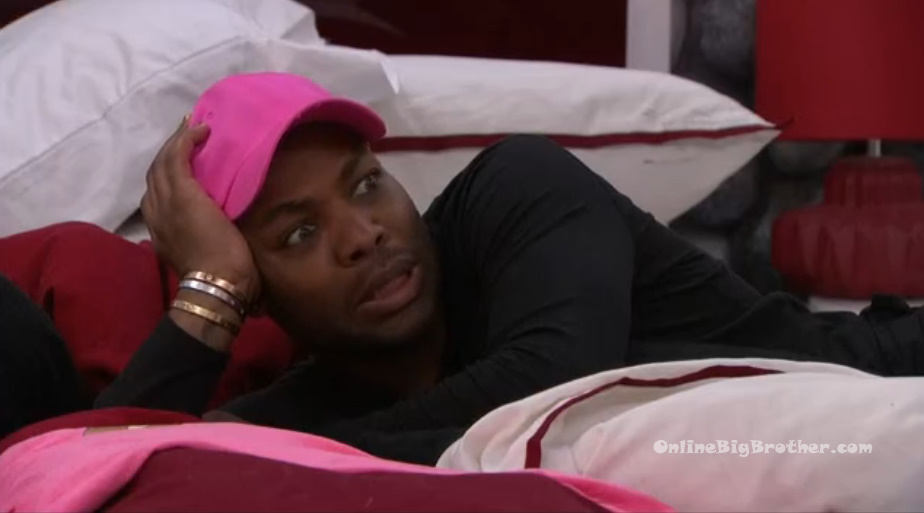 Todrick – Who do you think he (Chris) might put up? Shanna – I have no clue! Todrick – but if you were a betting man who do you think he might put up? Shanna – I am thinking he might put up Todd and Cynthia.. because I think he knows that Todd was gunning for him. I don't think he will take out Chris Kattan because he is not a threat. Todrick – you don't think he would try to take a shot at Carson? Shanna – He might do that too.. I don't know. Who would Miesha tell him to go for because he might listen to her. Todrick – I think Carson because if Carson wins, he would probably go up. And Carson is the number one person that would go after Chris Kirkpatrick. Carson joins them and they talk and laugh about the competition.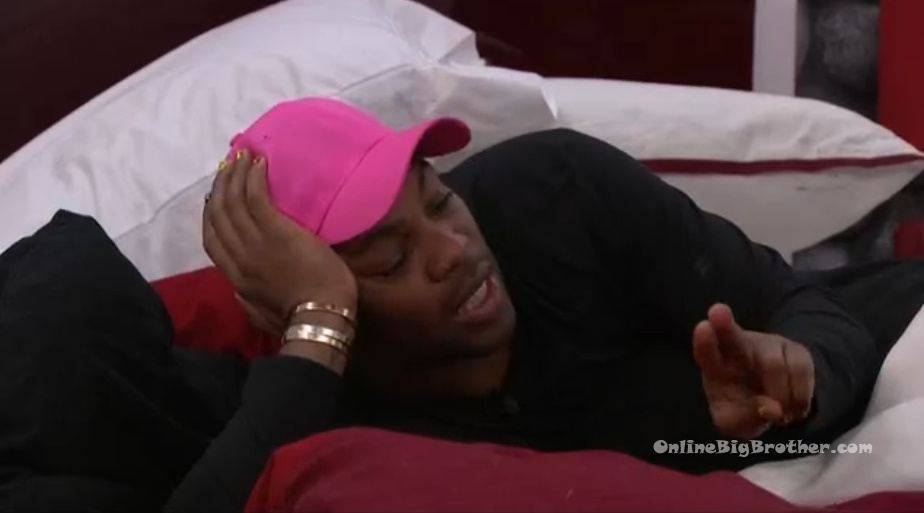 11pm The house guests are chatting and eating around the kitchen table.

11:08pm HOH room. Chris Kirkpatrick and
Chris – I love Shanna. I love Shanna's company. She helped me get through the like drama stuff and just talking. And like she put her neck out to like vote with the house. Todd – and that's why like you don't want to put her him. Chris – right. Todd – not this week. Don't do it this week. Chris – right. Todd – I told Miesha this that like when there are just four of us left.. yeah, we're all coming for you. And she goes I know. And I was like because we have to. We have no choice if we want to win the game we've got to get you out .. because she is a fierce competitor too. Chris – so Carson you think is a threat? Todd – Carson is definitely a threat. Chris – what do you think about Cynthia? Todd – she is a threat too. She had to have seen what Teddi did. She did some crazy sh*t. She cussed me out. Take a f**king joke. Now you tell me I can't take a joke .. everyone laughing at my tattoo and sh*t… did I get mad? I was laughing. I took a joke. I take jokes from both of us in the room. But when you say take a f**king joke .. that is not cool. Chris – right. Todd – just not cool but I made up with her. But she did some devious sh*t to a few people and I found that out. How do you feel about Mirai? Todd – I trust her but the only problem is I would take her out this time.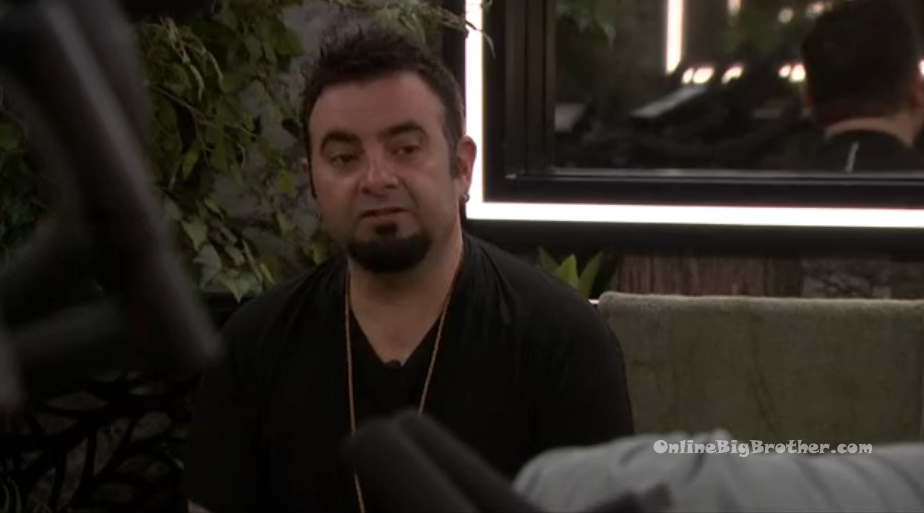 Chris – so you have no allegiance with her and going forward? Todd – none going forward. Chris – so your allegiance is with Miesha. What about Todrick? Todd – I don't know where Todrick fully lies. I think he lies with us .. I hope but I don't know yet. Chris – and then Lamar is your boy. Lamar is a good dude. He is a really good dude. I really like Lamar. Todd – he doesn't need to go anywhere right now. And between me and you don't put him in that situation where he is going to get in trouble. Chris – no I don't want to put him in that situation and get him in trouble. For sure! Chris – what about Chris Kattan? Todd – I think he is gunning for me. Chris – well I don't want anyone that will be gunning for you. What about Shanna? Todd – Shanna is not gunning for any of us. She is for us. I think it is just Carson, Cynthia and what's her name .. you can just put her up again if you want because we don't care at this point. Chris – Mirai? Todd – we don't care now. Our allegiance was just to get her through to this round. Chris – but why do we want to get her through to this round? To get Teddi out? Todd – yeah it was to get Teddi out. But the thing is she is not that strong of a player because she is emotional. Chris – I think what I want to do is go with who most people want .. because I don't want to make any giant moves. I like everyone in the house. I have zero problems with anyone in the house.
12am Bedroom. Shanna, Todrick and Miesha.
Miesha – I kind of took the position of keep the team safe and use the power while you have it. Chris – well the number one priority is keeping the team safe. Then it is what am I going to do that will give me the best chance going forward or Monday I will be right back here and now I have to navigate the people here. Todrick – is Carson even an option for you? Chris – see I mean everyone is an option except ..the team. Miesha – I kind of think that you might what to think about putting Carson and Mirai up. And then if one of them gets off then we can have a discussion otherwise. I would assume Cynthia but that's just me. If I were you. Its not necessarily what I would do.