Eviction Results: Chuck was evicted 7-1
Try the Live Feeds FREE for 7 DAYS! Click here for your: FREE Trial
9:50pm Big Brother blocks the feeds for the HOH competition.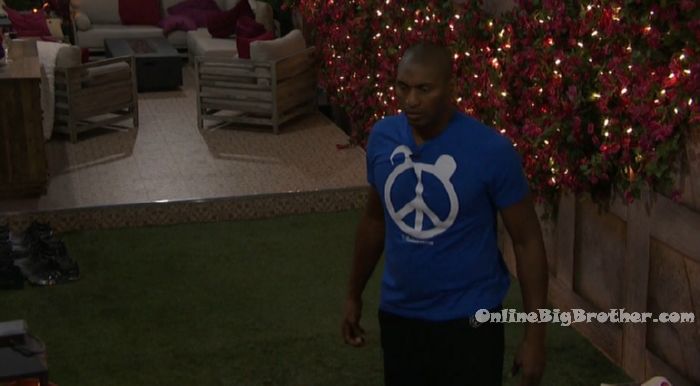 3:04am The live feeds return to some of the house guests already sleeping. Metta goes out into the backyard to check his laundry. Metta – What is going on with these people?! Its only a game… f**k! He then heads back inside to the bar room. He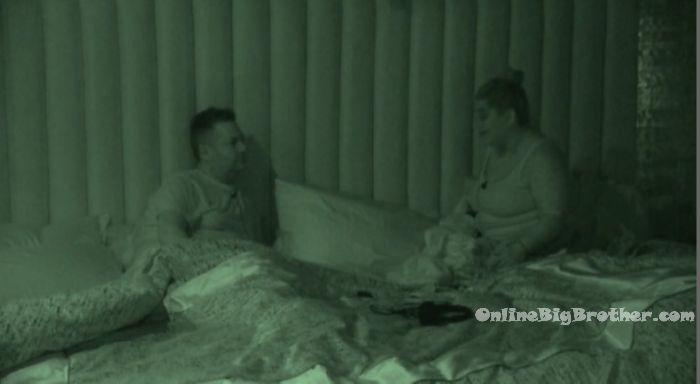 HOH Winner: Ross
HOH room – Marissa and Ross. Marissa – If anyone is going to splinter, its going to be her. Talk to her. I already had James in that sense. I already knew, if anyone out of the group was going to go it was going to be Shannon. And I didn't mind giving him that information because if that happened .. then he knew that I was already .. like dude she is the one. So I was able to say I was the one who told you about that. And he was like no, no. So like out there when I said to you I trust you. It was because he was looking right at me and I knew he saw me saying it. That's why he really trusted us. Ross – we need a word that we put in front of a sentence that means clarify with me later.. like "undoubtedly". Marissa – that's a very smart idea. Ross – so then right after that conversation, I will know to come to you and say what do you think? Marissa – that sounds great.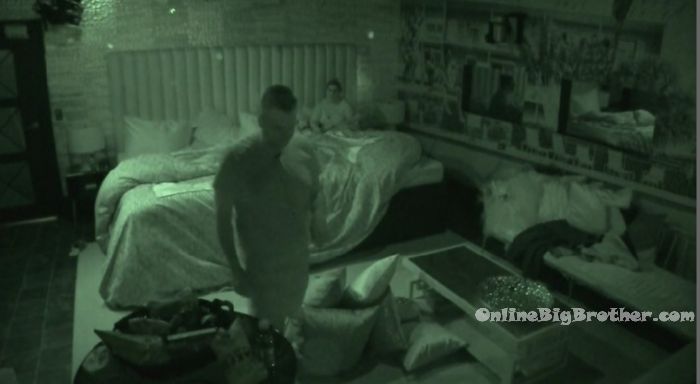 Marissa – her birthday basket is still on her bed. Ross – is she coming back? Marissa -I don't know. Ross – is she sitting there over night somewhere? How is that possible? Marissa tells Ross about how Christmas left to go to the hospital and she had knee surgery last season! (It sounds like Omarosa went to the hospital.) Ross – and they let her back in? Marissa – it doesn't seem fair?! Ross – at the end of the day if Metta won we could be like no he escaped. Like that's the rules, you can't walk out the exit door and then win $250,000.. twice! Big Brother blocks the feeds.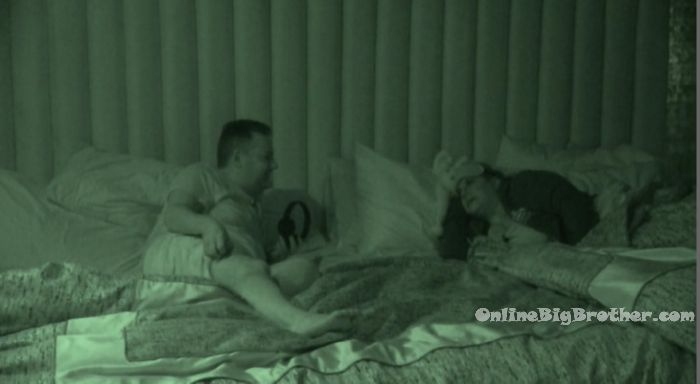 3:20am When the feeds return – Ross is practicing his nomination speech. Ross – If anyone from our alliance was in this position it would be the same call. The lines have been drawn. Good luck to both of you. Marissa – and I would like to say I am not backdooring you. I am giving you the opportunity to fight. Ross – I want to give you the same opportunity I want which is not to be backdoored. And I'll put it on the whole house. Marissa – yeah! Ross – and if any other person had gotten HOH this is the nominations they would have done. Good luck to both of you. And when this is all over I hope we can hug it out and mean it. Something like that. Marissa – we will work on the ending. It's undoubtedly okay. Ross – I will have to check with you on that later. Marissa laughs. Marissa – I am proud of you. We f**King killed it! We were the heros tonight together. I spun around in a circle and then bowled her a$$ off. (Sounds like the HOH competition was the spin yourself dizzy bowling competition.) Marissa – this is hilarious that WE knocked out those people. I mean I put her (Omarosa) in the hospital. I mean she's going to be okay. Big Brother blocks the feeds. When they return – Ross and Marissa are going to sleep.
FLASHBACK and watch everything you missed: Live Feed 7 day FREE Trial!
Time to start ranking the houseguests on Celebrity Big brother. Nothing has changed with the ranking system since BB19. If you forget how it works here's the skinny.
You apply a ranking from 1-5 to each houseguest using one of these two pages: Voting (with images) and Quick vote (without images)
You have until the end of each day to "Lock in" your ranking. Each day the rankings are compiled and viewed on the grid.
The first-ever celebrity edition of Big Brother is here! CBS All Access FREE trial!