Head Of HouseHold Winner: Todd
Nominations: ? and ?
Power of Veto Players: ?
POV Winner: ?
Veto Ceremony Results: ?
Evicted: ?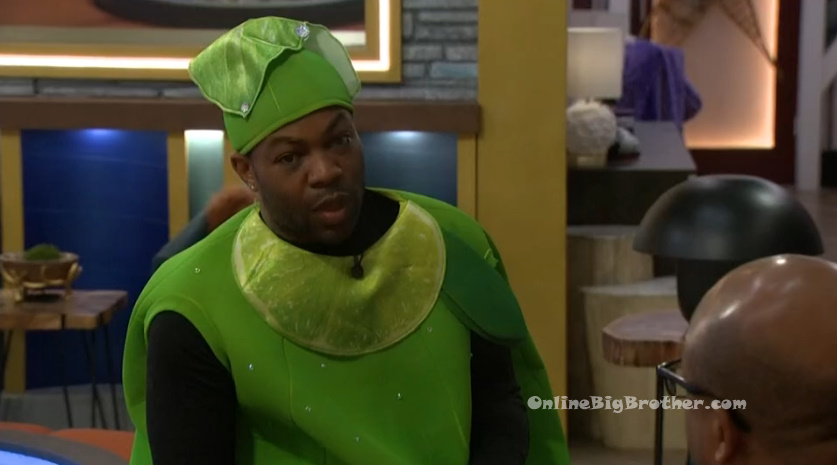 Nominations are Today: Todd plans to put up Lamar and Carson
9:50am Living Room – Todd and Todrick.
Todrick – I hate that I've got to do this today. They don't even give us a day to rest do they?! Todrick – well you're dealing with the two most mature people in the game that are playing the game based on loyalty. The fact that you're even considering putting up putting Lamar up that was your closest ally in the house is a very very gracious move. I think that everyone would understand that. But if you put Cynthia and Carson up the people at home might wonder well why isn't he putting Lamar up because they're not going to know that Lamar is like campaigning to go home. It might look weird to them but to save the energy in the house …they don't have to understand. You can explain in your diary room. Like Lamar's got one foot out the door. We love Cynthia. Like Lamar doesn't even really want to be in the game. Its hard for him to even decide who he wants to send home. He doesn't really know what's happening in the game. Todd – but you know we got to win that veto! Todrick – oh I know! Well even worst case scenario Carson wins and we send Lamar home because.. you know .. its a win / win situation. Todd – yeah that's true. It is, it is. You're absolutely right about that. Todd – and I think there's no hard feelings. Putting Lamar up there shows good faith that.. Lamar comes out of the diary room and the conversation ends.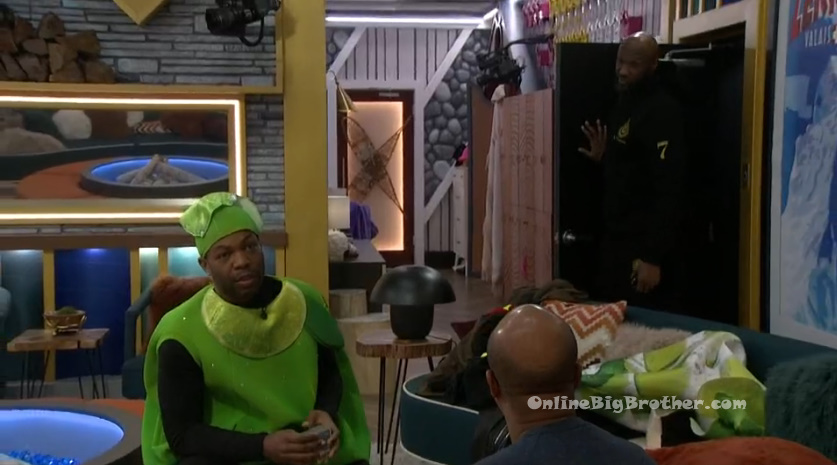 9:54am Living Room – Lamar, Todd and Todrick.
The feeds return from being blocked. Todrick – I think you're good. Todd – yeah I think that's what I'll do. Todrick – you're not backdooring anybody. Nothing shady is happening this week like last week. The last two evictions have been like oh my gosh. Like you're doing something straight up. Its what everyone would expect and respect and that's the way to do it. I am telling you to absolve you of any stress… they would expect that. The only thing is since you're not putting her up … make sure that we're very very aligned because obviously you know where me and Miesha's vote will lie. Todd – well either way it would be a tie. Worst case scenario its a tie and then I can break it. Todrick – well it won't be a tie. Three people won't be able to vote and three people will vote. Todd – ohh!! Alright, you (Lamar) are going up homie! Lamar – when are they doing that? Today? Todd nods. Lamar – they don't give you no rest! Todrick figures the veto will be tomorrow. Lamar – so the person that wins the veto, what do they got to do? Todd – if they're on the block, they can come off. Todrick – they have to choose the person that's going to come off the block. Like how I saved Todd the other day. And then the Head of Household replaces that person. Lamar – Hmmm.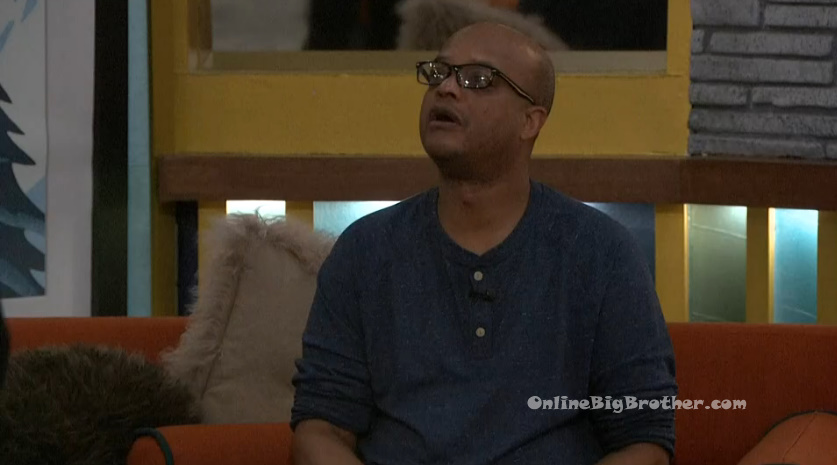 11:48am Bathroom – Miesha, Todd, Todrick and Lamar.
Miesha – I don't know if I would even say not going to take Cynthia out or whatever just because they might assume maybe take Lamar out. You don't want to make them think that right?! Todd – well they don't have enough (votes) to take Lamar out. Miesha – yeah that's true. Todd – if he is on the block, he can't vote right… but if he wins the veto he can. If I say if you pull yourself down, I am going to have to put Cynthia up and she is going to have to go home. Is that a better way of saying it? Miesha – yeah.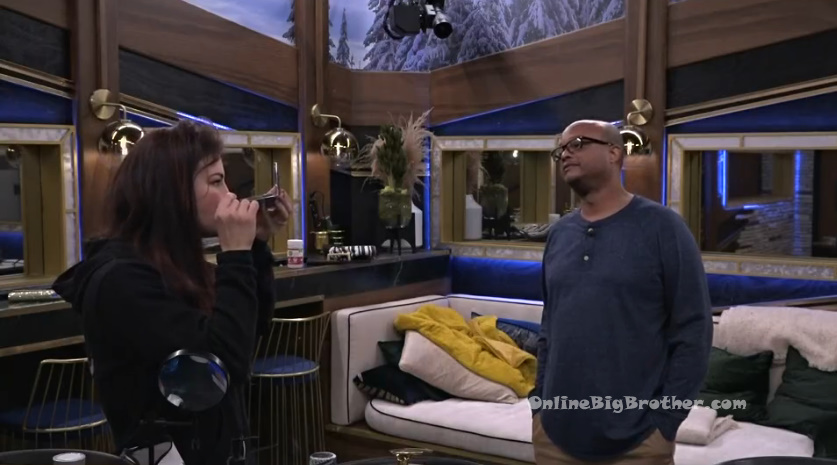 11:55am Bedroom – Carson and Cynthia.
Carson – Todd told me he is going to put me up. Cynthia – he told you? Carson – he came and told me just now .. he was super nice about it. YOu're not going to be put up, which is great! Cynthia – why not? Carson – then we don't have to be against each other. Cynthia – what is the plan? Why wouldn't they just put both of us up? Carson – He's going to put me and Lamar up. And I'm sure its going to be Todrick/Miesha are going to vote for Lamar. And you'll vote for me.. and that's fine. We know that's the price to pay for being like this. Cynthia – if I end up going up, I am fine! Carson – yeah. He said we've been playing straight up so that's how he is playing. And I can win the veto… but then you'd go up. Cynthia – let him put me up.. if you win the veto then I go up. That's how it is. We're almost at the end, lets have fun. Let's have a nice week.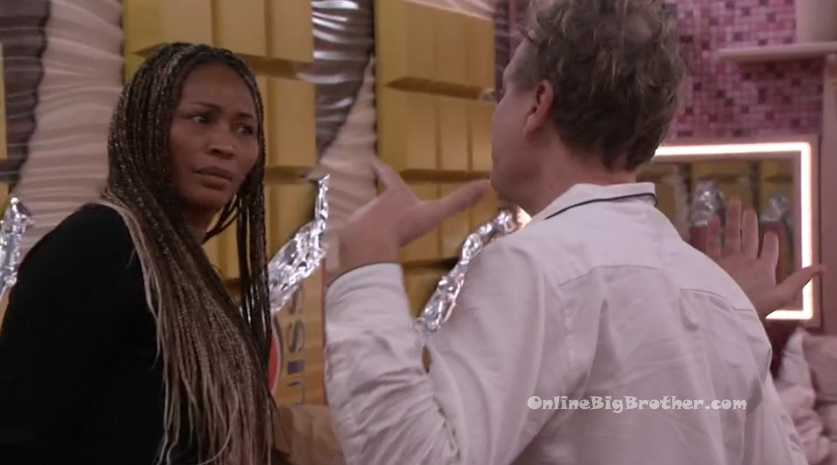 12:07pm Cynthia and Todd.
Todd – I am not putting you up, just so you know. Cynthia – okay but just so you know I know you got to do what you got to do… and I know its down to us. And its completely fine. Todd – but I am not putting you up. I'm putting Lamar and Carson up. Carson, I've already told him too. I am playing the game fair. I want people to know what I am doing. Cynthia – and I appreciate that. Todd – I don't want to do no shady stuff behind peoples backs. I can't play like that. I want to play fair. Cynthia – I respect that.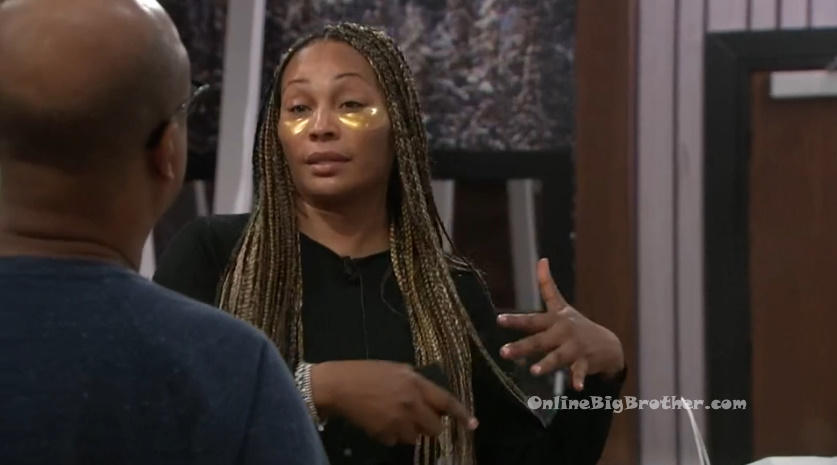 Subscribe and watch the live feeds with the FREE Paramount+ Trial.