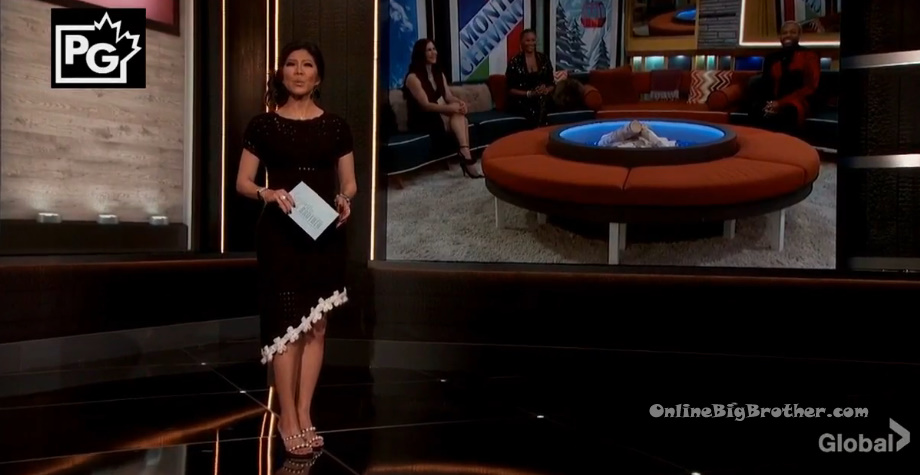 Final HOH Winner: Miesha

Todrick reveals that to Cynthia and Miesha that he is really a super fan. Cynthia comments on how it makes sense now why he's never seen the block. Miesha is so glad that she aligned with him.
– Todrick tries to secure final two with both Cynthia and Miesha
– Cynthia says that she feels pretty good sitting next to Todrick or Miesha because her hands are clean!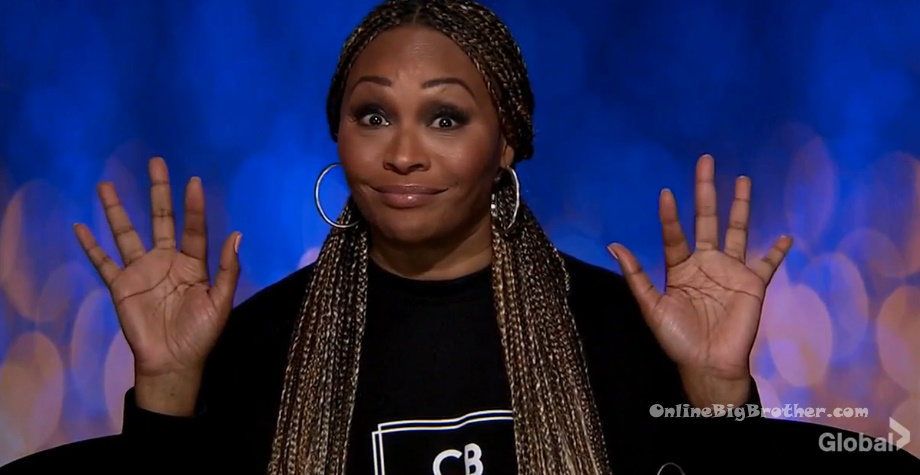 HOH "Shout-Outs!"
Hear statements from previous house guests and have to guess which statement is false.
Final HOH Winner: Miesha

Todrick and Cynthia plead their case to Miesha as to why she should take them to the final 2.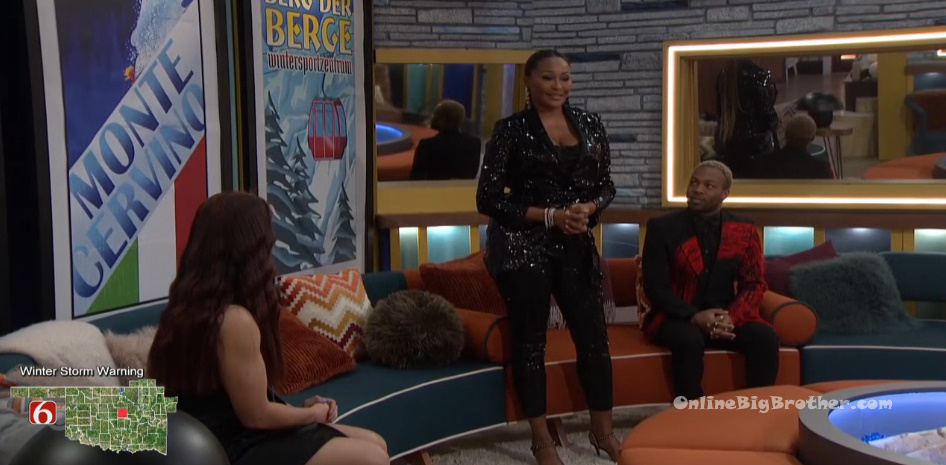 Julie Chen welcomes back the jury members. Carson says he has regrets and wants to clear the air. He apologizes to Shanna.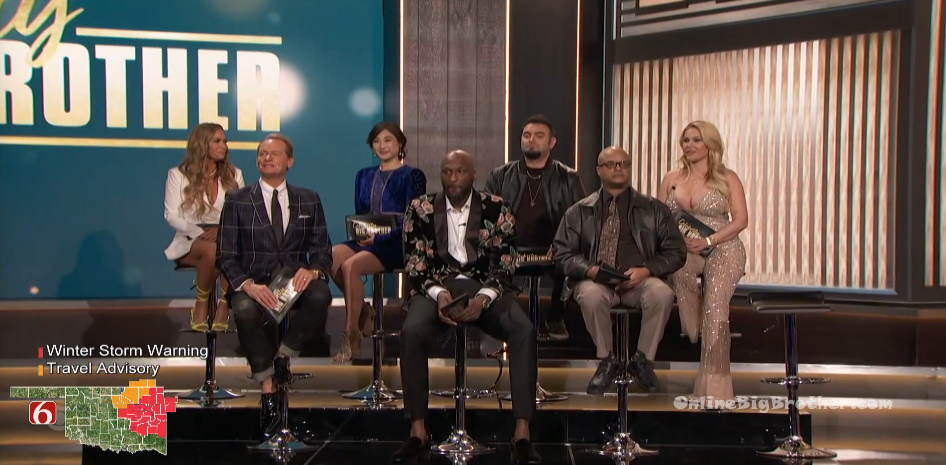 Julie reveals who jury member number 8 is. Julie – anyone want to guess who won the last HOH? Everyone guesses correctly that Miesha won the final HOH.
Miesha and Todrick give their pitch to the jury members.
The jury members then vote on who they want the winner of Celebrity Big Brother 3 to be.
Shanna – one thing that this vote assures is that I will never have to hear your voice again. lol
Lamar – I just got a tattoo this morning and I am voting for the person that most resembles that mentality.
Todd – everything was great up until I watched the live feeds.
Julie then reads the votes.
– Cynthia voted for Todrick
– Todd voted for Miesha
– Lamar voted for Miesha
– Carson voted for Miesha
– Shanna voted for Miesha
– Chris Kirkpatrick voted for Miesha
– Mirai voted for Meisha
– Teddi voted for Miesha
Miesha is the winner of Celebrity Big Brother 3
– $250,000
Runner UP – Todrick
– $50,000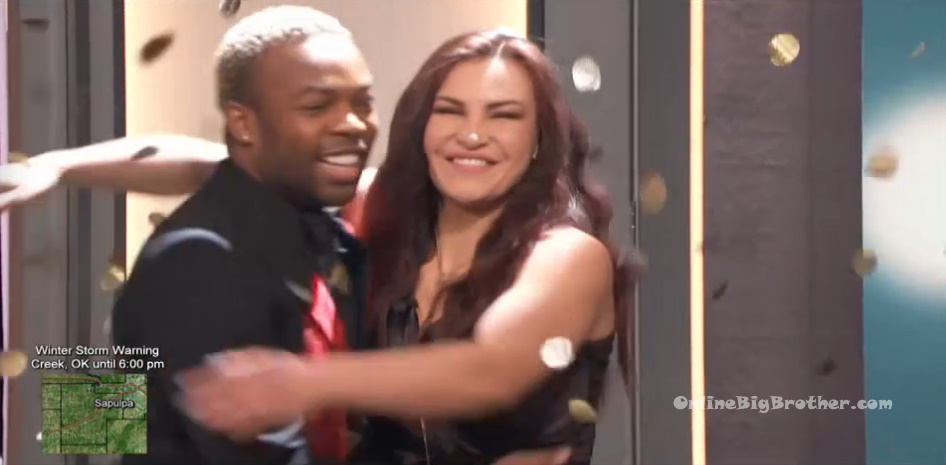 America's Favorite House Guest: Carson
– Carson plans to "donate a significant portion of the $25,000 to charity."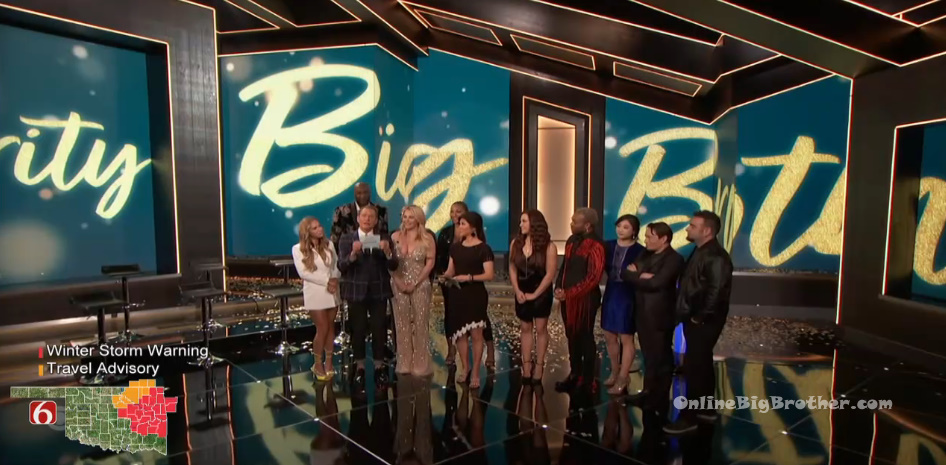 If you've enjoyed OBB and our live feed updates this season, please consider donating. 🙂
Its been difficult providing updates for CBB3 but I've tried to do my best with the time I have had available.
Any amount is greatly appreciated! Without your support, this site would not be possible. Thank you in advance 😉