Head Of HouseHold Winner: Carson
Nominations: Todd and Miesha
Power of Veto Players: Cynthia, Todd, Miesha, Carson, Todrick and Lamar
POV Winner: Todrick
Veto Ceremony Results: Todrick used the veto on Todd
Evicted: Shanna evicted 4-0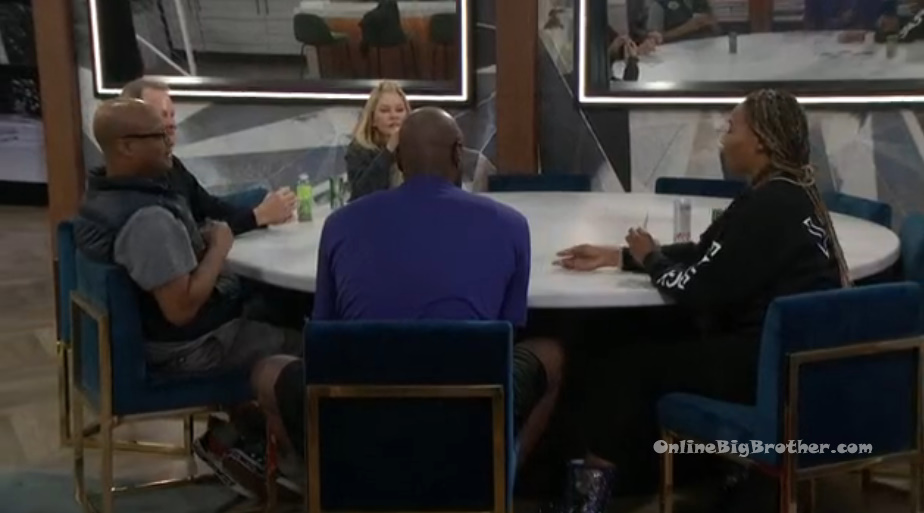 2:30pm Kitchen Table – Carson, Lamar, Cynthia and Todd playing cards.
5:30pm Quiet day in the Celebrity Big Brother house.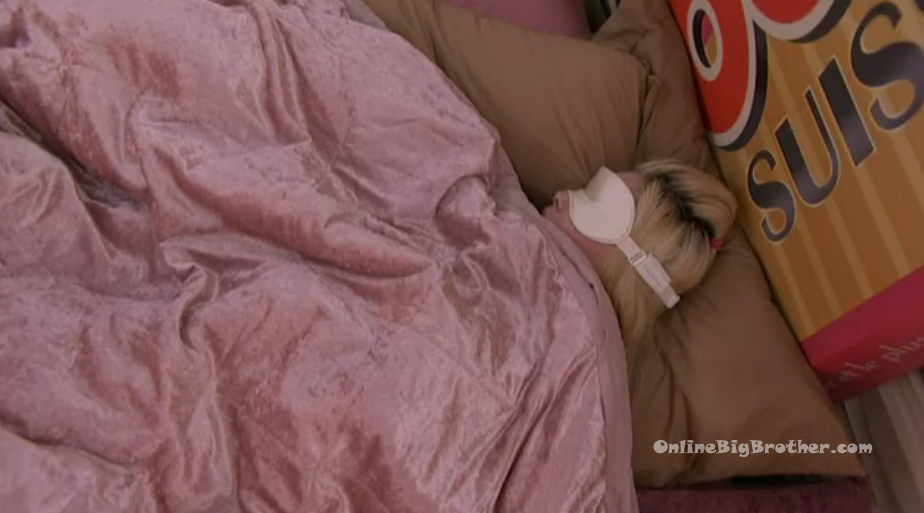 5:40pm HOH Bathroom – Cynthia and Carson.
Cynthia – Did you talk to Shanna about the veto and all about that? Carson – not yet. Cynthia – and try and win and whatever? Carson – not yet. I figured I would try and let her have a nice day. Cynthia – yeah exactly. I think that is good. She just asked me if we are good. I said yeah we're good outside of the game. I don't have an issue outside of the game. And she was like so you wouldn't be open to playing the game with me? And I was like I don't want to talk about the game today. This is not game day talk to me. I was like but we can talk later. Carson – yeah just like take a break for a day. Cynthia – with everything that's happened you still think that I trust you!? No! Carson – its crazy! And she can get the veto. Cynthia – Its just crazy that she thinks we even feel comfortable competing with her on our team, like this is crazy! She betrayed us! Carson – no, I would rather continue with the devil that I know who is very hard to beat but is very straight forward than someone who is actually very hard to beat but very sneaky. Cynthia – yeah! And to be clear its not like she came clean and told us all this stuff. She got caught! She got busted! Carson – right, and we had to get it out of her in front of everybody saying that she was in a final four without us for weeks or for however long its been. Cynthia – exactly! Carson – if everyone was saying that she did this and she did that but did not commit to the final four deal .. then I would be like HHmmm..I'm still not sure. But when she actually admitted to being in a final four deal with Miesha and Todrick. Cynthia – Call me crazy but I don't think Miesha would want to win at all costs.. I think she wants to beat us fair and square and then go back to her husband and kids. I don't think she would concoct some story about this woman if there wasn't anything to it. Carson – same! That is just my read on her. I get a very trustworthy vibe on Miesha. Cynthia – me too. She never pretended to be someone that she wasn't. And she was the first one gunning for you .. really?! Carson is a threat we need to get him out of here now. No, absolutely not. Carson – That is going to bite her in the ass. Cynthia – She made her bed and she has to lay in it. Carson – it was a way to play the game, it was a risk and she got caught.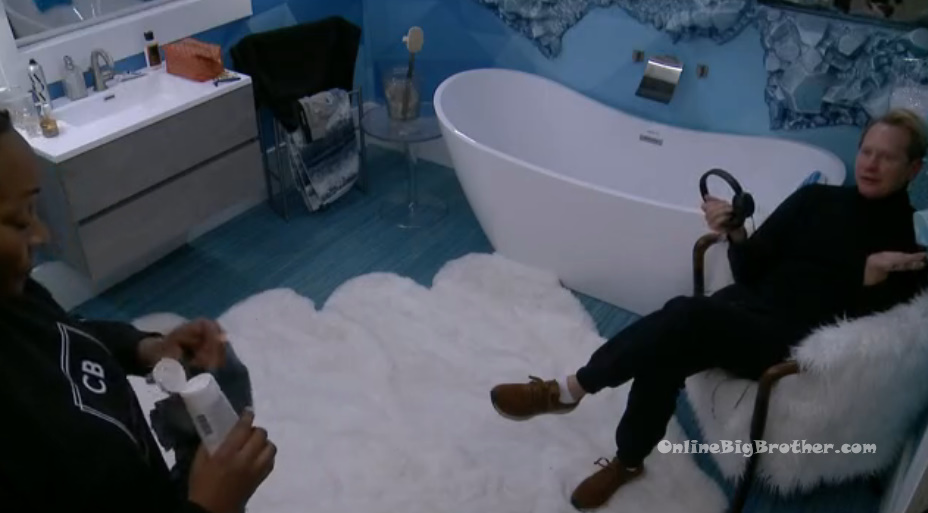 6:13pm – 7:37pm The feeds are blocked showing to kittens. When the feeds return – The house guests are playing cards / chess. They had a Valentines day dinner.
8:46pm Miesha and Todrick.
The feeds return from being blocked. Todrick – ..its like we just went and murdered her cats or something. And I was like girl we did the same thing that you did to us and to me I feel like an eye for an eye is never worse than just going and backstabbing somebody first you know!? Miesha – yeah. Todrick – I don't ever feel like that. Like if you did that to us then you deserve it. You wouldn't be apologizing to us. Carson and Cynthia, I said that to them today. You never would have gone and felt bad for bringing Carson down. Why do you think that she was even having that conversation to begin with .. and Carson was like oh my god that's right. You wouldn't need to have that conversation because me and Miesha would understand why you pulled Carson. Why you saved Carson, you know. She was apologizing to us in front of everyone saying I don't have anyone to fight for me as if Chris Kirkpatrick were chop liver and she knew he was going up and she just didn't even care. I don't have an issue with her and would still be cool with her outside of this house but you did like blow up our game. Like you did flip the house on us and you weren't being honest and now we're flipping the house back on you. Miesha – yeah like if you want to play the game like that .. that's fine. You can play the game however you want but if we figure you out and you just kind of got caught then you got to be like okay you got me. You can't be mad.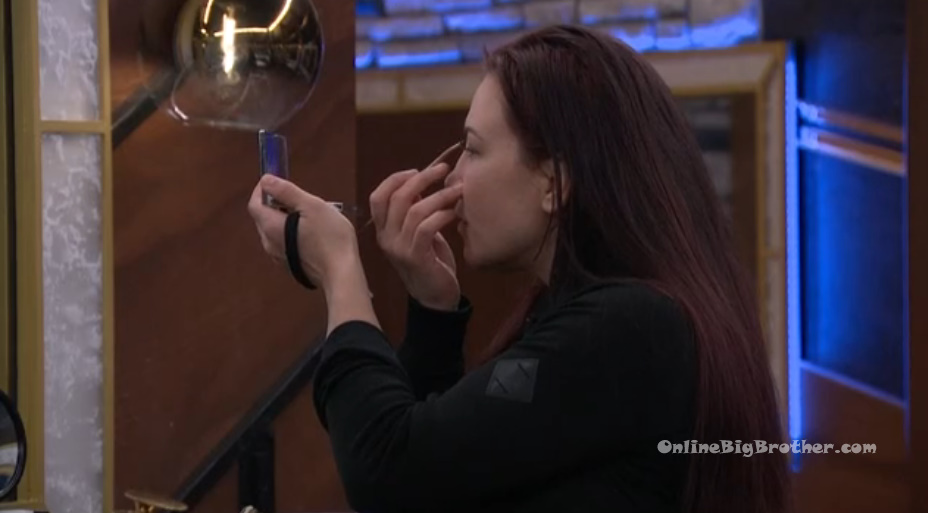 10:15pm Gym – Lamar and Miesha working out.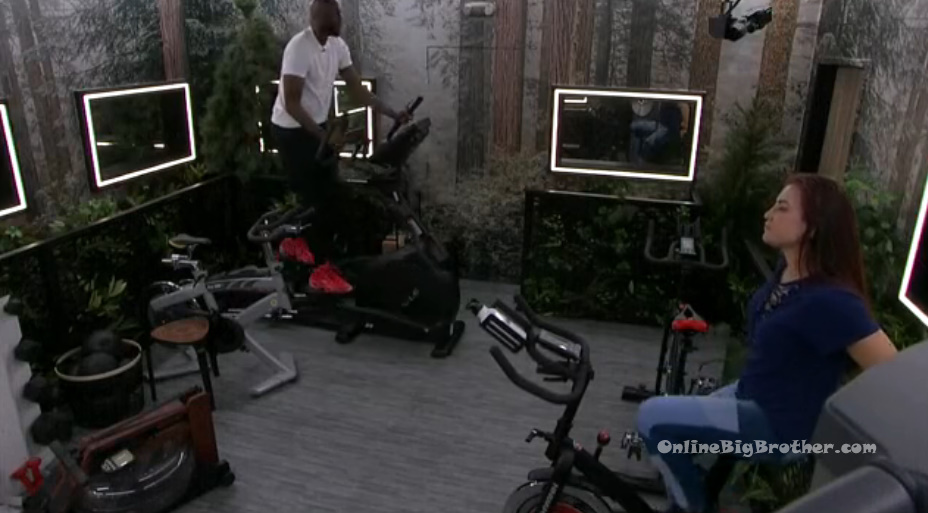 11:08pm – 11:35pm Backyard – Miesha, Lamar, Todd and Todrick.
Miesha – I miss life beyond these walls. Todd – it kind of feels like jail, except you get better food. Todrick – where here? Lamar – yeah this is like jail. Todrick – wait you get better food here or in jail? Todd – here. Lamar – if you've got beef with somebody, you gonna have to pass em! Todrick – you gonna have to what?! Lamar – you're going to have to bump into him again. Todd – when I first went in dude, I didn't know nothing! Todrick – this is like jail? Todd – yeah I was in prison. Todrick – you where there for 11 months? Todd – yeah. Todirick – so this ain't that hard for you? Todd – its not that hard but I don't like it. Todrick – is this easier? Todd – yeah this is easier. Todd – because in jail you're in a 4×6′ cell. Todrick – how many hours are you in that? Todd – 23 hours. Lamar – 23 and 1 punk! Todrick – wait people are in their cell all day!? Lamar – yeah, you better have a book! Todrick – does everyone know why everyone else is in jail. Todd – yeah but before I went in I had a street reputation. That's what saved me. Todrick – but everyone else? Todd – well they see tv and read the papers. The person that is in shipping and receiving.. which is where I was .. I knew why everyone was there. I just look at your jacket and see why they were there. I had to turn in child m*lesters. Once I gave the signal, its over. Todrick – once they stomped them.. Todd – they they take them away to the infirmary. Todrick – what do you mean? Todd – to the hospital. Todrick – but after you're there for 20 – 30 years.. Todd – you're probably going to be dead. There will be one time when they're going to shank his a$$. Todrick – really? Todd – yeah if they don't put them in maximum isolation.. forget it, he'll be gone soon. That's how they got Jeffrey.. Big Brother cuts the feeds.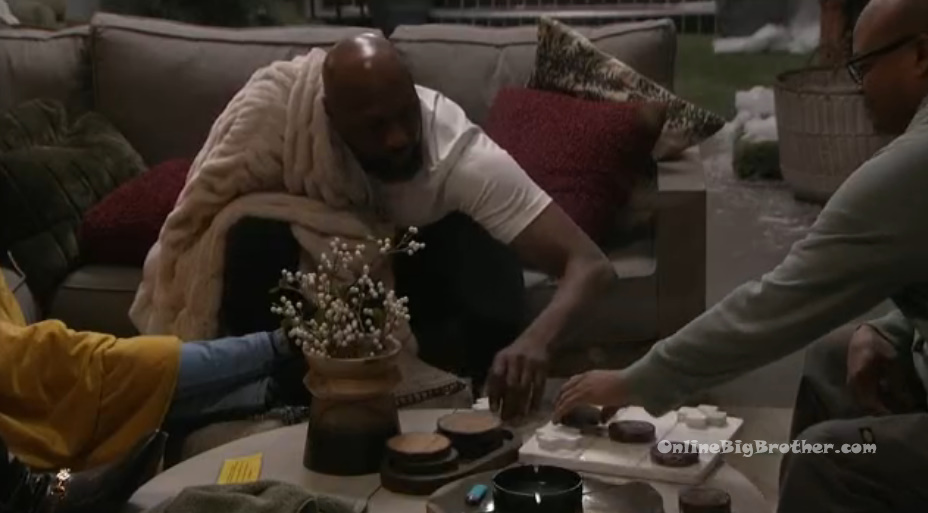 11:52am The live feeds switch to the kitten cams…
LIVE POWER OF VETO COMPETITION:
POV PLAYERS: Cynthia,Todd, Miesha, Carson, Todrick and Lamar
POV WINNER: Todrick
POV Ceremony Results: Todrick used the veto on Todd
As HOH, Carson nominated Shanna as the replacement nominee.
EVICTED: Shanna is evicted 4-0
Subscribe and watch the live feeds with the FREE Paramount+ Trial.