Quick Big Brother Spoilers
Head of Household: Jared
Nominees: Cameron & Red
POV Players:
POV Winner:
Veto Ceremony:
Havenots: 
Lock your ranks in before midnight
The Situation: Red and Cameron are on the block. America/Bowie may be renoms if veto is played.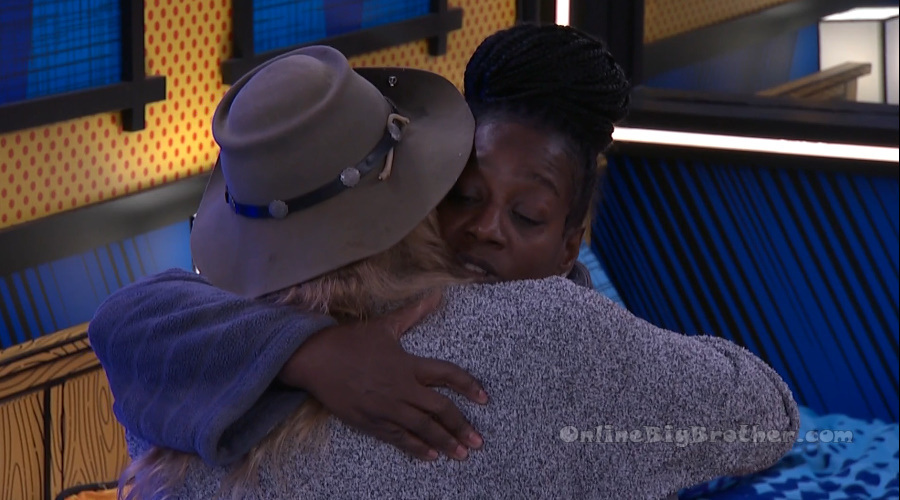 Comic Bedroom – Cirie and Red.
Cirie – let me tell you something, you've trusted me since the beginning of the game. They hug and you can't hear what they say as they're hugging over their mics. Cirie – you came into here for yourself and your family. Red – I made promises too. Cirie – promises like what? You win the veto you are going to give it to Cameron? Red – No, no, I am going to play hard. Cirie – so what are you worried about? Red – I am just missing home. Cirie – aww.. I love you Red. I love you. I do. Red – I almost had it held together. This place will turn you into a baby. Cirie – everybody here loves you. Everybody loves you. And you don't have to worry about nothing over Cam or anybody. I know its hard to believe that but its the truth. Red – oh I know, I'll explain. I will. I don't even want to go out there like this .. its not even about the nominations, its about home.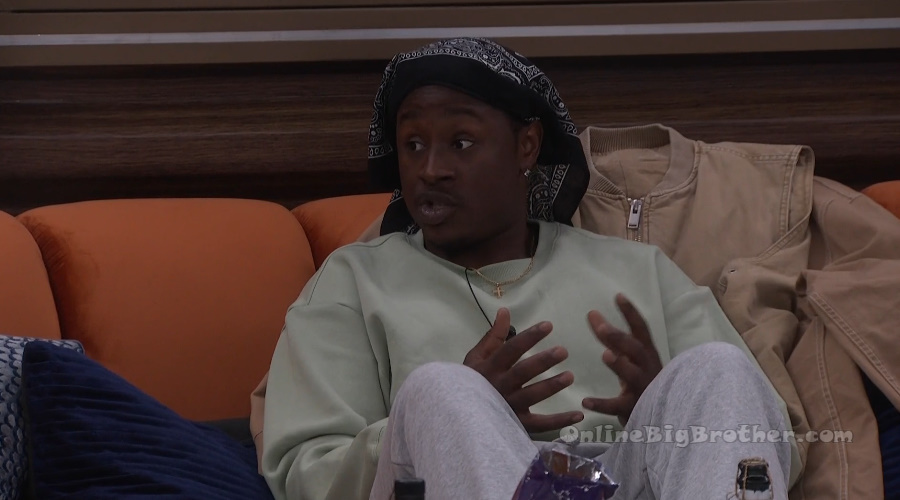 5pm HOH room – Jared and Cameron.
Jared – first things first, I completely understand if you're mad at me and if you're upset but I really do .. like I said in my speech. I really do hope that when I said people I mean you who can trust me and you do trust me and that you understand what my decision was and that I hope that I can prove that to you with this whole veto situation and whatever f**King happens with that. Regardless I know like its going to feel like bitter but I think you know exactly why I did what I did because I told you exactly why I did what I did. So there for its hard for me to sit here and make up some bullsh*t and try and f**k around and beat around the bush because I know that's not the type of person you is. Cam – yeah. Jared – And that's really not the type of person I am. I really respect your loyalty towards your best friends and I really do consider myself as one of your best friends.. even if that hinders that. I hope it don't. I am a person of understanding and I don't hold grudges and even if it was, it is what it is. My decision was made out of respect for your loyalty towards people who you probably consider brothers in this house. And like I said I hope that you would do the same sh*t for me. And if you were in that position to save me that you would save me. Just like I would think that you would save Cameron.. Ahh.. Save Red. Nothing changes, I think Red is already under the impression of why I did it to him. Like Red was the one saying my name which is unfortunate because we never really got the chance to try and mend that relationship. It is what it is .. I kind of stopped trying because it was to no avail. So that is my behalf of this sh*t. I just wanted to hear your thoughts on it? Cameron – I am going to whoop your a$$! I don't blow smoke, I don't bullsh*t. You asked me to trust you. You trusted me. I trust you. If you have a plan for this and this is what you want.. I told you last night if you want to make a big move I will bend over backwards to help you do it. I didn't know I was going to be bending this hard.. but hey sh*t hurts. And next time.. just tell me. Jared – I was literally looking for you to tell you. Cameron – you can shoot me the sh*t and I will say okay lets go. Jared – I understand why people get confused and think its for you but this is strickly for Red. Cameron – I am not the dude to do hypotheticals. If there were no veto, where does it fall. For you to make a move like this.. I wouldn't think you would make a move like this without some backing. Tell me what you want me to do. Tell me where the doors are. Jared – As far as what I know right now Mama isn't on board so I kind of count Izzy out of that also. We at 13 people.. Cameron – 10 votes. Jared – I know I lost 3 automatically. I know that Jag was willing to vote out Red. Blue was willing to vote out Red. America is willing to vote out Red just because they don't have a great relationship right now. That brings Cory also. There is really just one person that I was hoping to talk to.. Cameron – Matty. Jared – I really didn't know about Matty because I didn't know his relationship with Red either. But I was thinking maybe I could talk to Meme and see if maybe she will be on board with it. My conversation with her based on what I took from it .. she is on board with it. I am not sure how much or if she is blowing smoke up my a$$. I kind of figured Mamas would be pissed off at me. You have to understand though that if someone is threatening to get me out of the house, then I got to do something about. If Red comes down, America goes up and she goes home. If you come down America goes up and one of them goes home. I am banking on you taking yourself down.
Cirie and Izzy by the pool.
Cirie – its the worst (Red being upset). Izzy – maybe he will win veto. Cirie – he better because I can't stand being here with him (Cam) another day. I can't stand being here with Jag. Izzy – I know. Cirie – Jag to me is so cocky. He should be a little more humble. Izzy – yeah he is feeling comfy right now or something. Cirie – yeah, why though. And I can't stand Cameron. Izzy – I want Cameron to go this week. I am on board with that. Cirie – I know, I know. I can't wait to see what the veto might be.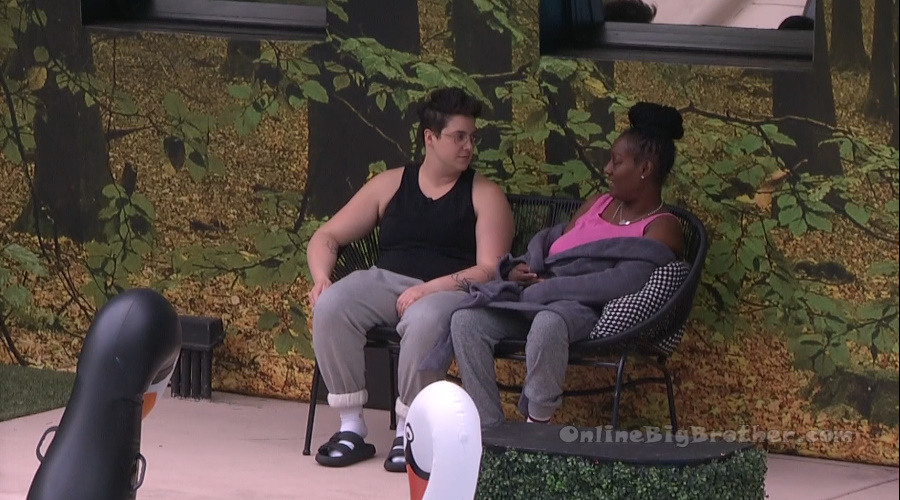 5:57pm Bedroom – Jag and Cirie
Jag – yeah I didn't want it to come off as an interrogation but I can see how people could feel that way. Cirie – I said he didn't interrogate me. I didn't feel that way but however you want to do it to get to the answers you need, I am open. I have no problem saying what I told you. Jag – yeah that could be useful because if people are saying different things then I might as well do that and be like lets get everyone in a room and.. Cirie – I think you would have to take the opportunity when it presents itself because people are not just going to line up because you said go to a room so you can figure out .. that is like interrogating. But when we all together, you could say so hey? Unless you don't want to know the truth? Jag – yeah I think that is a good point. And I think I need to chat with the 7.. I still trust and want to move forward with them.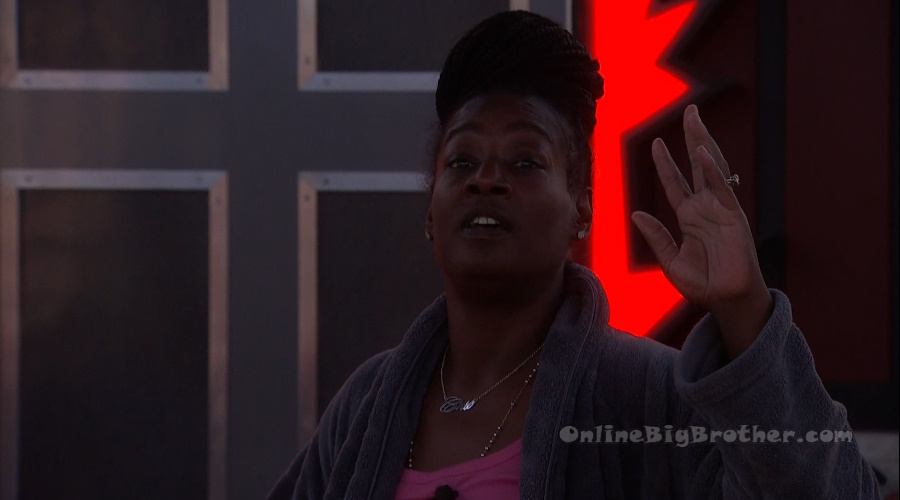 HOH room – Jared and Matt.
Jared – I want him (Cam) to be as comfortable as possible going into the veto. I told him I think the votes to keep him would be Blue, Jag, Cory, America.. then he said Matt, I didn't say you. I said I don't really have a relationship with Matt. So he doesn't know we're cool. He said that Matt is more of a free agent than you think. I said if you could send him up, I would love to talk to him. Matt – we're making him (Cam) workout with us so that he is sore. Jared – yeah.. do you want to play in the veto? Matt – yeah, if I win do you want me to keep it the same? Jared – yeah. Matt – and then I'll go up to Red and be like I know where the votes are going, you're fine. Jared – yeah just reassure Red so that we're good next week.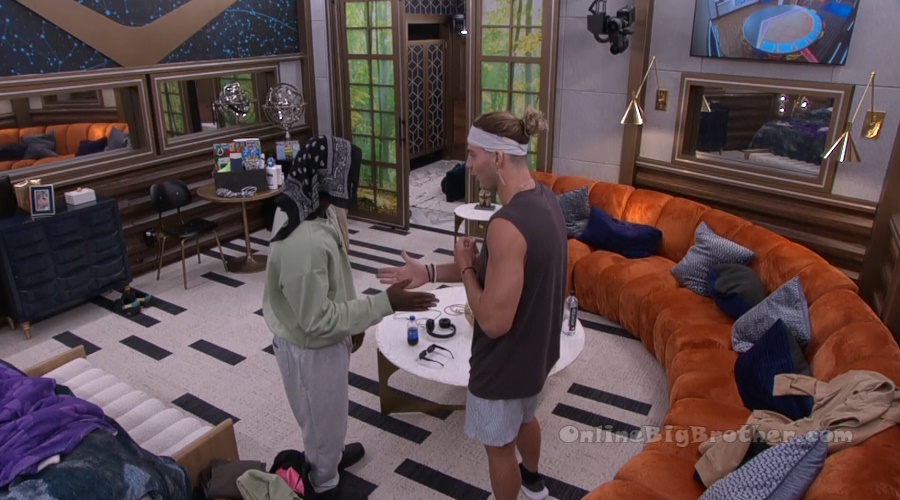 6:28pm Comic Bedroom – Cirie and Meme
Cirie – Cameron is such a dirty dog. He even asked Jared.. he had the audacity to ask Jared which I know he ain't that stupid. If I win the veto, what would you want me to do with it? Jared was like hold on, we will get to that when we need to. You tell me that if you win the veto, you ain't going to use it on yourself?! IDIOT! Meme – he's not that stupid. Cirie – Jared told him, I just got to check in with the Mamas because they seem a little bit upset that I put you up. Cirie laughs. Cirie – because he is trying to calm him down. They know that I am going for Red but they're upset that I put you up. But Cameron cannot win this god damn veto. I don't care which one of them go as long as one of them go. Meme – its got to be Cameron. It has to be. I just really don't want Red to go home on his birthday. He said that every birthday in his life has been bad for him. Meme – he is the lesser of two evils. Depending on who stays and who goes.. my concern is Jag and Blue still here. One Blue is more prone to go rogue. I think she had it (super power that saved Jag). Meme – If Red win or whoever wins.. and comes down then you put up Jag. Cirie – I agree. Meme – my concern with keeping Red in this game is he is too emotional. I cant. He is too emotional.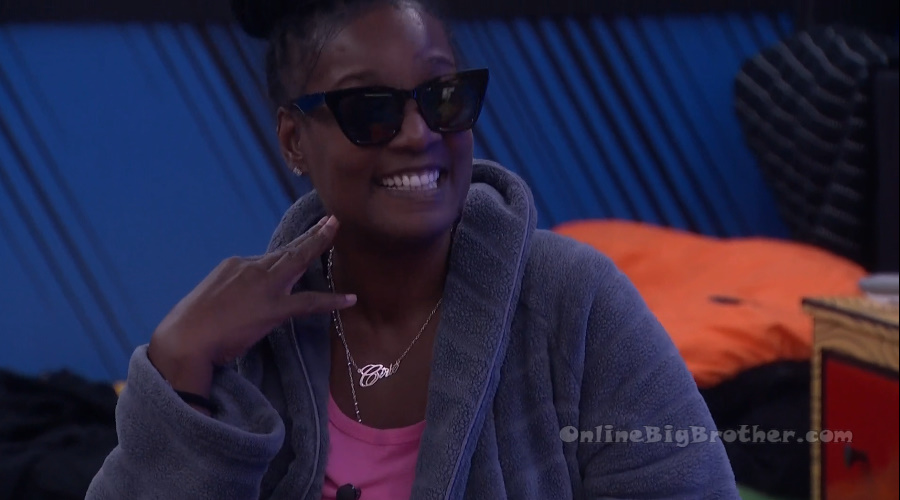 7:06pm – 7:15pm HOH room – Jared, Izzy, Cory, and Cirie.
Cory – did ya'll hear the bad news? Apparently I get friend zoned. Cirie – did ya'll hear the bad news? Cory doesn't like the name Cross Roads. Cory – that's not what I said. I like the name originally because its a good Bone Thugs and Harmony song… but really I don't like alliance names in general. Izzy – me either. Cirie – maybe we don't have to do it. Cory – we do have to do it. And can I be honest with all of you? Who came up with 7 Deadly Sins? They all say Matt. Cory – okay, jail. Like dude we've got Gluttony (Izzy), Sloth (Jared), Greed (Cirie). Izzy – why am I gluttony? Jared – why I am Sloth? Cory – I don't know which one Blue is. Izzy looks at the spy cam and says can we take a second, can you even see anyone's mouth in the tv, in the mirror? Why did Red say he read my lips saying I said Red and Blue in the hammock in the HOH room. Cirie – you ain't over that yet. Cirie to Jared – Meme said tell him to put me in coach. (HG pick for the veto). Jared – I told her last night I was thinking of picking her or Jag for the veto. Izzy – I would LOVE if Red picked me .. the irony in that .. Cam picked me and now Red wants to! Oh I would want it! Cory – I am telling Cam if he picks me I would use it on him… until the ceremony.
7:25pm Dinner time..
8:24pm Backyard Izzy, Meme, Cory, America, Cirie and Bowie are chatting about random things.
8:55pm – 9:10pm Kitchen – Jag and Red.
Jag – Things are open is what I pretty much want to say. I don't want it to be a thing where you feel as though you have to target me or that I feel as though I have to target you. I feel like things happened the way they did and that is unfortunate. I just wanted to address that because truly I do love the conversations we've had. Red – I have never been in a position to target anyone in this game. Jag – same! Red – same as when people are like who would you choose.. and I'm like what do ya'll think? Lets do it. Jag – I think this whole thing of names being said has been misconstrued. From what I heard folks were targeting me from the other side and some names were mentioned in that. I don't want this to be a Jag vs Red / Red vs Jag thing. Not that it is. I just want to make it clear. I just wanted to look you in the eye to eye / man to man. I have nothing against you. Red – same. If I walk out that door I will walk out with my integrity. If I leave this house with nothing I promise you that is my whole goal, thats what got me in here and it might also be the thing that puts me out this week.
9:48pm Bedroom – Cirie, Meme and Izzy.
Cirie – I am sick of Jag though. You having a pitty party and you're back in the house. Meme – and you was running around telling people not to use the veto on you. Cirie – exactly!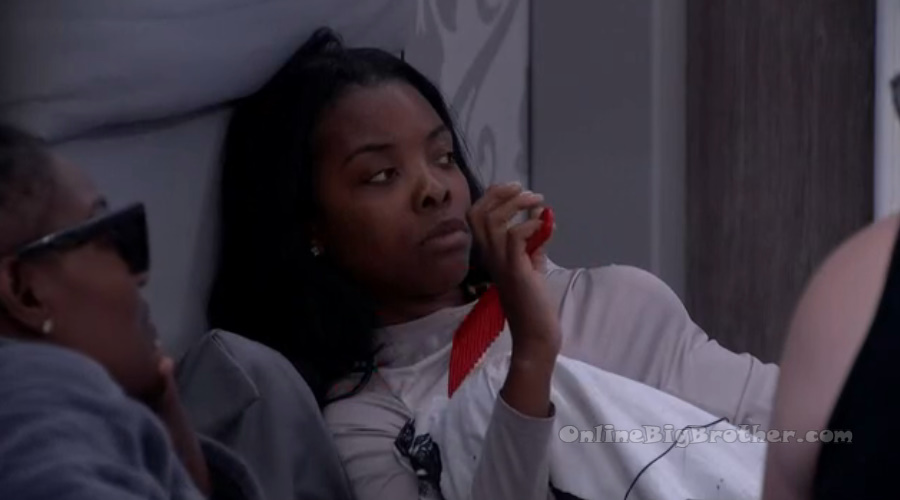 If you like these spoilers and read this blog regularly please consider a donation to keep the madness going. We accept donations via paypal How to support OBB