POV Holder:
?
Next POV
April 24
POV Used
?
POV Ceremony
April 26
HOH Winner
Pili
Next HOH
April 29th
Nominations:
Sindy and Godfrey
Have Nots
Brittnee, Sarah, Kevin, Godfrey
POV Players
Godfrey, Pilar, Sindy, Willow, Bobby, Kevin.
Host is Sarah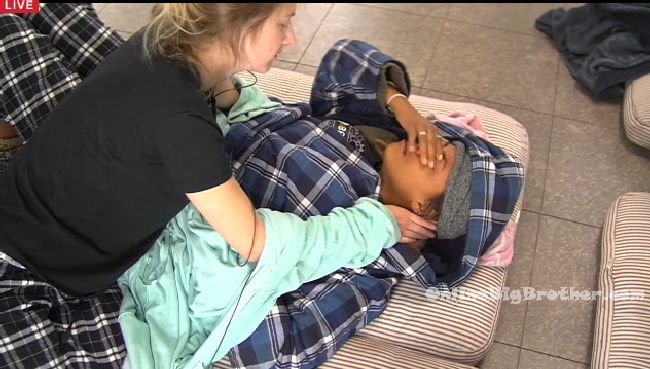 8:30am Big Brother wakes up the house guests. In the havenot room – Godfrey and Kevin are talking about the vote and how two people voted against Zach. Godfrey says JP thought he was staying the whole week yo! Kevin heads up to the bedroom to sit with Pili as they wake up. In the bathroom – Bruno tells Bobby I don't know if you heard or not but the POV is in half an hour. Willow joins them and says POV ceremony. They talk about picking veto player in a half hour. Bobby tells Bruno & Zach so Sarah is already coming up to me telling me she knew about the Chop Shop.
In the bedroom – Cindy asks if I get house guest choice and I picked you would you use it? Brittnee says I don't know. Sarah would potentially go up. I am not pulling a Zach. Before you came back, Sarah is my closest ally and if I used it she would probably go up. Brittnee says I would rather you win it and take yourself off. Bruno joins them. They talk about how they don't know who would be the replacement.


8:50am – 9:45am In the kitchen – Brittnee tells Godfrey if I get picked to play in the veto I am not using it. I told Sindy the exact same thing. Bobby says I think everyone is going to do the exact same thing. Brittnee says I just don't know who else she is going to put up. Bobby tells Godfrey to go hard for it. You just don't want her (Sindy) to win it. Bobby says you have 4 other people going hard for it though. They talk about their Pj's and wonder if the names with the hashtag mean viewers are voting for them. Under the stairs – Sarah is crying because her back hurts from the havenot competition yesterday. Sarah says she should have just quit. She says she didn't sleep at all. They wonder if she gets picked to play in the veto if Willow can play in her place. They talk about how in Big Brother 16 Donny played for Jocasta.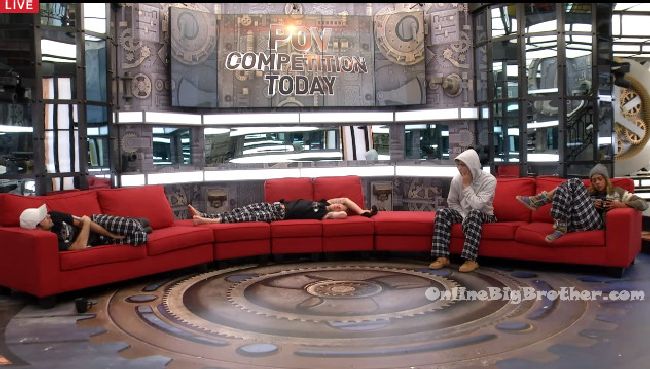 9:45am Brittnee commments on how maybe the twist is that Bobby and Ashleigh are brother and sister. Bobby says she wishes she had my good genes. Bobby says can you imagine if Ash & I pretended to be in a showmance to throw off the fact that we were brother & sister. Ashleigh tells Bobby he crossed the line. You are so far pasted the line you did the jig over it.
9:50am – 10:50am Big Brother blocks the feeds. When the live feeds return – We learn the Power of Veto Players – Godfrey, Pilar, Sindy, Willow, Bobby, Kevin. Sarah is the host.
In the storage room – Bobby and Bruno talk about dodging a bullet last week. Bobby says and they're not going to do anything as long as I have the butt veto. (Fake one) Bobby and Bruno laugh and leave the room.

11:10am Up in the HOH room – Kevin says he is going to try as hard as possible for the veto. Pilar says I'm going to try but not that hard. Keivn asks if I win can I use it on Sindy? Pilar laughs. Pilar tells Willow after the veto I am done. Just done. After crying yesterday I just fell like… It's going to be a long week. Willow says perfect pick. It couldn't have been better. Kevin, Kevin is awesome. Pilar says I just hope I can trust people. What if there's a twist or last minute they flip like with JP? Willow says but that had to do with other issues. Pilar says worst case scenario if Sindy wins it and pulls herself off who do I put up? I don't want to think about it till I have to.
ALLIANCES IN THE HOUSE
There are always a lot of Alliance but we've tried to make sense of it all.. Read our alliance help guide
[polldaddy poll=8819718]