POV Holder:
Sarah
Next POV
May 15th
POV Used
Yes
POV Ceremony
May 10th
HOH Winner
Ashleigh
Next HOH
May 13th
Nominations:
Sarah Brittnee & Godfrey
Have Nots
Canada voted for: Sarah & Brittnee (They will compete for the Secret Power)
POV Players
VETO PLAYERS PICKED: ASH, Sarah, Godfrey, Zach, Brittnee, Bruno
HOST is Pili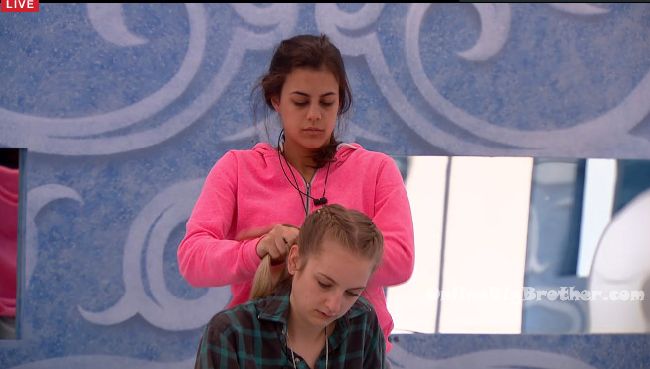 9:30am Big Brother wakes up the house guests. In the bedroom Pili braids Sarah's hair. Sarah heads to the bathroom and comments to Brittnee that she had a dream about her boyfriend Scott last night. Brittnee says that the house is so much cleaner with less people in it.
In the living room – Zach and Bruno are waking up. They talk about hopefully getting a task today. Bruno says I think they're (Sarah & Brittnee) done trying to talk. That's what she (Sarah) said to me yesterday. Not in a bad way. Zach says I know they had a plan to go around saying they're not going to take each other to the final 2. Bruno says with Brittnee going she (Sarah) will have no one. If she stays they're still going to be tight. Bruno says she is going to try anything and say anything. After Wednesday its going to start all over the again. It would have been nice to get rid of her this week but oh well. Zach says Brittnee might have fallen into the back ground and we would have forgotten about her. Bruno agrees. Zach says all signs lead to physical comps from here on out. Bruno agrees.

10:40am – 11am Hot Tub – Brittnee and Sarah are chatting. Sarah says that these guys are right in assuming that… like when Zach does go Bruno is the target. That's why he is trying to get close to me. Sarah wonders what's the best way for you to convince him you would make a final 2 with him. Sarah says you could be like there is a reason I didn't listen to Sarah and didn't put you up. And she realizes through this that those girls aren't going to work with her. Those girls have a jury made up of their peers. Brittnee says he won't sit alone with me. When I go into a room he leaves and that tells me everything. He wants Godfrey to stay. Zach and Bruno can pretend they aren't going after each other but they both are. Britt says I bet final 4 has come out of their mouths .. final 4, final 4 yeah buds! Sarah says that Ashleigh might have brought herself closer to them now but she is at the top of my hit list. Britt says its become more imperative to think about who its better to take out first the girls or the guys. Sarah says yeah the guys are going to take each other out. Sarah says its not even Pili to me its Ash. Sarah says Put Ashleigh and Zach up ..one of us is HOH .. put Ashleigh and Zach up. Oh no this is next week so Godfrey is gone. Britt says if she still thinks we're going after her then she's foolish because anyone else would understand that.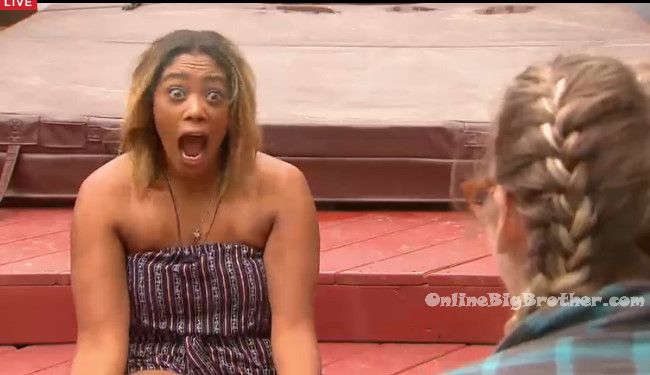 11:35am – 11:50am All the house guests are sitting around the living room. "Big Brother we're ready for our task!" The house guests say it will be such a boring day if they don't get a task. They talk about the auditions process and how they saw past house guests at the venue. Bruno says he saw Neda, Jon, Arlie, etc. Zach says that he drove up saw the line and said na… he says he drove away then changed his mind and came back. He says he went in with a group of 5. He says by the time he was in his car he had already gotten the call from them.
12pm – 1:35pm Sarah tells Pili I miss Kevin. Pili says I miss him so much. Sarah says the house is so different without him here. Pili says we have a great relationship. Sarah says you compliment each other. Pili says I'll see him soon enough for sure. Sarah says being a havenot this week was really easy, I don't know why. The hardest part was being voted by Canada but once I came to terms with it… it was okay. Sarah says the jury house has to be pretty big for it to fit 10 people. Pili says "that's all I can say for now" ..that's what worries me. The living room conversation turns to talking about cats. They continue to talk about random things.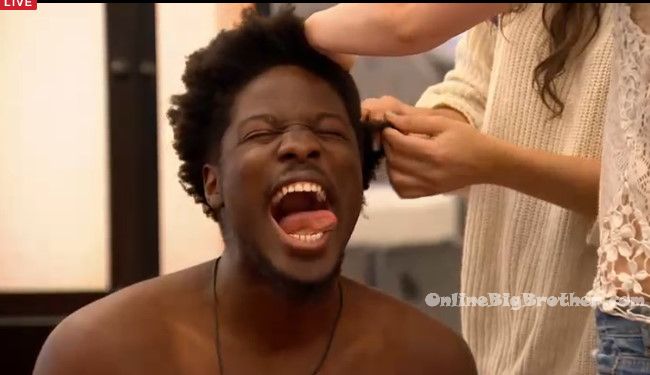 1:45pm Pili trying to braid Godfrey's hair
Godfrey squirming @bigbspoilers #bbcan3 pic.twitter.com/GUU9f21Zk3

— Dawg (@DawgsBigBrother) May 11, 2015
1:50pm – 2:15pm Hot Tub – Bruno says I finally talked to Sarah. She said I'm done talking. There's no wiggle room between the girls. Has she tried today? Zach says I don't think so, not that I've seen. Zach says that he pretty sure the girls (Pili & Ash) aren't playing him. He says that Pili was trying to come up with what to say to Brittnee for when she tells her she's voting her out. Zach says Pili's not smart enough to come up with that if it wasn't true. Zach and Bruno continue lying to each other about wanting to go to the final two with each other. Zach tells Bruno the jury house will go f**king nuts when B walks in! Pili joins them. Zach asks Pili have you talked to her (Britt) yet. Pili says no I was waiting for you to do it. Zach says I'll do it tomorrow night. Zach tells Pili she can says I was supposed to go because of you.
If you enjoyed this site's content please consider a donation or checking out our How to support OnlineBigBrother.com page. Any help is appreciated, this site is only here because of your support.
[polldaddy poll=8849979]