POV Holder:
Sarah
Next POV
May 15th
POV Used
Yes
POV Ceremony
May 10th
HOH Winner
Ashleigh
Next HOH
May 13th
Nominations:
Sarah Brittnee & Godfrey
Have Nots
Canada voted for: Sarah & Brittnee (They will compete for the Secret Power)
POV Players
VETO PLAYERS PICKED: ASH, Sarah, Godfrey, Zach, Brittnee, Bruno
HOST is Pili
ET Canada – Special Preview of Sarah and Brittnee discovering the secret in the havenot room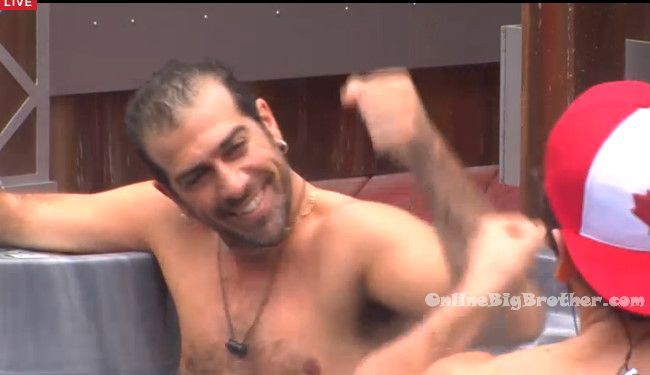 2:15pm Bruno and Zach are in the hot tub still talking. Brtuno says I am telling you day 1 .. night 1 when I walked in the door I knew this could be my guy. You know! Zach says when I was asked in pre-interviews ..bromance vs showmance which one would I pick.. It was always Bros! That's how I am in real life. Bros have always come first. Me and my guys at home don't let guys get swooped by chicks. That's how I was when I came in here. If I am going to invest my heart into something its in a bro. You've got to be in here like how you are in real life. Bruno says we've got to do this man! We can do this! I f**king love this bro! Bruno says I feel good about this… not about .. but about us. You can't be too comfortable in here. Zach says "The Gernerals" Bruno asks "The Generals?" Zach asks you like that? Bruno says done, done!! The fist Bump. Zach says I like that! I think that's the right name. Bruno says The Generals lets do it! Zach says I was thinking what's a term we've been using.. we've been making a lot of generals. Bruno says The Generals ..I like that BUD! I'm in! The fist bum again. Lets f**King do it man! Sarah and Brittnee join them. They talk about how the final 3 part HOH plays out.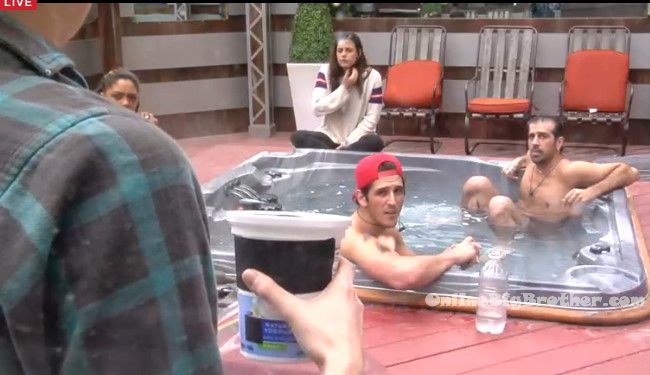 2:35pm – 3pm In the hammock – Sarah says I don't really know what I would do because I don't know who is going to stay. I just know it wouldn't be you or Ash. Pili says if I won next week I wouldn't put up a girl. I need you next week. Sarah says I need you. Sarah says I think you and me if we were to win we would do the same thing. I need Ash too but I need you more.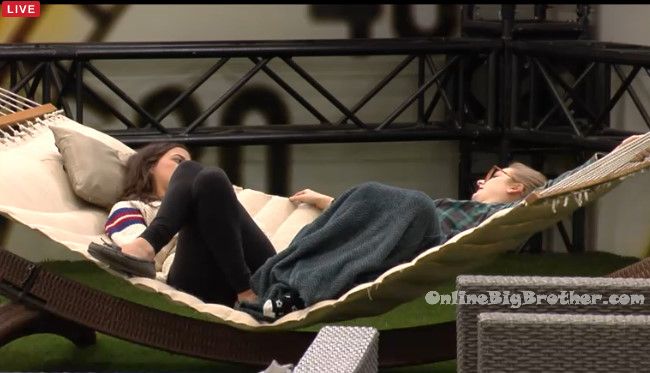 3:15pm – 3:45pm Backyard – Sarah, Brittnee, Godfrey are talking. Brittnee tells Godfrey good luck getting Zach out. Brittnee tells Godfrey you've got to win this HOH. You've got to! If not you two will be up. Sarah says if we don't win HOH we can bet Zach will win HOH. Godfrey heads inside. Sarah says Pili has been really buddy buddy with me. Britt says good because she knows she's not safe with them. Sarah says that this shows that Ashleigh isn't playing for herself. Brittnee asks what possible argument could she have sitting at the end with him? Other than they did it to the end. Brittnee asks how am I the logical argument over Godfrey? Sarah says you can't tell God that we don't trust Bruno. Britt asks why? Sarah says because it will go right back to Bruno. Britt says who cares. Sarah says because there's a chance he could go after Zach. He will automatically think we're going after him ..which isn't true we're going after Zach. Britt says I just need to talk to him. Britt says its so sad these girls can't think for themselves. Sarah says well they are.. but they're not playing their individual game. Sarah says doesn't think anyone would vote for Ash in the end. Britt disagrees. Sarah says I'm voting for the person that got the most blood on their hands. Britt says I'm not calling you foolish but I wouldn't want to sit next to her. Sarah wonders what the order of who to get out should be: Zach, Bruno, Ashleigh or Zach, Ashleigh, Bruno. Britt says we see how Ash acts after we get Zach out. Britt says what a joke. Love really is blind. Britt and Sarah start studying. Sarah says I'm going to win (the HOH). I can feel it. I want that letter
3:50pm Godfrey joins them. Britt asks him who he's putting up if he wins HOH. Godfrey says the same two people you're putting up. I'm obviously putting up Zach. The only thing I am worried about is who to put up next to him. You have to think about who would use the veto on him. Sarah says she wouldn't put up Bruno. Godfrey says Bruno might use it on him again he already did it. Sarah says but Ash would use it on Zach too. Godfrey says you could deter her by saying if she uses it you'd put up P.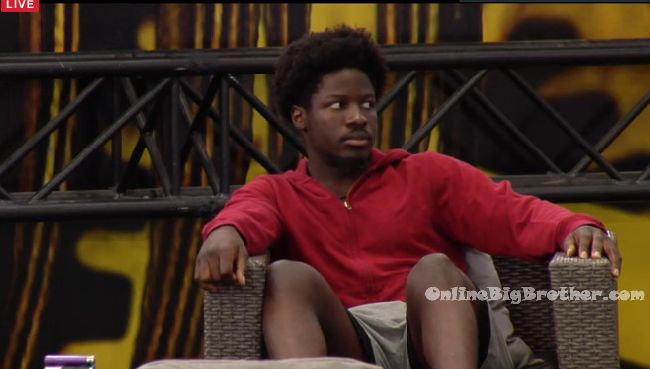 4pm Hot Tub – Sarah tells Pili .. I think Ash would put me up if she won next week ..even though I know she can't win next week. Pili says no you're not a target for us. I don't want to speak for her but we're not coming after you. Sarah says I trust you. Pili says Godfrey's been throwing comps. Well I don't know for sure. Sarah asks so is Godfrey going tomorrow? Pili says I don't know for sure. I probably won't know until tomorrow.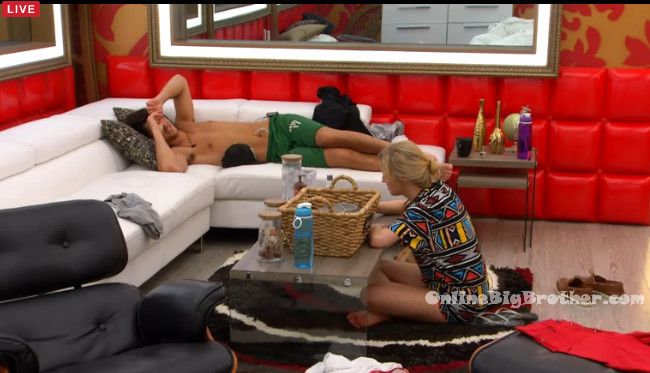 4:05pm Up in the HOH room – Zach and Ashleigh are talking. Zach says I think she (Britt) knows she's going. Usually by the time people tell you .. you already know you're going. Ash agrees she thinks Britt knows she's going. Zach says I've got to win this next HOH. I think I would do God and Sarah. I just think the risk of Godfrey and Bruno coming together is more likely than not you know. Zach says it will be nice to get out of here and hang out with other people. Sarah explains what happened during the triple eviction and how B didn't want Pili out. You're considered less of a threat. Sarah says all I care about is that you trust me. Pili says I am not after you next week. Sarah says I do not want you gone .. I want to work with you as a partner.. especially if B goes because then I would have no one. Sarah says I have to do some work here and then maybe I'll have a shot.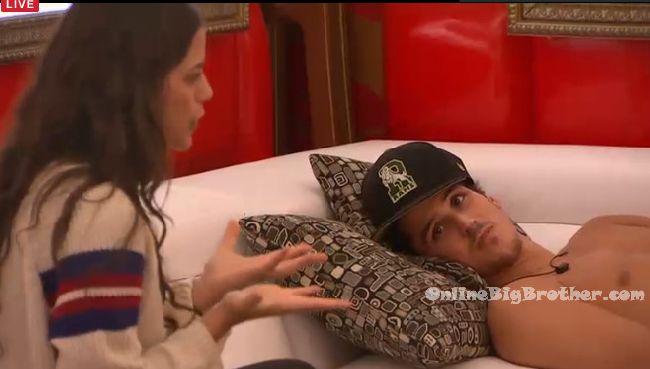 4:25pm HOH room. Pili walks in and goes off about Sarah campaigning to her. Pili comes up and says fricking fricking frick! Sh*t! Sarah just came up to me. It's like she's on the block! The only thing Britt said to me was that she's nervous. She tried to tell me that I have a better shot in the final 2 with B as a posed to Godfrey. Pili reiterates the conversation with Sarah. She's not giving up.. like I went out there for air.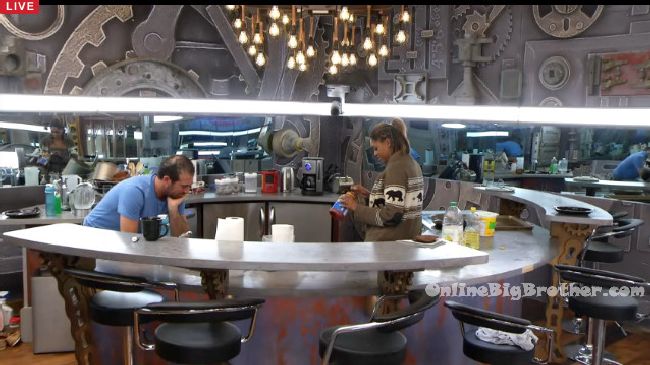 4:45pm In the kitchen – Bruno says its kind of out of my hands at this point. Britt says you can just tell me. Bruno says It either comes down to Zach and Pili. Britt says if Godfrey stays you have him and Sarah … or do you not trust her. Bruno says I just hope she doesn't turn. Brittnee says she doesn't have an option at this point. We know who is working with who and who is set up. Ideally if I stayed .. say Godfrey goes that leaves you, me and Sarah against Zach, Ash and Pili. And Ash can't play for HOH. I hope any concerns about an all girls thing is out the window at this point. Bruno says this next HOH is make or break. Britt says it comes down to who has friends in the jury, numbers in here and who you can beat in competitions. Bruno says both options suck and I don't want to feed you crap. Britt asks who is more beneficial to your game me or Godfrey. Britt asks what are the pros of keeping me? Bruno says pro I know I can trust you 100%. Bruno says Sarah is not taking me to the finals. She is taking me out as soon as Zach goes. Bruno its not even about me .. they control the vote. Its out of my hands. Britt says actions speak louder than words .. you haven't talked game with me in two days so that means you've already counted me out. Bruno says that's not what it means at all.


5pm – 5:45pm Backyard – Godrey and Sarah are talking. Sarah says you know what I think it is. Chop Show to the end. Godfrey says that's why they wanted to keep Willow so bad. I am just going to concentrate on winning next week if I stay. Sarah says me too. Bruno and Brittnee join them. Sarah says God and her were just talking about how every single week has gone how Zach wanted it to except for when he won HOH.
5:55pm – 6:10pm In the bathroom –
Bruno, Godfrey and Zach are talking about how Sarah is campaigning like she's on the block. Godfrey says even though she's campaigning against me she is campaigning for me just in the slightest chance that I stay. Bruno says if everything goes to plan after the veto then I would just tell her don't bother because I can't listen to her.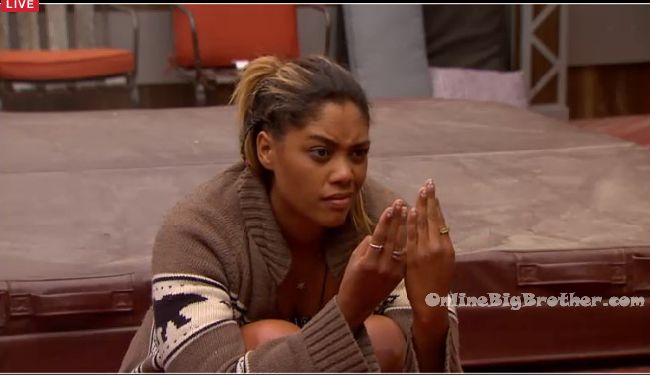 6:35pm Hot tub room – Sarah and Brittnee are talking game. Sarah says if one of wins HOH can we please have a bath together and talk to every one as they come in.
6:45pm – 7:15pm Sarah and Godfrey play god ball and beats him. She asks who wants to play the champ and Godfrey says he'll play her again to redeem himself. The other house guests are lazing around in the backyard chatting about random things.
If you enjoyed this site's content please consider a donation or checking out our How to support OnlineBigBrother.com page. Any help is appreciated, this site is only here because of your support.
[polldaddy poll=8849979]