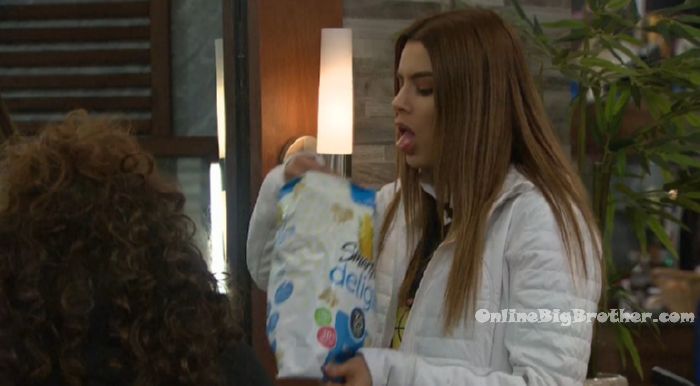 Try the Live Feeds FREE for 7 DAYS! Click here for your: FREE Trial
8:56pm The live feeds return from being blocked after the competition. Marissa and Ari are in the bathroom talking. Marissa – you know when you have that friend that can't help but sabotage themselves. That's her (Brandi). I don't want to say anymore ..because what I am saying is ugly and I don't want it to be. I'll say it to you on the outside and we'll go hahaha but not in here on camera. Ari – I knew she was going to do it. Marissa – such a dumb move. It's going to send her home. But I got you boo… anything I can do.. Ari – we're the same. But you cannot do that when you're on a team. Its not a team. We were talking about friendship… Marissa – that's why she has 10K in the bank. She doesn't think.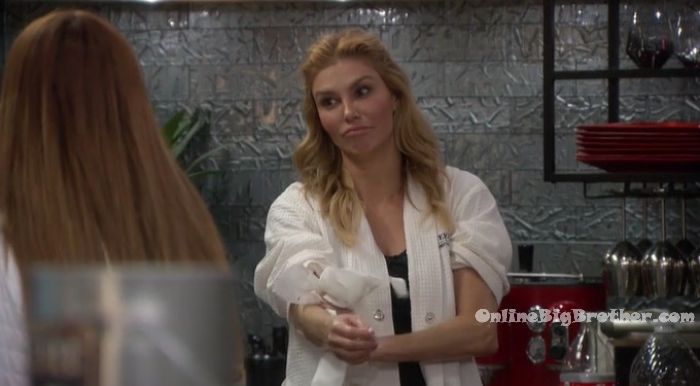 9:03pm Kitchen. Brandi – So I have bad news… I don't actually possess a kiss a$$ gene. Ross – why do you say that? So you're not going to go to her and.. Brandi – I just don't have that gene. Ross – no, you don't have that gene. Ari – I don't have it either. Brandi – so it is what it is. I'm just going to have fun and see what happens.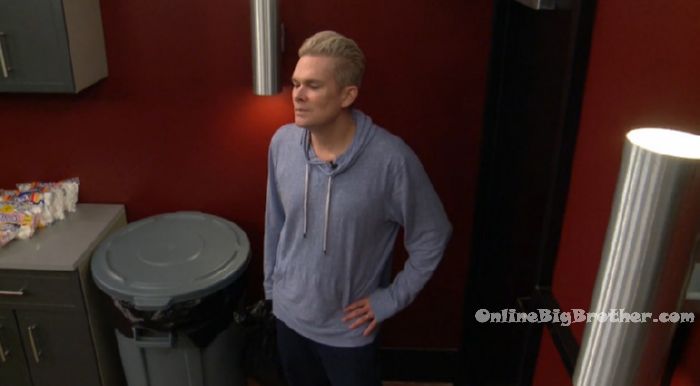 Storage room. Marissa and Mark. Mark – I think she (Omarosa) is going to put Brandi and Ross up. Marissa – yeah me too. Or me and Brandi. Mark – Metta and I are going to the finals I guess. Marissa – can I tell you… Who voted for Shannon? Mark – Omarosa did. Marissa – no. Mark – you don't think so? Marissa – maybe to stir trouble. Mark – maybe Metta did. Marissa – nope! I know he didn't. Mark – who would do that and just waste their vote though? Marissa – someone who wants their vote at the end.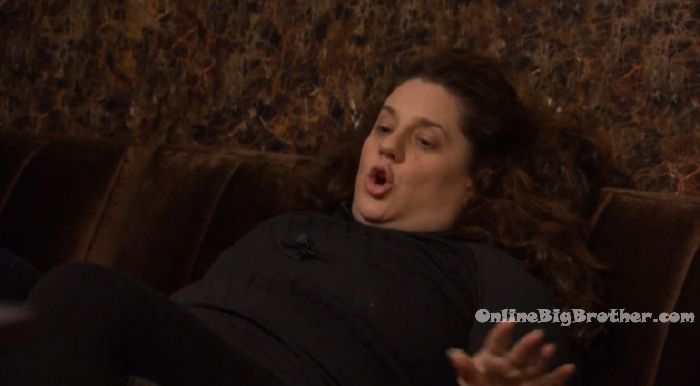 Lounge room. Ross and Marissa. Marissa whispers something to Ross. Ross – lets not bring it up. If its me and Brandi, then we use it. Ross – you need 3 votes. Marissa – you have me, Metta, James, and Mark. You're fine. Your best case scenario is you and Brandi. Ari joins them. Ross – we're going to act like normal. Ross leaves. Ari to Marissa – I've been taking care of her (Brandi) and now she does this? Marissa – it f**ks you. What's probably going to happen ..Omarosa is probably putting me or Ross up or you and Brandi up right. So we'll pull you down. Ari – if I go, its okay. Marissa – I will fight for you. He(Ross) is already counting votes. He's like it will be me and Brandi. Mark would vote for Ross. James will vote for Ross, Metta will vote for Ross. Ari – do you think she is going to put me up with her? Marissa – if she did Brandi would go home. She is going to be the next to go probably. And that's who's in her sights. Ari – I feel bad because I told you guys but I felt like I needed to tell you. Marissa – we're not going to say anything because its not going to come up. Why would she do that, it makes no sense. Ari – so selfish. She only talks about winning and money. When Keshia wanted to leave oh my god that was horrible. I thought she was in with us. Marissa – she is but she is playing a different.. Ari – she's not even with us. Marissa – Like I am going down with the ship. Maybe it was because she felt bad for her. Maybe it wasn't about the move.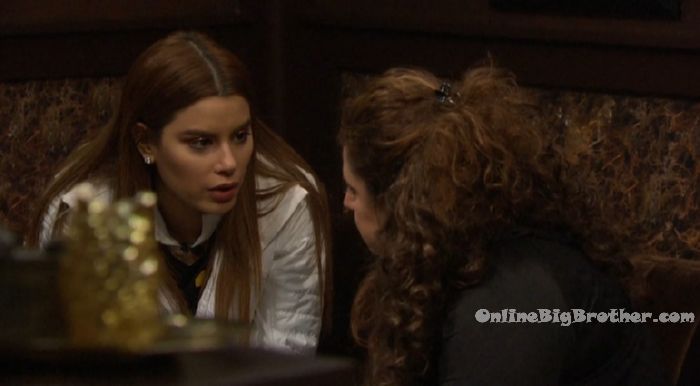 Lounge room – Ari and Ross. Ari – she know. Ross – what? Ari – that I told you guys. I feel bad now. Ross – no, you shouldn't feel bad. That's not cool.
Bedroom – Marissa and Omarosa. Omarosa – who voted for her (Shannon)? Who would do that? Metta, I think it was Metta. He was up with her until 3 in the morning. Who would not waste a vote but… It wasn't me. Marissa – it wasn't me. Omarosa – it might have been James to stir it up. Marrissa – that's what I was thinking, someone did it to stir.
`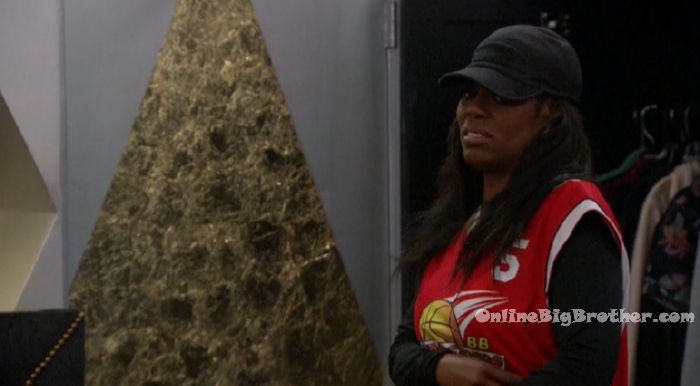 James and Omarosa. James – lets not talk too much tonight. Omarosa – I really want to talk to you before I make some decisions. They're going to offer me game. James – they all have strong alliances and I don't to be to be frank. Omarosa – so you don't have a final 4 with them? James – no. Omarosa – then lets talk later.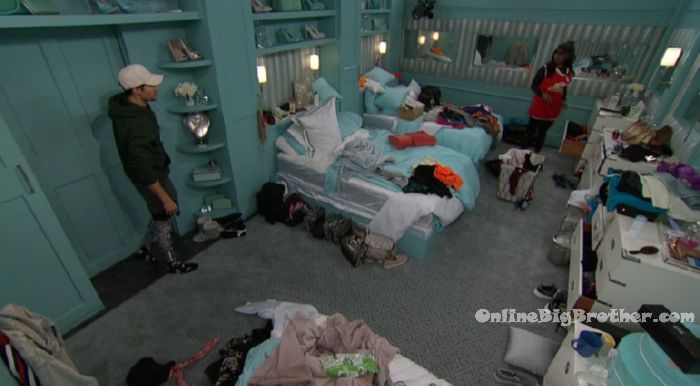 11:25pm Mark washing the dishes. Mark to James – I think Brandi is going to be up on the block. Brandi and Ross? In which case Brandi is ti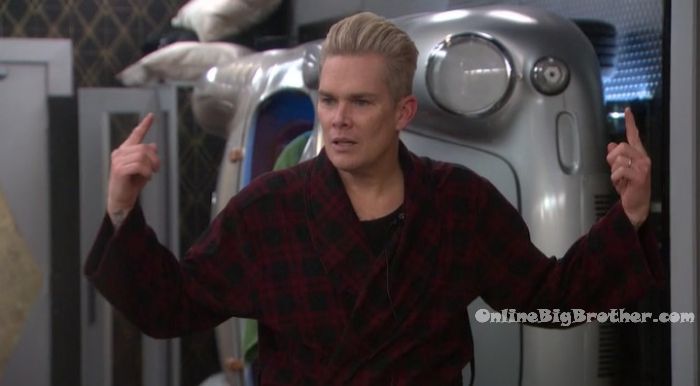 FLASHBACK and watch everything you missed: Live Feed 7 day FREE Trial!
Time to start ranking the houseguests on Celebrity Big brother. Nothing has changed with the ranking system since BB19. If you forget how it works here's the skinny.
You apply a ranking from 1-5 to each houseguest using one of these two pages: Voting (with images) and Quick vote (without images)
You have until the end of each day to "Lock in" your ranking. Each day the rankings are compiled and viewed on the grid.