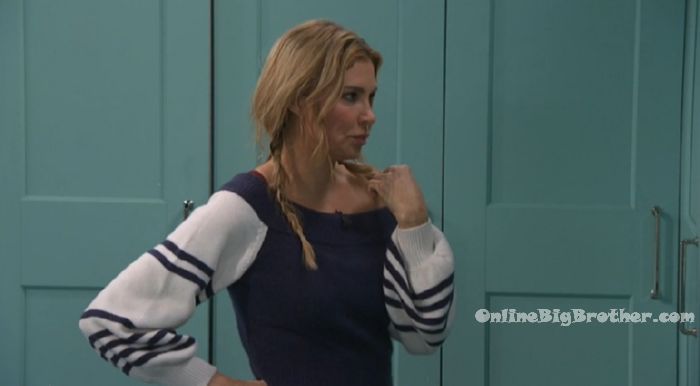 Try the Live Feeds FREE for 7 DAYS! Click here for your: FREE Trial
7:15pm Ari – Ross trusts him… Mark. Brandi – I know, that scares me. I told him not to. But at the end of the day Mark will go with whoever can get the most.. if its 3 and 3 he will go with.. Ari – with us. Brandi – right. Ross joins them. Ross – to avoid conflict can we just say Keshia for now? And if nobody comes off the block, lets just do it. We know what's going on. Like that Shannon and Omarosa have a final 2. I don't want to have a night of discussion or conflict because I don't want anything on our faces to say anything like that. Let just all go in there now and agree on Keshia and nobody comes off the block. Brandi – I don't agree and she (Ari) doesn't agree so you can put it anyway you want. However if Shannon and James play tomorrow.. and you get players choice we still 100% trust James if they need to pick one person. Ross – I talked to both of them and they want Shannon to do it. I even talked to Shannon and asked won't that make you a big target and her antenna went up right away. Ross -if I get players choice … the chances are slim, we just have to pray I get it. If I get players choice and I don't pick Shannon … its like put big neon letters above us about what's going on. Brandi – why does that matter. Ross – so they don't turn now. We can't threaten them out and not follow through or we are toast. We have to be able to follow through.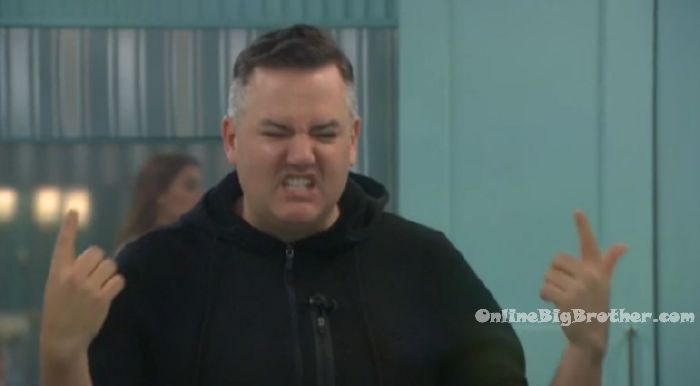 Bedroom – Brandi, Shannon, Ari, James, Mark and Ross. James – the way I am trying to think of this is who is going to be a bigger threat moving forward. My whole thing with Omarosa is that she threw out the race card. I don't want this game to ever be about that because its not and I think its reckless with that. That is my concern. James – so do you think it makes it better to get her out quickly or worse? Brandi – you can't tame her she is going to go her own way. Keshia I think is more tame-able. James – but the race card has nothing to do with the game .. that's a social thing that we should talk about. Brandi – I understand that but do you want that to be a conversation for the rest of the game? Mark – I don't understand how it could be like that when you guys were all so clicked up at the beginning. It makes not sense. Shannon – I think she's dropped it now. Brandi – but whos to say if she doesn't like the way things go again that she doesn't throw it out there again. James – but from a PR perspective and America is watching and they've just seen her go to the hospital and the day she gets back pretty much is the day she gets voted out, that could look bad too. Brandi – I will go with the group but my point is I don't think we should play with her going forward. I just think Omarosa will take us all down with her. Shannon – who do you think is stronger at competitions? Brandi – probably Keshia. Mark – its not even an issue. Keshia is way stronger. I think that if Omarosa didn't go home tomorrow, she would go home anyway. James – she will be the next one unless Metta does something. Metta and Omarosa have both said that they would never put Keshia up so if we don't get her out now.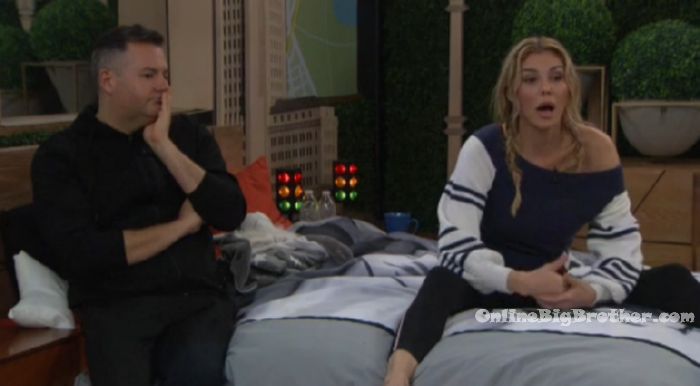 Mark – we were all in an alliance happy as hell running around making food and everything is all great and now overnight everyone is all this? This is what they're seeing. Brandi – but she has the ability to be believable even when she is talking out of her a$$. Mark – I don't disagree. Shannon – she has always been portrayed as a villain and if she is throwing stuff out there .. I don't think that will change. James – I don't think anyone is going to be stupid enough to change what we have going on for the seven, right!? But Keshia has already gone to people and become better friends again. Shannon – right. James – she is better at that.. no one is going to trust Omarosa. Keshia is trying to play the social game and Omarosa will never be good at that. Keshia is just the bigger threat across the board. Brandi – look I will go with what you guys want. She truly said to me in the bedroom, you and your white girl alliance. Shannon – she said the same to me. Ross – but Ari is Colombian. Brandi – and you're (Ross) not a girl. Brandi – she throws nuclear bombs. Mark – but she will do that anyway. There is no insurance policy for that. Its coming either way. James – if Keshia wins the veto, then its Omarosa. Ross – we're going to go 1, 2, 3 anyways so what does it matter what order (Keshia, Omarosa, Metta) we make. I would like Omarosa second. James – as long as Metta stays the same, he is not really a big threat. Brandi – I will vote with the group but when it comes time for the other (Omarosa) to happen, that you guys have my back. Ross – yeah absolutely. James – can I say that this eviction is so much better than the last one. Shannon jokingly says – you better watch your step we could still backdoor you. Ross – I know Marissa was on board but can we just include her. They agree and leave the room.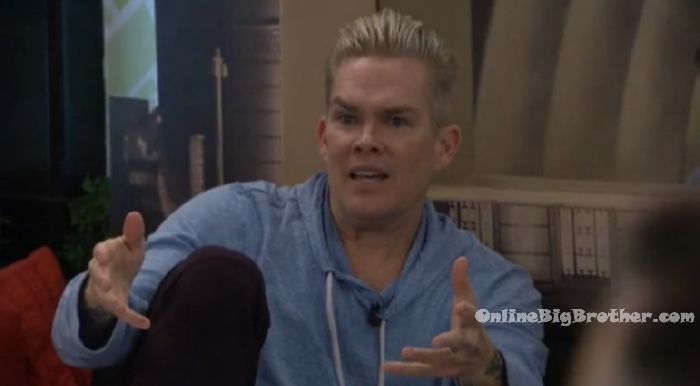 8:05pm – 9pm Backyard – Ross and Mark. Ross – I am in and to me it doesn't matter what the order is. Mark – I agree. Ross – but do keep an eye out with her still making the case to keep Omarosa on the next one. Mark – Shannon? Ross – MMMhhhmm. Mark – I thought she wanted to get Keshia out? Ross – she does on the next one. To keep Omarosa in. I think she still has a final 2 with Omarosa. Mark – but she wants Keshia out now. Ross – yes but on the next one.. every time I say Omarosa she says or Metta. Mark – It doesn't matter if she goes against the grain, we still have the numbers. I can't see her wanting to take Omarosa the whole way and have to deal with that. Ross – because anyone can beat Omarosa at the end. Anyone next to Omarosa at the end is going to win. Mark – I agree but its going to be hard to take Omarosa the whole way. Ross – no its not. People are going to clue into that.. Pretty soon its going to go from getting the biggest person out to keeping the weakest person next to you because you can win at the end. That's why she made a final two with Omarosa because she knew everyone was going to hate her. Brandi, Metta, Shannon, Marissa and Ari join them.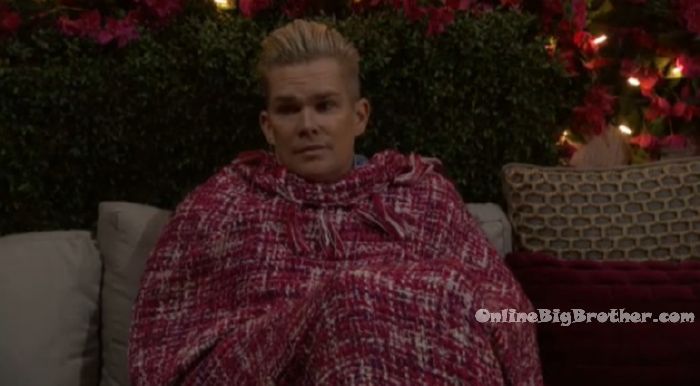 10:20pm Brandi & Ari take the Owl off the bed. Keshia – if he keeps me up all night I am waking you guys up. Brandi and Ari head to the bar lounge room. With the owl and hide it under the couch. Brandi – don't let Keshia know, she'll tell him. Ari – we need to deny everything.
11:05pm – 11:45pm Bedroom – Ross, Brandi, Ari and Marissa talk about getting Keshia. Ross – every single thing has been Shannon's doing. Brandie and how she has a strong person beside her. Ross – Shannon is the best player to ever play this game in history. Brandi – right now is the perfect storm. We don't get her out, you never will. Brandi – I don't trust the three of them (Keshia, Omarose, Metta) . Ross – I need you to talk to Keshia and I need you to say that there is a way for her to stay. But if any of this gets out, you are going home. They talk about who will tell Keshi she is going home and when.
FLASHBACK and watch everything you missed: Live Feed 7 day FREE Trial!
Time to start ranking the houseguests on Celebrity Big brother. Nothing has changed with the ranking system since BB19. If you forget how it works here's the skinny.
You apply a ranking from 1-5 to each houseguest using one of these two pages: Voting (with images) and Quick vote (without images)
You have until the end of each day to "Lock in" your ranking. Each day the rankings are compiled and viewed on the grid.