10:50pm JULY 12TH Have Nots Kathy and Ragan, He's going over the same thing, since the feeds started that he's confused about everything thats going on, He's feeling disconnected. The stress is bothering and its the constant yo-yoing that makes it so much harder. He says he's not doing well and he's in a bad space…. Kathy munches on her food.. Ragan eventually falls asleep.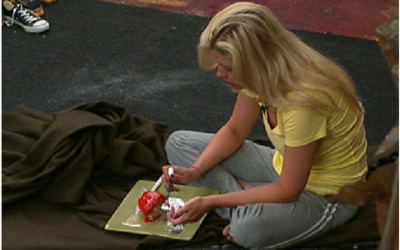 11:15pm Cabana Room Kristen and Hayden They are going over the day and Hayden wants to tell her about this saboteur theory. Hayden mentions that everyone is looking at them "I feel Weird" Kristen says she doesn't think the house guests have been doing that "I think we have been doing a good job". They decide to have a talk tonight after everyone goes to bed. Hayden believes the house will go to bed early cause they only got 6 beers.

Andrew joins them They ask Andrew it he has an alliance with Brendon and Andrew says no. Andrew tells them he thinks that Brendon and Rachel are too powerful. Hayden drills into his head that Annie and Brendon are way more dangerous than rachel and Brendon. He goes on to tell Andrew that he didn't think Lane meant anything bad. Andrew get it and leaves. hayden and kristen start giggling at Andrew "i had to spell it all out for him" Kristen "it's like he had no clue" they laugh some more Kristen asks him if he's talking to lane alot he says yes he also feels like he's getting much closer to him he feels that Lane will vote for Annie if he thinks it's close but if the house is voting against her he'll vote her out. He adds that Lane is hard to read. Kristen agrees, hayden adds your the hardest to read. Kristen says Lane is hard to read but i'm harder. She says "I'm not hard to read around you, anymore" Hayden "ya you are sometimes"… However "your not very hard to read anymore"
lane comes in and they start chatting about directions and maps Kristen shares her special skill Kristen: "I have a good sense of driection I'm like a dog"


11:45pm Backyard girls in the hot tub enzo and lane on the couch, kathy nearby with annie acting silly. Enzo says "this is why we don't give the have nots food they act all crazy" Monet chimes in "Stop feeding the have nots"
Share it YO!!
Tweet