9:50pm JULY 12TH Backyard Annie and Kathy Annie is smoking and telling Kathy the same thing she's telling to everyone else. basically nobody believes her what Rachel did, everyone thinks she overreacting, she can't wait to see the video tapes then everyone will know she's telling the truth. Annie goes over everything just like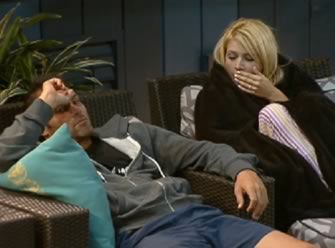 she said to Hayden 30 minutes ago, she doesn't forget to point out that Brendon and Rachel are a team and they are a very strong alliance. Annie says she knows people are saying that this is her last chance to save herself and that is why she's doing it running around and spreading lies but "Its the truth the video tapes will show" Monet joins in at one point allowing Annie to reiterate parts of her story.
Enzo and Lane join the girls. Annie starts again.. explaining to them that Brendon and Rachel are together and that Brendon is going to make it far in this game… she says more or less the same thing… Brit joins them they start chit chatting.

10:10pm – 10:41 Kitchen Everyone is getting food or eating. Kristen and Rachel leave to look for their "Libation" in the storage room. they sing "wheres your Libation"… "Libation… LIBATION" they find out that the booze isn't there and head back to the kitchen. They wonder why there not getting any alcohol. Kristen says the amount of booze they're given each night is "like the same amount some people drink in one day" Brit tells her they don't not to have us all wasted in here crazy shit could happen (watch the one season of BB from Russia and you'll see why BB doesn't have liquor)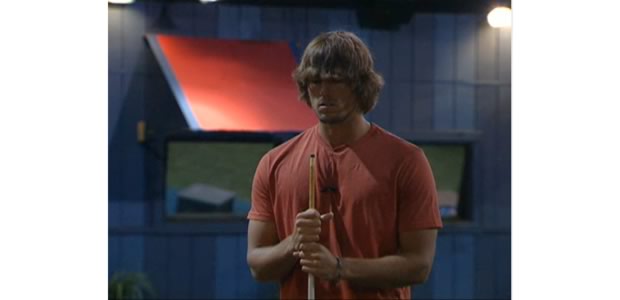 10:35pm Backyard playing pool Enzo, Hayden, Matt and Lane. Enzo comments on how the house is flipping faster than thought. he says if rachel goes and then Brendon all thats left is easy pickings. He tells them both Brit and Monet are in his pocket there on board with their plan to backdoor Brendon next week. Enzo compliments Annie on fighting so hard to stay in. hayden brings up the saboteur and says that a conversation he had with Kathy got him wondering that maybe the lifelong friends could be a married couple. Hayden suggests Brendon and Rachel. Matt doesn't think they are married but he does believe they are the saboteurs he thinks Brendon and Rachel are faking the showmance . He points out it's kinda fishy that they are so close after only a few days, He says it just doesn't add up to him…. They decide to stick with the plan and turff Annie. The goal for next weeks HOH is to throw it to Monet because she's on-board to backdoor Brendon.