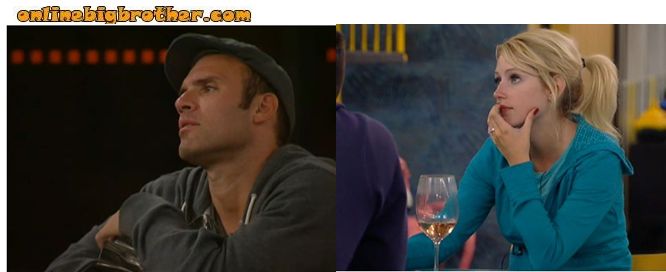 SEE what they CAN'T show you on TV! 3 Day FREE Trial
1:10am In the kitchen Enzo, Hayden, Matt, Ragan and Britney are talking about the saboteur. Matt says that the saboteur is going to get nailed and that if you accept the saboteur, you can't win, you're going to get found out. Enzo says that we know us six aren't the saboteur so it has to be Kathy, Brendon or Rachel. Enzo says that its Rachel, she is the saboteur that chick is wacky. Lane says that he doesn't think the saboteur is one of them. (Matt, Enzo, Lane, Hayden, Ragan or Britney) Britney agrees with him. Enzo says that he doesn't understand why anyone would choose to be the saboteur. They talk about how there has to be some monetary incentive. Enzo says that he thinks it is either Rachel or Kathy. They keep coming back to thinking that Big Bother is the saboteur. Enzo says that Rachel is  BLANK with Brendon's head this BLANK crazy. Ragan says that all of her moves are calculated. Britney says that she thinks Rachel is the brains of her and Brendon's operation. They all think that the saboteur has brought the house together. Enzo says that this morning he was pumped because one of the songs he requested was played. Enzo says that he wants them to play run rabbit run by Eminem. Enzo says that he thinks that Big Brother is using the one he requested for HOH for the morning music. Britney is annoyed that Big Brother hasn't played Lady Gaga for her and Ragan yet.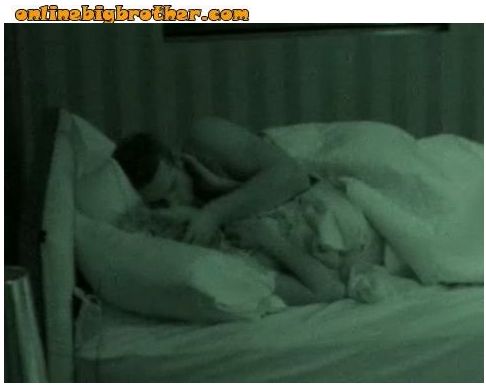 1:25am Brendon and Rachel talk about the goodbye messages.  Brendon says that he already did his to her.  Rachel says that she hasn't done one yet for him … she says that if she has to she is going to throw up. Brendon tells her that he loves her.   Brendon and Rachel are talking about wedding rings. Rachel says that she used to think she needed a three carat canary diamond ring but says that now she would take a gold ring. Brendon tells her that he is glad she got over that. Brendon gets up and heads to the bathroom. Enzo says what's up to Brendon. Brendon says that he is going to take a piss, it isn't rocket science. When he comes back through the kitchen were Enzo, Hayden, Matt, Ragan and Britney are he doesn't say a word to them. One Brendon is out of the kitchen, Britney says goodnight Neanderthal. Lane heads to bed. Britney surprises Matt by knowing all the house guests last names, and then says that she knows everything. Britney says except she doesn't know Andrew or Annie's because they never told her. Then Britney says that she can't remember Monet's last name. Hayden says that he remembers that Lane's dog's name is Tucker and that Britney's boxer's name is Porter. They talk about their animals. Britney says she has another dog named Molly. Britney tries to think of other random house guest facts she knows. Britney remembers a lot of the house guests sibling's names. Matt says that Ragan has 3 gay siblings and that it speaks volumes for genetics and homosexuality. They start going over other random house guess facts. Britney knows where everyone went and their majors. Brendon goes to UCLA, UC Riverside. Hayden goes to ASU. Rachel goes to UNLV. Lane went to Texas Tech. Enzo went to County College. Kristen went to a fashion school in Penn. Kathy didn't go to college. Andrew went to school in New York. They talk about Andrew being a shoe salesman. Enzo says like Al Bundy. (From a tv show) They start making fun of Brendon. Enzo says that Brendon has a big penis head. Britney says that his head does look like a penis. Enzo says that he is this close to snapping on Brendon. Enzo says that where he is from they don't argue, they just hit someone. Britney says that Brendon is desperate to be voted out and that's why he attacked Enzo. (When Enzo asked him what's up.) Enzo wonders if you can spit in someone's face, is that allowed? They think it is allowed, they talk about how Jordan chest bumped Russell last season.
Try the Live Feeds for FREE! Superpass
3 Day FREE Trial

2am Enzo, Hayden, Matt, Ragan and Britney talk about their goodbye messages. Britney says that hers wasn't bad. Then Britney says here is my real one …Suck it you pansy! ..I don't care if you live or die! Britney says that when Brendon gets evicted, no one should get up to say goodbye. Britney says they should stay seated and then start having a conversation, and just ignore him as he goes out the door. Matt says that Brendon is twice his size and that he (Matt) could kick his  BLANK. Ragan says that he is suffering because of Rachel and Brendon, he has worn down by them. Enzo says that they only have to put up with Brendon for one more week. They laugh about how Brendon was saying Neanderthal and cock roaches earlier when he was going at it with Ragan. Enzo says that if he gets on your nerves just tell him, you're going home. Britney says that he is so gross. Hayden and Enzo head to bed. Britney and Matt try to make Ragan feel better, he is upset over the confrontation he had earlier. Britney says he shouldn't worry he has the full support of the house. Ragan says that there is a saying … Argue with long enough with a fool and people cant tell the difference.  Ragan says he is okay he just needed to have a pity party.   Britney says the thing that pisses her off the most is that Brendon and Rachel play is so personal. Britney says that there is no need to attack Ragan's character. Ragan says in the previous seasons people have gone the personal attack route but if that is there strategy why don't they switch it up, try to endear themselves to the other house guests, instead they just keep at the personal attacks. Britney says that she admits she is a mean girl but she could never come out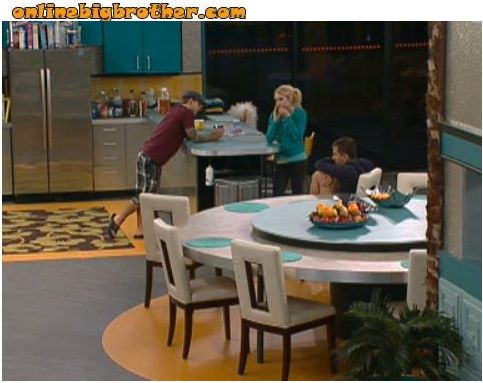 unsolicited and attack someone. Ragan says that he doesn't want to be a part of this drama for the next day and a half. Brit thinks that her and Ragan should stay up in the HOH. Matt tells them that they can. Ragan says that he doesn't want to look like Ronnie though. Matt thinks that Brendon and Rachel are the one who are scared and should hide up, not you guys. Ragan says they are scary because they have nothing to lose. Matt says that he thinks Brendon and Rachel are embarrassed about what happened today. Matt says that they are more scared of us than we are of them and then tells Ragan that if he stays up in the HOH then he is giving them what they want. Matt says that the entire  BLANK house knows they're  BLANK. Ragan says that he doesn't want to be left alone with Brendon; he says that is when the attacks are the worst. Matt agrees he doesn't want to be left alone with Brendon either. Britney says that if you take it to the personal level with me then I'm going to take it to the personal level with you. Britney says that he is disgusting and is humiliating his family. Ragan says that Brendon has a awkwardly shaped body. Ragan says that he would love to get some red nail polish and color in where her pimples really are on Rachels memory wall picture. Britney says that she thinks the best thing this week would be for Rachel to pick up her bag and leave and have Brendon follow her. Ragan and Matt say he wouldn't do that because he wants to be in the jury house with her.
3am – 3:30am Britney, Ragan and Matt go into the lounge room and talk about who they think Brendon would put up if he got HOH. They think that he would put up Ragan and Britney but with the hopes of back dooring Matt. Matt says he knows he is the target but he would totally win POV. Matt says that if he were to win POV he would take one of either Britney or Ragan off the block. They talk about how they know they have the numbers in their favor but they don't want to get too cocky. Britney says that the more they convince Brendon is toast this Thursday the more off his game he'll be in the HOH competition. They talk about how Brendon probably won't not prepare at all and that Rachel will be the one preparing. Ragan says that he really wants one of the three of them to win the HOH and one to win the POV so that it is a sure thing that Brendon will go next week. Britney says that she has been counting things in the house and says that Monet was obsessed with counting things in the house. Ragan says that we have to do it! Ragan says that he wishes it was going to be an endurance competition because he hates the quizzes. Matt tells Ragan and Britney to stay calm during the HOH competition, that's the best thing they can do. Ragan says that Matt should poke at Brendon after Rachel leaves, to throw him off his game even more. Matt says that he will give some good digs. Ragan comes up with a game plan to frazzle Brendon before the HOH competition. Ragan says that Brendon is not even a fan of this show, and that they are super fans. Matt, Britney and Ragan all head to bed. Matt goes up to the HOH room and takes out his little ducks and figurines and starts going through the worst case scenarios. He talks like someone else is in the room, but is really telling America what he is thinking about each move.
Watch all the drama the next three days for FREE!!
Superpass – 3 Day FREE Trial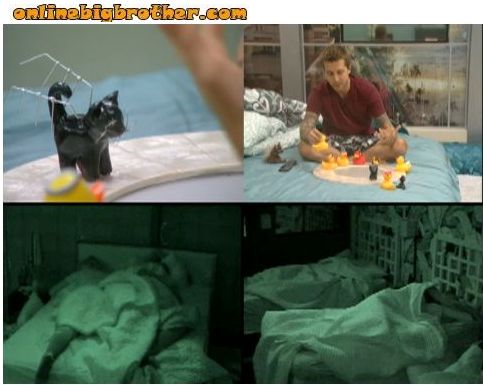 9:02am Everyone still asleep