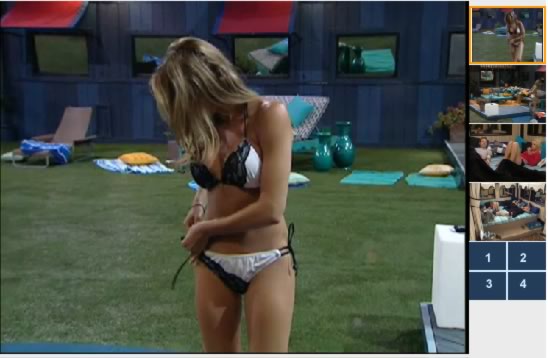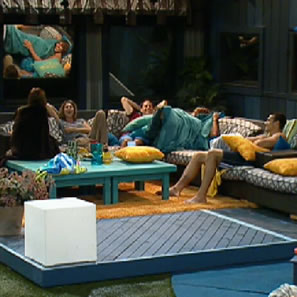 8:30pm outside Lane, Annie, Kristen, Ragan talking about sex. Annie doing most of the talking she tells them everyone usually thinks her boyfriends are ugly but she find them attractive…. conversation revolves around attractive body parts, the state of the country, relationships, boob jobs etc … pretty much anything except for game. Annie is sharing the most about her personnel live she tells them she finds quirky usual guys attractive


Watch Big Brother 12 on SuperPass – see what they can't show you on TV.


9:25pm Cabana room Andrew Rachel, Brit, Ragan, and Sleepy Enzo. They are grilling Rachel about her first kiss with Brendon.
Matt: "The first kiss how did it happen?"
Brit: "how did it happen was there tongue"
Enzo: "cmon man timeline"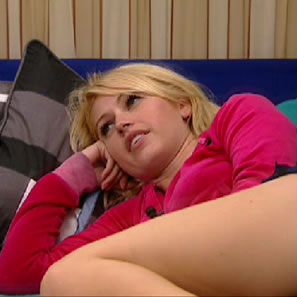 Rachel: "I dunno.. don't want to kiss and tell.. i want to respect Brendon"
Matt: "It was before the live feeds right.."
Rachel: "I don't want to talk about it.. yes it was before the live feeds"
they keep asking her about the first kiss an eventually she starts talking about it . "We were in the hammock and Brendon put a blanket over our heads and he said wanted to kiss me"
Brit: "ohhh.. was there tongue?"
Rachel giggles: "Not on the first kiss"
Matt: "how about the second kiss?"
Rachel: giggles says she doesn't want to talk about it
Matt: "Where was the second kiss? the cabana"
Brit: "did you guys christen the cabaana?"
Rachel: "noooo…"
Andrew: "would yo have sex on the show"
Rachel: "I would not have sex ever on live TV EVER"
Matt: "would you let him grab a little titty?"
Brit: "what about under the blanket?"
Rachel says no to both
Matt so you'll do what jordon did?
Rachel no less "I'm not like April or Ollie .. but things may be different in the jury house.. "
Brit "ohhh here we go "
Matt laughs "no holds barred in the jury house"
Share it YO!!
Tweet