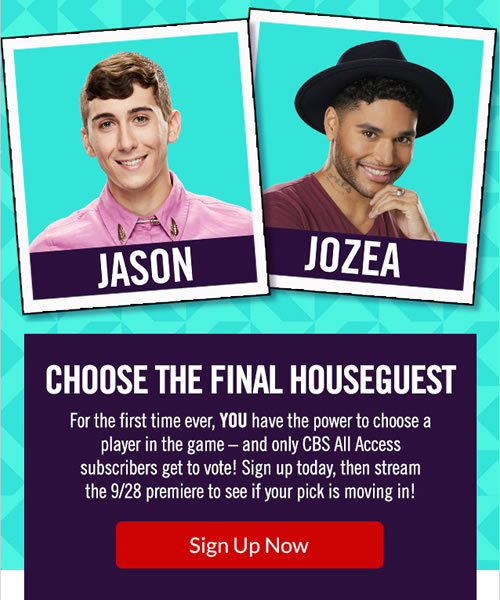 Big Brother Over the Top? What the…
It's this falls online only version of Big Brother. Apparently EVERYTHING will be on the feeds, Competitions, "Some" Diary rooms sessions etc etc.. There will also be a weekly update show produced on the feeds..
Simon and Dawg will be watching and reporting on this show. The amount we do will be based on how good it is. If it's Glass house sorry folks but if it's not WHOOOO WEEEE can't wait! So grab a Jar and join us for another season :)
We have no idea how this show will work out. I want to be optimistic and say since The GROD is not producing it there will be fewer twists and generally less bullshit. There's the real potential to be this to be the greatest.
First off we get to VOTE for 1 Vet for the season the choices are Jason and Jozea. I'm putting my support behind Jozea.
Watch Big Brother Over the Top 1 Week Free Trial!
Vote like never Before
Who Stays? WHo Goes? You vote all season long! Plus, Watch full episode, 24/7 live feeds and more
What does this mean?
It means the fans vote for evictions which in my opinion is not a selling feature :( Do cat people watch teh feeds? we'll soon find out.
Watch 8,500+ episodes
Enjoy current and classic CBS shows anytime, anywhere, across and devices.
What does it mean?
It's like net flicks but for just CBS shows…
Stream live TV
Don't miss a moment of Live TV watch you local CBS broadcast!
What does this mean?
Certain geographic areas allow you to watch local live TV. Get a VPN and set it to New York you'll never have to uses a grainy streaming site again.
You get CBS all access for Big Brother LIve Feeds the website and stream works flawlessly, I watched a Billion hours of feeds during BB18 and only twice had issues which were most likely cause by me being forced to use a VPN.