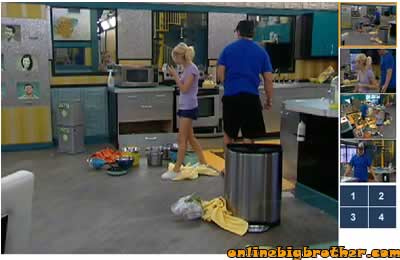 3:30pm Kitchen, Britney and Lane Britney has found Enzo's coin in the flowers by the table. This leaves just her and Lane trying to find each others coins. Britney tells him she needs the money more then he does because unlike him she's probably going home this week. Lane tells her that they can split it so she can tell him where it is, Lane wants to split it 80/20 for him. Britney says no way she wants half. Lane doesn't think Big Brother production will let him do that he remembers reading in the rule book you can't split the winnings. Britney: "How are they going to stop you from mailing a cheque". Britney: "Cmon Lane I need some kind of consolation prize I haven't won a thing". Lane: "Me to". Britney tells him she's mad at him for him telling her that she's never going to find his coin and that she's dub. Lane says she misunderstood what he meant. More flirtatious banter.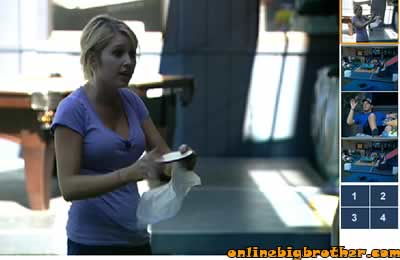 3:39pm Britney finds lane's Coin, Britney: "Finally I win something". It was in the recycling bin.. Enzo says he's going to nap first then clean up this competition has made him tired. Production tells them there is a indoor lockdown, Britney and LAne start to clean up the kitchen. Hayden is upstairs eating cold chicken wings. Enzo joins Lane and Britney, "yo I found Hayden's coin right away". They ask Britney where her coin was. She had put it in the big trash can but Hayden had taken it outside and he dumped it out but he never found it thats why they couldn't find her Coin because it was in the rubbish pile. Britney adds that she put it in a bag and stuffed it all in a cereal box. Lane laughs he can't believe it Hayden went right through all the trash cans and missed the Gold Coin.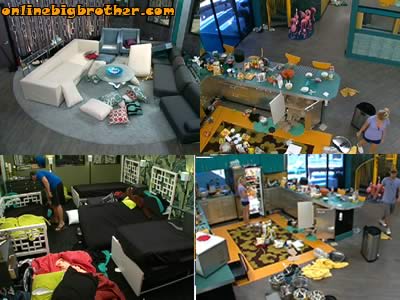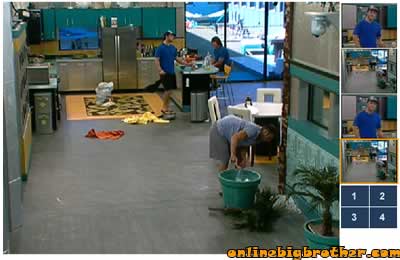 4:30pm Kitchen The Brigade is talking about who should be nominated this weekend. Lane tells them he doesn't care who goes up because it's about winning the Power of Veto. Since there is only 4 people left. Hayden mentions that Britney told him to put her and Lane up… Enzo is cleaning up now, looks like a bunch of stuff got broken during their scramble to find the coins.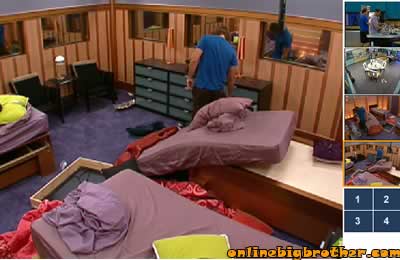 4:55pm The house is still pretty messed up.. Britney is in the Diary Room the guys all do some lite Britney bashing..
5:40pm Trivia
6:27pm Trivia
7:02pm Trivia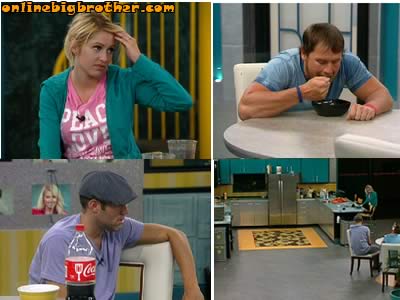 Big Brother Nomination Results
7:23pm Feeds come back Hayden Nominated Britney and Lane. All the house guests are together they are all talking about the coin luxury competition and how long it took them to complete.