TRY the 24/7 Feeds Life Feeds 3 DAYS FREE!
8:38pm Kitchen Hayden, Lane and Brit They are talking about past Big Brother Alliances.. HAyden says this year there was no 4 horseman. Lane: "this year everyone was by themselves except for Rachel and Brendon". Hayden asks her what the best alliance in Big Brother was. Brit brings up sea six alliance from All star but only Janelle made it close to the end. Lane: "Has there ever been a 4 person alliances that made it to the final 4?"
brit: "no alliances have made it that far they always break up"
Lane : "I bet if there was a 4 person alliance that made it to the end they would be let into allstar"
Brit: "I don't think so they pick a variety some winners, loser and popular players"
Brit says that Rachel and MAtt will come back for sure Rachel will be gone in the first 2 weeks. The guys wonder why matt, Brit explains that Matt had a lot going on in the house he was working all side. HAyden brings up Ragan and how useless he was in the game. Brit doesn't think Ragan would of made it very far if he didn't have MAtt, she also thinks that brought Matt's game down a bit.
LAne: "I think there will be a lot of people from our season because we had some competitors"
Hayden: "how far did the 4 horseman get"
brit: "not far"
lane: "this season would of been 10 times better if there was a 4 person alliance.. "
brit jokes says the alliance in the house should of been Kathy, Andrew, Annie and Kristen.. Lane: "Our ratings would be through the roof if we had an alliance". Brit: "I bet Ratings plummeted because we don't do anything"
Hayden: "I don't get why they pick such stupid names… sea sick alliance"
Brit: "The friendship alliance"
Hayden brings up that Brendon was trying to start a "Athletic Alliance". He said the night before the double eviction Brendon was trying to get them to all commit to it. Hayden says he told Brendon after the next HOH, unfortunately for Brendon it was Double eviction and Hayden won and took him out. Enzo joins them and Hayden gets called into the DR.
9:01pm Brit and Enzo talking about events in the house
9:03pm Pool Hayden and Lane Hayden: "Dude Brit remembers everything you tell her.. Weeks ago I told her I liked Chicken wings and today when I was eating them she brought it that I liked them" Lane knows she does thats why she's such a threat.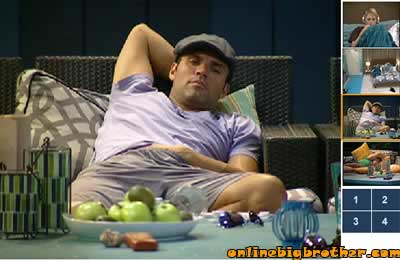 9:40pm Backyard Couch Hayden and Enzo Enzo saying that he knows if Brit wins POV then he goes home theres no way he can talk her into not using it. Enzo thinks he'll get a standing ovation. Enzo wonders what the quiz will be tomorrow.. Hayden thinks it'll be a quiz about the houseguests. Enzo is going to study his POV's and faces tonight. HAyden thinks it'll be random questions.

Enzo acting a bit salty about Lane being close to Brit. HE tells HAyden he if he gets knocked out he wants Hayden to win. Enzo says he will take Hayden to the final 2.

Enzo about the Brigade getting to final 3: "A story book finish we've made this season magical"
10:47pm Lane in the shower and Brit brushing her teeth(they are joking around) Lane asks her if he can get her a ticket for the super bowel would she go. Brit says yes, if he gets to go to the super bowl and she doesn't she'll freak. Lane: "What are we going to do with Nick leave him in the parking lot". Brit will just tell NIck she's going with a friend… Lane heads to bed.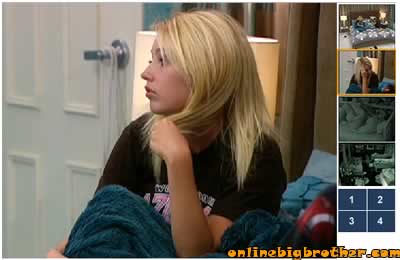 11:00pm HOH HAyden and Brit Brit's telling him all the reasons why Enzo will get enough jury votes to win regardless of who he's up against. Hayden agrees. Brit points out that Enzo will just use the argument that he played a good social game he didn't need to won comps or make moves.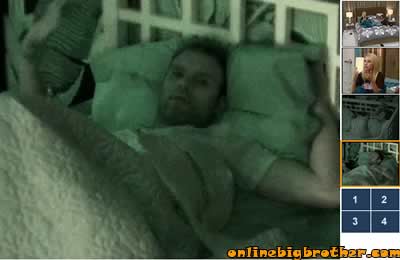 11:07pm Jumanji, Enzo and Lane They are talking about the competition and how enzo didn't want to look through Brit's clothes because he didn't want to find some panties with skid marks. Lane wonders where Brit is, Enzo says she's upstairs trying to convince Hayden to use the POV on her. Lane: "ohhhh Shit". Enzo: "I dunno yo tomorrow's a big day for me.. If I don't win it wasn't in the cards". Enzo says that Brit is getting really nervous she's been shaking like a crack addict, He points out the HOH comp when Brit kept droping the bulbs… Brit joins them.

11:30pm Jumanji, Lane in the DR, Brit and Enzo in their beds. HAyden tells them that the Have nots room is going to be closed tomorrow morning.






Big BRother 12 Poll Whose the hottest BB chick