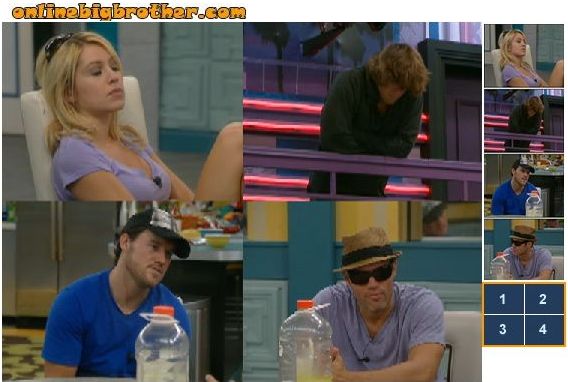 TRY the Live Feeds for FREESUPERPASS!

11:30am – 12pm Enzo talks about how he doesn't want to go back to work right away after …and that he just can't. Enzo says that he wants to just hide out with his family for a bit and maybe call his work in while. Enzo says that if his boss calls he'll call him back later when he's ready and tell him that they just gave him his cell phone back. He says that he tell him that he was contractually obligated to do events and stuff and that he couldn't call because he wasn't allowed to talk about it. Enzo says they can fire me …I don't care, I don't want to work for you no more anyways. Enzo talks about how he got into real-estate and how when he started he made $11000 in the first 2 months. Hayden is listening from the HOH balcony and then heads inside to sleep in the HOH room.  Lane and Britney ask Enzo how he would sell the Big Brother house. Enzo says that he would just go around and make shit up and if people call him out on something .. he would move on to the next room. Lane laughs. Britney starts talking about The Real Housewives. They are laughing and telling stories that they remember about the shows.
At 12:05pm Big Brother zooms in on the sliding door to the backyard and then switches the live feeds to the TRIVIA screen…

SEE what they CAN'T show you on TV! 3 Day FREE Trial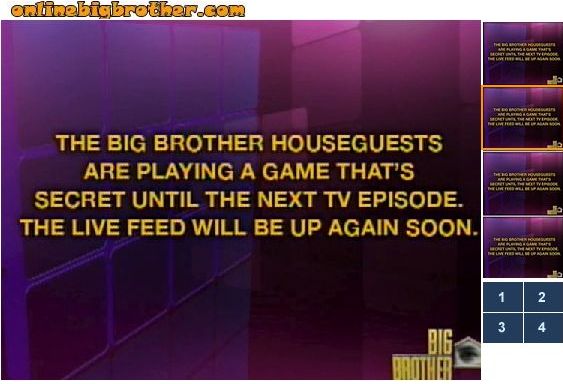 1:05pm Still TRIVIA…

1:30pm TRIVIA…


1:50pm The feeds comeback on and Britney, Lane and Enzo are looking through all the cupboards in the kitchen. (I have no idea what they are looking for, something that they each hid.) Britney says ahhh…nice I didn't think to check there!! Enzo asks if its in the kitchen or bathroom?! But not in the bedrooms?! Britney says or in the cabana room?! Enzo says you go check the cabana room and I'll see if mine is still there. Hayden is no where to be found. Britney and Lane look in the fridge and Enzo says you can't look in the fridge its not in there. Britney keeps looking and asks where did you hide it in the fridge there's no where else to hide it… Lane says that the cabana is off limits now… where else could it be.. Lane and Enzo go to the bathroom and cabana room to look. Britney and Enzo ask each other where is yours? It sounds like they each hid something and they are trying to find each others things. Enzo is digs through the rocks in a potted plant and dumps them all over. Britney rips apart the living room. Britney asks the cabana is off limits now. Lane says yeah. They are all in the kitchen again ripping it apart. Enzo and Lane ask for another hint. Lane goes to look in the sour cream. Enzo says that he just want to check in the fridge. Lane says that he is not in the kitchen a lot so he doesn't know all the good hiding spots. Enzo says so its only in the kitchen then?! They say yeah. Enzo says that he found one already, bro! Lane says yeah, you'd be good. Enzo says and the cabana room is off…. Lane asks is it in the flamingo?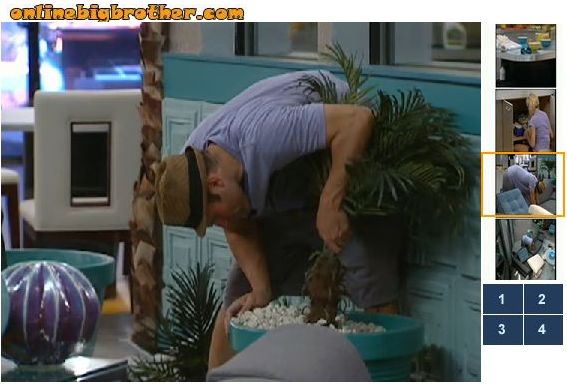 2:15pm – 2:25pm They continue to rip apart the kitchen… opening jars and cupboards …looking under and in whatever they can find…. Enzo says Hayden is losing it up there… Lane says yeah is the game over yet?!!? Enzo says that he found Hayden's now you guys need to find one…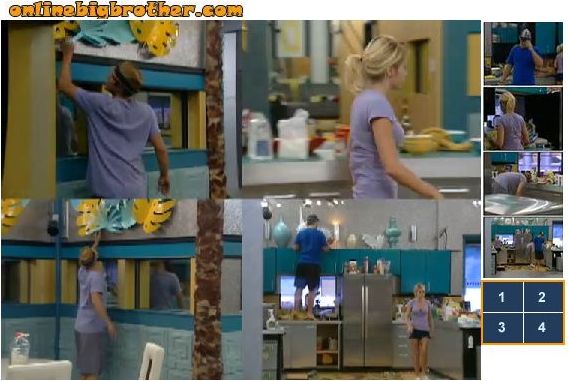 2:36pm Lane laughs and says that he has forgotten where he hid his now… Enzo says that he is going to find his own now …just to find something. Enzo says this is for $10G's YO! It can't be that hard to find! They ask if they can get a hot and cold. They talk about how the kitchen is trashed and that it has to be in there… Britney asks how can there be 3 coins hidden some where in this…