POV Holder:
Gary
Next POV
April 20th
POV Used
Yes
POV Ceremony
April 22nd
HOH Winner:
Emmett
Next HOH:
April 25th
Original Nominations:
Gary and Andrew
Current Nominations:
Andrew & Talla
Last Evicted Houseguest
Peter
Have Nots
Gary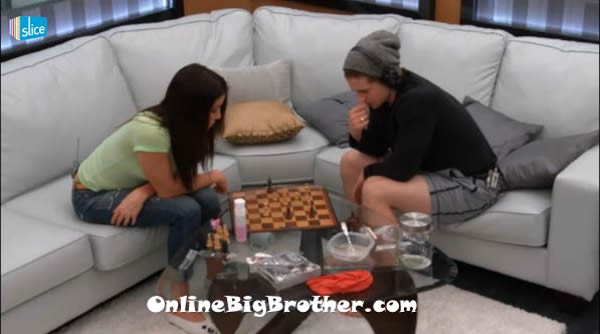 6pm – 6:25pm When the Big Brother Canada Live Feeds return we learn that Gary used the Veto on himself and Emmett as head of household nominated Talla as the replacement nominee.

Talla and Gary are in the kitchen. Talla is making dinner. Emmett and Jillian are up in the HOH room playing chess. Emmett wins "Checkmate!" That was a good try, I made lots of stupid moves! Maybe next time! They head downstairs. Emmett asks Gary ..where's everyone at? I mean Andrew I guess? (Everyone is in the kitchen but Andrew.) Gary says that Andrew is sleeping. Emmett and Gary talk about playing a game of chess later. Emmett asks if he is going to lose again. Gary says that he is going to take his time, last time I got too excited to kill your guys. Jillian and Emmett are talking about cutting some meat. Jillian says to use the meat cutter. Talla asks a meat cutter? ..A meat cutter? What's that? Jillian says it cuts meat! Gary challenges Jillian to a game of chess. Emmett says that they would be a good match. Jillian comments she only learned 3 days a go. Talla wishes they could get some wine tonight. Who's going on a liquor run?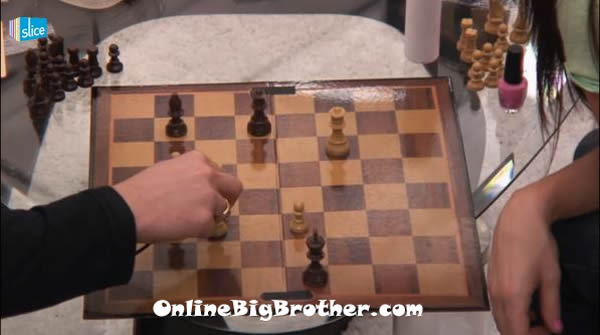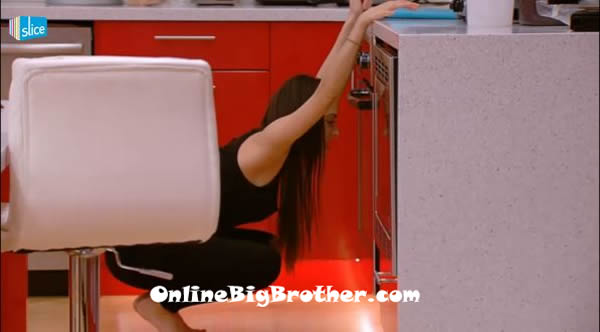 6:35pm Jillian asks why are we away from home? Talla asks what? Why are we away from home.. because we're BUSY! Jillian says busy on big brother. Jillian asks Emmett how do you make cheese. Emmett says with milk. Emmett says that making ice cream is fun. Jillian asks you make ice cream? Can I make it? Emmett says sure. Andrew joins them. They ask him how his nap was? He says he just laid there.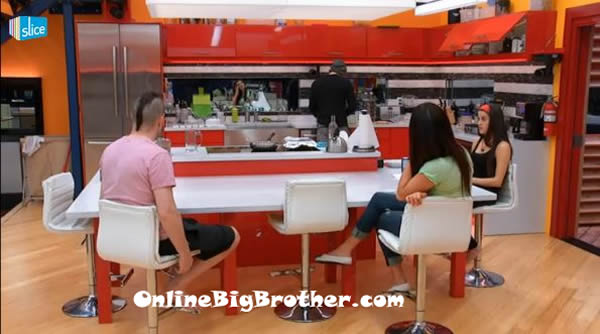 6:40pm – 7pm Andrew says that he told them that he asked if he can get some lip stuff and that he wants to cut his hair. He says that they told him he can't cut his hair. He says why the hell not, what are they going to do evict me? These a$$holes are going to do that for me. Talla explains when you take a punishment you have to live with it. She says I can't sow my clothes back together. Andrew says they said I can't cut my hair till Thursday .. but I am not going out looking like this? Andrew comments on how his speech was why don't you not use the veto and let the people decide who they want to vote out. But he used it. Everyone but Andrew head up to the HOH room. Andrew can hear Gary screaming. Andrew asks how is he here? Look at these slobs! Meanwhile up in the HOH room Gary and Jillian play a game of chess.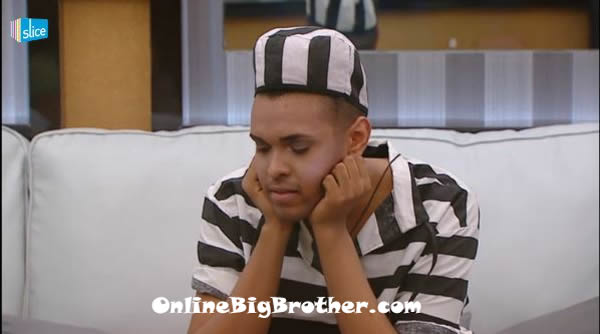 7:05pm In the kitchen Talla tells Emmett that she doesn't like it when he (Andrew) says stuff like that? That these a$$holes are going to vote me out. Talla heads out to the hot tub room and says that it really sucks being on the block. She says that she will give Henry (The Black moose) a kiss if she stays. Do you think I'm a turnip? Awe you think I am cute! Thanks Henry.. lets just take things slow! I don't know why .. maybe Gary was just joking about that ..doesn't matter. Oh my gosh! Henry I am busy right now .. its just going to have to wait. Okay sorry, what's up? You forgot! Okay well I am kinda busy right now so talk to you later. Andrew joins her and says oh look who it is my old block buddy stoogette! Andrew says it sucks that we are on the block but whoever goes home .. at least there is only a week left! And we did make it to the final four .. and no one can take that away from us .. they did but they can't! Andrew says maybe whoever stays makes it to the final two and then the other stooge votes for them and they win. Talla says well let the game roll! Andrew laughs. Andrew says what pisses me off is that my HOH and POV didn't matter. It probably changed the game because if I hadn't gotten Gary out he probably would have done something to them. Nothing against Gary because what is he going to say ..no thanks.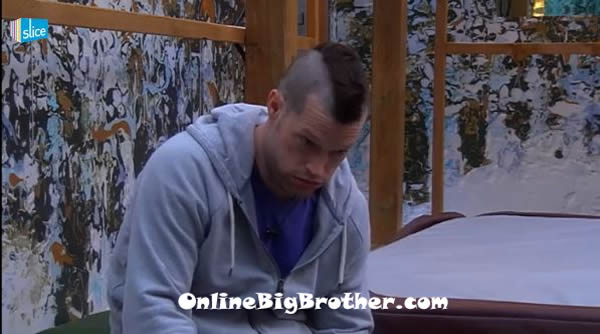 7:25pm – 7:35pm Emmett and Gary are up in the HOH room talking. Emmett tells Gary that his food looks like "Two girls one cup" (Don't google this if you don't know what it is.. it's super gross!) Gary says ewww.. why did you say that now I can't eat it! Emmett says there are going to be some fights this week between Andrew and Talla. Gary says that Talla has already tried starting stuff with me. Gary says that he is just going to sit back and stay out of it.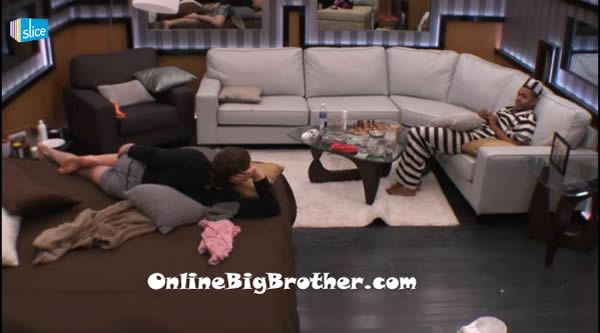 7:45pm Talla and Andrew are still talking out in the hot tub. Andrew talks about getting out it will be interesting to see what people's perception of each of us is. Andrew says I am sure I have some annoying qualities. Talla says that she doesn't have any annoying qualities. Talla talks about he sister and says that she doesn't have a brain of a turnip. Well I don't either it just might not have been shown. Andrew heads inside.
8pm Gary beats Jillian in their game of chess. Gary goes and asks Talla if she will play him. Talla says that she doesn't know how to play but she will learn. Gary says well you should play Jillian then.
Stay connected and interact with other Big Brother Fans on our Facebook page.
And Follow: @BigBspoilers and @Dawgsbigbrother on twitter
[polldaddy poll=7054334]