POV Holder:
Gary
Next POV
April 20th
POV Used
?
POV Ceremony
April 22nd
HOH Winner:
Emmett
Next HOH:
April 25th
Original Nominations:
Gary and Andrew
Current Nominations:
?
Last Evicted Houseguest
Peter
Have Nots
Gary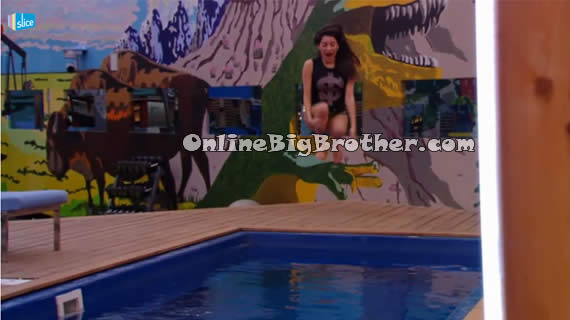 10:45pm
Dan comes out of the Diary room says that there is a series of tasks that are not game related. He's going to ask each of them to do a task if they complete it they will get a red bandana that they can keep..
Dan says the first one will be for Talla 'If you want to earn this right now you have to cannonball right into the pool"
Talla does it..
Dan pulls Andrew into the storage room.. Tells him his task is going to be a little more difficult.
"Show some moxy, some strategy and some courage you have to kiss JIllian on the lips in front of Emmett."
Andrew says no problem.. They all head to the hot tub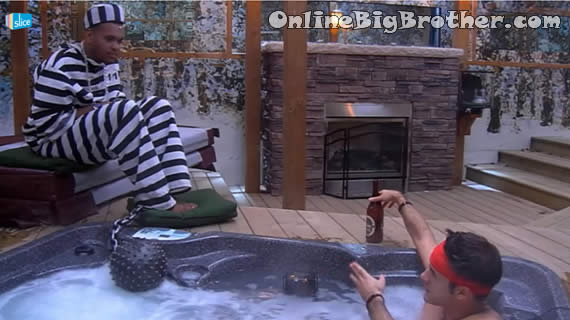 11:10pm Hot tub
Dan saying he never got into the Big Brother UK because he likes the strategy in the game not the popularity contest that BBUK is.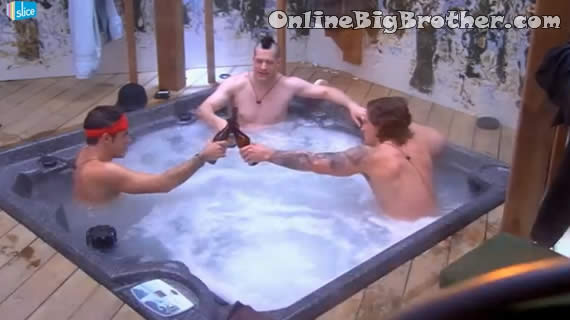 (Video Coming)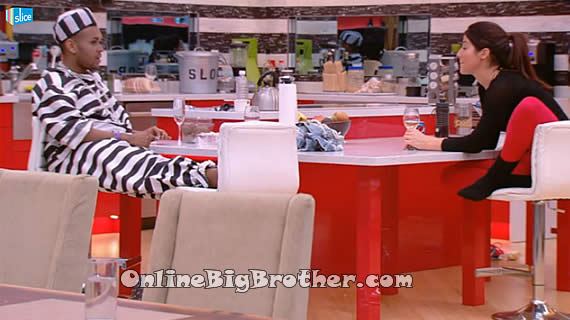 11:14pm Kitchen Tall and Gary
Gary tells her that as long as TAlla is safe this week he's happy. Gary: "even though I have all the power Emmett still doesn't talk to me.. he just doesn't let me in.
Tall gets called into the DR. Jillian and Gary in the kitchen noe
Gary:L 'We got a big decision this week"
Jillian: 'Tell me what you want.. "
Gary: 'For my personal game it would be good for Andrew to go home"
Jillian: 'Andrew is more a competitor but I'm scared of Talla going into Mental"
Gary: "Andrew is so strong.. so strong.. I think you have her you have her.. all we need to do is get rid of Andrew"
Jillian: 'Would you take me to final three over talla? "
Gary: "Duh it's you me and emmett final 3"
Gary reiterates that Andrew is the stronger threat in comps he has to go. Jillian says that Emmett is leaning towards taking out Andrew. Gary says he's committed to final 3, "We have the vote jillian.. we have the votes.. final 3"
Gary really wants Andrew gone he starts fishing for information from JIllian trying to find out if she has a final 2 with Andrew. Jillian doesn't reveal any information. she says her and Andrew never talk game but she thinks Talla and Andrew have a deal. Gary: 'Of course they do they are the three stooges"
Jillian warns him that he's talking too much. Gary understands he knows he's was talking too much during dinner.
gary gets called into DR.. Talla comes out.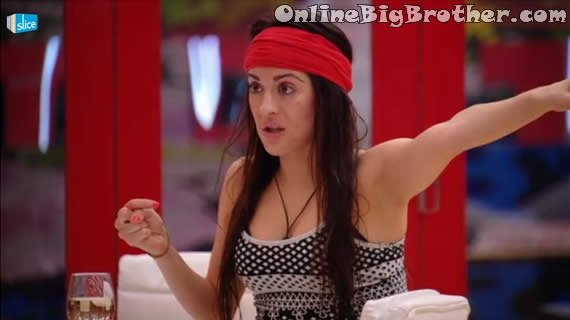 11:24pm Talla and Jillian
Talla tells her she knows Gary will save her.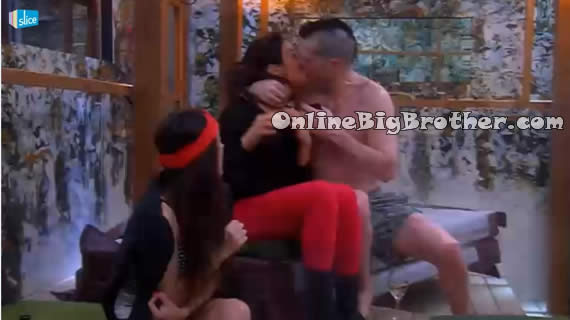 11:38pm Andrew Kisses Jillian.. Task Complete
Andrew: "Emmett I need to do something because you put me on the block.. " (Kisses Jillian)
Jillian: "I didn't kiss back"
Talla: "That was hilarious"
Emmett jokes that might cost you.
They break up the hot tub party.. everyone laughing at Andrew's task.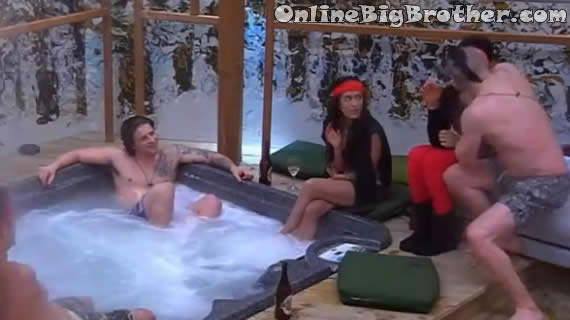 (Video COming)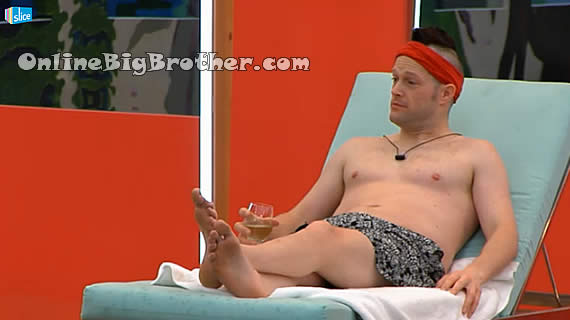 12:00AM Everyone but Talla and Gary Chatting about universal health care. Dan tells them if someone in the states breaks their leg and they have no insurance it could cost them 30 grand. The cast is shocked by this are all saying how glad they are to have health care. Dan asks them how do they pay for it all. Emmett: "Taxes".
Andrew mentions that it's crazy Gary has to stay up for 24 hours. Emmett and Andrew point out to Dan that Gary got brought back into the game with only 4 people left. Jillian mentions at first they thought Gary coming back was temporary but they now know it's for good. Dan says he feels for them. Jillian :'It's been crazy"