Head of Household Winner – ENZO
Nominations –
Power of Veto holder –
Power of Veto Ceremony –
Live feeds —-> Grab your Live feeds here. Try it free.
Rank the houseguests —-> Big Brother 22 Ranking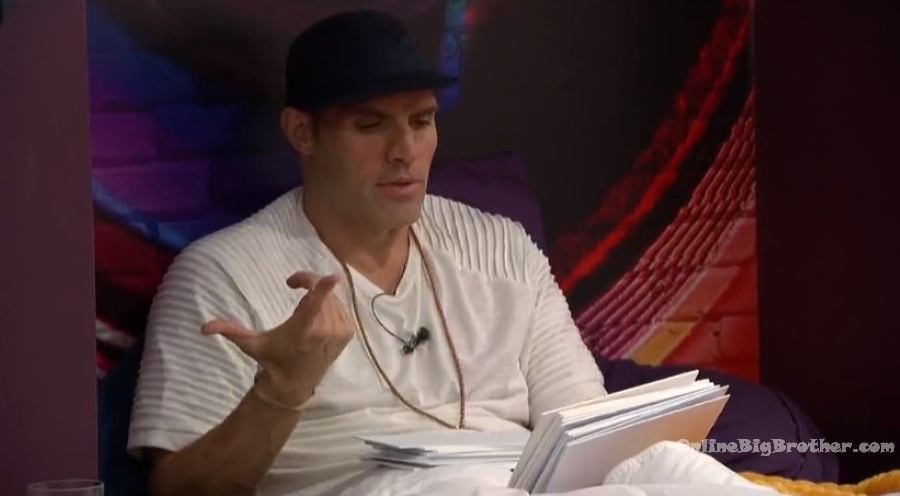 HOH WINNER: ENZO
9:18pm – 9:45pmThe live feeds return. In the bedroom Enzo has the HOH key around his neck and is looking at the photos from the photo wall. Enzo – I know what I have to do .. I have to win out.. because I am not going to get Christmas and Cody .. there is no way. I have to win out. I have to win out and that is it! Then endurance I have to fight for my life you know!? The key to that is I have to win the endurance. I have to fight for my life yo! That is it! NO I sealed your friends fate! No I sealed your friends fate! Enzo gets up and leaves the room.
Meanwhile in the kitchen – Christmas is alone staring at the memory wall. Christmas heads to bed to read the bible. Cody is asleep in the other bedroom.
9:45pm Bedroom. Enzo – Cody wants Christmas out. I want Christmas in! Gonna have to see what happens on Saturday. I don't give a f**k about nominations! It don't matter! I have to win out in the final 3! I have to!
10:13pm – 10:40pm Bedroom. Nicole and Cody.
Nicole – I feel like I am about to lose my mind. Cody – why? Nicole – because I am so annoyed! Cody – why are you so annoyed? Nicole – I don't know. I think because I hated watching that HOH comp. I cannot stress to you how much I hated that. Cody – why? Nicole – it was just really hard to watch. Cody – oh yeah and stressful? Nicole – No, yes but! I don't know.. and then the fact that she thinks she is so close to Enzo to tell him to go after you .. and then she already said who she would put up. She is obviously closest to Enzo in this house. Cody – she is close to nobody! She is not close to anybody. She jumps around. She is just .. she literally jumps and tried a whole week to try and get me out. And now it is just going to transfer to him (Cody) and he has no power. It just goes to show .. how do you go and run to him just because he won HOH and say that Cody needs to go this week. Nicole – and Nicole she is saying. Cody – yeah but..
Nicole – she is trying to make sure she stays off the block. Cody – she is completely predictable. Nicole – I have a headache and a short fuse today! Cody – he (Enzo) won because I threw it to him. Nicole – he showed me his true colors today .. and I don't trust him. What he did to you! F – THAT! I would never have did that to you. NEVER EVER EVER EVER! And I am still angry about it. Cody – is that what you said in there (DR)? Nicole – yes. Cody – who I am in this game .. I don't just do for me. Nicole – no, no you don't. Cody – if I go home this week it will be because of that. Nicole – it is very obvious what you did. It is very obvious that you took one for the team. And it just made me like .. really fired up and pissed! That was the hardest comp I have ever had to watch. Like that was so SELFISH! I guess we're all playing an individual game so I need to have a mindset of an individual but I know how much you have done for him in this game. So it BUGS ME! Cody – I know. Nicole – and I don't know if he is secretly hoping you and I get clipped. He was trying not to piss her off in that Competition. He does not care if one of us get cut. It is better for his game if one of us get cut.
11pm – 11:10pm Bedroom. Cody to Nicole – just know if I get clipped and you're in the final 2 .. you are 1 million percent getting my vote. Nicole – same. You'll get a lot but at least I'll get one. Enzo joins them. Enzo – I wish we could just do the POV comp right now.. its driving me insane. Cody – that's why I think I am just going to try and sleep all day tomorrow. Enzo – dude .. she is already asking me who I am going to put on the f**king block. Didn't I say out there .. it doesn't matter who goes on the block its about who wins the POV? Like enough!!! Nicole – oh she is not going to stop. Enzo – she won't stop! I am just going to be like Cody has won the most and never put me on the block. They talk about the comp. Christmas comes back from the diary room.

12:11am
Big Brother finally calls Enzo to the diary room. When he comes out he will get his HOH room.
12:40am Enzo is still not out of the diary room..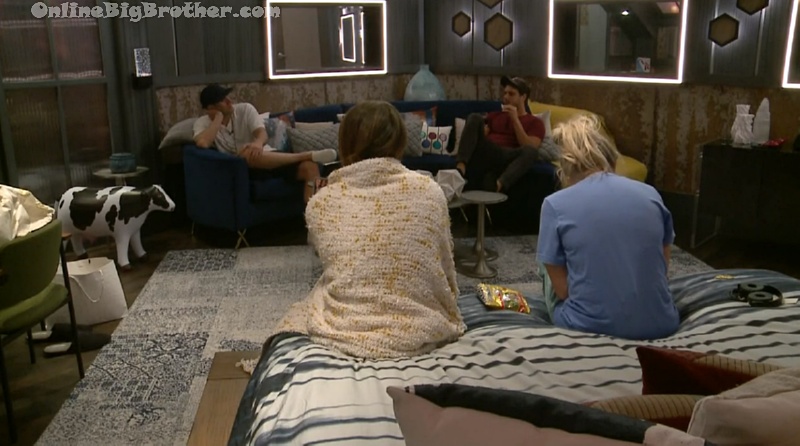 1:08 am Everyone in the HOH enjoying some wine
Enzo – this is such great wine yo
Chritsmas – thanks for sharing Enzo
Cody – thanks Enzo
They're looking at some of Enzo's pictures
Christmas – you're moms a babe
Enzo – yeah right.. she's pretty right she's kinda young..
Memphis – I kinda wish Memphis was here to be with all of us
Christmas laughs
COdy – I wish Memphis was here..
Enzo – no I mean all of us
Christmas – I took it that way.. Everyone in the house has been awesome.. the last few you all are my faves.
Enzo says he wants this season to be great and he wants the winner to be great.
Enzo – Whoever wins it I'll be happy man if it's not me. I was really peculiar (he mispronounced particular?) about that
Christmas – all other seasons have a person there's no person here. (person being someone they all don't like.. you're all that person)
Enzo – it's wide open
Christmas – everyone has played hard and different and unique
Enzo – the jury is unique I don't know where they're at.
Nicole heads to bed.
They chit chat about the alcohol they all got as HOH. Apparently, Memphis got the most. 6 tall cans and wine.
They talk about after the show is over. Apparently, Christmas told her baby's father to not bring loyal.
Enzo says he doesn't want his gets brought to LA "they're in virtual school"
Christmas – don't bring loyal it's fine just come out we're going straight to Florida (Memphis?) like go straight to Tampa we're in a house for a week let mom and cole and Family come there we all have a place like I don't want to disrupt Loyal's schedule I was being real selfish and I'm sorry
Cody – right .. yeah..
Cody goes on about wanting his girlfriend to come
Christmas – it's not fun for them though
Cody points out all they do is talk about Big Brother when they get out he doesn't want her to be stuck with a group of them and that's all they talk about.
Enzo – don't put her through it yo
Christmas goes on about wanting to have a drink with the top 6
They talk about the pandemic and how "Shook" they were flying in for the show.
Enzo – Everything I did.. purell all over me
Cody – Yeah
Cody – I don't think my dad is coming out for a few reasons.. I don't think he wants anyone to watch the new puppy so he's not coming out because of that. My dad does not f*** around with these dogs.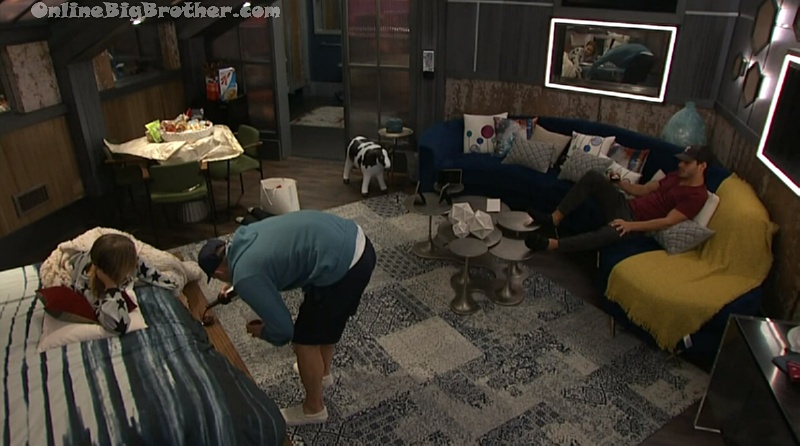 Enzo pours Christmas more wine
Christmas – thank you, baby daddy
They talk about the fights this season. Enzo says there was the Christmas fight and the Dani/Ian FIght.
Enzo – She was screaming up here (Dani)
Cody – he said something to her about Drinking and uhh she got angry
Enzo – I want to see a clip of that (it wasn't shown)
Christmas thinks she was the villain this season.
Enzo says they were strategic players "we know how to play this game"
Christmas – I don't think we had a villain if I wasn't it
Enzo – there was no villain there was a bunch of good players .. really good players
Christmas – I don't want to be the villain
Enzo says as a person playing it "I think it was a good season not a great season"
Cody – I thin kit was a great season
Enzo – I think it was right there.. I don't know my brother will tell me the truth he might be biased because I'm on it.
Enzo – there's no way this season sucked.. No way YO .. no way (HAHAHAHAHAHAH )
Cody – live feeders right now. . we hate these mother f***ers
Enzo – they're going to hate no matter what. I think the season is really really good was it great I dunno
Christmas – like I said today haters enjoy the shows..
Christmas laughs

2:10 am Enzo and Cody
Enzo – she knows she's going home to.. she knows (Great move take the pregame final 2 to the final3)
Cody – gotta win the veto
Enzo – I'm gunning for that sh1t f** that
Cody – you need a sweep week
They talk about the HOH competition
Enzo – the key was going third and I got to go third that's what it was YO. Cause I got to see yo guys move
Enzo – she moved this way you moved that way so I would be behind you because then she couldn't go nowhere you were the first defense I was the second defense.
Enzo bring sup Nicole asking him why Christmas thinks she's still on his team
Enzo – because I'm awesome that's what I do..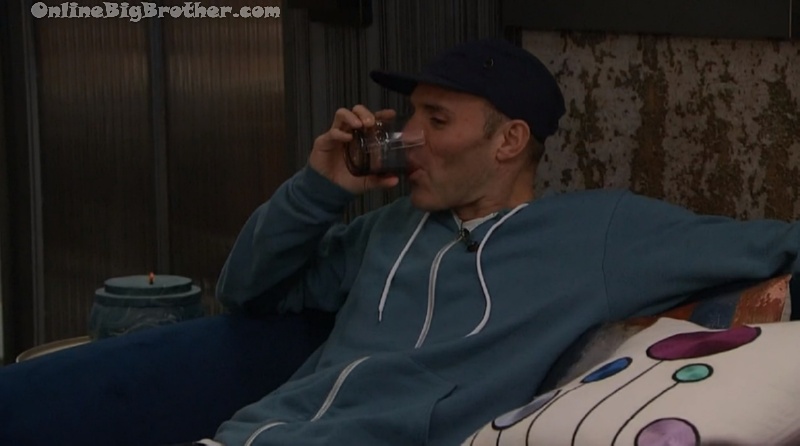 Enzo – we're good yo..
Enzo – if you go I'm f**8ed you know that. You think Nicole is going to take me over her yeah OKAY .. Nicole is taking her all the way that is why we should get rid of Nicole but jit is what it is YO.
Enzo – why is Nicole now all of a sudden in the greatest spot
Enzo – let's say you win this veto which is most likely.. all along we've been getting rid of whose the better player.. Who's the better player Nicole or Christmas?
Enzo – Nicole is definitely a better player than Christmas.
Cody – there's no way I'm not sending Christmas home
Enzo – because you know Nicole is taking you to the finals
Cody – NO. Because Christmas has been sitting in this f***ing house for like weeks and weeks and weeks just sitting there.
Enzo – so you're telling me, you, and Christmas at the end we're not getting to the finals?
Cody – who the f*** knows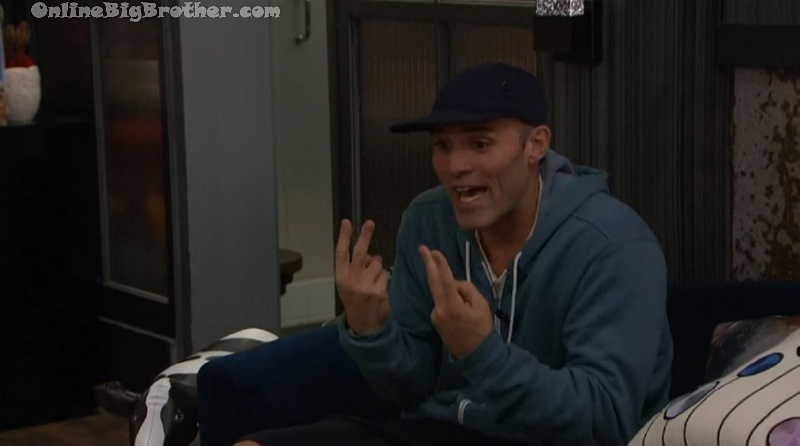 Enzo says he's not going to lie going third in the HOH gave him the advantage. "Bro you know I want you in final 2.. I want you in final 2. I'm keeping your record alive I'm not putting you on the block"
Enzo – People are going to be talking about the two kids from Jersey did not go on the block the whole f***ing season. Do you understand that's hall of fame sh1t.. Derrick did that on your season with Rookies me and you did it together with all stars and legends that to me is hall of fame sh1t bro"
Enzo goes on about how great they are. "Not only Chilltown did that"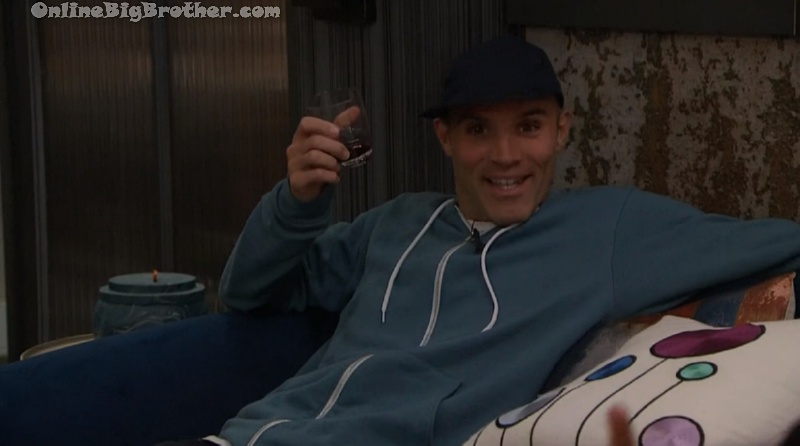 Enzo says he's scared of going fina; three with COdy and Nicole because Cody might throw that comps because he knows Nicole will take him.
Cody – why would I do that.. why would I want to be sitting next to her and lose to her
Enzo – that's what I'm trying to say
Cody – no that's not what you are trying to say. NO I want to sit next to you
Enzo says Cody and Nicole have "won their money" he never won he came in third on his season. He doesn't want Nicole to luck out and win that final HOH and take cody.
Enzo – I'm taking Cody.. ohh thank you I have the two kids I'm going to go home and and I"m going to F***ing .. i'm i'm i'm.. gonna f!nger my a$$$$$$ole now. I'm going to go home.
Enzo says even though they may be "hated" by "People" they're record is undeniable. Adds that people may hate Cody more than him. "People like me.. "
Cody – don't be doggy me like that..
Enzo – of course, they like you.. they love us .. maybe CBS doesn't love us because we don't get into people's faces.. They cannot disregard what we did this season. Enzo and Cody have not been on the block in 72 days.
2:35 am Cody heads to bed.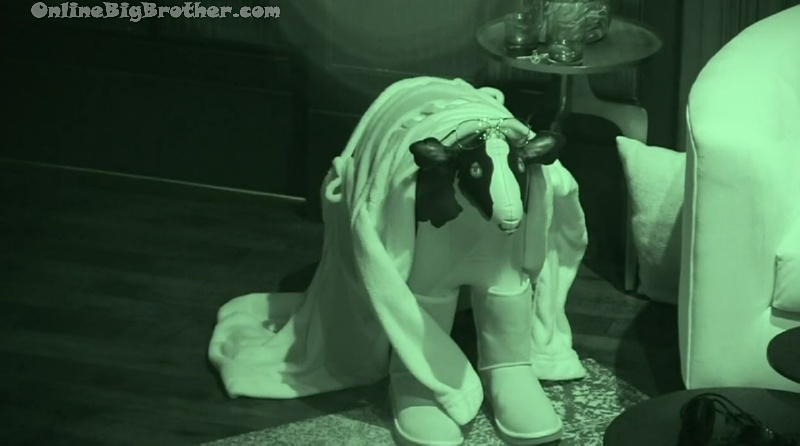 3:52 am Zzzzzzz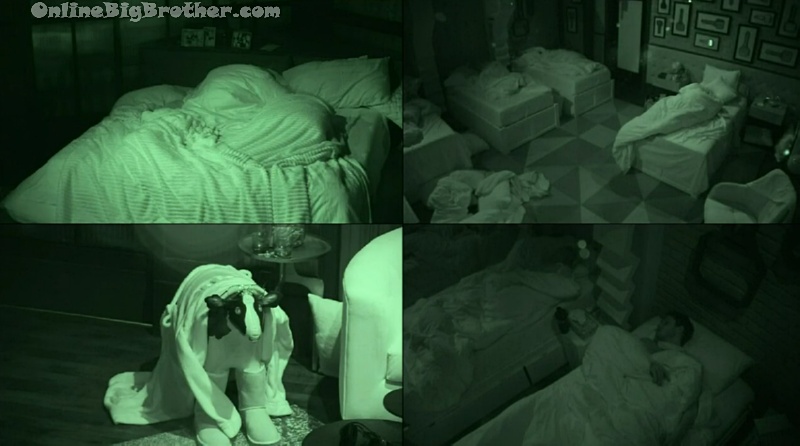 6:15 am Zzzzzzzzzz
8:11 am zzzzzzzzzzzzzzzzz
8:46 am Lights on in the key room.
Show your support by making a donation.
If you've enjoyed our live feed updates this season, please consider donating. 🙂
Any amount is greatly appreciated! Without your support this site would not be possible.