POV Holder:
Paulie
POV Competition
Aug 6th
POV Used
NO!
POV Ceremony
Aug 8th
HOH
Victor
Next HOH
Aug 11th
Original Nominations:
Michelle AND Zakiyah
After POV Nominations:
Michelle AND Zakiyah
Have Nots
Bridgette, James, Corey
POV was not used nominations stay the same
Watch the next week of the feeds for FREE – 1 week Trial!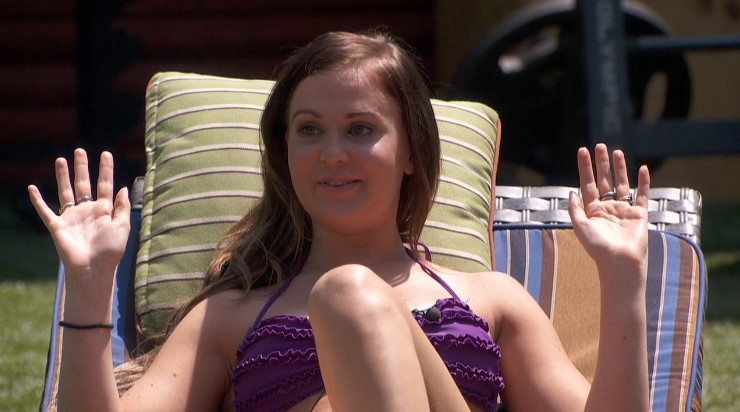 11:45am Michelle and Paul talk
Paul – Your speech was very savage
Michelle – I want peopel to know he (Paulie) wins comps.. like a lot.
Michelle asks him if he knows what Victor wants, does he really want her out?
Paul doesn't think Victor is targeting Michelle but can't clearly say he wants Zakiyah out, "Nobody has really been talking about it that's weird" He's unsure about the outcome of this week asks her if she's started campaigning yet. Michelle was going to wait until after the ceremony she's going to start now.
Michelle's pitch for campaigning will be she's going to offers to go up as a pawn for Paulie and to not put him up if she wins HOH during the double, "not even as a pawn" Michelle is claiming she will not put Victor or BRidgette up either. She wants to make a big move, "I got screwed over.. but don't tell anyone"
Michelle – I have nothing bad to say about ZAkiyah..
Paul says her pitch might work a lot of people are afraid of the tings she's bringing up.
Michelle: It would be good for a lot of people.
Paul – I'm picking up what you are putting down.. I'm in.. PItch this to Bridgette and Exec.
Michelle – ya think
Michelle counts the votes says she only needs 3 votes and she 'thinks" she has 2 already she just needs Paul or Bridgette.
Paul – you definitely have to talk to Bridgette
Michelle- "I love Bridgette now I was just jealous because of Frank.. I'll guarantee her safety for now.. I mean it"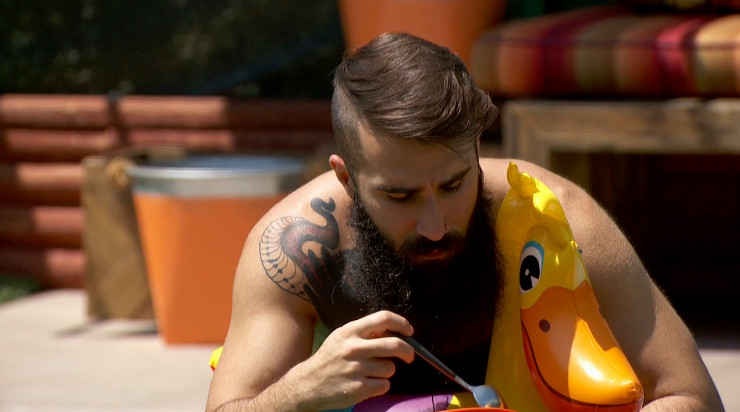 Michelle is shining a light on Paulie's comp wins and how powerful he is in the game. She's going to bring this up to Victor. Saying
he's won 50% of the HOH's comps he's played in.
Paul tells her that Victor is close to Paulie
Michelle – so are yo I hope you don't tell him anything
Paul wishes her luck.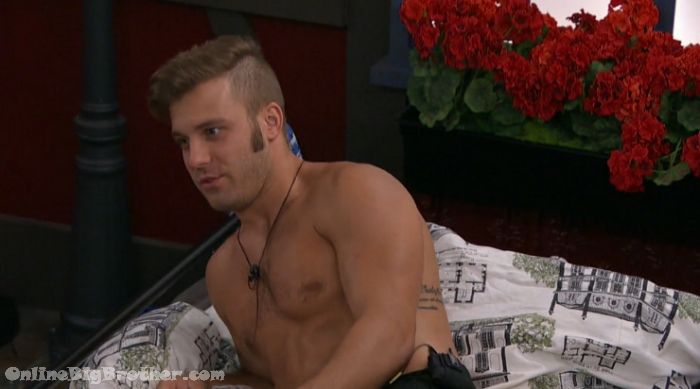 11:59am London room Paulie and Paul
Paulie – I thought Michelle's speech was going to be worse… Z was like Michelle is calling yopu out for all your competitions wins put a target on you
Paul – that wasn't malicious..
Paul says Michelle told him she's not putting Bridgette or Paul he thinks she's insinuating a James, "Lets just say it's going to be a big move but what people want"
Paulie – she means me
Paul – I don't think so who else wants you out..
Paulie – From a superfan point of view
Paul – here's my concern i'm going to be honest with you let's say Zakiyah stays, Bridgette goes next week Meech is gone that leaves me and Vic in the pool of non couples easy targets
Paulie – then we send Zakiyah home on the double eviction and send Bridgette home the following week or send Nicole home
Paul – but will that happen
Paulie – Yes if Nicole is sitting next to natalie she goes home
Paul- REALLY
Paulie – AY they will always vote out the stronger player
Paulie – the fact that Michelle won't tell you (her targets)
Paul – I can suck it outta her
Paulie- F*** it outta her
Paul – I like that one better
Paulie – BONE Her .. just be like LOOK i need to know.. She didn't even hug me after the veto meeting
Paul – she's stupid who cares.. My only thing is as far as the PP goes is keeping other targets in the house that are targets of other people
Paulie- Zakiyah will put up whoever I want her to put up… literally
Mentions that Michelle is being vague about who she will put up.
Paul – you know this for a fact
Paulie – for a fact.. She'll put up Nicole and James
Paul – ya
Paulie asks who they go after during the double.
Paul says James.
Paulie – even if it's us winning it
Paul – hmmm..
Paulie – It'll be a big move that people want.. (Michelle's nominations)
Paul agains saying Michelle will target James and Natalie.
Paulie – I say we got 1 more girl then take a shot at a guy.. Just to be sure
Paul – who Bridgette or Nicole
Paulie says Nicole will go for Victor, Bridgette than james before she starts diving into taking them out, "She ain't taking a shot at Corey.. She ain't taking a shot at one of the girls"
Paulie and Paul agree sending Nicole out during the double is a option. Paulie says put her up against Bridgette.
Paul doesn't think they have the votes to evict Nicole against Brigette.
Paul – if Bridgette and Nat were together would Bridgette go home
Paulie – ya .. the only strong girls after this week are Nicole and Bridgette.. Vic wants to go after James and James wants to go after Vioc
Paul – James will put me and Vic up ..
Paulie – not if Bridgette is in the house
Paul – what if Bridgette is not in the house.. He's not putting up Nicole
Paulie – get him to topu up Zakiya.. He's a loyal guy we have an alliance.
They agree 1 of PP should try to get the HOH during the double.
Paulie says if Nicole/Corey/james wins she's putting up Brigette and Victor
If Natalie wins it's Exec and one of them (PP)
Paulie – Natalie's not going to win.. it's questions.. This past comp is the closest one for her to win
PAul – when do we clip her
Paulie says they clip her after Nicole leaves.. James and natalie or Zakiyah and Natalie as the nominations.
Paul asks him who he wants out Michelle?
Paulie says he wants to see how the two girls campaign. Brings up Zakiyah saying Michelle is going to try and blow up Paulie's game.
Paulie – I want to see if that's true..
Paulie – I heard that Michelle and Da'Vonne came up with the fata; 5 and came up with the "Advancement" to mess up the guys
Paul – she told me she already has 2 votes.. That is what she said.. To stay.. One of them being Nat?
PAuli – we'll see this week.. I dunno..
Paul – JAmes isn't canceling out your vote
Paulie – James says he wants to vote Michelle outta the house. Corey/Nicole want Michelle outta the house..
Paulie wonders if Michelle means Bridgette
Paul thinks Michelle is bluffing

Paul – James and Nat are starting to rub me the wrong way.. Behaviorally
Paulie – We really need to separate Nicole and Corey.. They spend A long time outta every day talking not about life but game. .. it's obvious
Paulie – he doesn't talk much about what Nicole says gamewise
Paul – no he doesn't
Paulie -and …
Paul – Nicole and then James?
Paulie suggests during double they put up Nicole and James
Paul – I like that.. Tell one of them they are a pawn
Paulie – I would take that shot
Paul – I would take that shot
Paulie saying he'll put Bridgette and Nicole up with James as the replacement
Paul suggest they put James and Nicole both up neither have been pawns yet.
Paul – who will turn their guns on you, Ncioel/James?
Paulie – Bridgette will do it the soonest.. after that Nicole will do it when it came down to 7, James would do it that's why he wants Exec out like now
Paul – it's in our best interest to keep exec in the longest
Paulie – we need to use Exec to get out Nicole or James then we get rid of him next
Pualie doesn't want to risk bringing a girl in final 3 because all the girls in the jury will vote for them if they make it to the final 2.
Paulie – the only girl I would feel comfortable going to 4 is Natalie.
Paulie's final 4 is PP, Natalie and Corey
Paulie – it needs to be a all guys final it's the only chance we got
Paul questions if Corey is the best person to bring to final 3 because of his athletic potential.
Paulie says time will tell.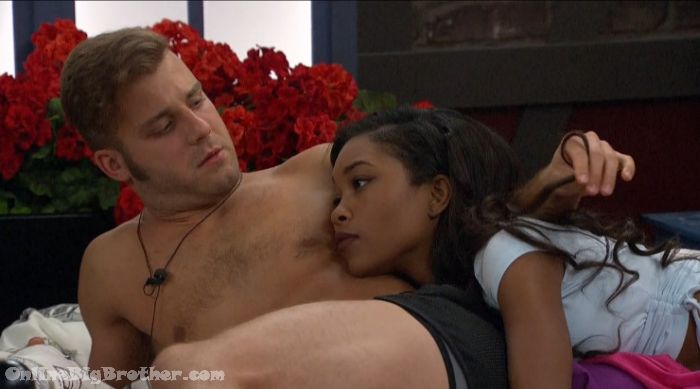 12:30pm Zakiyah comes in
Paulie tells her Michelle is saying she's got a big target that everyone wants.
Paulie – I think she's talking about me
Paul – I don't think so ..
Paulie – She has to be talking about me.. there is only 1 reason why she would bring up statistics in a nomination speech.. if she had the chance she would take the shot.
Paul – she claims to like Bridgette now
Paulie – Michelle doesn't care she'll throw someone under the bus if that means budding up to someone she hated she'll do it..
Paulie thinks Michelle will use her speech as a in to start conversation about Paulie's comp wins to members of the house.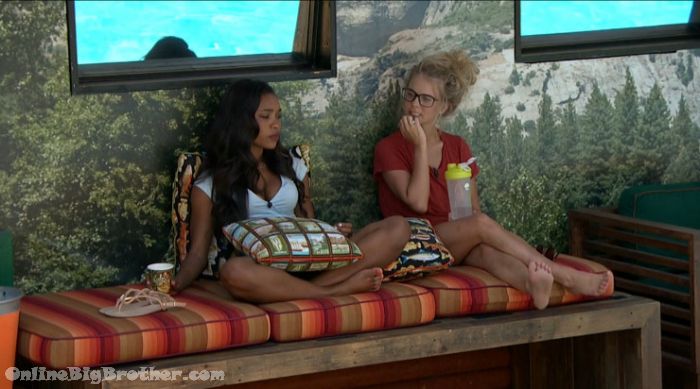 2:00am Nicole and Zakiyah
Zakiyah says she feels like she's in trouble this week. Nicole says no, Her and Corey are trying to keep her in the house 100%.
Natalie – I'm 100% working on keeping you in the house
Zakiyah doesn't understand why Victor is after her
Nicole – he can't vote.. you're staying and that is your target
Zakiyah – ohh 100%
Zakiyah mentions how Michelle is looking to make a big move and take Paulie out.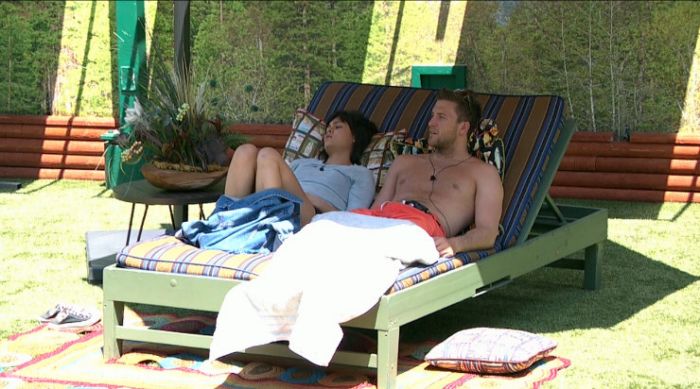 2:04pm Bridgette and Corey
Corey – I'm not that close to Z.. I'm close to James and Natalie.. Paulie pretty close to ..Michelle and Paul I'm kinda close.
Bridgette – Nicole is close to both of them.. Meech and Z I wonder how she feels..
Bridgette is 50/50 who to vote out this week
Corey – Z sucks at comps she's the worst player in the game as far as comps go
Bridgette – I'm afraid if Michelle wins HOH
Corey says Michelle is probably going home this week.
Bridgette mentions that's not what Vic wants.
Bridgette – I'm down with keeping Z
Corey – who do you trust
Bridgette – I trust Paulie.. I trust you.. I trust Paul
Corey – Paul is really pressuring Z and going around telling people I wanted to keep Z if anything Paulie is that's his girl.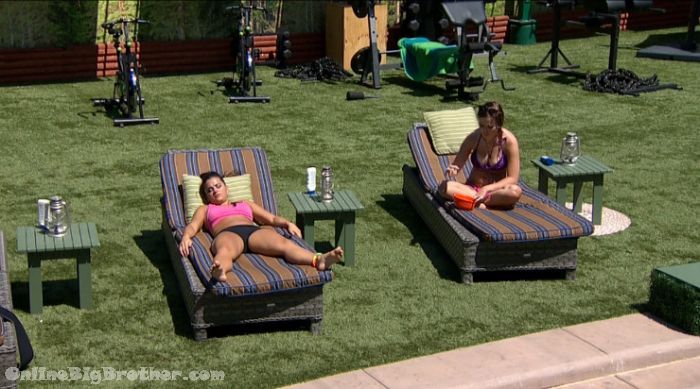 2:29am Natalie and Michelle
Michelle says she only needs 1 more persons if James and Natalie vote her to stay.
Michelle – I was talking to Corey earlier and apparently Zakiyah is the target
Nat – I don't know
Mich – you think I can get Bridgette's vote
Nat – have to see
Mich – those people screwed me over I want to put my trust into other people.. Frank always said Bridgette is super loyal
Nat – she's very very loyal
Nat – dude you gotta campaign and you know how to do it right
Mich – the people I see not voting for me are Paulie and Nicole..
Michelle points out that Zakiyah and Paulie cuddle
Michelle – Nicole has lied to my face multiple times
Nat – she has
Michelle – Tiffany, Frank and Da'Vonne all said not to trust Nicole.. why are 3 people saying that..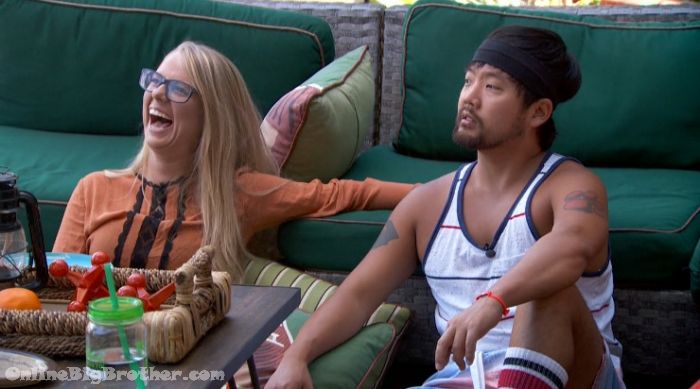 3:40pm backyard Victor, Nicole, Corey
Nicole says she doesn't care either way who goes. Her and Corey say they are not afraid of Zakiyah winning a competition. Nicole doesn't even think Zakiyah is capable of winning by fluke.
Corey – they are the same person to me..
Nicole – if Z can pull out a win I feel Paulie can control it.. he got her to drop off that thing..
James/Paulie join them.
Paulie says Michelle brought up a statistic to put heat on him so it's obvious who he wants gone.
Paulie mentions that Michelle is saying she has targets in mind and they are BIG targets, "It's someone everyone will be OK with"
Victor – if you want Michelle out I'm cool with that.
Paulie says it's pretty obvious who he wants gone #BB18 @DawgsBigBrother pic.twitter.com/dYlkZ61Z13

— OnlineBigBrother.com (@bigbspoilers) August 8, 2016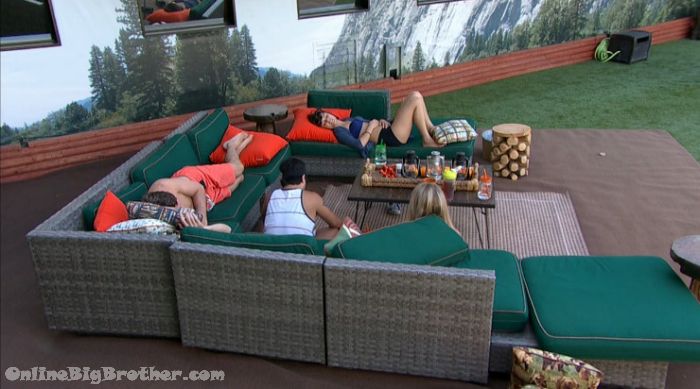 4:04pm backyard
James tells COrey and Nicole he's vetoing both their votes this week..
Corey asks him not to
James says he's just joking..
Nicole says her and Christine are civil, "we use to talk and stuff when we got out.. "
James- what happened
Nicole – I dunno life
James – she's still married
Nicole – ya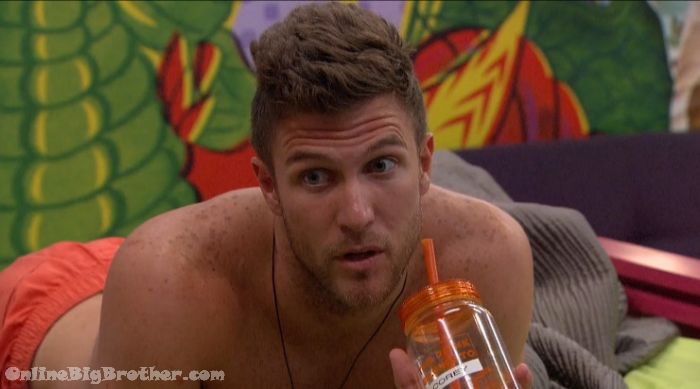 4:30pm Tokyo room Nicole and James
Talking about Corey and Nicole giggling until 6am every night.
Nicole – have they ever asked you about that.. In there(Diary room)
James – no
James is worried that someone will try and take a shot at him and Corey during the double
Corey comes by.
Corey brings up his conversation with Bridgette, says that Bridgette is fine with Nicole
Nicole – I can't talk game to her I don't know why it isn't in my bodyyyyyyyyyyyyyyy
Corey says Bridgette is not after Nicole, Bridgette will be targeting Zakiyah. Corey says he's trying to get Bridgette to put Zakiyah and Paul up.
Corey says Paul is reeling in Bridgette and Michelle he'll be pissed when they send Zakiyah home.
Paul told Bridgette that Corey and Nicole really want to get Michelle out.
Corey – I was like why do you think he wants Z out because Michelle is going to come after you.. She was like ohh sh1t
Nicole – he said me and you
James – Paul is playing dirty..
Corey says Bridgette is 100% going after Paul and Zakiyah now.
Nicole – Vic cannot think for himself.. He believes everything
Corey wants to take Paul out next week.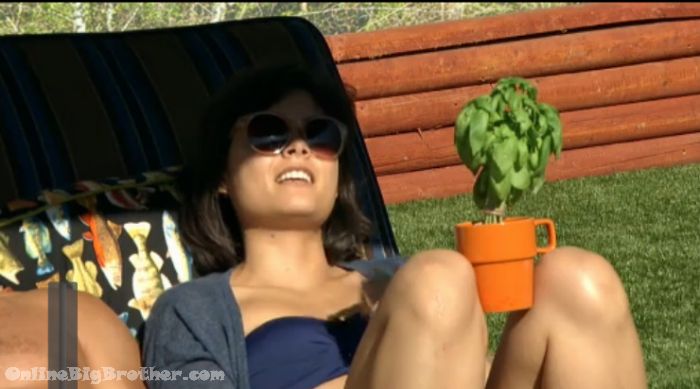 4:32pm Paulie and Bridgette
Paulie making jokes about Michelle's speech that told everyone statistically he's won 50% of the HOH comps he's played in.
Bridgette – Natalie want me to trust James… I just can't
Paulie – it's tough.. I do feel like Frank was his target 100%
Bridgette – his entire game play is doing what other people tell him to do
Paulie – true..
Paulie says Michelle is putting them up if she wins HOH she wants to make a big move that everyone will agree with.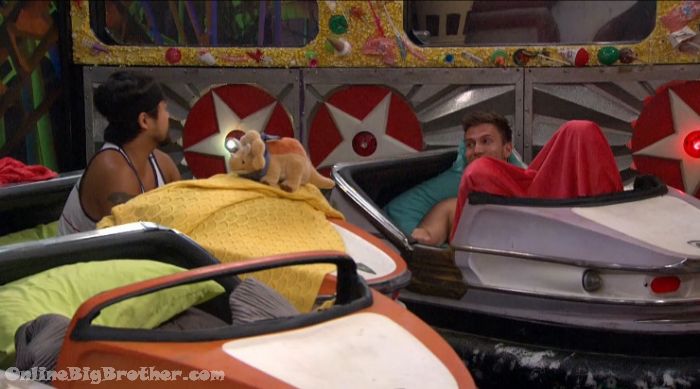 4:44pm James and Corey have nots
Corey – Pauls the one that wants Bridgette out the most.. tell her that.
James says they are trying to build a squad, Michelle, Paul, Victor and Bridgette
Corey – we got to cut that off.. Bridgette is smart dude but anything physical she is not going to win
James- maybe some true false..
Corey – maybe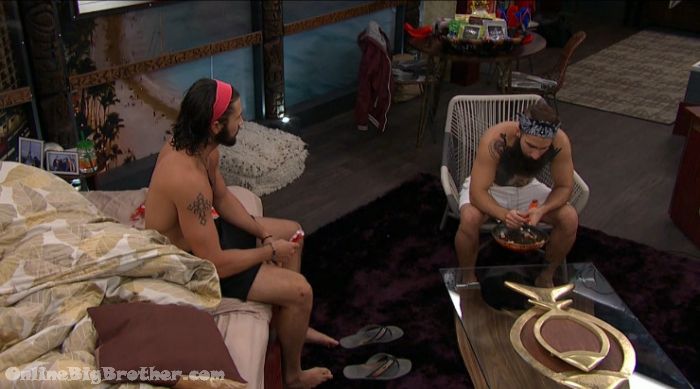 4:55pm – 5:00pm HOH Victor and Paul
Victor says it's starting to sound everyone wants Michelle gone. Explains what happened in the backyard.
Paul – that's bullsh1t dude
Paul explains they took Da'Vonne out when Bridgette was coming after him
Victor – Michelle isn't gunning for me.. now Michelle is going out
Paul – I'm a little bit annoyed.. what can we do
Victor mentions they don't have a pair in the house like the 3 showmances do.
Paul – what can we do you can't vote and i'm 1 vote..
Victor – f****
Victor hopes Michelle has the round trip ticket.
They agree they can't fight to keep Michelle because it'll mess up their game.
They agree this will bite them in the a$$ later.
Paul – I could tell they were all already on that side.. there's nothing we can do…. f***
Victor – they are literally saying Michelle is the stronger player
Paul – no way
[polldaddy poll=9491180]
[polldaddy poll=9491957]