POV Holder:
McCRAE
Next POV
Aug 31st
POV Used
POV Ceremony
Sep 1st
HOH Winner:
GM
Next HOH:
Sept 5th
Original Nominations:
Amanda and McCrae
Current Nominations:
Last Evicted Houseguest
Aaryn
Have Nots
12:03pm The live feeds switch to TRIVIA for the Veto Competition. When the feeds return we learn that McCRAE WON the POWER OF VETO!
Big Brother 15 Live Feeds: FREE 2 DAY TRIAL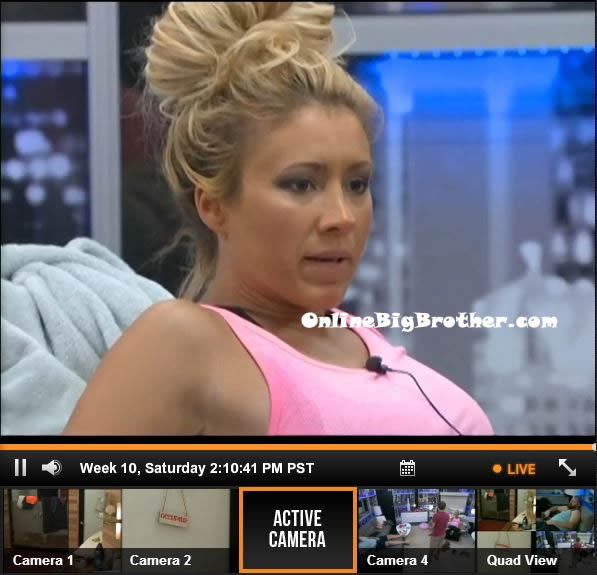 2:05pm In the rainbow room – Andy, Judd, Elissa and Spencer are talking. Gina says good job guys, very nice! Gina then left. Elissa says this is going to be a crazy week until Thursday. Spencer heads up to the HOH room.


Judd joins them and he tells them maybe we should try and convince McCrae to use the veto on Amanda if we tell him we will save him. Judd says that McCrae has a fire lit under him. He is going to win HOH this week. Andy joins them. Andy says that has only happened one time in big brother and it is know as the dumbest move in big brother history. Spencer offers to go up on the block when McCrae comes off. Gina tells him that she will let him pack all of her makeup and brushes to prove they have his loyalty and that he will not go home. Spencer says I just don't want to be the dumba$$ that volunteers to go up and to go home like Lawon (Big Brother 13 – when he offered himself up as the pawn and ended up getting voted out.) Gina thinks if McCrae wins HOH he will put her up. Judd says he hates me and will put me up for sure.
2:20pm – 2:30pm In the bathroom – Amanda is crying and saying that she is now going home. She says that she is happy he won but knows she is going home. I fought so hard to be here, while other people just slid by. It's just a game.. Amanda wonders if there is any way she could stay. They wonder if Andy didn't go up she might be able to stay if they can get his vote with McCrae's for her to stay. Amanda tells McCrae that her game over and tells him that he needs to make sure to put Ginamarie and Elissa next week. Amanda says that she doesn't think it was fair that she had to go up 4 times, I was at a disadvantage from the start. But it doesn't matter you won fair and square. Spencer comes down and tells that Gina said it was going to be me or Andy going up as the replacement but I dont think it will be Andy since she won't want to put him in harms way. Spencer leaves to take a nap. Amanda says we could offer Judd my alcohol and your's if I stay for the rest of the summer.
Big Brother 15 Live Feeds FREE TRIAL: FLASHBACK FEATURE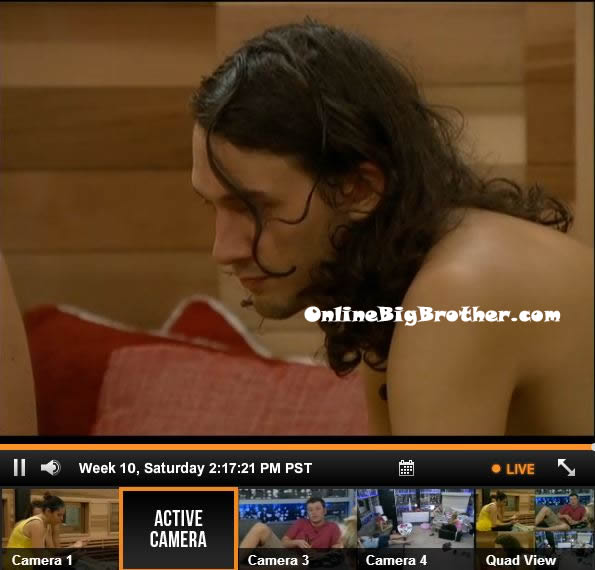 2:30pm – 2:45pm Up in the HOH room – Andy, Judd, Gina and Elissa talk about how the jury house is going to explode with happiness when Amanda walks through the door. In the downstairs bathroom – Andy joins them. Amanda complains about how the competition wasn't fair. She says its not right that she was targeted by everyone to go up 4 times. She says it should have been the people who haven't played yet could be picked next not me each time. Amanda says I knew going into it I was going to be targeted but I was really surprised that you put me up Andy. Andy says he is sorry and we just scared. He says that he wasn't upset either that she won against him. The competition had a spinning aspect to it were they had to hold on. Amanda asks if it was going to be a tie vote would you two vote for me? McCrae says it depends on what my position would be like next week. Andy and Amanda are crying. Amanda says maybe I can get Judd, I doubt it though. I think Spencer should go up. If you go up Andy I am not going to try anything.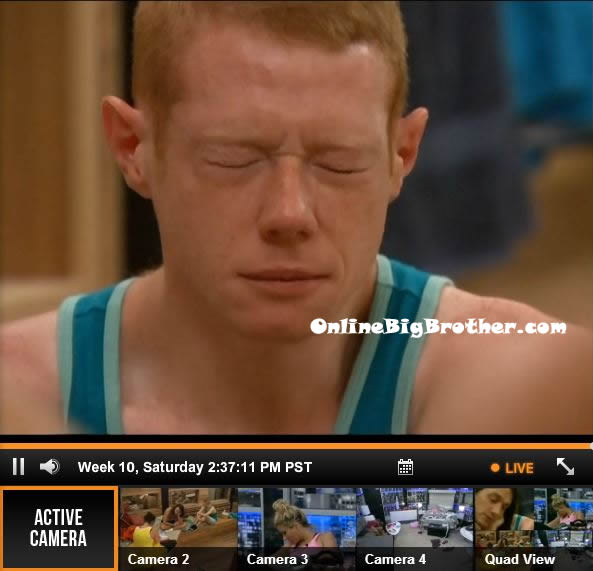 2:50pm Up in the HOH room – Elissa and Gina talk about Spencer going up. Gina asks Elissa to reassure with Spencer that he will stay. Elissa asks while they were up here did they tell you to put me up? Gina says no, Spencer offered to have himself go up. Elissa comments that Spencer hasn't done anything and other people are trying not to ruffle any feathers. Gina says I am not worried to ruffle any feathers – I will pluck the whole f**king chicken! Elissa tells Gina that she and her need to pretend like we aren't that close. She says that the boys will partner up to try and take us out. Gina agrees. Elissa heads downstairs.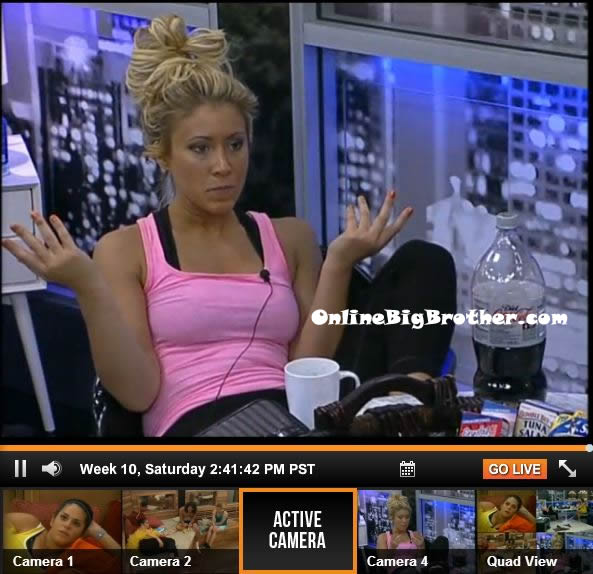 2:50pm – 3pm Amanda asks McCrae if he felt bad for her when they kept picking me? McCrae says yeah I was f**king pissed. Amanda says and I battled all of them and won. And then you picked me and you won. McCrae says yeah I didn't know if I should pick you or Spencer. McCrae says all of those other people looked like sad excuses for people. Amanda complains that she couldn't even hold on any longer it was ripping her hands apart. McCrae says that he felt sick going around and around and didn't think he could hang on any longer. Amanda says you killed it, you did really good. Amanda says I am glad everyone kept picking me instead of you. McCrae says I am sorry. Amanda says at least you can relax all week and not have to pack. Amanda says I am so surprised people kept picking me because I kept beating them. I loved beating Ginamarie.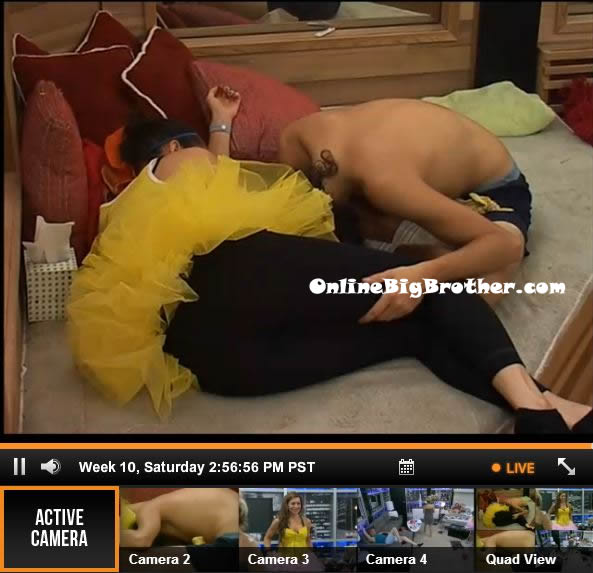 Use the Big Brother Live Feeds to FLASHBACK to SEE what they can't show you on TV:
BB15 N!p Sl!ps / N*des