POV Holder:
Shane
Next POV:
July 13 (Friday)
POV Used
?
POV Ceremony
July 15 or 16
HOH Winner:
Willie
Next HOH:
July 19 (Thurs)
Original Nominations:
??? and ???
Current Nominations:
Frank and Kara
Have Nots /Slop
Danielle, Shane, Ashley
Coach Competition Winner
Boogie, Ian is safe
Sign-up for the Big Brother Live Feeds and get the MOBILE Feeds for FREE!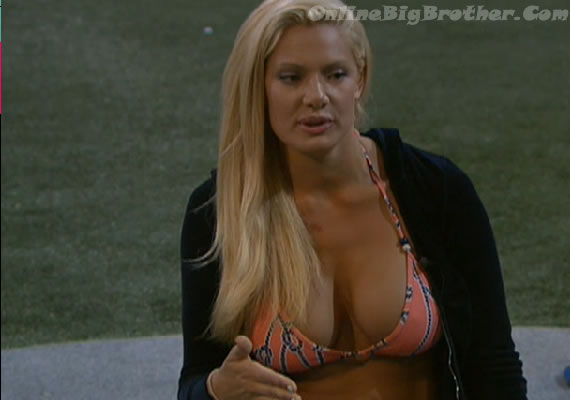 8:20pm Ashley, Janelle, Joe and Danielle hot tub Janelle is telling them that CBS cast certain people on this show, theres always a Gay guy, a dad, a mom, the cute southern girl. Joe says that CBS only wanted the new players to watch 11 and 13. Joe explains that he brought all of season 7 with him to the Hotel but they took it from him told him he can only watch season 11 and 13. Ashley says that she watched season 6 and 12 on you tube. Danielle asks Janelle if it's weird playing the game again with Dan and Boogie. Janelle says she never met Britney or Dan before the start of the season. Janelle tells them that all stars sucks because it is so competitive. Janelle talks about the twitter fiasco that happened between her and the twitter fans when she tweeted a picture of her in Greece that was fake. They now start talking about the leaks about the mentors before the season started. Janelle says that Dan was first than Boogie, Janelle and Britney was last. Britney and Willie join them, AShley is sayign she feels so young and naive with all the mentors around. JoJO joins them.. General chit chat
8:42pm backyard Couch Boogie, Shane, Dan and Jenn
Dan talking about the south, "The girls are prettier, the food is better and the people are nicer". Shane starts talking about past jobs as a personal trainer. Dan asks him if he ever thought about doing a video series. Shane says he did have a youtube series but he doesn't have the time to do it anymore he's too busy working on his houses. Dan's trying to talk him into starting a business and sell his fitness knowledge online. Shane explains that he wakes up every day at 5am and works until 9pm. He's got to move his houses because all his money is tied up in it.
Jenn starts talking about her DJing in Boston, about the clubs and how Rowdy the people are. Dan: "My only perception of Boston is good will hunting". Ian and Boogie join them.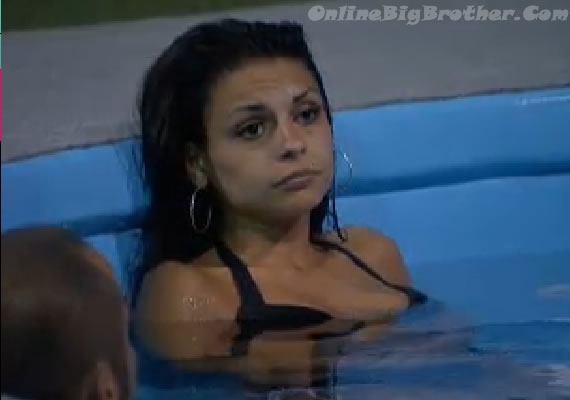 8:55pm Pool JoJo and Willie They are talking about how different the game would be if there was no mentors.
8:57 Chessboard Joe and Janelle She's telling him that Dan is a dangerous player she asks him what person he wants out. Joe says he sees Frank as the bigger threat he thinks having Frank go home will benefit their team. Joe asks her what she would do, Janelle says long term she would want Frank gone but short term maybe Kara, she's not sure, "You never know it's the right move until next week". Janelle says that Boogie is campaigning to save Frank, Joe: "Oh you knew that was coming".
Janelle agrees that Frank is the stronger player, Joe says there is no way that he can beat Frank. Joe says that he's getting the feeling that Willie could have a secret alliance with Frank. Janelle asks him if he's going to team up with the guys. Joe says no way he has a better chance with the girls. Joe says that Ian is trying to make a final deal with Ian. Joe laughs he doesn't know what to say he's worried that Ian will win HOH so he wants to be nice to him.
Sign-up for the Big Brother Live Feeds and get the MOBILE Feeds for FREE!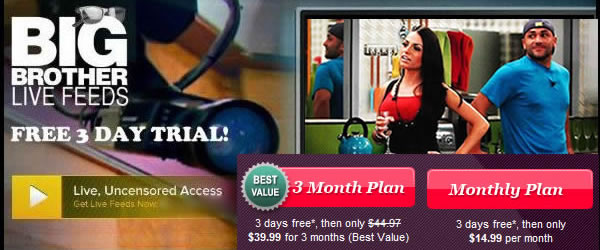 Get The Live Feeds for your iPhone or Android Phone! Comes with a regular subscription to the Live Feeds Subscription Link
9:09pm Backyard feeds start up Ian is going over all the players eviction order starting with season 1, he gets stuck on a player for season 2 can't remember his last name. Dan knows the correct last name. They get to Autumn from BB2 and Boogie mentions that he was accused for telling her to give him a bl*w j*b for a vote.. **Feeds cut** Ian keeps going.. (Freaking Amazing) . Dan says to boogie he never realized that boogie had so many girlfriends from past Big Brother Seasons. Boogie says he's had 4 showmances outside of the show.
Ian hammers the first 7 season no problem. Say the next season will be easier because they are "Fresh" in his head. He gets to season 9 says "Ohh god this is going to be a mess.. but I'll give it a shot". He gets stuck on the the player that goes out after Chelsea on Season 9… After a minute he gets it to be Joshua. Ian is able to recite every single player in all 13 season of big brother and the order they got evicted.
9:40pm Backayard Crew asking Ian if he can do the splits. General chit chat
9:42pm Chess Board Janelle and Joe Joe saying how untrustworthy Frank is, Joe knows that Boogie told Frank to go around the house and tell everyone that they are not workign together.
Joe thinks that Willie is going to join up with the guys, "It's going to be Bros before hoes" Janelle Agrees. Joe adds that if they stick with Britney they should get to final 6 but after that they'll have to lie. Joe: "You know it's a day or two until JoJo goes ape shit". Joe points out that their team is being underestimated because none of them are standing out. They are saying the plan is to stick with Britney's team as long as they can. Janelle wants to take Dan out than Boogie. Joe has real concerns about Willie mentions that everyone is being nice to Willie because he's HOH but after his HOH is over it's going to be different. joe points out that today was the first night since Thursday that Willie didn't just take his food upstairs to eat. Janelle thinks Willie isn't one of the players you want to take to the end. Janelle says that Frank may win ever POV he's strong enough to do it. Joe really wants Frank gone, he thinks they can get Kara out any week but Frank will be hard. Joe: "Kara has social anxiety.. why worry about that" Janelle agrees thinks that Kara will be easy to get out and Frank will be very hard.
Joe keeps on about Willie saying he's been to prison, Janelle hadn't heard that, Joe begins to tell the story and the feeds cut. When the feeds come back Joe is talking about Danielle and how Boogie was trying to tell Shane this morning that She's a Doctor. They both laugh, Janelle says there's no way shes a Doctor Boogie is planting a seed to get Danielle nominated next week.
Joe says he predicts the reams get switched up Janelle wants them all to still stay together if they get switched up.
Share it YO!
Tweet