9:04pm Feeds are back. Jordan is in the candy room packing. Adam, Porsche and Rachel are playing cards in the HOH.
Adam is talking about his HOH blog saying that he hopes that all the fans have enjoyed the season and he can't wait to watch Big Brother next year. He also hopes that what he's accomplished to be big brother inspires others, "Shout out to the Big BRother Fan sites.. Big BRother fans are the best"
Adam: "Hey Hoboken we have the cake boss now we're going to have the Bacon boss"
(Hmm Jordan doesn't have the POV she's packing)
Adam was worried that Dani would hide his cigarettes before she was evicted so he hid them. POrsche: "What!" rachel: "Why did Dani hide stuff?" Adam says he was told it was because her and Kalia and Dani wanted to throw people off before the HOH.
Adam says he will give Jordan the stuffed clown if she goes home tomorrow…
(Jordan does not have the POV and it sounds like Rachel and Jordan are up)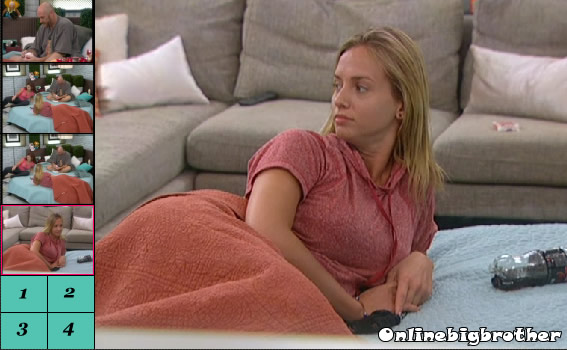 9:27pm Porsche is saying her father has been married 4 times.. Adam: "So basically they got married had you and had a divorce" Porsche: "Yeah pretty much"
Rachel asks her if she gets along with her mother. POrsche doesn't really talk to her much.
9:32pm All Cams on the HOH room Porsche, Adam and Rachel are all in pretty good spirits… (either the POV hasn't been played or it has and Jordan doesn't have it)
They start talking about the final 3 endurance comp.. Rachel explains Jordan's.
9:38pm Rachel: "You guys don't need to pack until NEXT Thursday congratulations"
9:35pm Jordan ironing
9:52pm HOH Adam and POrsche, Rachel in the HOH bathroom Adam is telling Porsche that it all came down to having to win the comp. IN order to survive Porsche needed the comp and she won it. POrsche says she's leaning towards getting Jordan out. Adam also thinks they should keep Rachel and Send Jordan home because she's already won the game before he would rather someone new get a chance.
Prosche asks him if she's allowed to say whose she's voting out. Adam says just say you are thinking about it. Porsche: "OK I'm leaning towards her" (Jordan).. (Production over the loud Speaker answers Porsche questions "NO")
UPDATED
(Jordan and Porsche were nominated but Porsche won the POV so Rachel is going up on the block tomorrow and Porsche gets to decide which one is going home.. Then The 3 remaining houseguests compete in the first or 3 HOH comps. The first one is usually endurance.
10:14pm HOH JARP They are talking about Technically POrshce is still on the block. JOrdan is assuming she's going home and asks them if her and Kalia will go to the Jury house together or is Kalia already there. Adam tells her there's no guarantee Jordan is going home, "Porsche could pull a Marcellas and not use the veto"
10:24pm Jordan leaves the HOH and starts to nap
10:45pm HOH RAP Porsche is acting like she is going to vote out Porsche (Porsche is saying things like "When She goes home tomorrow" and "Do you think she will get a long interview"). Adam sighs and keeps correcting her to not be so obvious.
10:48pm HOH RAP Adam: "out of 7 women on big brother 13 only 2 had natural boobs"
Adam: "Who has a bigger crush on Janelle Me, rachel or Dick.. because he was BLANK googling at her when she hosted a comp in his season"
10:54pm JOrdan turns the lights off and goes to sleep.. RAP still playing cards in HOH.. Posche says she feels awkward with "her" down there and them up in HOH.
11:01pm HOH Rachel and Adam Porsche called to the DR Jordan sleeping…
Rachel asks him if he's had a good summer. Adam: "My summer isn't over" Rachel: "We'll you have one more week". Adam: "From the sounds of things it looks like it's us three.. which is awesome" POrsche comes back and and asks them what they are talking about. RA jokes say they are plotting Porsche's demise.
POrsche is saying that she wasn't involved an any big fights that will be on the internet, She's bummed out because of it. Rachel doesn't understand why Porsche wants to be on the internets fighting. Adam explains that the fights are what people remembers. HE brings up his fight with Shelly and JEff, "ANSWER THE QUESTION SHELLY JUST ANSWER THE QUESTION"
They start talking about Rachel's fight with Shelly in the "ROYJBIV" room. Rachel mentions how She was trying to tell everyone shelly was lying but it didn't seem like other people were believing her. RP explain some of Shelly lies and how she would go back and forth with all the different groups in the house. Adam: "She was good you gotta give her credit"
11:28pm HOH RAP They're all joking about how shelly was fooling everyone and how they think she was America's Player (They are joking) Adam brings up how he would go to bed and in the bed beside him was Shelly and KAlia whispering about him. He wanted to say something to them like maybe they should keep there plotting against him to when he's not in the room.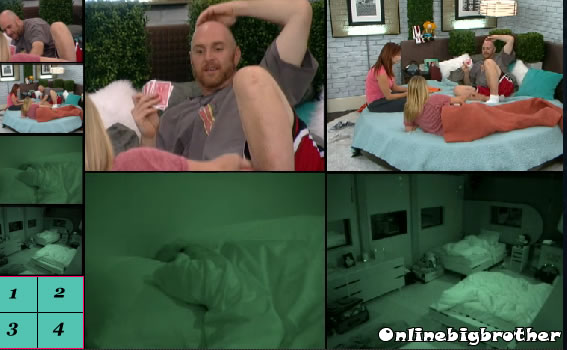 11:55pm HOH RAP talking about the season and playing cards. Jordan sleeping
12am – 12:40am Adam, Porsche and Rachel are still up in the HOH room playing cards and talking about random stuff. Adam brings up his HOH competition he thought up, where each houseguest is drawn and they choose who to punch to knock out of the competition. Adam says jokingly that he would chose Jordan because he has already made her cry twice before. Rachel starts talking about swearing on the live show and wonders if she just got beeped out. Adam says that they have a seven second delay and just cut it out. Porsche says that she swore on the last live show. The card game ends and Adam says alright … get out of my room! Rachel says wow! Adam says not trying to be mean …I'm just tired and its my last night in the HOH room. They all head downstairs. Rachel tells Adam that this might not be his last night in there. Porsche says yes it is. Adam takes a look at how the re-do of his tie dye shirt turned out. Rachel and Porsche laugh about how Adam told them to get out of his room. Adam says sorry for my rudeness but goodnight… Adam heads back up to the HOH room. Rachel and Porsche start getting ready for bed. After they brush their teeth. Rachel starts quickly cleaning the bathroom. Porsche talks about how through the whole game she was hoping to make it to jury, then hoping to make it by each week, then making it to the final three. They leave the bathroom and Porsche notices that they are still banging in the backyard. Porsche says it is going to be intense! Rachel whispers to Porsche to make sure she stays on. Porsche and Rachel head to the candy room and go to bed..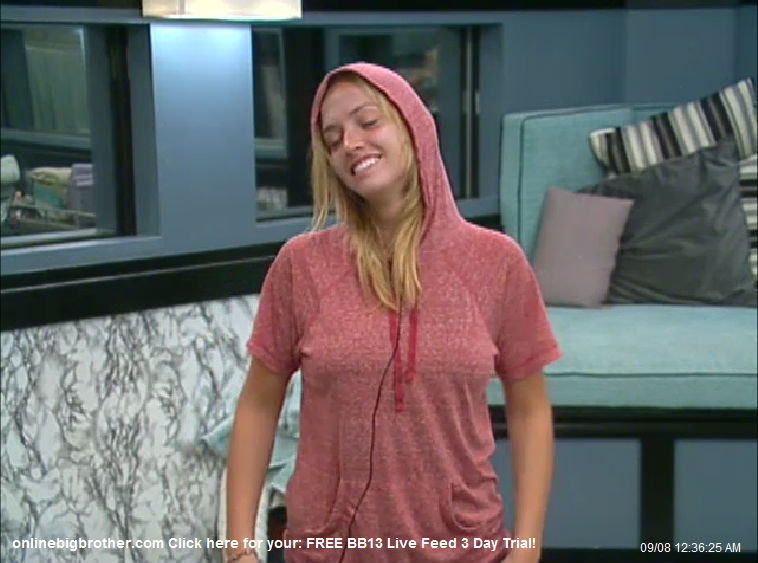 12:40am All the houseguests are now trying to sleep… Adam listens to his cd for awhile then goes to sleep.
10am All of the houseguests are still sleeping .. no wakeup call yet..