STARTS Friday June 17th @ 9AM EST/6am PST
Big Brother 13 Live Feed early Bird Special has arrived. Just Click this link and use BB13QTEARLY as your promotional code…BIAM for $29.99 your hooked up for the whole season of BIG BROTHER. This year the feeds have a bunch of wicked new features like greater mobile phone support and more web Shows host by past houseguests. The complete list of new features can be seen in these 2 posts BB13 early Bird 1 and BB13 early Bird 2. All sites give the same deal, support your favorite Big Brother Site.
Early Bird Special and HOW PRICING WORKS
here is the skinny on how the pricing will work.
Season early Bird Pricing
If Purchased from June 17th to July 6th the Full Season of Big Brother 13 Live Feeds Cost $29.99 If you want to include the Mobile Option (You using Android or some Apple product) then add another $9.99 so people going for the Early Bird with the Mobile option for the season of BB pay $39.99.
Season Pricing post early Bird
If you pay for the feeds from July 7th to the end the 3 month subscription costs $39.99 if you want to unlock the mobile features it'll cost you an additional $9.99. $49.99 for 3 months of feeds purchased after July 7th with the mobile option
Per month pricing
If you pay monthly then the cost is $14.99 a month for the Feeds PLUS $4.99 for the mobile option coming to $19.99 per month with Mobile Option
*CBS has pushed back the date they are making the Android app available – they won't be putting it out there until July there isn't an iPhone app – iphone users will get a page in the browser that launches the quick time player for the feeds.
Buy your feeds from the site you like and enjoy visiting, these feed sales help the blogs keep running throughout the season. Watch Big Brother 13- see what they can't show you on TV.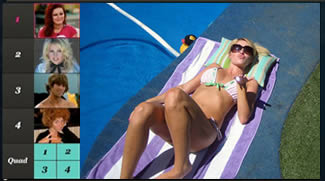 DO NOT MISS OUT ON THIS SPECIAL OFFER!!
Why pay full price after the season starts when you can save $10!! $29.99 is cheap considering you will be able to watch the entire Big Brother 2011 Season plus all the extras! By signing up during the Early Bird special you also lock in that price all year long!!
This season the LIVE FEEDS will be Flash-based, much like YouTube, this will provide easier access without the need to download a player. This will give you immediate access, easier-to-use, clearer context and messaging, improved content discovery experience, and will have a scalable foundation.
Big Brother Lite Live Feeds: Real player is releasing a ton of Awesome BIG BROTHER 13 Live Feed Features this year, it'll completely change the way we watch the feeds.  Real Player this season is now offering a 'Lite' version to the BB13 Live Feeds which sits outside your web browser.
Key BIG BROTHER 13 Dates:
• Season Premiere: July 7th
• First Live Show: July 7th
• Weekly broadcasts: Sunday, Wednesday, Thursday
• Google Calendar with your BB13 Events
Share it YO!!
Tweet