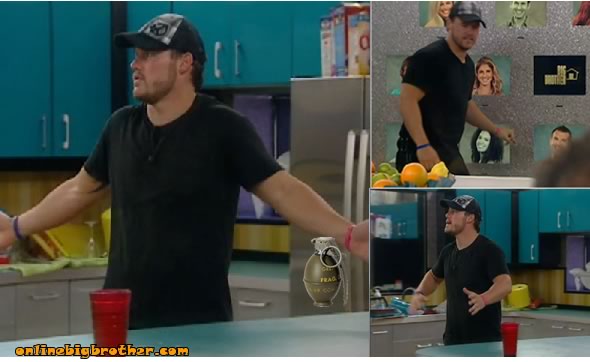 11:35pm Talking about taking Brendon down next week, they start joking about how badly they want to see Brendon go. Lane: "I want to see blood on his picture" Enzo "I want to see grey and blood". They talk about Hayden being trapped in the have nots room. He comes out today at 5:00pm. They are worried about his state of mind when he comes out (there joking and go off on this giant rampage about how Hayden is a caged animal its very funny)
Lane: "We gotta let the animal out today.. cause he's hungry in there"
Lane: "He's going to tear some shit when they let him out"
Lane:"We got to calm him down before we let him out".."you don't want the animal to come out right away…"We got to train him back to normal"
Enzo: "Brigade gets the animal back today"
Lane: "One of us has to go in there to bring him back"
Enzo: "We gotta chain him"
enzo: "thats probably the new HOH in that room"
lane: "he's got a fire in his belly he's going to get someone"
Lane: "The whole time he's in there thinking of killing"
lane:"i don't know who he's going to do some damage he might go for brit for putting him in the cage.. you can't cage a animal"
Enzo: "he's gone wild…he's eating stale bread"
Lane: "Sh***ing in the Corner"
Lane: "you think that hairs long on he's going to have a main yo right down his neck"
lane: "well have to go send a sacrifice in there first" .. enzo "yeah throw ragan in there yo"
They both start to calm down, Enzo points out that Kristen was laying on the Junmanji floor all for hours last night talking to Hayden. They're worried that Hayden is going to sell the Brigade out.. They both think the possibilities are remote that Hayden will sell out the brigade for a "Piece of a$$" that he will never see again.

FREE Live Feeds! Superpass 3 Day FREE Trial





NOON Backyard Kristen and Kathy with rachel on the elliptical Talking about wedding photos. Brit really likes candid shots and wants most of her wedding photos to be done that way. She says the time of year she is planning on having her wedding is the most beautiful time in Arkansas. Rachel comes to join them and starts talking Kristem leaves to the jumanji room.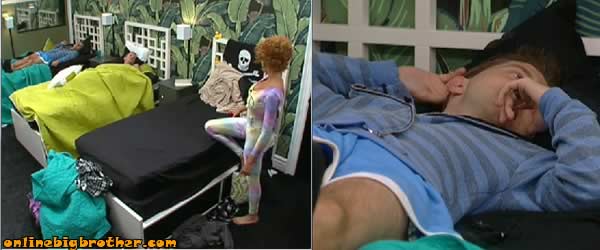 12:10pm Jumanji room Matt and Ragan They are laughing how brendon was in thier conversation this morning. Matt points out that every time Ragan would bring something up that Brendon would act like he knew all about it Matt: "As a scientist I…." Kristen walks in and they talk about her having to wear the wig while napping today. Ragan is going to ask teh DR if he can wear the spare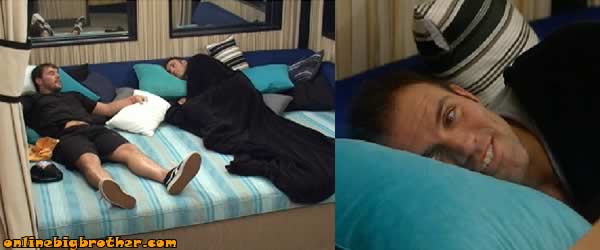 12:35pm Enzo and Lane Planning on going into the DR wearing their black sleeves on their heads and doing the whole Animal in the Cage routine for the cameras. They head to the DR..