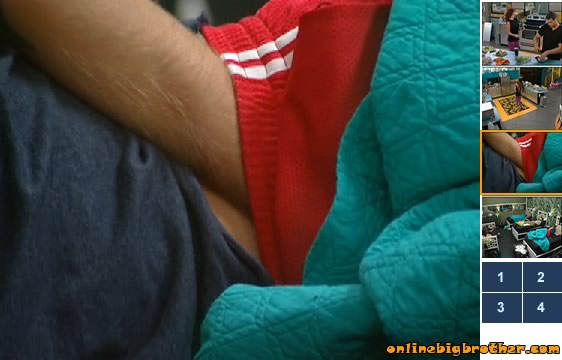 This Big Brother Update shows the house guests in Indoor Lockdown. They cannot see what is going on outside nor can they walk outside. The house guests can hear the sounds of construction from the CBS Crew as they construct this weeks HOH competition in the backyard. The house guests are all getting uneasy Kristen Bitting is fighting hard for votes but it's pretty much a forgone conclusion that she's going home.
3:05pm Jumanji Room Brit, Ragan, Matt and Lane sleeping around talking about Brendon. They wonder what Brendon will do if he wins HOH, Brit thinks he'll put up 2 strong players. Lane tells her to stop talking like that she's getting people worried. They start talking about what type of competition it will be, There all positive that it will be skills based. Ragan says he's good at video games and bowling, Britney is no good at 3D video games but she kicks ass at 2D video games. Matt laying there with his hand way the fuck down his pants (and yes I saw Ragan doing it to) Brit says if Brendon wins HOH they should all just lay down and sleep the week away, if Brendon comes around to talk to them they'll wake up and say "Is is thursday.. no.. ok " and fall back to sleep. You can hear production banging away outside, Ragan comments that they are too noisy nobody can sleep. Matt brings up how Brendon's wizard voice is getting to be a little much. Britney says he would stop but all you guys "enzo, ragan" keep laughing when he does it. They're laughing at him not with him. Brit mumbles something about Rachel being the saber toed tiger.. Matt says she's getting more evil everyday (Team Pazuzu all the way) They start talking about mean girls Rachel and Brendon walk in….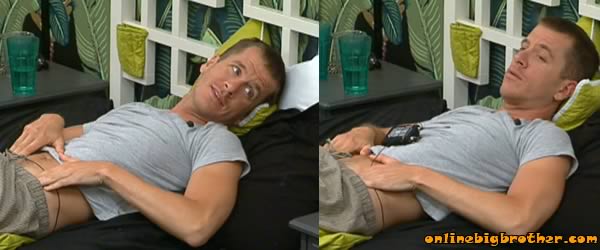 3:31pm Gremlin and Britney talking about the HOH competition They're wondering if the Head of Household competition is endurance because they're building something big outside. Britney puts out the idea that it may be double eviction this week. Matt doesn't think so it's too early, Britney: "Yeah your right it's usually week 6". They both agree that it probably skill based and they'll probably get to practice tonight (thats my guess)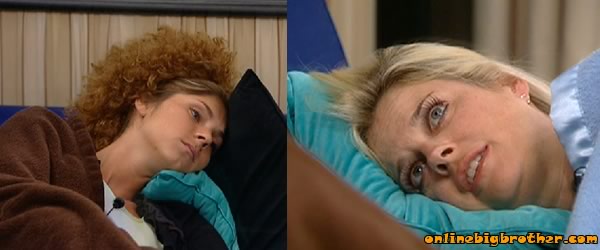 3:53pm cabana room Kathy and Kristen Kristen saying there isn't much more she can do, She'll go and talk to everyone tonight (oh great) and she'll talk to them tomorrow. She warns Kathy that Rachel is going to use the 5grand she won to try and buy safety for the week. Kristen says as soon as Kristen leaves she going to ask Hayden if him and Kristen are brother and sister. Kristen thinks she has Lane's vote then she only needs 2 more, Kathy tells her she can still get the votes she just needs Ragan to lock in. Kristen doesn't understand why he doesn't keeping her in the house benefits him more than keeping Hayden. Kathy thinks he's scared to do it, he's playing a very cautious game. Kathy mentions that she hopes there not locked in all night. Kristen tells her they are, Kathy:"I get so claustrophobic when were kept inside" Kristen is unsure about Lane's vote.. she asks Kathy if he told her she had his vote. Kathy says yeah he did right at the last minute, Kathy will be shocked if Lane goes back on his word. Kathy tells her that she doubts she'll get Enzo's vote, Kathy was really pushing him last night for a answer but he never gave one, Kathy isn't sure. Kristen thinks that Lane can get Enzo to vote for her.. (these guys have to tell this poor girl she's going home)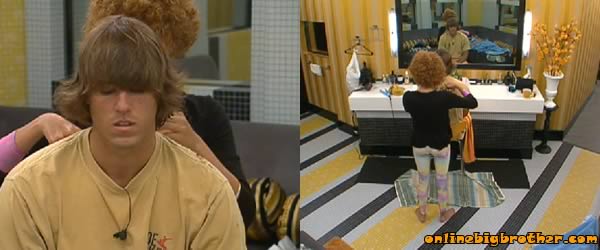 4:45pm Kristen cuts his hair Ragan, Brigade (yo), Brit talk it up in the kitchen, You can hear the kitchen group from the bathroom. Total silence in the bathroom Hayden looks pissed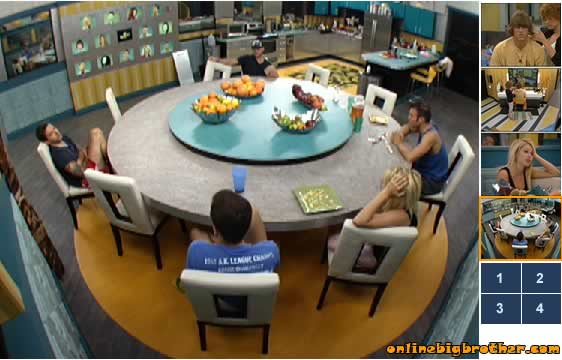 5:00pm Ragan, Brigade (yo), Brit talking about the HOH comp, Some think it's endurance some think it's skill based. All they know is they've been hammering like crazy in the backyard all day and they'll probably be in lockdown until the HOH comp on Thursday
Share it YO!!
Tweet